Dr Cheah Soon Keat, MD (Unimas), Master of Clinical Oncology (UM), Fellowship in Clinical Oncology (Houston, USA)
27th February 2019
Stereotactic body radiotherapy (SBRT) is defined as a delivery of highly precise external beam radiation that accurately delivers a high radiation dose to an extracranial target in one or few treatment fractions. Various forms of SBRT has been developed and one of the unique form of SBRT involves a system called the CyberKnife Radiosurgery System.
CyberKnife Radiosurgery System is an image-guided robotic stereotactic radiosurgery system designed to deliver ablative radiation doses. The system delivers the radiation dose by using multi angle robotic arm targeting the tumour aided by real-time tracking system known as Synchrony.
It can be used to treat various forms of solid tumour either in the radical or palliative setting and has been shown in multiple studies to be beneficial in disease control. It is accepted as an alternative treatment for medically inoperable lung cancer and palliative treatment of lung metastases. Importantly, this was achieved without any surgery or anesthesia. The ablative doses can be delivered in one to ten fractions. Toxicity to organs at risk are reduced by virtue of image guidance and sharp dose fall off.
The standard therapy for operable early stage lung cancer is lobectomy and mediastinal lymph nodes dissection. Promising results have been achieved with stereotactic ablative radiotherapy with improved local control of tumours with medically inoperable and operable clinical stage I non-small cell lung cancer (NSCLC) as compared with conventional radiation.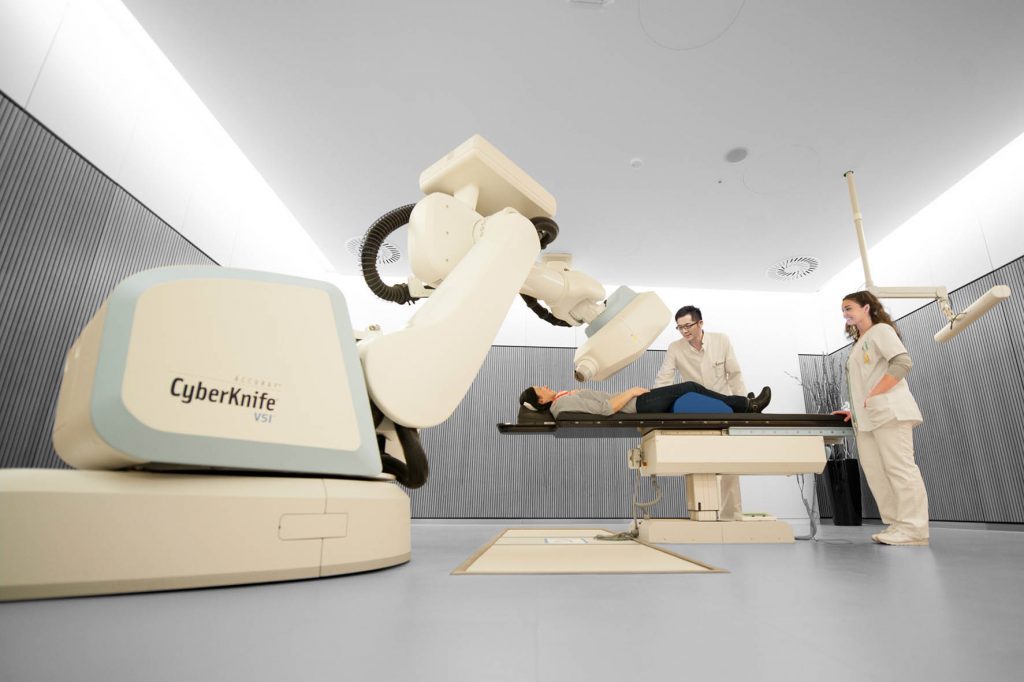 In 2015, a pooled analysis of 2 major clinical trials STARS and ROSEL which were open-label, randomised, phase 3 trials of SBRT versus surgery for patients with early-stage NSCLC was performed. After a median follow-up of about 3 years, the estimated overall survival at 3 years was 95% in the SBRT group compared with 79% in the surgery group. There was also higher recurrence free survival at 3 years at 86% for the SBRT group versus 80% in the surgery group. There was no treatment related death in the SBRT group versus one mortality due to complications of surgery.
CyberKnife can be used to treat oligometastases from lung cancer for improved local control. A higher biologically equivalent dose used in treating metastases may palliate symptoms or lead to higher local control rate for small volume metastases. Treatment is usually well tolerated and may lead to improved pain control for bone metastases as well as quality of life.
Reference:
Chang et al (2015). Stereotactic ablative radiotherapy versus lobectomy for operable stage 1 non-small cell lung cancer: a pooled analysis of two randomized trials. Lancet Oncol 16(6): 630-7.