Cancer Survivor's Day 2014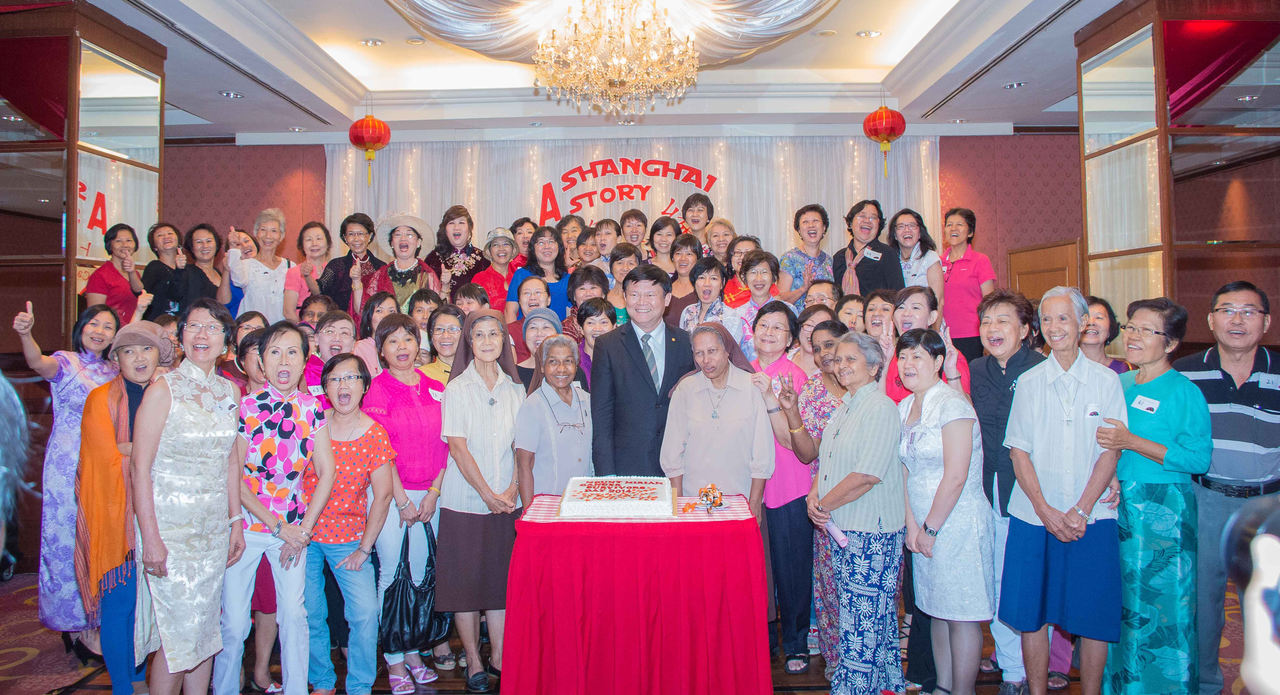 It was a wonderful morning when all the cancer survivors from Penang gathered together in Evergreen Laurel Hotel to celebrate our annual Cancer Survivor's Day. This year, more than 100 cancer survivors in their best Shanghai- styled dresses attended the event. It was a beautiful event to reenact the classic Shanghai oriental atmosphere of the 1930's.
Yearly, the hospital adopts a different theme in order to add fun elements to this meaningful occasion. The Shanghai Story theme for survivor's day celebration this year was meant to bring the survivors back to the 1930's, a beautiful age of legends & classics in Shanghai.
In line with the theme, "A Shanghai Story", a famous calligrapher from Penang, Master Tan Eng Huat volunteered to produce an artistic poetic piece for each survivor using their names. Master Tan's intention was to use the beauty of Chinese calligraphy to encourage the survivors and as a blessing for their journey in fighting cancer.
Our volunteer photographer, Mr Sunny Tan from Sunnysan Photography also set up a photo booth for the survivors. Every survivor was given a specially designed photo frame with their favourite photo of the day, as souvenir for the event.
Besides these, there were also games prepared for the survivors, such as "Hai Di Lau Yue" also known as, Mission Impossible. The survivors were grouped into 10's, and were requested to send their representatives to complete the mission given. One was to transfer marbles from a bowl filled with water to another smaller bowl using only chopsticks. Another interesting game that involved their team spirit was the "Poker King" game. Each team was given a deck of poker cards with three cards missing. The missing cards were hidden around the hall. Each team would have to identify their missing cards and hunt around the hall for the missing cards. The group that completed their set of poker card first, won the game. Apart of that, Mount Miriam staff who do not understand mandarin also volunteered to sing selected mandarin songs. Most of the songs sang were popular songs in 1930s' to 60s', in Shanghai. As they listened to the songs sang from their earphones, the survivors had to guess the title of the songs.
The most anticipated moment came during the best dressed award presentation. Top three best dressed award were judged by a panel of judges based on their dress, participations and also their cheerfulness. The top finalists were also asked to perform a simple Shanghai Walk to show off their dresses and charisma.
The exciting event would not have been successful without our supporters, such as the venue sponsor, Evergreen Laurel Hotel, and Mr Simon Chen, the General Manager of the hotel, who in spite of his busy schedule, supported us with his presence throughout the event. Mount Miriam Cancer Hospital would also like to voice its sincere appreciation to Master Tan Eng Huat for savoring his time and talent that benefited the survivors with a fun exposure fun to the Chinese calligraphic culture. Last but not the least, Mr Sunny Tan, on gratitude for constantly supporting us in our events as our photographer.
However, most importantly, to all our survivors who bravely and strongly live their life as an encouragement to other cancer fighters; when they share their testimony of life, they share their courage and full support to those who needed a hand and optimism. The spirit of these wonderful survivors is something that we need to embrace.
Dear all cancer survivors, we applaud you!
written by Vriczen, Community Relations, 2014