Cancer Survivor's Day 2015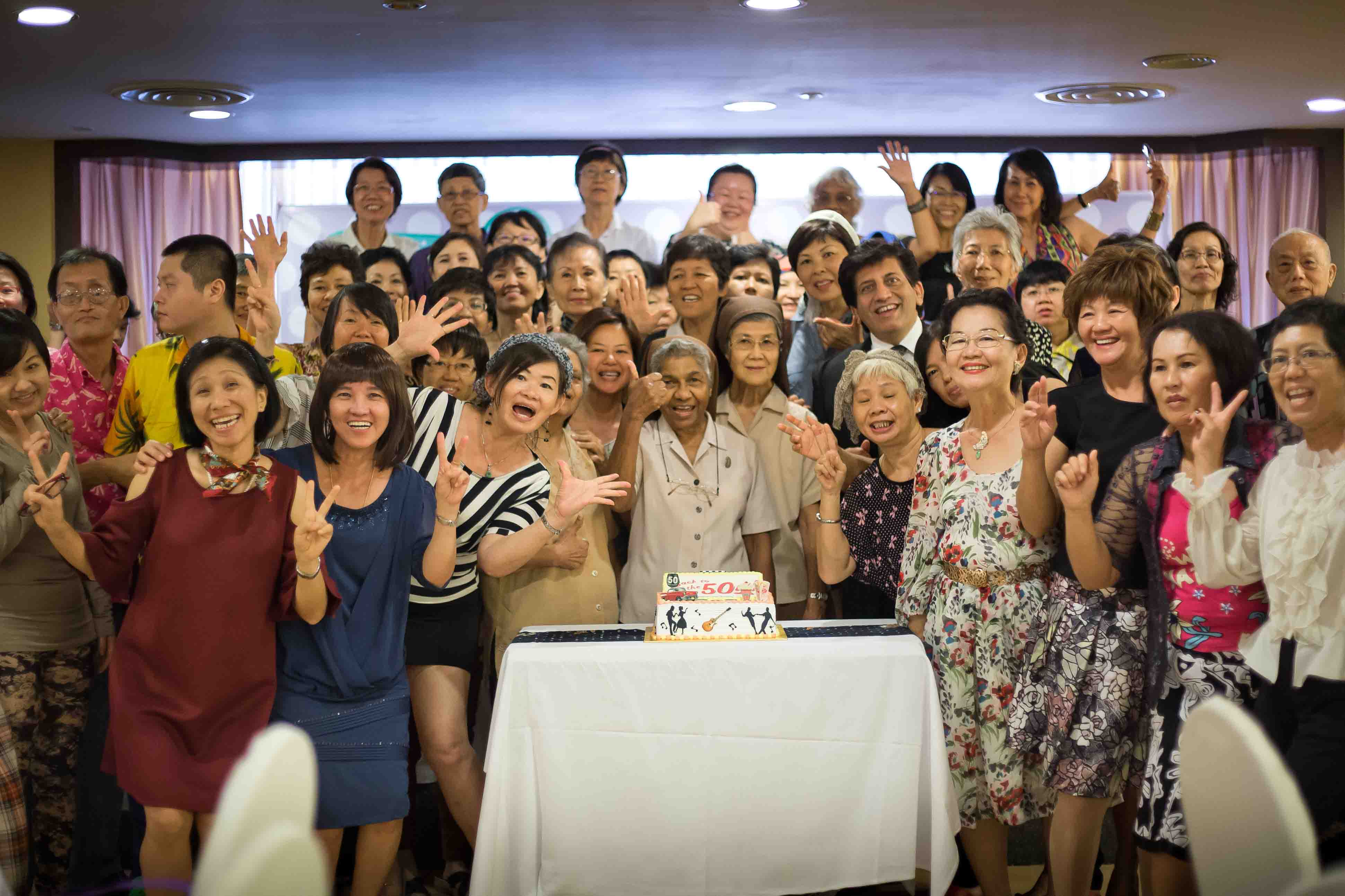 Among the cancer survivors community, I'm sure there is an additional date etched on the calendar which could possibly be as important as their birthday. This day is the day when the cancer survivors were being told that they had won the fight against cancer. Every cancer survivor has this one special day. Since it's impossible to celebrate with every one of them on the actual day, here comes International Cancer Survivor's Day that enable us to celebrate this special day with all cancer survivors collectively.
On May 30th , at the entrance of CHA Bistro of Hotel Jen, a few ladies who are in their fifties were spotted channeling the '50's housewives' look with their headscarves and poodle skirts on. "What's the occasion?", one might ask. It's none other than the annual Survivor's Day celebration held by Mount Miriam Cancer Hospital. This year, with the theme 'Back to the Fifties', we brought all the survivors back to the golden age of Hollywood, the era dominated by the likes of Elvis Presley, Audrey Hepburn and Marilyn Monroe. Many survivors came in their best fifties costume to capture the essence of the theme. Although the event started at 9am, many came as early as 8am just to catch up with each other.
The hospital received overwhelming response from cancer survivors this year. After the press conference, the number of participants soon hit 110 people, exceeding the expected 100. Cancer support groups like Penang Breast Care, Among Friends, Pink Penang as well as the cancer survivors from Penang General Hospital and Adventist Hospital were among those who joined this celebration.
"Everyone who has been through the journey of fighting cancer would know that fighting cancer was not an easy feat. But now, you have lived through your worst fear.  You have experienced things that only a cancer survivor experiences. You have proven that cancer could not hold you back. You are an inspiration!", said Dr Rakesh, our hospital's consultant oncologist & radiotherapist cum organizing chairperson the event when giving the welcome speech.  
Right after the welcome speech, the celebration was kicked off by 4 little talented performers from Danzclub, performing dance to get the survivors into the mood of rock and roll. Towards the end of the performance, the atmosphere heated up when the lovely survivors were being invited to join the dance. With his suave dance move, Dr Rakesh Raman also came in and joined the ladies. Everyone enjoyed themselves so much that they didn't seem to have the intention to leave the dance floor when they were told to get back to their seat to anticipate for the upcoming game.
Keeping up with the tradition, a list of interesting games has been lined up for the cancer survivors. Among them are Hoop-Dee-Doo (a straw-passing game), McPaper Hamburger (a serviettes-holding game), Limbo and Who Got It First (an items-collecting game). During McPaper Hamburger session, it was hilarious seeing all the survivors get out of their way to make sure that they didn't miss a point where they could possibly stick an extra piece of serviette on. Who says age matters when it comes to games?
When we take a look back at the transition from treatment to survivorship, it's a sign of strength.  Many of the cancer survivors were keen to share their stories or advice with those who are still battling with the disease. "I owe it to my friends and family members who always stood by me. We must always be positive and take one day at a time." said cancer survivor Sister Clara who is now also a volunteer at our hospital.
written by Priscillia Yuen, Community Relations