Cancer Survivor's Day 2016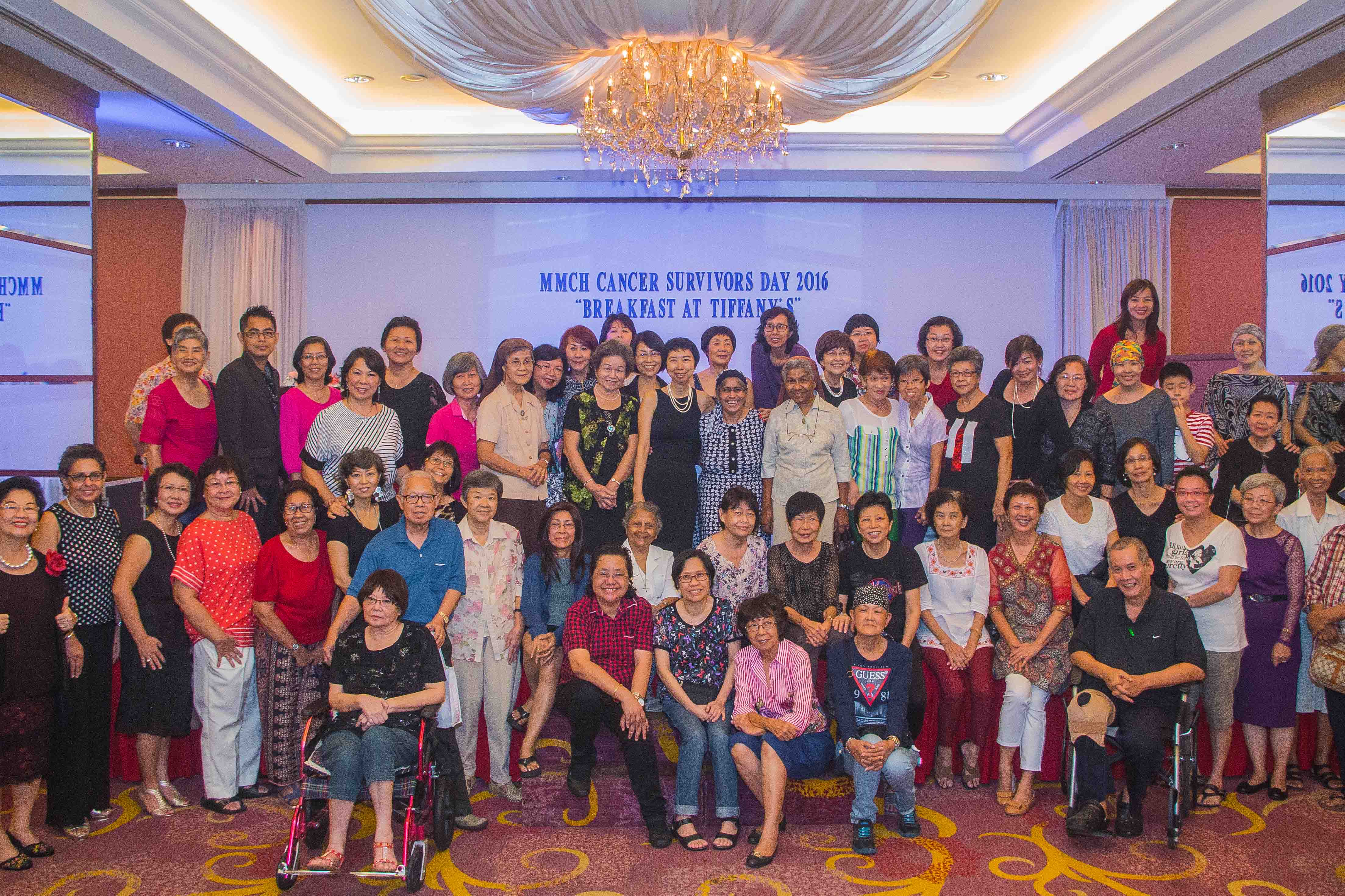 More than 80 cancer survivors accompanied by their families and friends gathered at Penang Evergreen Laurel Hotel from 9am to 12 noon to celebrate Cancer Survivors' Day. Compared to last year, when most of the cancer survivors registered themselves in groups, we had more new faces this year. Upon learning about our event, a lot of new survivors took the initiative to contact the hospital to sign themselves up. It was a positive shift in people's attitude towards this kind of event. The hospital was glad to see their positive change.
This year's theme was 'Breakfast at Tiffany's. All cancer survivors were encouraged to dress elegantly in black to capture the essence of the theme. Unsurprisingly, having black as the main colour of the dress code had raised a few eyebrows. That was what we would expect coming from an Asian community. However, Mount Miriam Cancer Hospital had hoped to take this opportunity to drive home the idea that casting aside social stigma can turn out to be a beautiful thing. We believe in, indirectly, shedding light on the cancer-related stigma in our society.
That morning, there were still 45 minutes before the starting time. However, upon entering the ballroom after the registration, there was already a long queue leading up to the photo booth. At the photo booth, the cancer survivors were posing happily in front of the camera with catchy quotes like 'I know I'm hot', 'What a crazy bunch'etc. While waiting for their turn to have their photos taken, the guests wasted no time to mix and mingle with other cancer survivors. The photos were then printed on site for the survivors to take home as a memorabilia. Not forgetting those who are still battling cancer, Mount Miriam Cancer Hospital with the aim of motivating them, had organized a FB Snap-and-Win contest – 'You are not alone' for the survivors to participate.  It was a month-long Facebook contest.
The event kicked off at 9 am with an opening speech by Dr. Cheah Soon Keat, Mount Miriam Cancer Hospital's Consultant Oncologist & Radiotherapist cum Organizing Chairperson of this event.
'After being cured, it's the healing process that ensues. Cancer survivors will then get to see the medical professionals less. Therefore, with the presence of various support groups and events like these, it's incredibly reaffirming when you know that there are people who have shared similar experiences, ready to be a source of comfort or to offer some words of inspiration whenever you need them. ' said Dr Cheah. As a shout-out for the survivors' companions who came along, he added, 'Companionship is a really beautiful thing. Love and to be loved is indeed a powerful source of motivation.' 
The speech was then followed by a light-hearted address given by Ms Joan, the COO of Mount Miriam Cancer Hospital. The opening performance was a Rumba performance that had 'Moon River' as its background music. As the lights grew dim, everyone's attention was drawn to the stage as Ms Alla Mansour, a Russian dancer who now resides in Penang, made her entrance with her elegant dance moves. She was later joined by her talented daughter Aryana Mansour, who was merely 6 years old.
The celebration had also lined up some interesting games in which participation cut across all ages. In the first game, the guests were asked to build the tallest freestanding structure out of marshmallows, toothpicks and whatever material they could find. However, it came with a condition, that is, the first tier must be made with nothing else but marshmallows and toothpicks. Everyone really went out of his / her way to think of the best design. This game effortlessly broke the ice among the cancer survivors. 
Just as you think it could not get any better, then came the second game – The Candy Shooter. It required the team members to launch the candies by using a self-improvised kit as the shooter and another member of the team had to catch the candies with a container. Loud laughter and excited screams could be heard across the room, especially when the time was running out. They were definitely having a whale of a time playing the games. It was particularly great to see that the elderly who seemed to be a little shy at first enjoying the game so much, as though they were back in their childhood. Candy bullets were seen everywhere on the ground after the games.
The event was capped off by the cake-cutting ceremony. It was not an ordinary one I must say. This year, Mount Miriam took a step further by sharing this special moment live on Facebook.
Shouting loud and proud, 'We are cancer Survivors! You are not alone!'. These cancer survivors are the best testimony and inspiration for those who are still fighting against cancer.
written by Priscillia Yuen, Community Relations