Cancer Survivor's Day 2017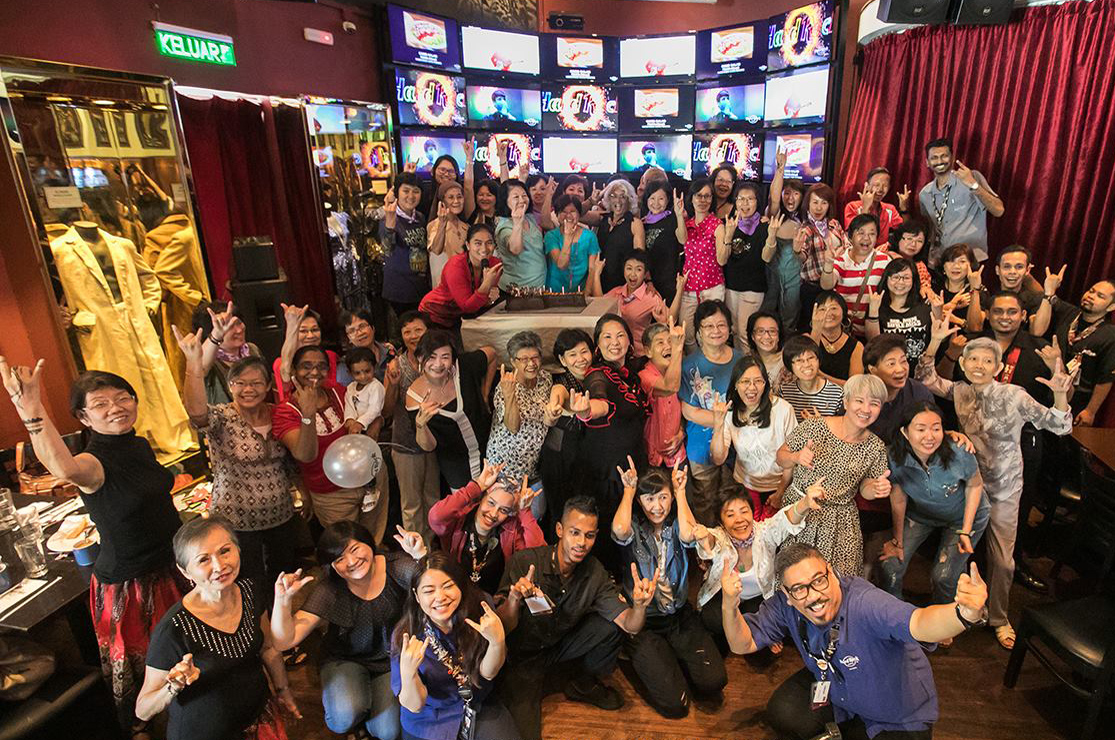 'Survivors Rock!' fiercely claimed by the survivors who attended Cancer Survivors Day 2017 organised by Mount Miriam Cancer Hospital. Cancer Survivor's Day is organized annually to celebration the resilience of life with the cancer survivors as they are the ones who truly understand what it means to live with cancer and what it takes to become a cancer survivor.
The celebration was held at Hard Rock Café on 17th June 2017 with the theme Survivors Rock. Not only did Hard Rock fully sponsor the venue and food, the Hard Rock crew also went out of their way to facilitate us by having their own staff to help out during the event. It kicked off with a simple speech given by Dr Doris Chow, Mount Miriam Cancer Hospital's consultant oncologist, radiotherapist, and organizing chairperson of this event. "It's good to know that in Penang Island alone, there are so many cancer support groups that have been set up. The collaborative effort between hospitals and support groups to help those cancer patients who are in their transition from treatment to recovery is awesome." she said, touched by the fact that a lot of the attendees were actually from different cancer support groups.
Soon after that, Hard Rock crew took the stage and that when the upbeat Y.M.C.A started playing. It didn't take long for Hard Rock crew to live up the mood and got everyone up to their feet and danced to the 70's hit. To keep the momentum going, Hard Rock crew gave the survivors no time to settle down, it was quickly followed by a game that called Hot Potato. It is a game that involves players gathering in a circle and tossing a beanbag to each other while music plays. The player who is holding the beanbag when the music stops is eliminated. The game was given a fun twist by having the beanbag switched to fancy hats.  It was a really good icebreaker and everyone had a good laugh.
The survivors were then treated to a brunch. In between brunch, the survivors took turns to have henna drawn onto their hands by two professional henna artists hired by Mount Miriam. The event was capped off with a cake-cutting ceremony, with a guitar shaped cake specially made by Hard Rock Hotel's patissier.
Our special guest: Radha and her 18-month-old baby girl:
While the brunch was served, on the other side of the room, sat a very special guest – Radha Nadarajan (aged 42), with a baby on her lap. She is now a survivor. She was pregnant when she was diagnosed with breast cancer. It's not hard to spot her among the crowd as she was the only one who came with her baby.
She was in her 3rd month of pregnancy when she was diagnosed with breast cancer. It was a whirlwind for Radha when she just thought that the period was the happiest moment of her life after being told she was pregnant. Radha and her husband was forced to face a cruel dilemma for – to terminate or not to terminate the pregnancy. Despite being deeply shaken by the news, the distraught husband told the doctor that if he really had to choose, his priority would be his wife. However, Radha was steadfast with her decision to keep the baby. She had a mastectomy to remove her left breast.
4 months later, to avoid spreading, she was advised to have her lymph node removed. That was definitely not an easy decision for a heavily pregnant woman to make. The administration of anesthesia during the operation might affect the foetal development. The decision was complicated when she wanted to get the best care for her cancer in order for her to deliver a healthy baby while also protecting the baby during the surgery. Believing she was under good hands, she took another calculated risk.
Although it has not always been a smooth sailing in her cancer fighting journey, her prayer was finally answered. She delivered a healthy baby girl in her 10th months of pregnancy. To be able to successfully deliver the baby and stay with her for another 7 months after the delivery was the only thing Radha initially asked for. "Now that my daughter is 18-month old, I would look at her all the time and think "7 months is too short, I want to have at least another 20 years, to see her grow," she said with a smile.
written by Priscillia Yuen, Community Development