Mount Miriam Cancer Hospital was established in 1976 by the Sisters of Franciscan Missionaries of the Divine Motherhood (FMDM)
We started as a nursing home offering compassionate care to those in need of cancer treatment. Recognizing the intensive need for active cancer treatment, Mount Miriam expanded into a Cancer Treatment Centre while continuing with palliative care. Today, we are one of the leading cancer hospitals in Malaysia offering wide range of services. The commitment to serve with love in cancer care has remained our main focus.
CyberKnife is a revolutionary technology that offers precise, painless, non-invasive radiation treatment.
CyberKnife

is so precise, that radiation beams can be sculpted to small, complex-shaped tumors near critical structures, such as the nerves that control hearing and vision.
Ambulatory Procedure Department
Mount Miriam Cancer Hospital is getting ready to introduce CyberKnife Robotic Radiosurgery (2019) and Ambulatory Procedure Department.
CyberKnife is the leading-edge technology in cancer radiotherapy treatment which will be the one and only, and first of its class in Malaysia and Singapore.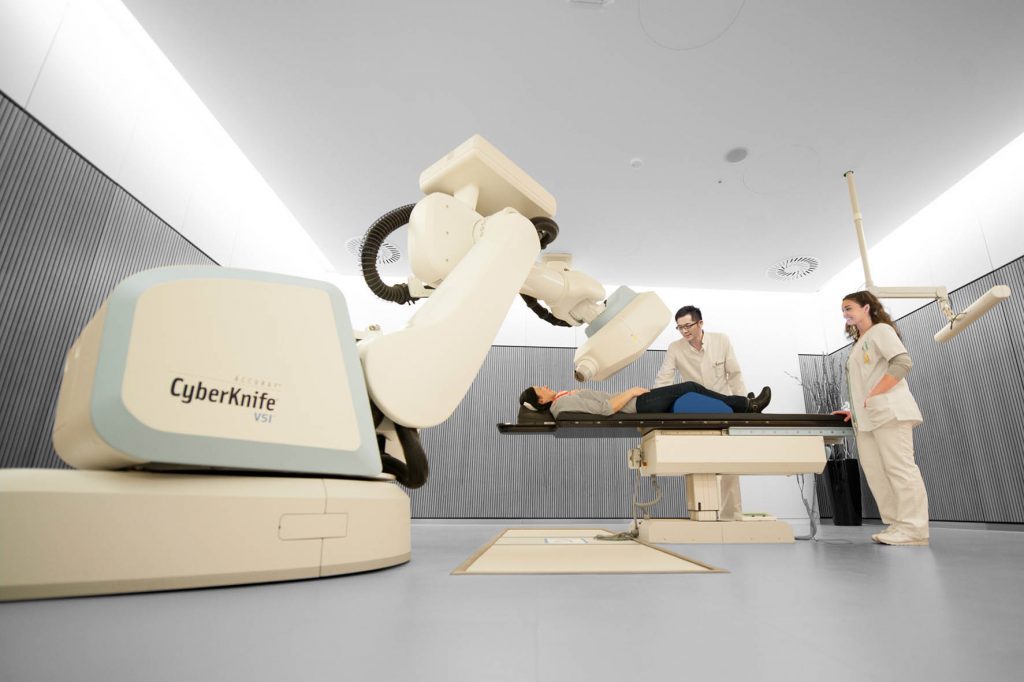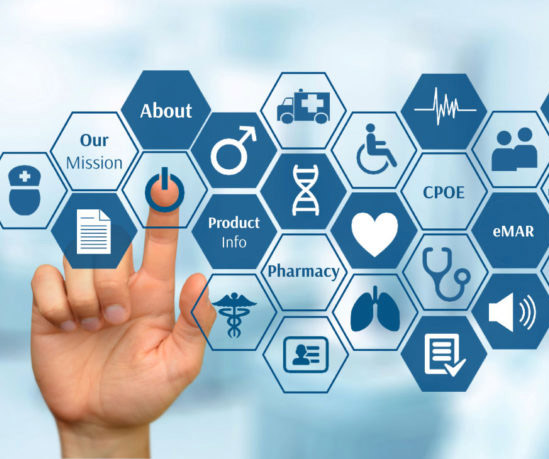 Moving forward into the digital world
Picture Archiving and Communication System (PACS) & Electronic Medical Records (EMR)
Blessed with the support from the community and partnerships, the Hospital has gone green with electronic systems and efficient programs, to professionally and safely store all vital documentations and records.
Development Fund is set up with the main aim to assist the hospital in its effort to continuously improve service standards, medical care, new technology advancement and infrastructure investment.
The projects would enhance efficiency and improve patient management for better patient outcomes. The projects targeted for implementation include Ambulatory Procedure Centre, Cyberknife Robotic Radiation treatment machine, Magnetic Resonance Imaging (MRI), Electronic Medical Records (EMR), Picture Archive system (PACs) and other future developments.
40th Anniversary
The cross represents God's love.
Blue colour was chosen as it is the colour of Mother Mary.
The circle projects positive emotions. It represents unity, commitment, and love for the community.
Having triangle as part of this logo shows that MMCH though as a not-for-profit cancer hospital, will continue to strive for the very best of cancer treatment technology for the community. With the triangle positioned on an upward trend, indicates that MMCH is striving to achieve greater height for the community.
In 2015, we disbursed more than RM1.4 million in medical subsidy to assist 431 patients
Starting the Late Effect Clinic, an initiative by Dr Doris Chow, offers free consultations to pediatric cancer survivors monthly
Study shown that pediatric cancer survivors may develop or shown signs of side effect from treatment at later stage of their childhood. Thus, monitoring their development on a constant interval will enable us to diagnose early symptoms and proper medical attention can be offered.
Through various fundraising events RM1.37 million was raised in aid of the Needy Cancer Patient Fund; a strong testament of support from the community. The fund disbursed a total of RM1.12 million and it had subsidized medical expenses for 547 needy patients.
Mount Miriam Cancer Hospital, since its early days, has set up The Needy Cancer Patient Fund to provide medical subsidy to deserving and needy cancer patients.
We have replaced our 13 year old Mevatron Radiotherapy treatment machine with Tomotherapy
The best and latest radiation treatment machine in the country and possibly within South East Asia.
The treatment system, which combines image-guided radiation therapy and intensity-modulated radiation therapy. This is our commitment to raise and maintain the high standard of quality cancer care in Malaysia.
We are proud to launch our Health Screening Centre
We are offering affordable health cancer screening packages to advocate 'Early Screening Saves Lives'. The renovation and set up of this Health Screening Centre is generously sponsored in memory of the late Jeffrey Ng.
New oncology clinics were set up
First case of Positron Emission Tomography 
Medical imaging device which combines in a single gantry system both a Positron Emission Tomography (PET) and an x-ray Computed Tomography, so that images acquired from both devices can be taken sequentially, in the same session from the patient and combined into a single superposed image.
Official launching of Image Guided Radiotherapy
New IGRT machine replaced our first Linear Accelerator machine
First Stereotactic Radio Surgery (SRS) was carried out on 8th August
Officially changed our hospital name to Mount Miriam Cancer Hospital on 31st October
The first case for Intensity Modulated Radiation Therapy (IMRT) was on 4th
Launching of the Mammography Machine on the 9th June
The first case of Stereotactic Radio Therapy (SRT) was on 11th September
Linear Accelerator 3 was launched by Dato' Dr. Chua Soi Lek, the Health Minister on the 5th January
Hospital Information System (HIS) went live on the 1st June.
Signing of MOU (Memorandum of Understanding) with Royal Adelaide Hospital was witnessed by Tan Sri Dr. Koh Tsu Koon the Chief Minister of Penang on the 4th September
The first patient treated on the new state-of-the-art Linear Accelerator Machine was on the 23rd June
Mount Miriam Hospital was conferred the MS ISO 9001:2000 certification by SIRIM QAS International on the 28th October
Work commenced on the installation of the new state-of-the-art Linear Accelerator on the 19th October.
His Excellency Tun Dato' Seri Abdul Rahman Bin Haji Abbas, SMN, DMPN, DJN. Governor of Penang launched the Linear Accelerator Fund on the 2nd April
MMH raised RM5.5 million for the purchase of a state-of-the-art Linear Accelerator with 3-Dimension Multileaf Collimator (MLC) and Electronic Portal Imager(EPI). This Linear accelerator was Mount Miriam Hospital's third radiotherapy machine.
The first Mount Miriam Hospital Survivors Day was 19th October
MMH joined more than 700 communities worldwide to celebrate the resilience of life of cancer survivors. Subsequent Survivors Day was celebrated annually.
New CT Simulator was commissioned in March
Palliative Outpatient Clinic commenced in August with 2 sessions a week, including home visits
The new Governor of Penang, Tun Dato' Seri Abdul Rahman Bin Haji Abbas became the Patron of Mount Miriam Hospital in October
Isolator for reconstitution of chemo drugs, the first in Penang, was in operation
Second Linear Accelerator (Siemens Mevtron M) was commissioned in March, to replace the first Cobalt 60 which was in use since 1979
Caesium intra-cavity application therapy was discontinued towards the later part of the year and was replaced by the Brachytherapy machine.
Day Chemotherapy Unit was set up and opened on the 8th December
It accommodated 16 patients a day.
The number of patients had steadily increased and exceeded a thousand
First Linear Accelerator (Siemens Mevtron MD-2) was commissioned in December
The Governor of Penang, Tun Dato' Seri Dr. Haji Hamdan Bin Sheik Tahir was invited to be the Patron of Mount Miriam Hospital.
The foundation stone for another extension to the Radiotherapy Department was laid by Tun Dato' Seri Dr. Haji Hamdan Bin Sheikh Tahir, Governor of Penang
Laying of Foundation Stone and Official Launching of Fund Raising Project for the Linear Accelerator and Extension 1993 by the Governor of Penang Tun Dato' Seri Dr. Haji Hamdan bin Sheikh Tahir
Dato' Dr Peter Mooney (Centre), First Chairman of the Board of Mount Miriam Hospital
The Fund Raising Campaign for the new building extension and an additional Linear Accelerator was officially launched
The Ximatron Simulator and Extension to the Radiotherapy Unit was officially opened by the Governor of Penang, Tun Dato' Dr. Haji Awang Bin Hassan on 2nd April
Official Opening of Extension to Mount Miriam Radiotheraphy Unit 1989 by the then Governor of Penang Tun Dato' Dr. Hj Awang bin Hassan, SMN, SPMJ
The Hospital acquired the Ximatron Simulator, the first in this part of the world, for use of treatment planning
Arrival of Consultant Dr. Mohamed Adel Mohamed Zaatar from UK to MMH's team of Radiotherapists and Oncologists
Second set of Theraton 780 Cobalt 60 machine was added to the Radiotherapy Unit in August
The number of patients had increased to over 500
The second Consultant Radiotherapist and Oncologist, Dr. Daniel O'Connell formerly from Charing Cross Hospital, London, succeeded Dr. A.D. Singh and was with the Hospital for two years. Dr. G.C. Pant, Professor of Varanasi Hospital, India, was hospital's third Consultant Radiotherapist and Oncologist
In response to the need for cancer treatment in Penang and the northern region of Malaysia, the Hospital embarked on the expansion of building and facilities
Official Opening of the Radiotheraphy Unit & Outpatient Department 1979 by the Bishop of Penang Rt. Rev. Anthony Soter Fernandez D.D
The Theraton 780 Cobalt 60 was the first radiotherapy machine installed
The first Consultant Radiotherapist and Oncologist, Dr. Attar Deo Singh from Christian Medical College & Hospital, Vellore, India, pioneered the setting up of the radiotherapy unit with Dr. Chia Kim Boon.
The Outpatient Complex and Radiotherapy Unit was opened in March by Bishop Soter Fernandez, then Bishop of Penang, in the presence of the Chief Minister of Penang, the Rt. Hon. Dr. Lim Chong Eu.
The total number of patients was 333
Official Opening of Mount Miriam Hospital 21st Feb 1976
Bishop Gregory Yong declared Mount Miriam Hospital officially opened
Dr Peter Tan Ewe Aik was the first Honorary Doctor and Medical Superintendent while Mother Baptista Hennessy was the first Administrator/ Matron. Mount Miriam Hospital's First Open Day on the 29th February was graced by Hon. Dato' Teh Ewe Lim, the acting Chief Minister and his wife.
First patient admitted to the Hospital was on the 1st June
For the first 3 years, we admitted a few general medical patients but was otherwise exclusively concerned with terminally ill cancer patients
Opening ceremony of the new hospital building
The Franciscan Missionaries of Divine Motherhood Sisters at work. They are the multi-functional clinical nurse, maintenance, housekeeper and etc, before the hospital could afford to hired
Construction of Mount Miriam Hospital started and the building was completed at the cost of RM2.5 million
The site adjacent to present College General, Major Seminary, was cleared for the project. Funds were raised through donation drives, well wishers and the community at large.
A request was made by Bishop Gregory Yong, successor to the late Bishop Francis Chan, for the Sisters of the Franciscan Missionaries of the Divine Motherhood (FMDM) to build a cancer hospital, pioneering cancer care in the northern region of Malaysia
The late Bishop Francis Chan, first Catholic Bishop of Penang, who was suffering from terminal cancer, had a dream to have a home for all cancer patients.
Bishop Chan wished all cancer sufferers could receive the compassionate and respectful care, he received.