Come join our dedicated team to make a difference by providing hope and healing to those in need.
Mount Miriam Cancer Hospital is the premier cancer treatment centre in Malaysia with a heritage of being the leading not-for-profit, Mission hospital in Penang committed to serving the needy with the best in medical technology and with the heart of compassion, respect and integrity.
Job Vacancies / Career Sponsorships
Job Vacancies
We offer a remuneration package that is competitive which commensurate with qualification and experience. Interested applicants are invited to submit their applications via email to hrd@mountmiriam.com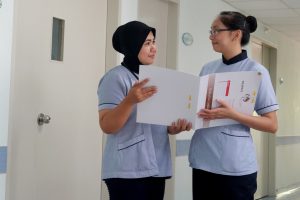 Career Opportunities Available:
Healthcare Assistant
The Role supports the nursing team to provide quality care to the patients.
• Assist Nursing Staff with the day-to-day needs of the patient.
• Provide quality customer service to patients.
• Ensure safe ferrying and preparation of visitors to scan MySejahtera, check on temperature and relevant SOP.
• Ensure appointments and registrations of patients are correctly performed.
• Will be reporting to Infection Control Officer/ Executive.
Qualifications & Experience
• Minimum SPM qualification.
• Have the passion and heart for patient service and care.
• Good learning attitude and a team player.
• Able to work in a fast-paced environment, love challenges, and able to perform tasks efficiently.
• Able to communicate in English, Multi-language will be added advantage.
• On-the-job training will be provided to interested applicants without relevant experience.
• Able to commit to rotating shifts.
Staff Nurse
Job Responsibilities:
• Plan & execute nursing care for patients with team members according to the specific needs of the individual patients.
• Makes professional judgment and decisions about nursing care.
• Carries out Specialist Oncologist's order in accordance with established standards of nursing practices, policies & procedures.
• Protect patients and team members by adhering to infection-control policies & protocols, medication administration & storage procedures & controlled substance regulations.
• Observe, monitor, assess, report & document patient's conditions & response to medication & treatment. Observe the progress of the patient (IV infusion, wounds & vital signs) to detect deviations.
Requirements:
Applicants with at least 5 years experience.
• At least a Diploma in Nursing.
• 5 years nursing experience with a minimum of 2 years in the oncology department in a hospital setting.
• Must be an SRN with a valid APC by the Malaysian Nursing Board.
• Those with Advance Diploma/ Post Basic in Oncology will have an advantage.
• Experience in Medical, Surgical, ER, or ICU is an added advantage.
• Able to work with minimum supervision, alert & meticulous.
• Good communication skills, able to communicate clearly and well with all levels.
• Multi-lingual, preferably able to converse in the local dialect – Hokkien, Mandarin, Cantonese, and/ or Tamil apart from English & Bahasa Malaysia is an added advantage.
Kindly send your application & resume directly to hrd@mountmiriam.com; Applicants who are shortlisted will be contacted.