Come join our dedicated team to make a difference by providing hope and healing to those in need.
Mount Miriam Cancer Hospital is the premier cancer treatment centre in Malaysia with a heritage of being the leading not-for-profit, Mission hospital in Penang committed to serving the needy with the best in medical technology and with the heart of compassion, respect and integrity.
Job Vacancies / Career Sponsorships
We offer a remuneration package that is competitive which commensurate with qualification and experience. Interested applicants are invited to submit their applications via email to hrd@mountmiriam.com
For Matron and Mission Manager position, kindly apply via email to

panel@mountmiriam.com

.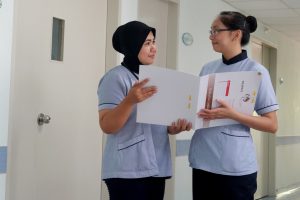 Career Opportunities Available:
Job Description:
Pre-treatment checking to correctly identify the patient.

Perform daily quality assurance tests on simulation and treatment machines to ensure they are in proper working order.

Explaining the process to patients and answering any of their treatment-related questions

Design simulation plans as requested by the Specialist Oncologist.

Do fabrication of immobilization according to the treatment intent.

Ensure accurate radiation treatment is being delivered according to plan.

Assess the patient's reactions to treatment throughout the treatment course.

Document all the patient's details, immobilization devices, treatment parameters, and all clinical details accurately.
Requirements:
Bachelor's Degree in Radiotherapy.

Preferably with 2 years of working experience.

Fresh graduates are welcome to apply.
Job Description:
Manage fundraising projects to ensure projects are delivered within schedule and budget achieving the desired outcomes.
Prepare promotional materials for use in different channels.
Represent the company at events (sometimes on weekends).
Foster new networking with donors and partners.
Coordinate with outside agencies to produce marketing material.
Write press releases and communicate with the media.
Requirements:
Some hands-on experience in event management.
Good interpersonal and analytical skills.
Good writing and editing skills in English.
Good working knowledge of Microsoft Word, Excel, and design software (Photoshop & Canva, etc).
Preferably able to write/speak Mandarin & have own transport.
Job Description:
Manage fundraising projects to ensure projects are delivered within schedule and budget achieving the desired outcomes.
Attend to patients or patient's relatives with excellent customer service.
Perform cashiering with attentiveness and accuracy in handling cash including the following:
a) Report and hand over collection in cash, cards, bank transfers, and cheques to the Chief Cashier at the end of each cashiering section.
b) Ensure receipt report by the cashier and physical collection is agreed upon for each cashiering section.
Processing patient refunds by obtaining necessary documents as required as per our hospital policy.
Handling of new cases/follow-up/ chemo/ radiotherapy registration.
Handling of admission registration (panel and non-panel insurance.
Handling of Insurance for foreign and local patients (walk-in & email).
Processing and obtaining Guarantee Letter both initial and/or final from panel insurance companies and billing for patients with insurance cases.
Enter charges accurately and expeditiously to ensure proper records handling and fast payment responses.
Process patient discharges and create bills.
Attend/transfer phone calls with courteous and good telephone ethics.
Handling filling of documents/bills of the PA department.
Handling mail and parcels (receiving and post out).
Make public announcements when necessary.
Requirements:
Minimum SPM & must be willing to work on shift.
Have own transport.
Demonstrate commitment and proactively within the defined area of authority.
Be discrete in handling hospital data and records and to maintain confidentiality at all times.
Exercise politeness and tactfulness in inter-personal and inter-departmental communications.
Performed other duties as assigned.
Job Description:
Responsible for all basic cleaning, sanitization, and janitorial of the hospital area.
Assist in the cleaning of emergency spills upon request. 
In charge of restocking, distribution, and replacement of linen to departments.
Performs additional duties as assigned by HOD.
Requirements:
Malaysian citizens only.
50 years and below.
Able to read and write basic English & Bahasa Malaysia.
Previous experience as a cleaner is a plus.
Must be medically fit to work.
Kindly send your application & resume directly to hrd@mountmiriam.com; Applicants who are shortlisted will be contacted.