VISITING HOURS & RULES
Please take note our latest visiting hours are as follows:

12 noon – 1 pm & 6 pm – 7 pm
Only 1 visitor per patient per day is allowed.
We understand that there is nothing you want more than to see your loved ones. However, we have to implement stricter measures to limit the spread of the virus as much as possible for our cancer patients who are immunocompromised. Thank you for your continued understanding and co-operation.
HEALTH ADVISORY NOTICE & PROCEDURES FOR TRAVELLING PATIENTS
Kindly take note of the following hospital policy that applies for patient (1) and companion (1) who meets the clinical and epidemiological criteria of suspected COVID-19 case mandated by the Ministry of Health Malaysia.
Mount Miriam is a Cancer Care Hospital and cancer patients are more vulnerable towards any infection/ virus which includes the COVID-19 virus. As the COVID-19 virus is so volatile, we need to frequently adapt and update our Hospital Policy to safeguard the well-being of our patients and staff. In view of the spike of cases and the presence of new clusters, the patient and companion who meets the clinical and epidemiological criteria of suspected COVID-19 cases are compulsory for both of them to do COVID-19 screening before visiting Mount Miriam Cancer Hospital, Penang.
Your kind understanding on this matter is very much appreciated. In advance, we would like to apologize for any inconvenience caused. The following Hospital policy applies to any Emergency case too.

ROBOTIC RADIOSURGERY
Precise • Painless • Non-Invasive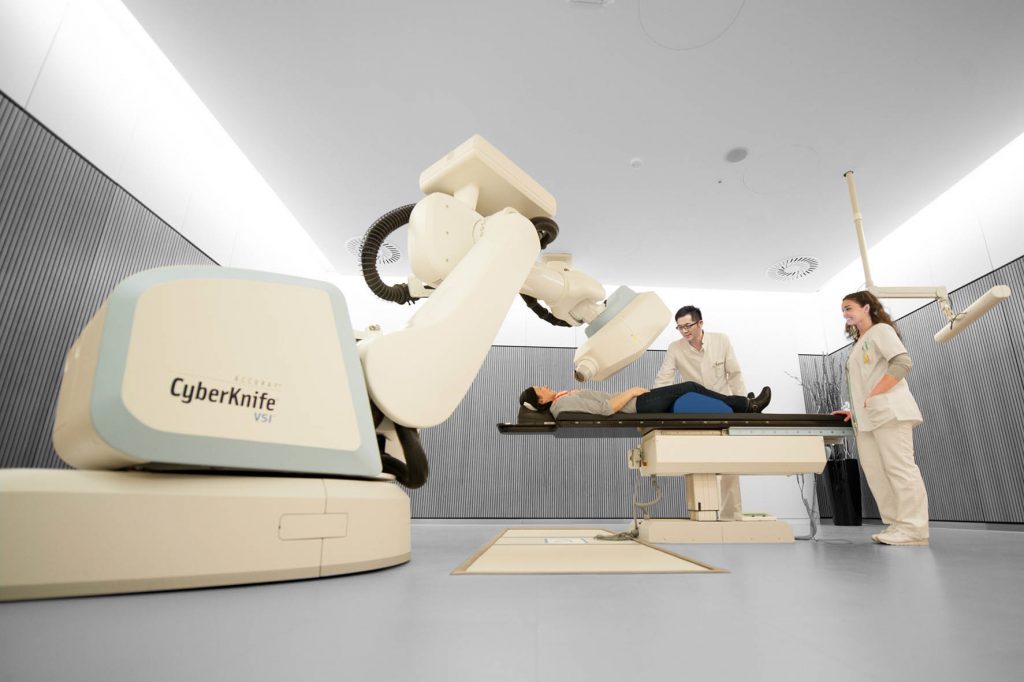 CyberKnife is a revolutionary technology that offers precise, painless, non-invasive radiation treatment. In certain cases, it can be an alternative to open surgery. The CyberKnife is so precise, that radiation beams can be sculpted to small, complex-shaped tumors near critical structures, such as the nerves that control hearing and vision.
Mount Miriam Cancer Hospital
Mount Miriam Cancer Hospital is a not-for-profit, single discipline cancer hospital which aspires to bring God's healing presence through the best and affordable cancer treatment, diagnosis and care. We share the global mission of the Franciscan Missionaries of Divine Motherhood, to provide high quality and compassionate care to all persons regardless of nationality, belief or financial status with compassion, respect and integrity.