ROBOTIC RADIOSURGERY Precise • Painless • Non-Invasive
Mount Miriam Cancer Hospital offers one of the world's modern technology cancer treatment – CyberKnife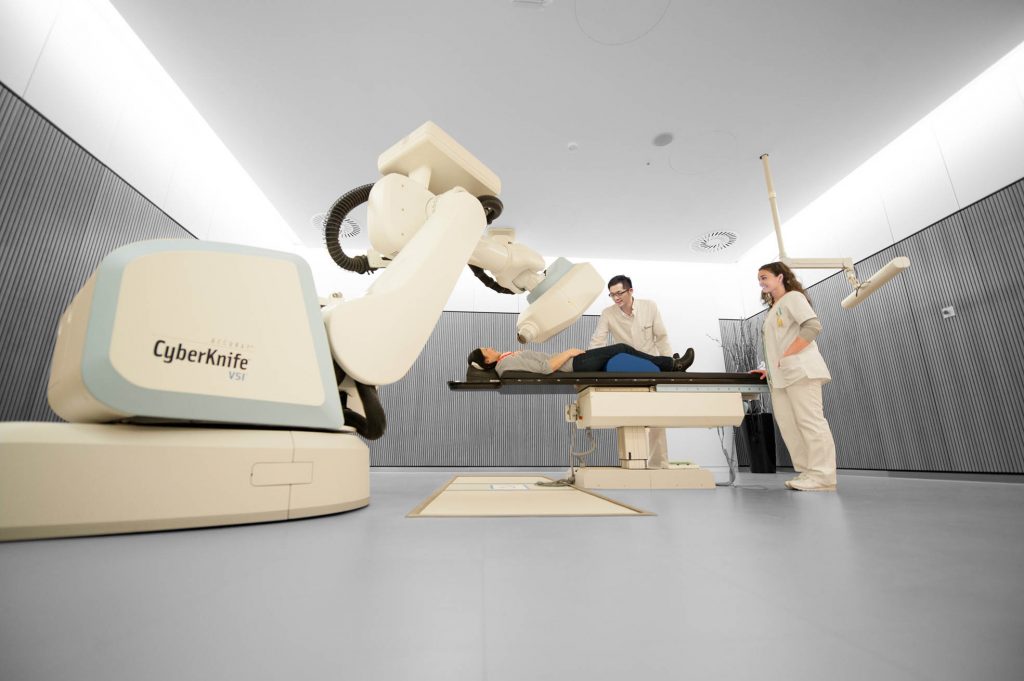 What is CyberKnife?
Modern technology that is able to treat lesions that might be otherwise considered inoperable 
CyberKnife is a revolutionary technology that offers precise, painless, non-invasive radiation treatment. In certain cases, it can be an alternative to open surgery. The CyberKnife is so precise, that radiation beams can be sculpted to small, complex-shaped tumors near critical structures, such as the nerves that control hearing and vision.
This ability to irradiate only the tumor while protecting healthy tissue makes it possible for the CyberKnife to treat lesions that might be otherwise considered inoperable or untreatable; and that gives many patients new hope.
What makes the CyberKnife different?
Designed to move with the tumor to delivery more accurate and higher doses of radiation to the target
The CyberKnife System could provide more effective treatments by minimizing the radiation exposure to healthy surrounding tissue and limit some of the short and long term side effects that are common with conventional treatments.
Instead of restricting patient movement, the CyberKnife System's technology was designed to move with the tumor. This capability results in the delivery of more accurate and higher doses of radiation to the tumor, while avoiding the surrounding healthy tissue and reducing the side effects commonly associated with conventional radiation therapy treatments.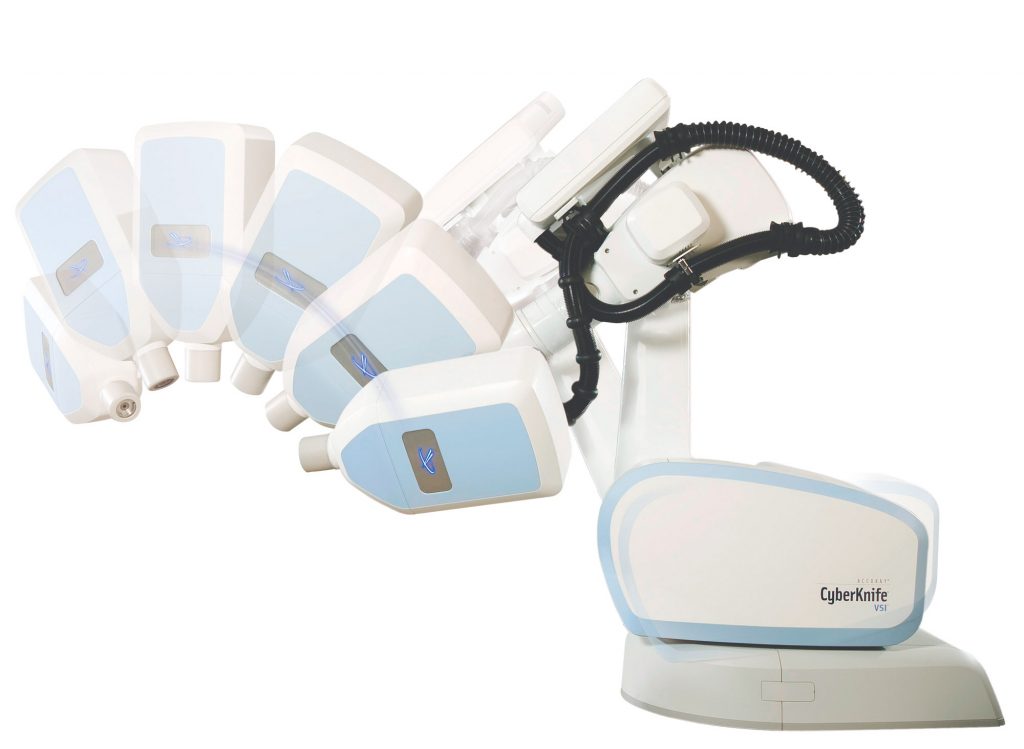 Sophisticated robotic arm to track tumor movement, which offers non-invasive alternative to surgery
The CyberKnife robotic radiosurgery system involves no cutting. For many patients, the CyberKnife treatment can offer a non-invasive alternative to surgery for the treatment of both cancerous and noncancerous tumors.
It is composed of a radiation delivery device, called a linear accelerator (or Linac), which is mounted on a robotic arm. The flexibility of the robotic arm enables the CyberKnife system to deliver radiation to tumors anywhere in the body, including the brain, head and neck, spine, lung, prostate, liver, pancreas, breast and other soft tissues.
The CyberKnife system also utilizes sophisticated software and advanced imaging to track tumor and patient movement and adjust the beams of high-dose radiation to ensure treatment is delivered with a high degree of accuracy.
With the CyberKnife system, patients can complete treatment in one (1) to five (5) days, compared to the weeks it takes to complete a course of conventional radiation therapy. In addition, it provides a pain-free, non-surgical option for patients who have inoperable or surgically complex tumors, or who may be looking for an alternative to surgery.
Advantages of CyberKnife Treatment
Alternative to open surgery
Pain-free

No anesthesia required

Outpatient procedure

Exceptional accuracy spares healthy tissue and organs

Immediate return to normal activity

No invasive head or body frame

No breath holding or 'respiratory gating' required during treatment
What are the key differences between CyberKnife and conventional Radiotherapy?
The CyberKnife System which features the Robotic Arm offers a number of benefits compared to conventional radiation treatments and surgery
Surgically precise targeting (sub-millimeter clinical accuracy)

Minimal side effects & Non-invasive

Does not require immobilization device

Little to no recovery time

Appropriate treatment for patients who are diagnosed with inoperable or untreatable tumors

The only system that can continuously track, detect and correct tumour and patient movement throughout the treatment.