Mount Miriam Cancer Hospital's Drive-Thru Charity Food Sale 2021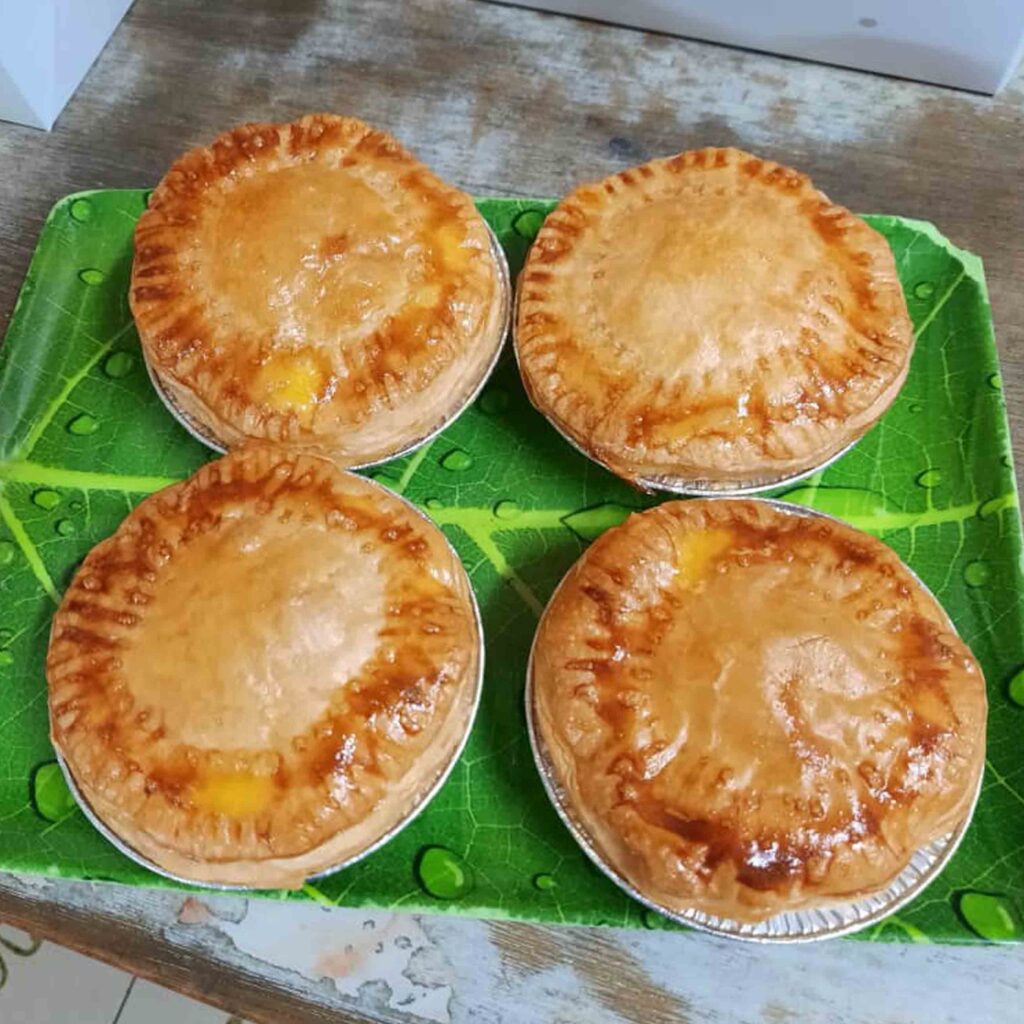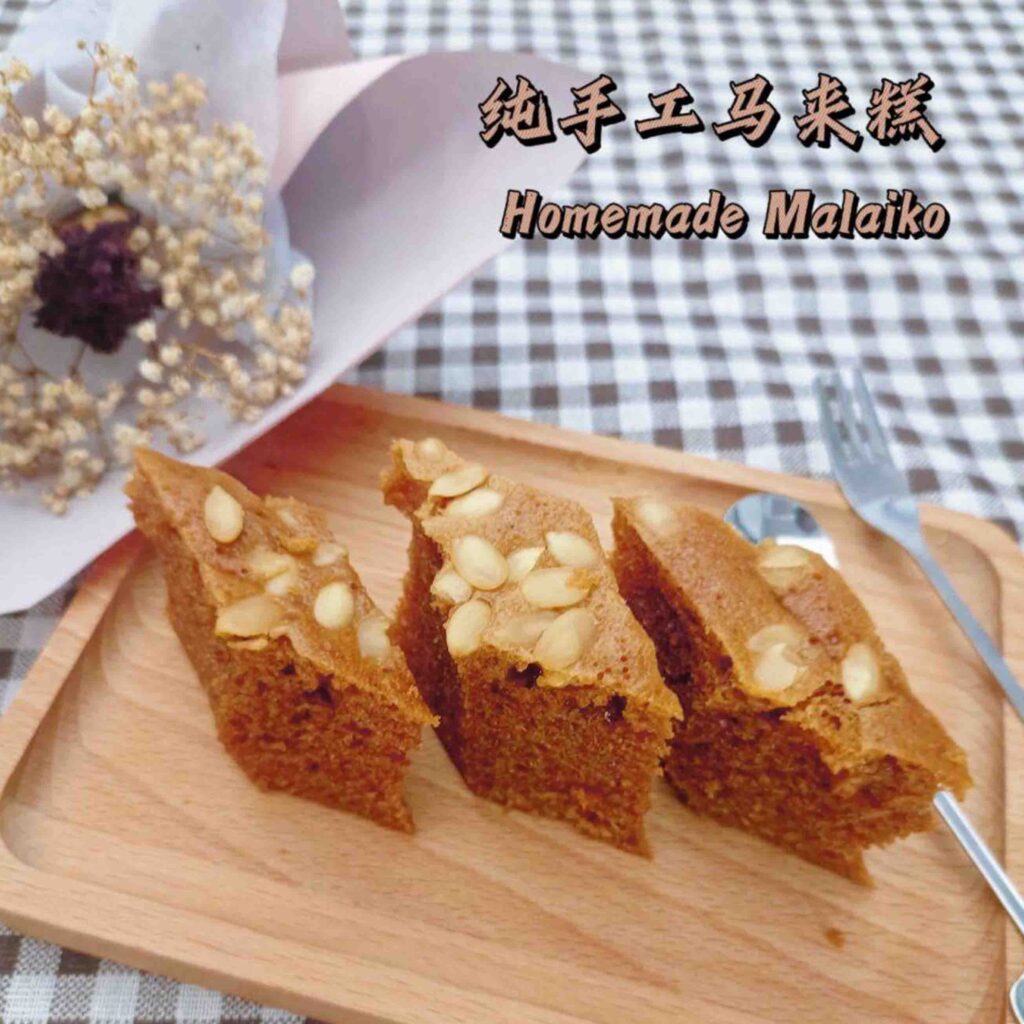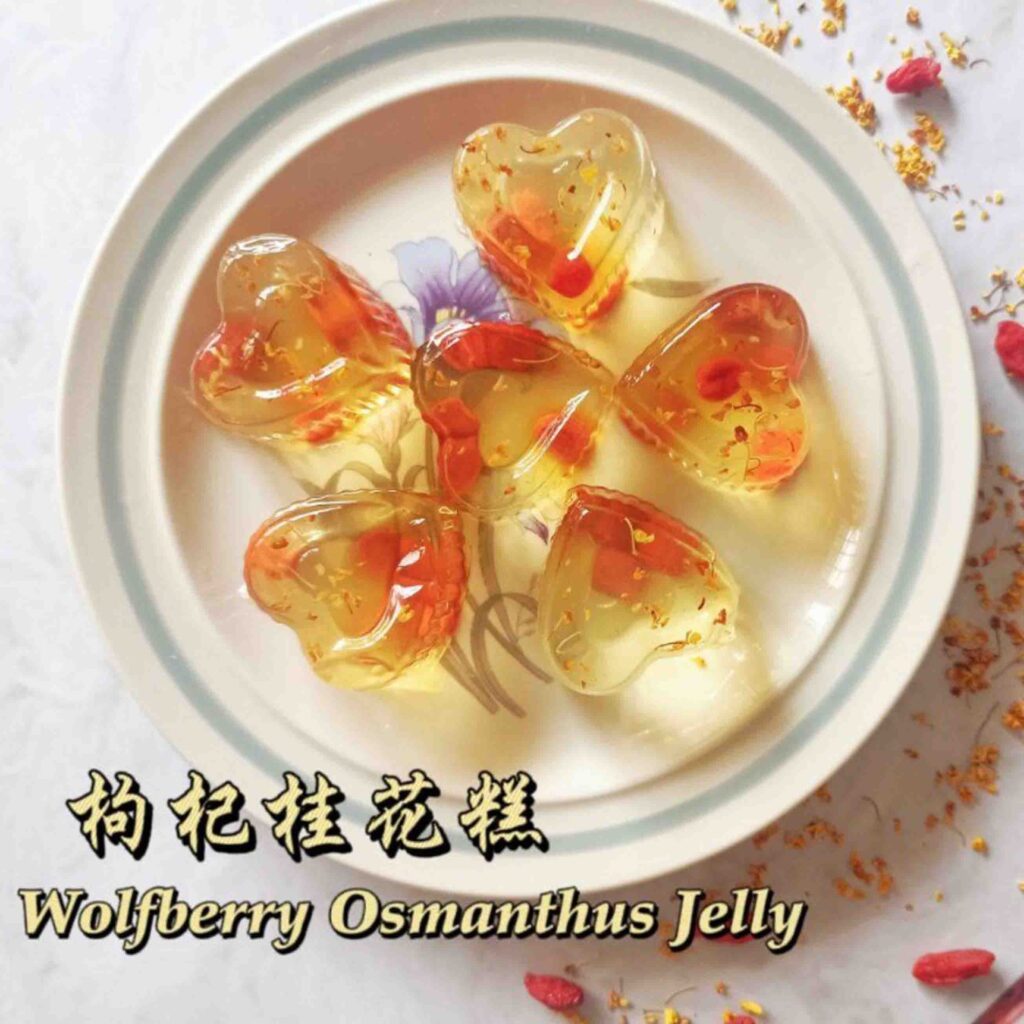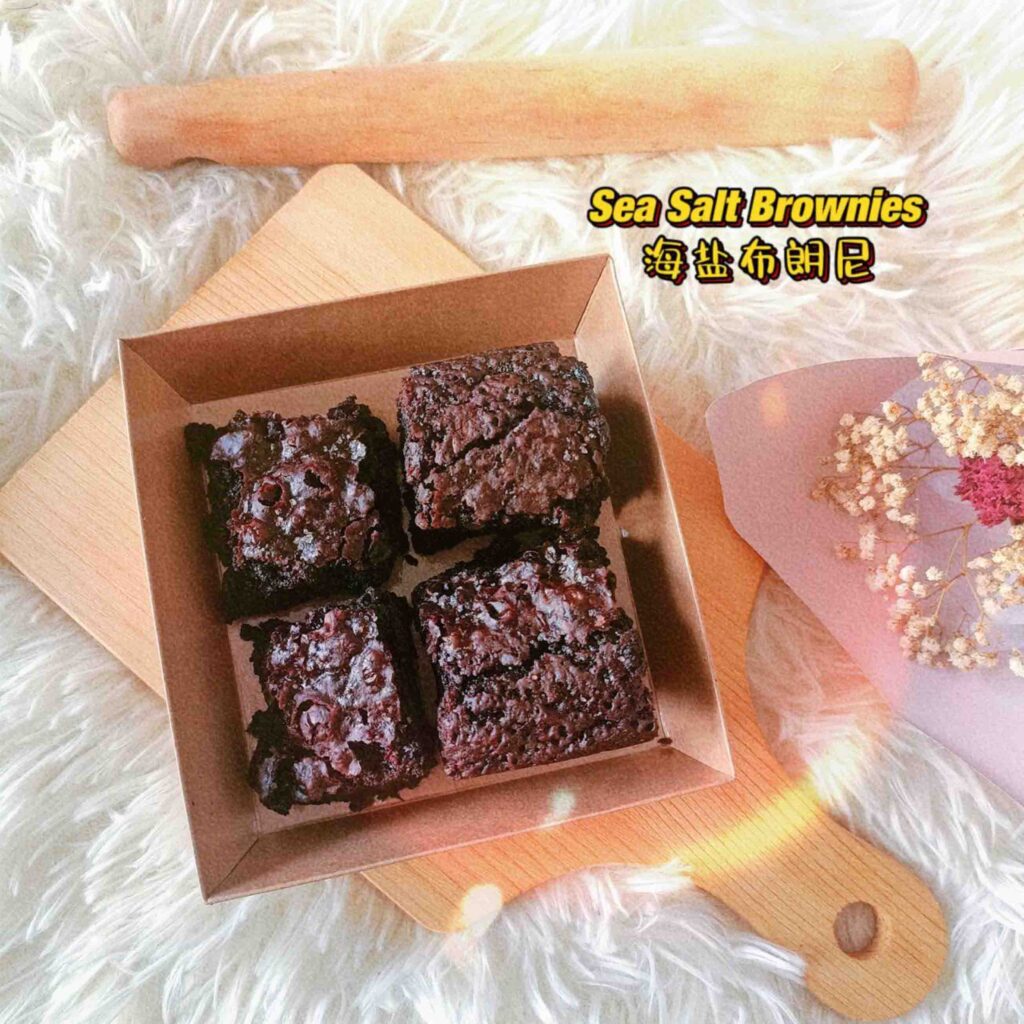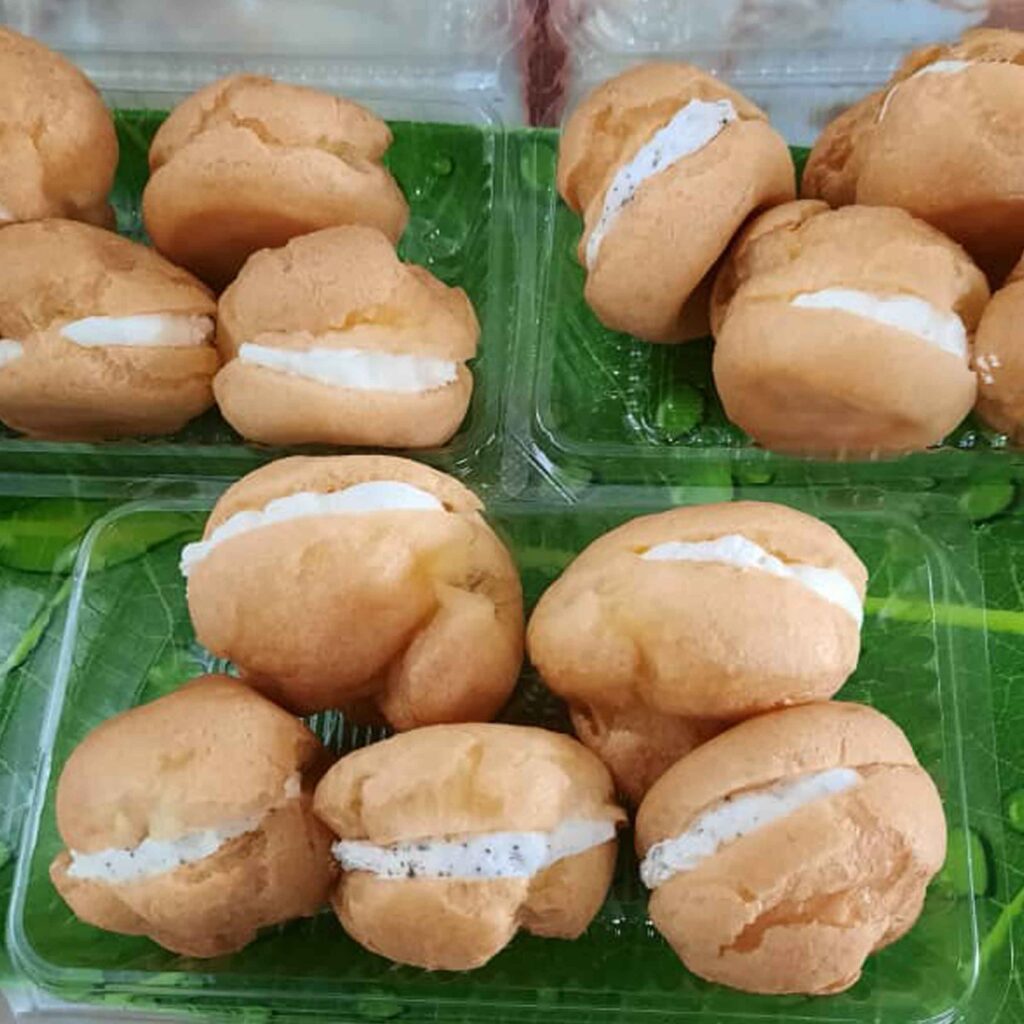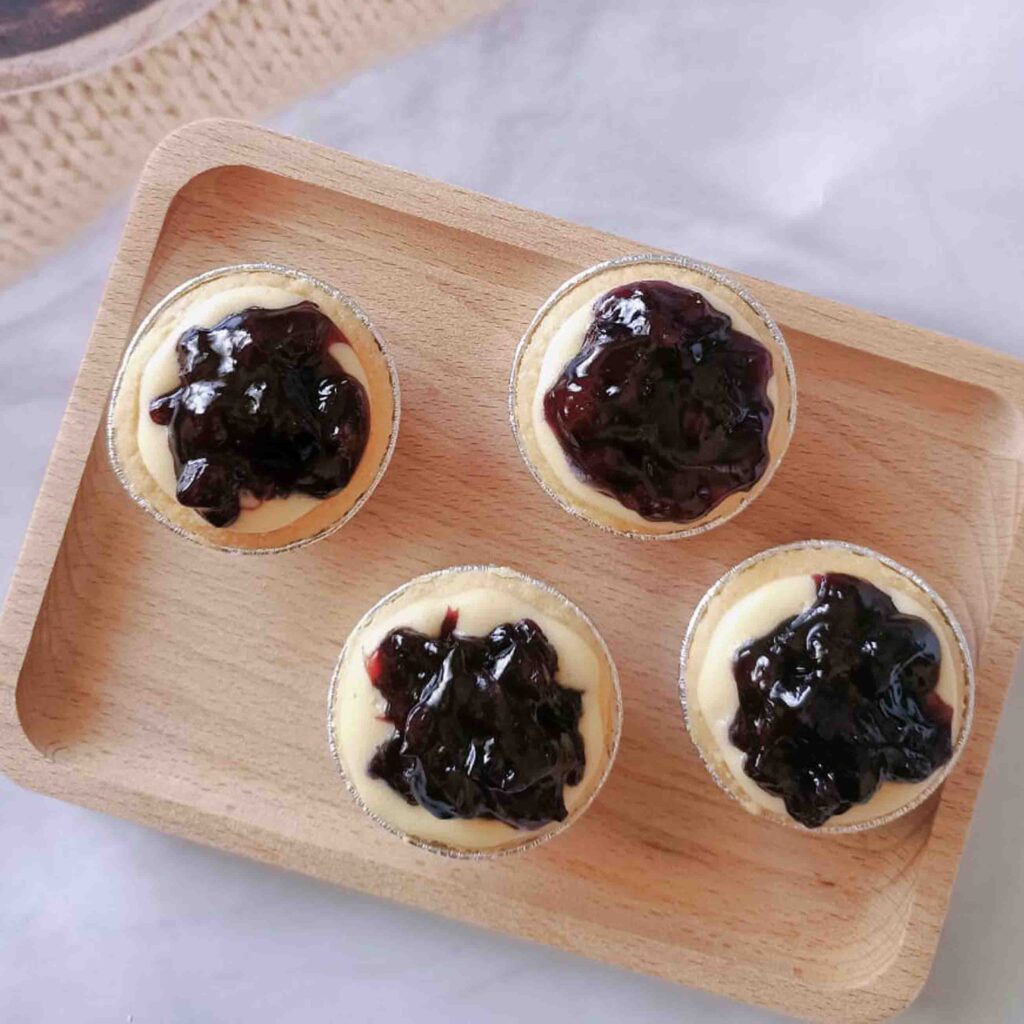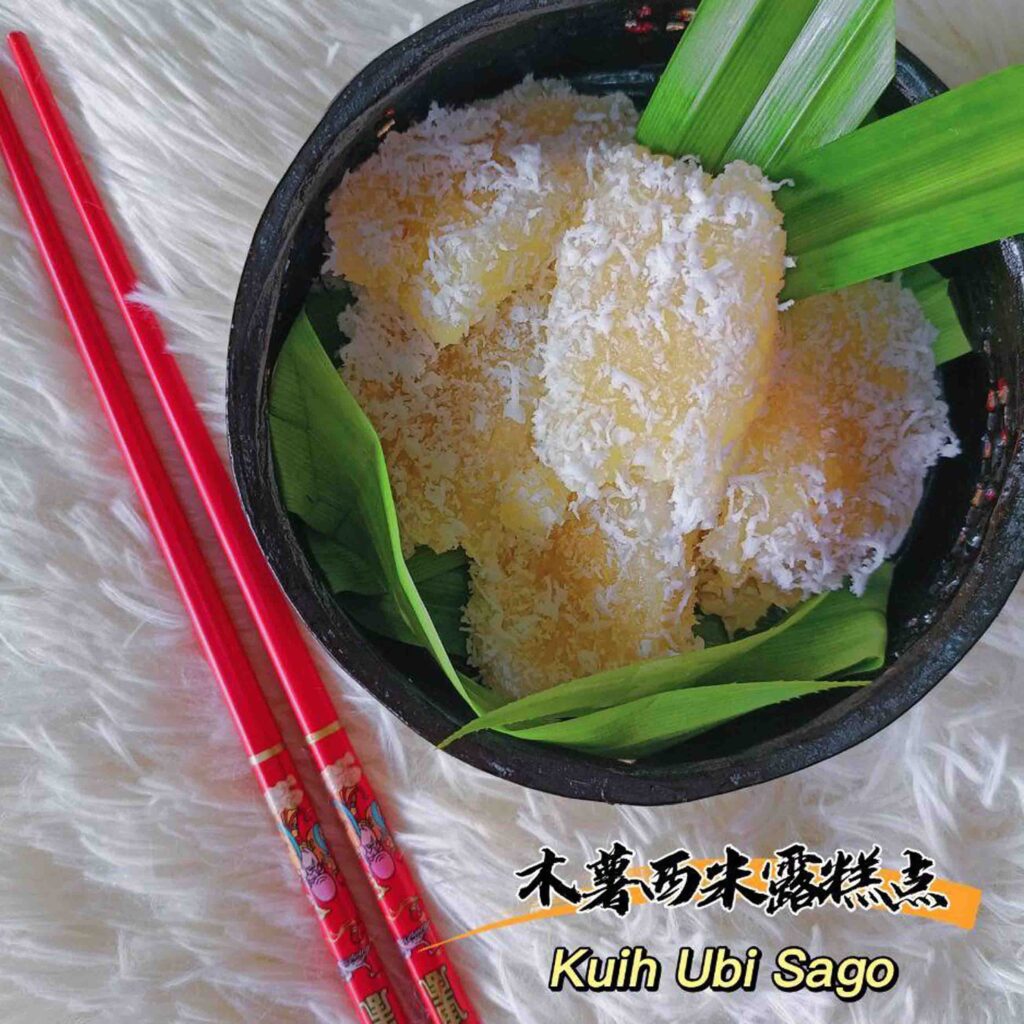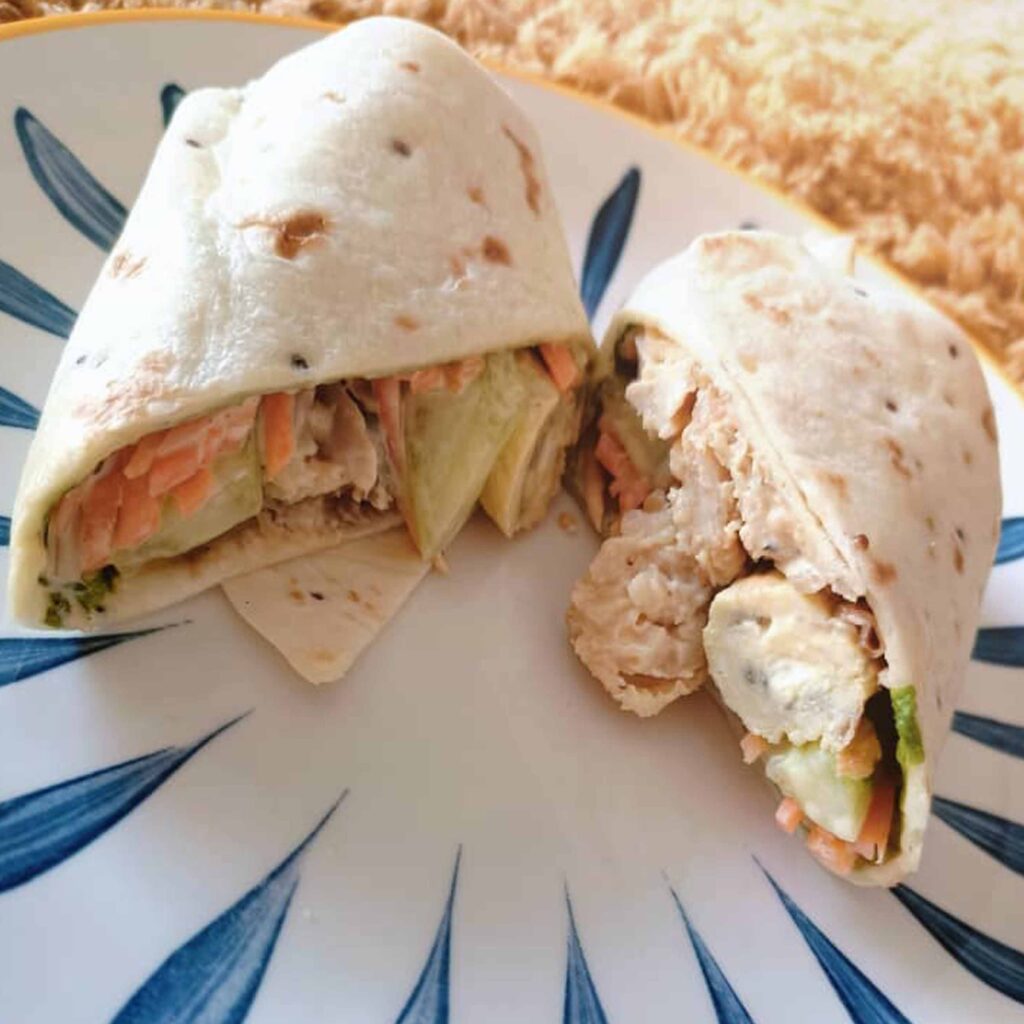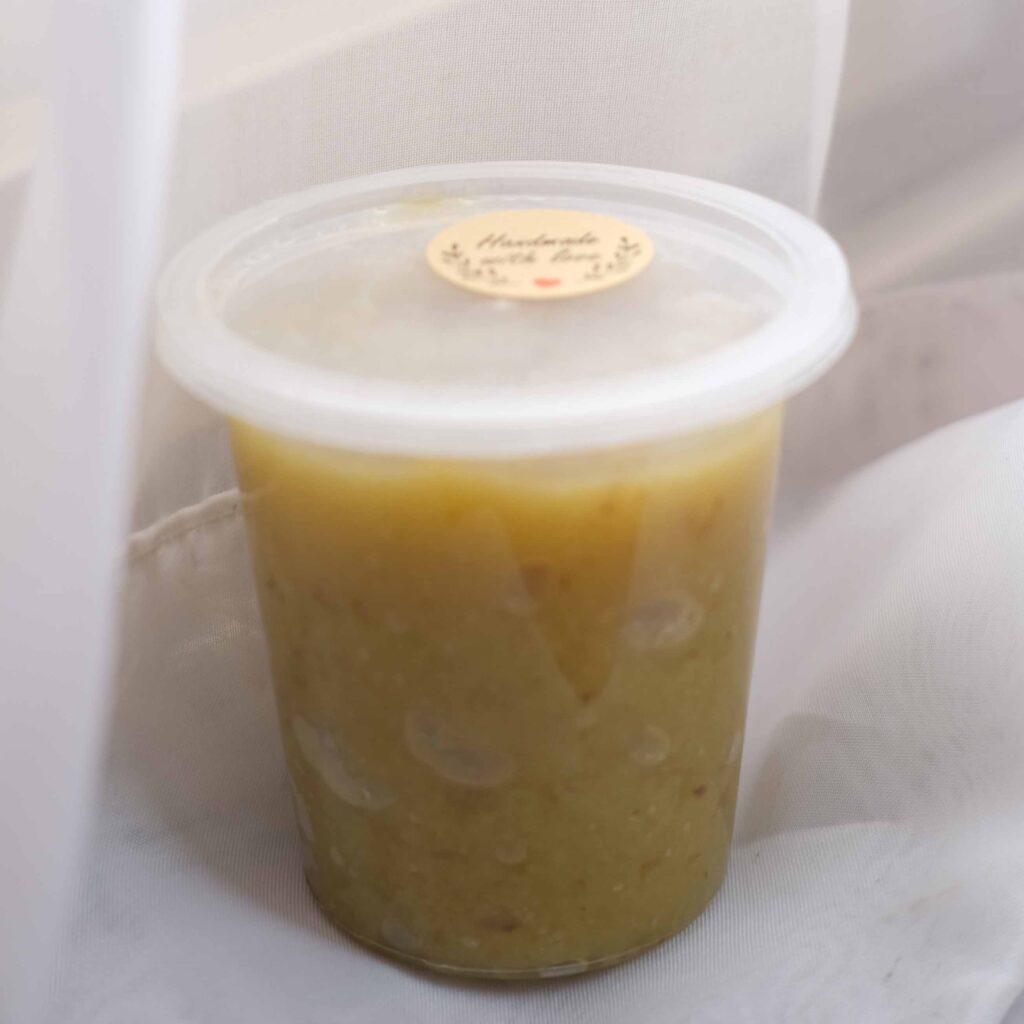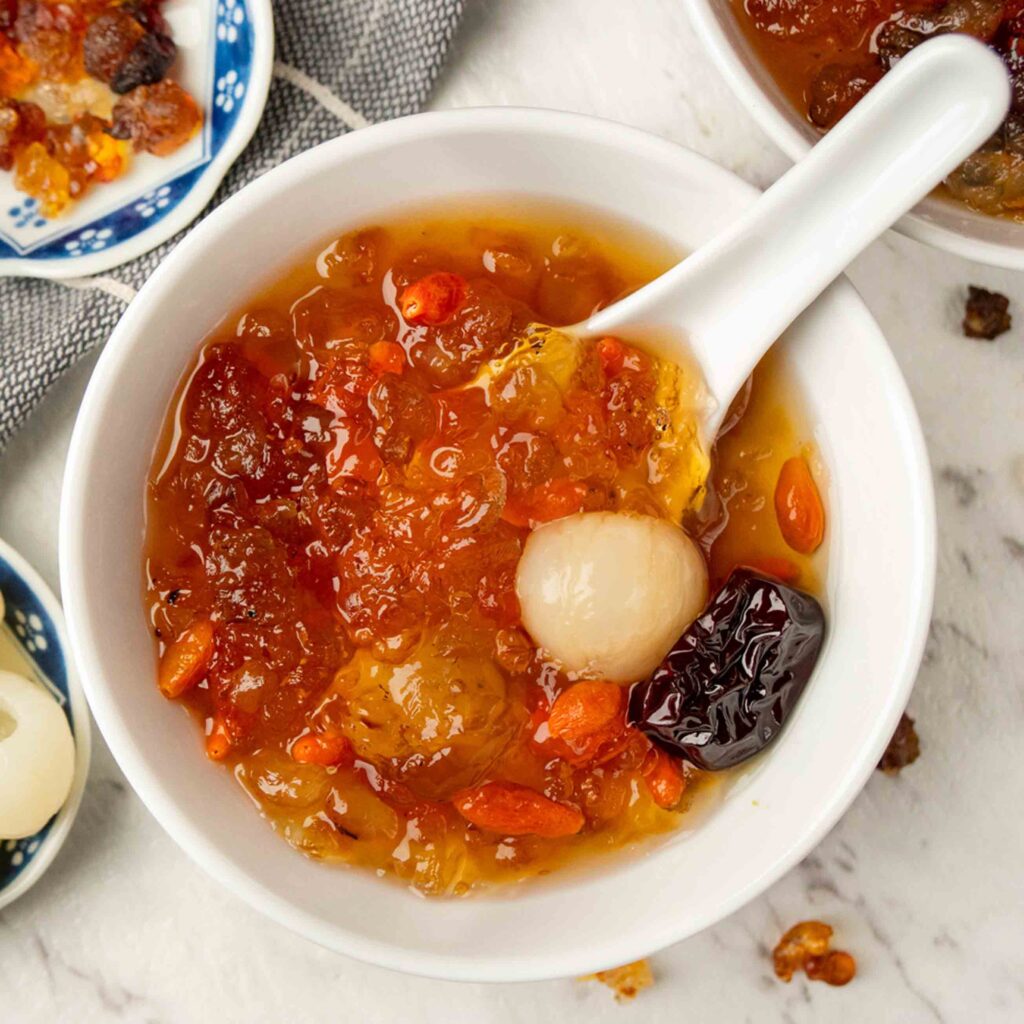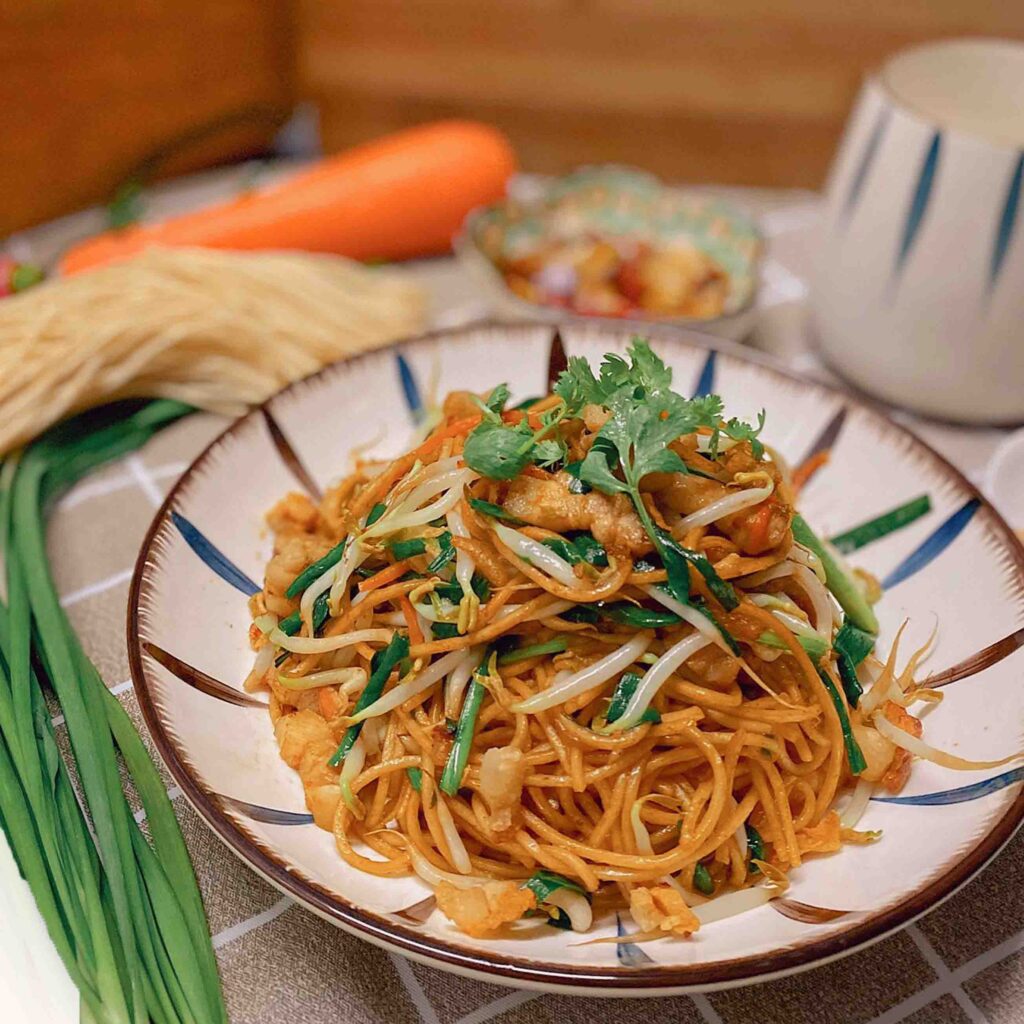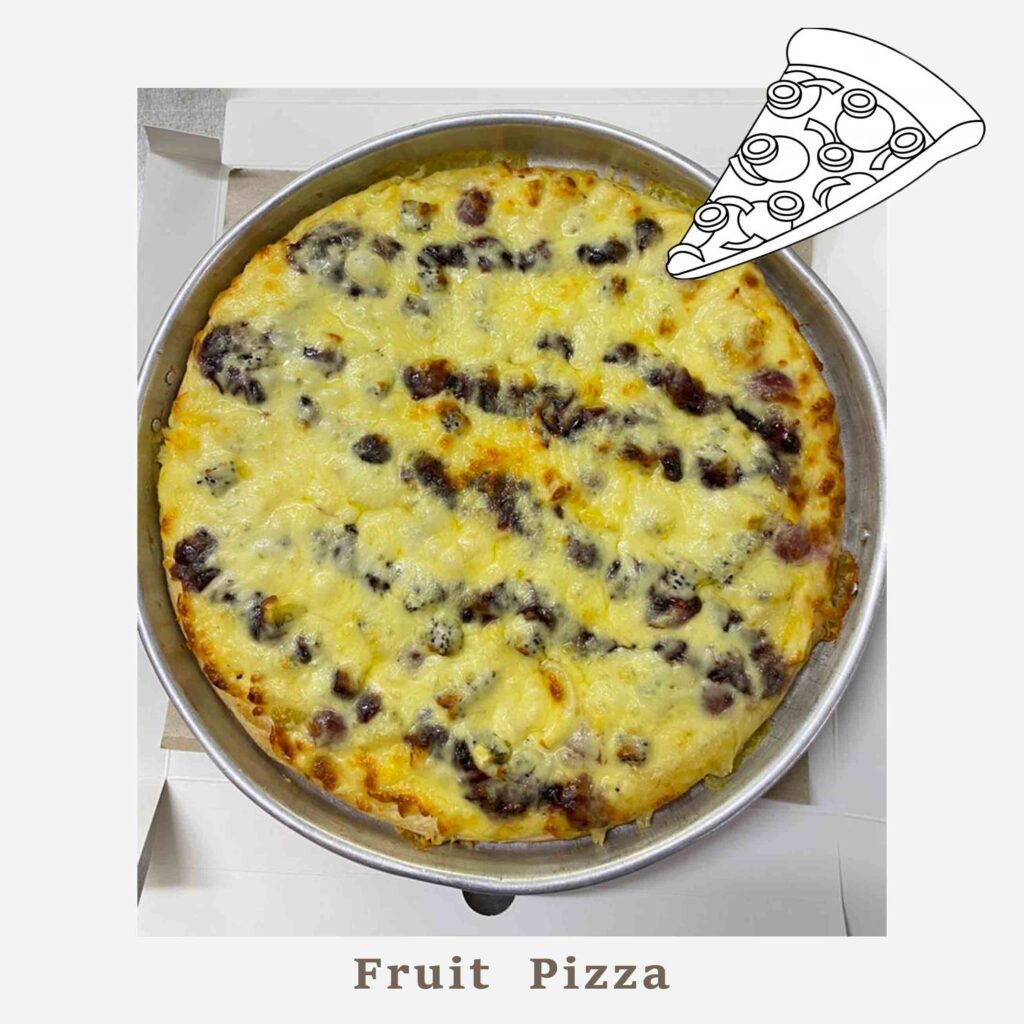 Chicken Pie | Malaiko | Kuih Ubi Sago | Kuih Ubi Inti |Sea Salt Brownies | Cream Puff | Wolfberry Osmanthus Jelly | Chicken Wrap | Blueberry Cheese Tarts | Char Mee Sua | Peach Gum Dessert | Kaya | Pizza (Fruits/ Tuna/ Chicken)

Sponsored with Love by Ms Anonymous
Ms Anonymous is one of the kindest people we know. She has been very involved in most of our fundraising events. If you had participated in our previous events, you might have seen her before.
These kuihs and cakes are her personal favourites.
Initially, she committed to sponsoring a variety of kuihs & cakes for six weeks; However, she is now sponsoring from the start of our charity food sale till the end! 
She has generously donated over 13 different food items.
Pineapple Balls
Baked & Sponsored with Love by Ms Kathleen
Ms Kathleen bakes some seriously good melt-in-the-mouth pineapple balls that you don't want to miss! The pineapple filling is wrapped inside the buttery pastry dough. To ensure our supporters get the freshest pineapple balls, she took the trouble to make it in different batches and hand-delivered to us in small batches.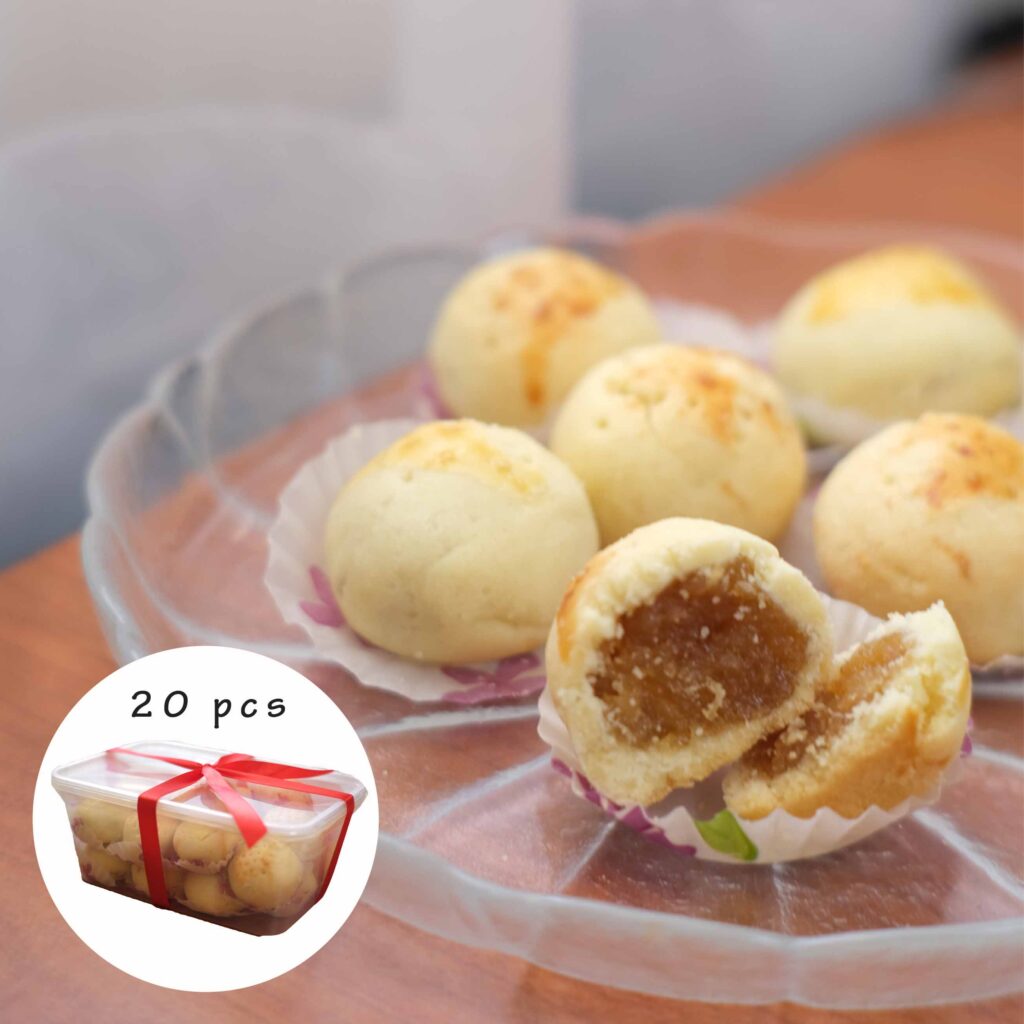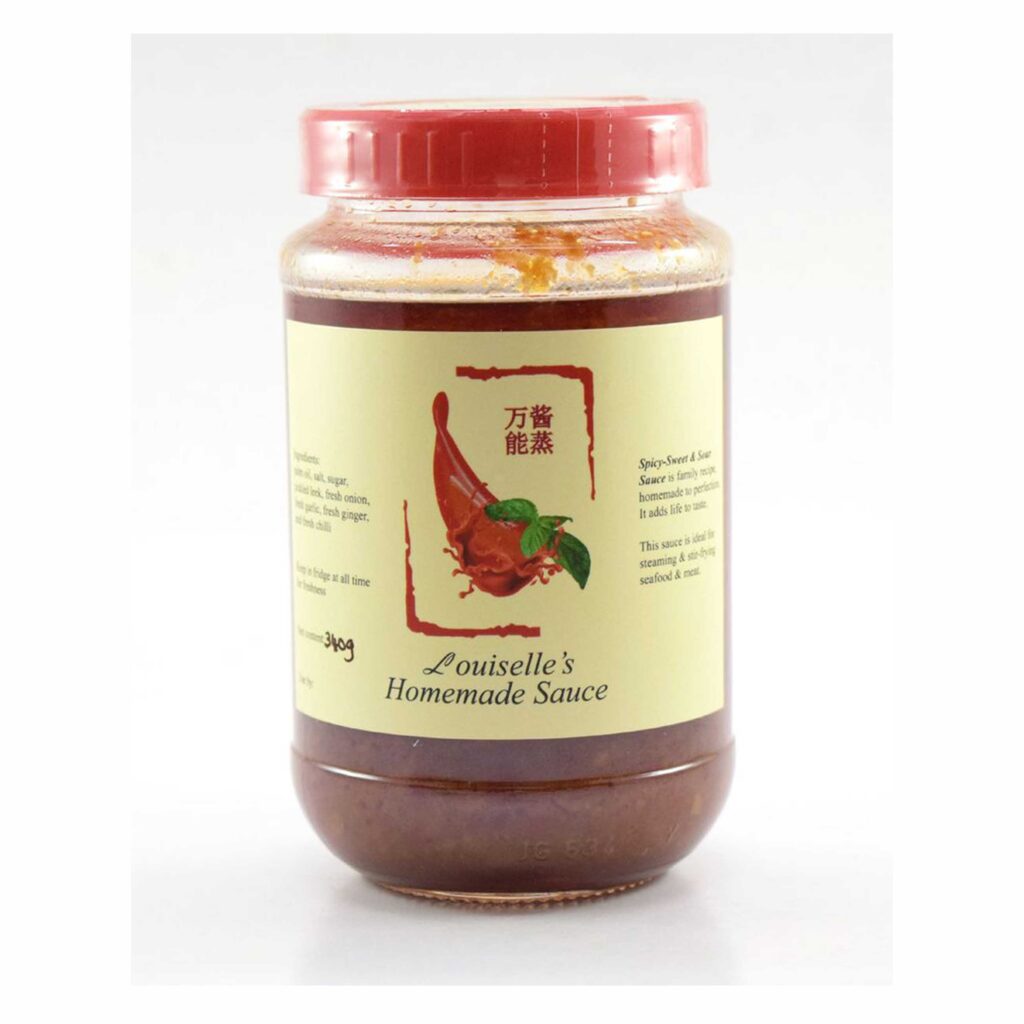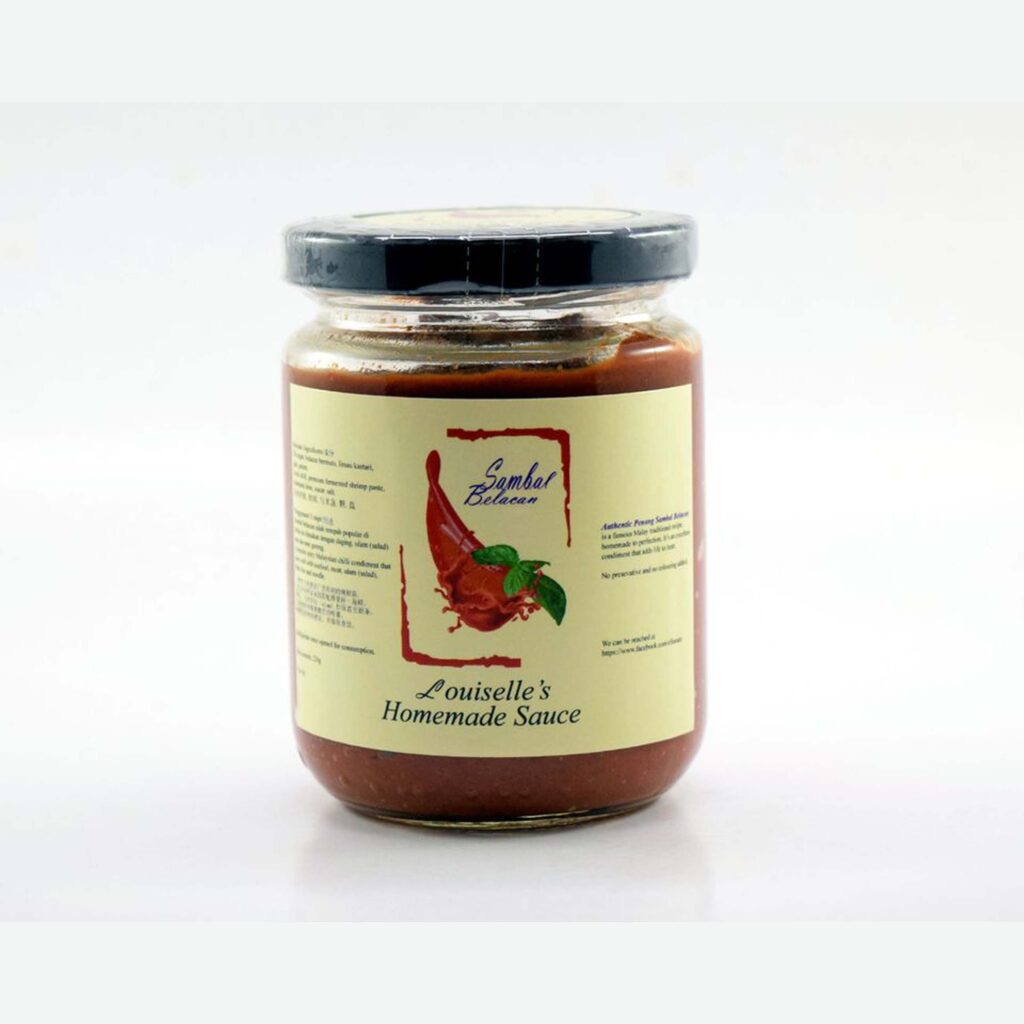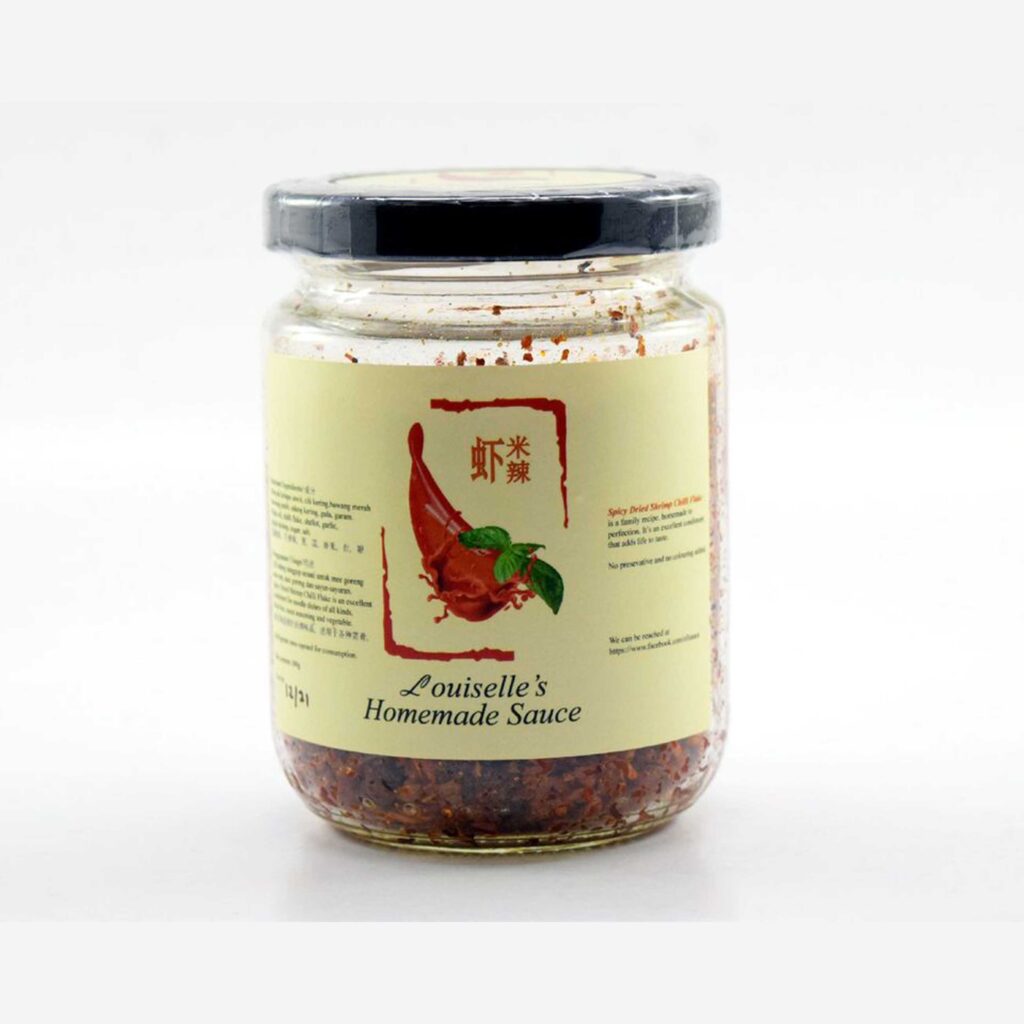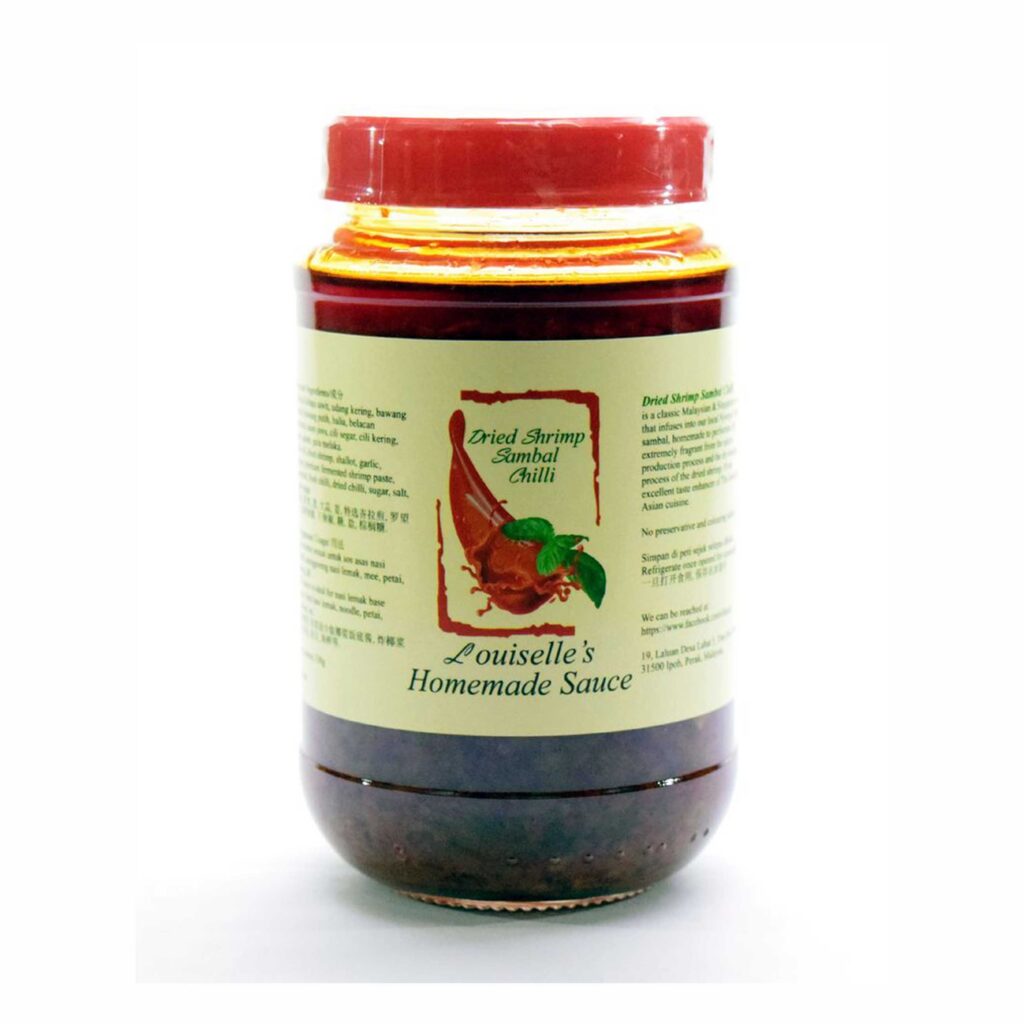 Dried Shrimp Sambal Chilli Sauce | Non-Oily Spicy Dried Shrimp Flake | Sambal Belacan Dipping Sauce | Spicy Sweet & Sour Sauce
Made by Louiselle's Homemade Sauce & Sponsored with Love by Ms Anonymous
This is, again, sponsored by Ms Anonymous who has been sponsoring us the kuihs and cakes above. Her generosity knows no bounds. She always seeks to double her charitable giving by helping out us and the business owners who are badly affected by the pandemic.
Louiselle's Homemade Sauces was born out of the pandemic. At the backdrop of the severity of Covid-19 pandemic, Louiselle's founder came up with an idea of selling their family's favourite homemade sauces with the intention of encouraging home cooking, generating some income and prevent boredom after staying home for too long. Louiselle's Homemade Sauces are made using fresh ingredients without artificial flavouring, preservative or colouring. They just go with just about everything.
Butter Cookies
Prepared with Love by Five Loaves & Two Fish & Sponsored Ms J. Anonymous
– Fresh and crumbly homemade butter cookies
– Delicious buttery flavour made from high-quality butter
– Perfectly bite-sized and melts in your mouth
– Once you've tasted one, you'll ask for more!

– Fragrant butter scent and packed with flavours
Five Loaves and Two Fish started off as a small hobby and now as a home bakery, they are bringing families happiness one bite at a time. Through the years, they have crafted and refined recipes to bake the most delicious homemade cookies and cakes 🍪🍰🎂
Their signature and customers' favourite cookies and cakes are butter cookies, butter cakes, pineapple tarts, florentine biscuits, cheese cakes, Chinese New Year cookies, and more! You can order it for special occasions and celebrations or even just for a midnight snack – 😉 We promise we won't tell anyone 🤫
WhatsApp them to order your favourite cakes at +6012-2040669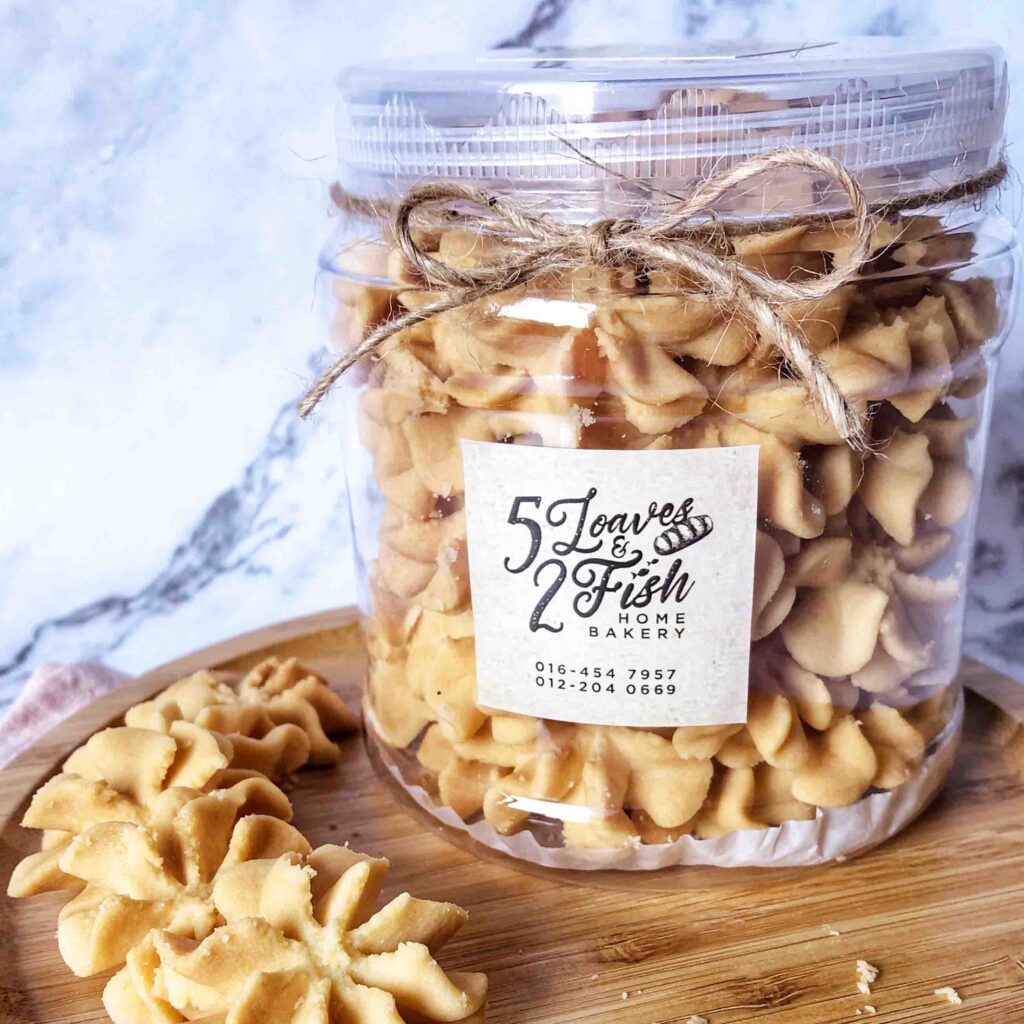 Nasi Lemak with Ayam Masak Merah | Bubur Cha Cha
Sponsored with Love by TSL
We have known TSL for many many years. She is a cancer survivor and also a member of Penang Breast Care Society serving in Mount Miriam on voluntary basis even though she in her 70's. Always sweet and soft-spoken.
One day we got a call from her saying that she would like to be a part of this initiative. When it comes to sourcing the food, she already got someone in mind – a lady whom she got to know in Mount Miriam. The lady's husband was our ex-patient. TSL thought she might as well support her friend since she needs to get food anyway.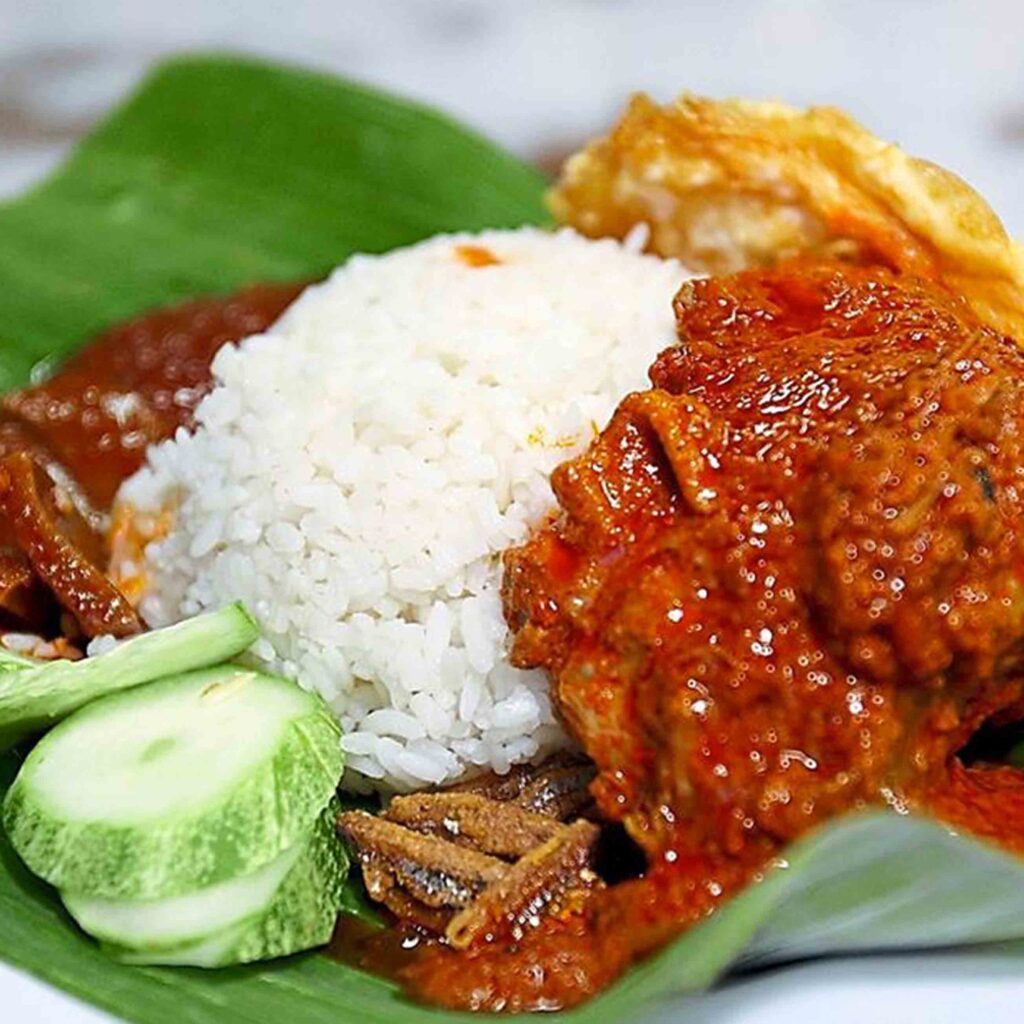 Nasi Rancaak Ayam Percik Bakaq | Bak Chang
Sponsored with Love by Penang Breast Care Society
In Mount Miriam, if you happen to come across some ladies who go around offering patients free snacks and beverages at the waiting area, they are none other than the members of Penang Breast Care Society – sometimes our patients would affectionately call them the tea-trolley ladies.
PBCS is a registered cancer support group whose office is based in Mount Miriam. Most of their members are cancer survivors and all are serving on a voluntary basis. What they do is more than offer snacks, their main duty is to offer emotional and practical support for cancer patients, provide free advisory service and appropriate assistance pertaining to improving the quality of life of a cancer patient.
When they learned about 'Wheely Good', they selflessly took out RM1k from their own fund for the food sponsorship.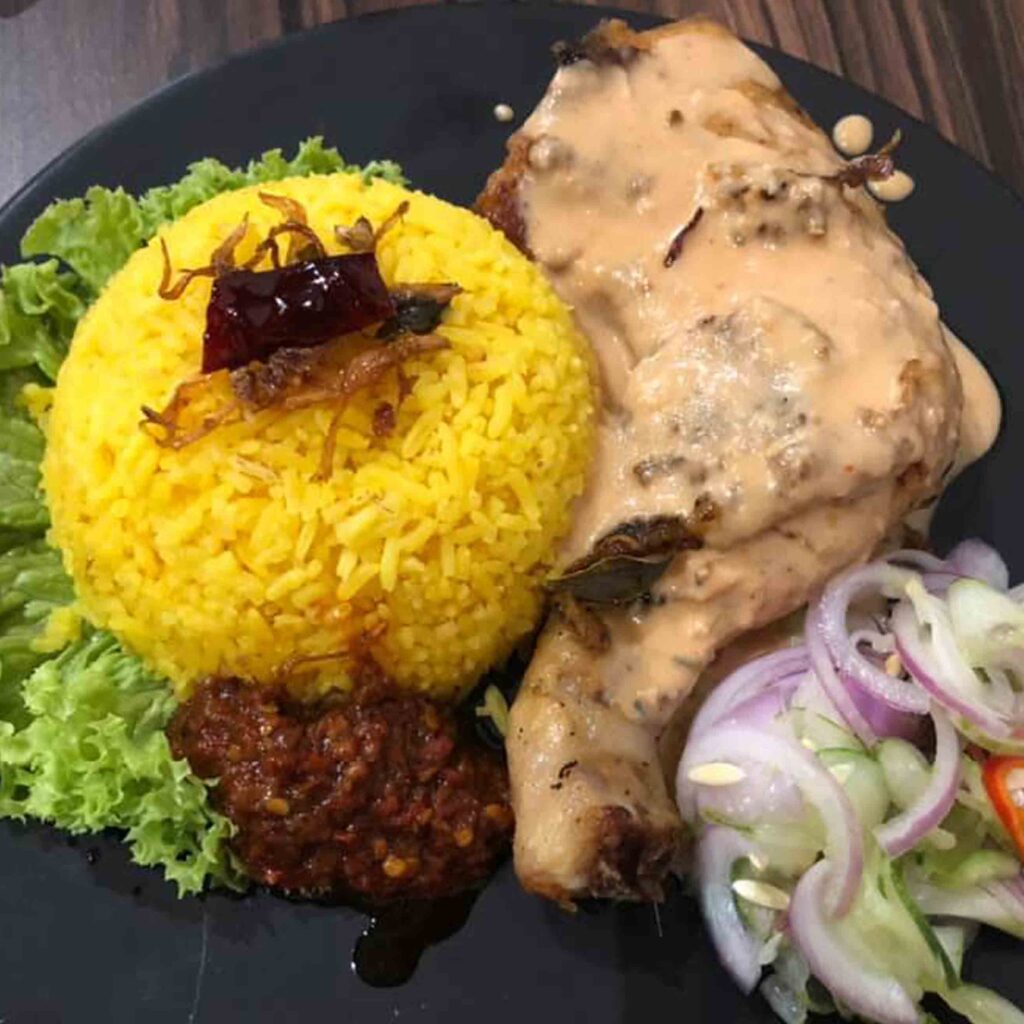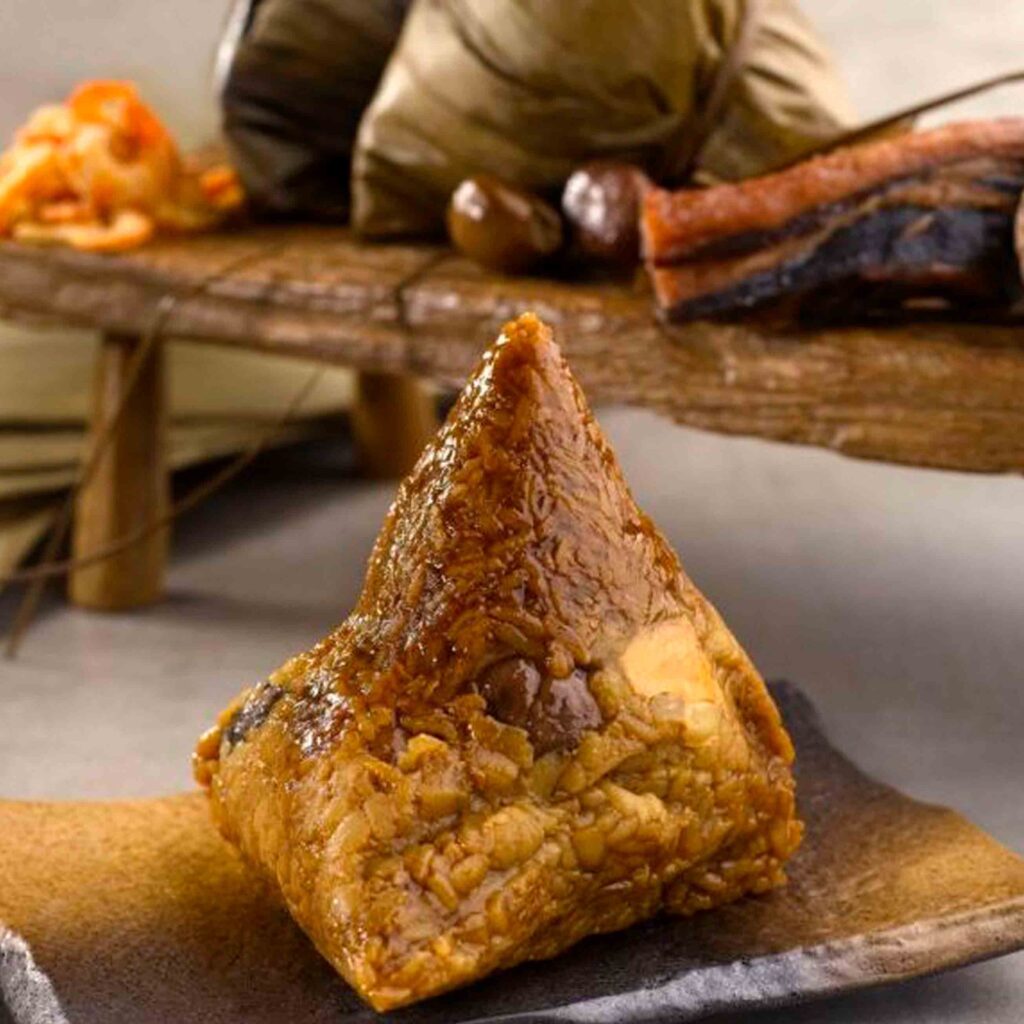 Ocean Cheesecake
Baked with Love by Cherie Berry Creations & Sponsored by Lovely Friends
Freshly baked by Mama Lim and PowPow. Mama Lim has 12 years of baking experience and specialises in making Shang Hai Mooncake and Butter Cake. Inspired by her mom since she was a little girl, Pow Pow ventured in her small business when MCO1.0 started.
Everything is freshly made & handcrafted by orders. Their recipe calls for less sugar and the best part is, their offerings are affordable so you can enjoy good desserts while going easy on your wallet!
If you looking for festival gift box, you may check them out at: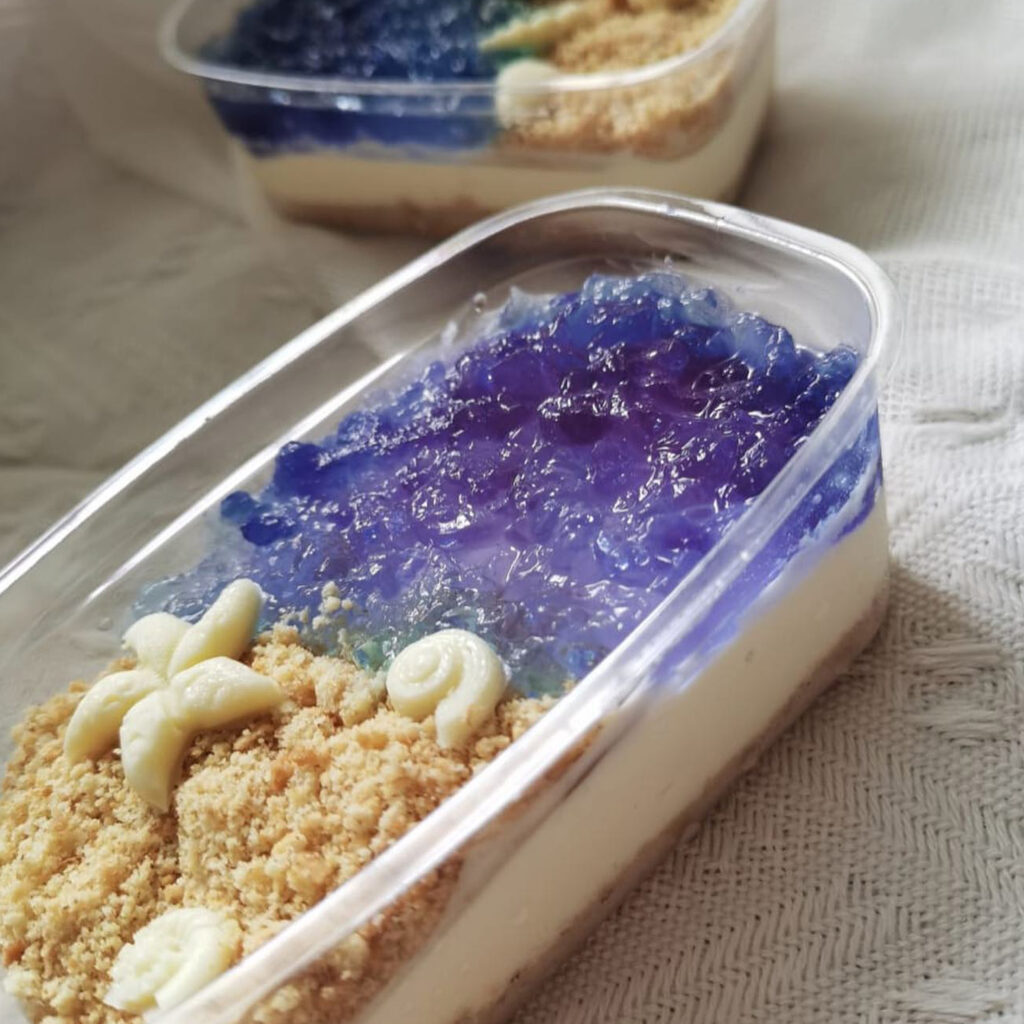 Sushi Set
Prepared with Love & Sponsored by Little Ms Sunshine
Little Ms Sunshine serves hearty breakfast, rice dishes with Japanese flair, and spaghetti for lunch. Catering for small parties is also available which includes local & western delights and sushi. Their philosophy is to serve honest food cooked with love and passion.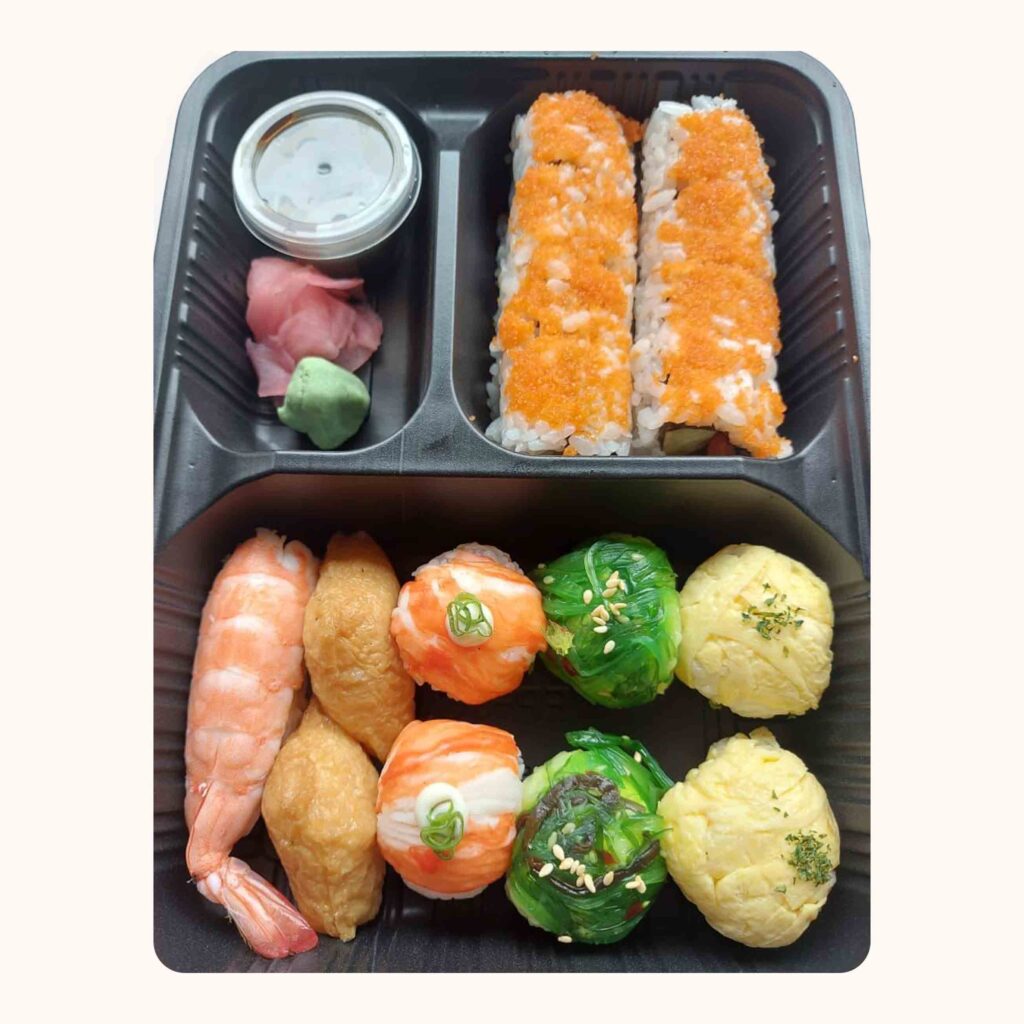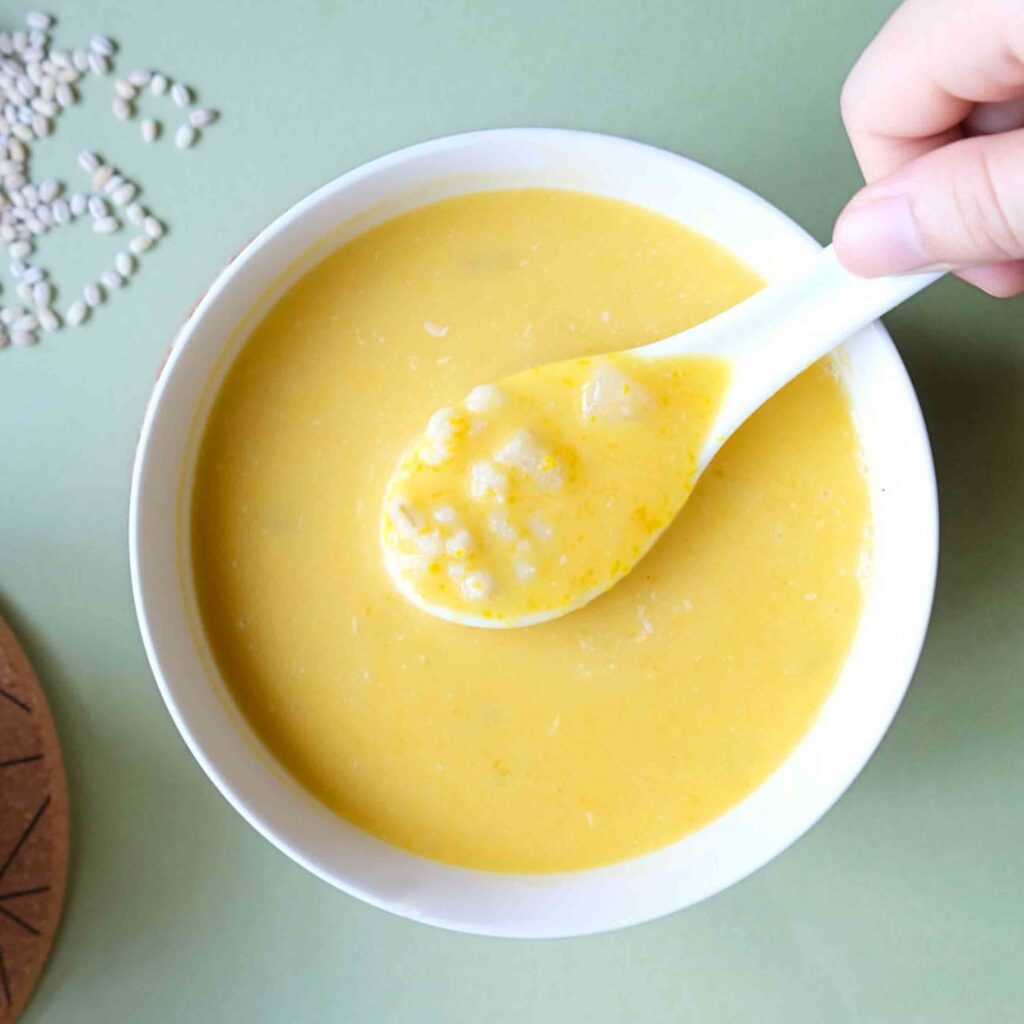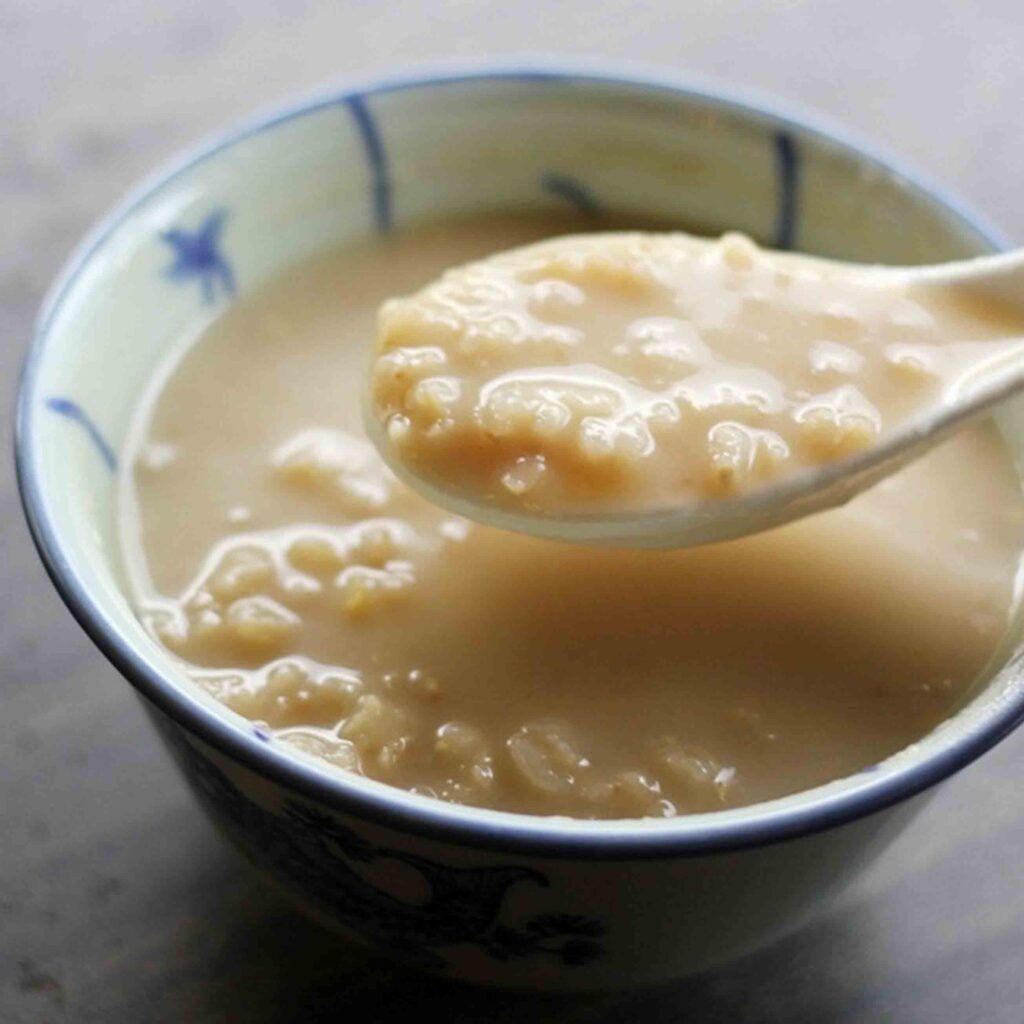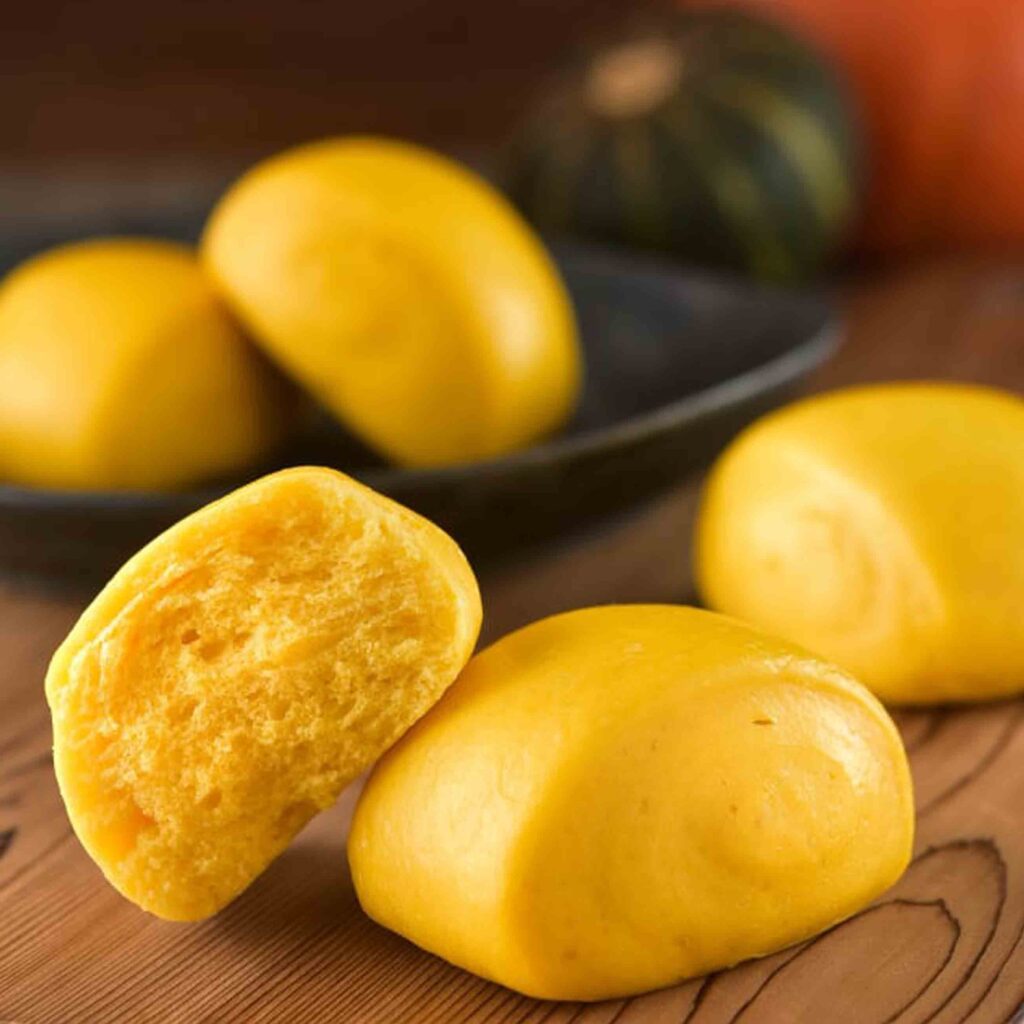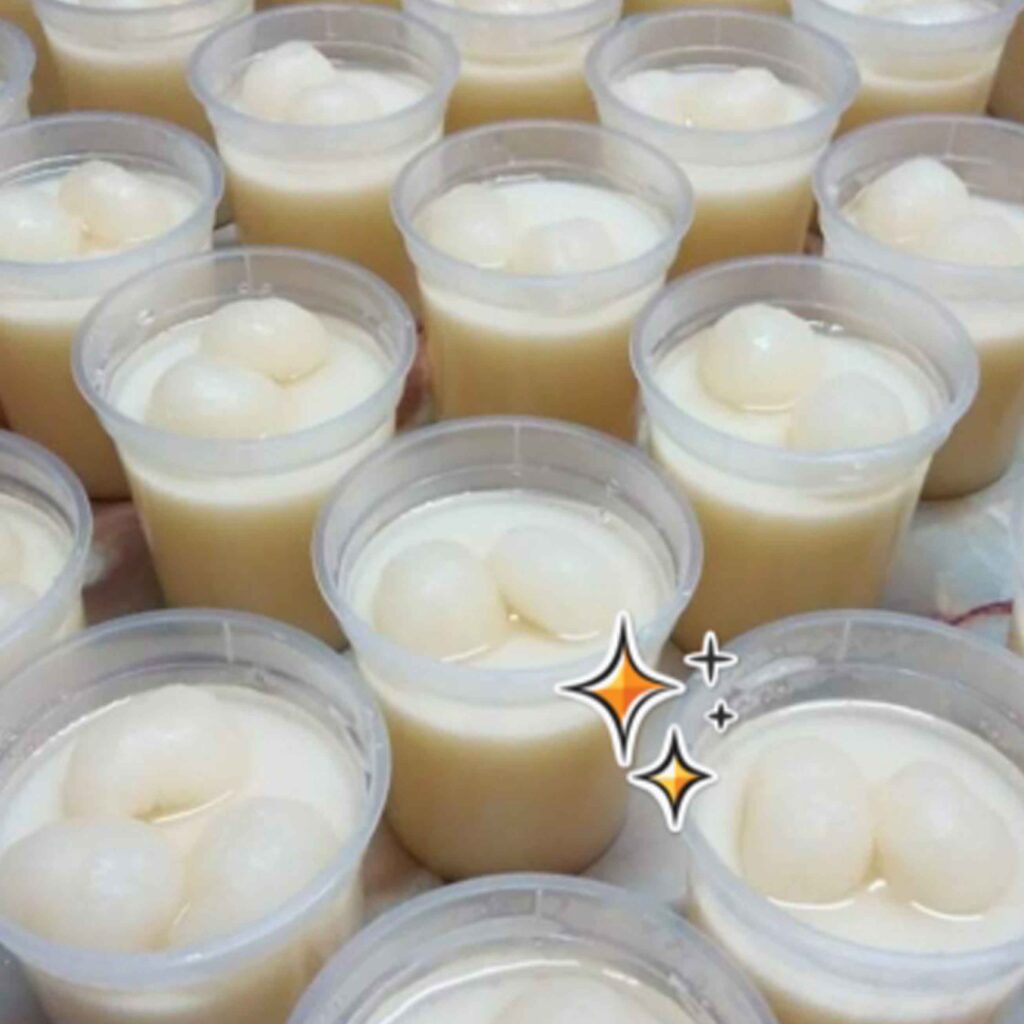 Pumpkin Barley Sago Dessert | Gandum | Pumpkin Mantou | Soybean Longan Jelly | Egg Tarts
Made & Sponsored with Love by Ah Kuen
 "小有小做,大有大做 (Well, if we do not have much, we can do it in a small scale. If we have more, we do it in a bigger scale) " – Being a Cantonese herself, this is what Ah Kuen always says, which is also in line with our belief.
Regardless of how small the seed of kindness is, once it is planted it will grow.  
Ah Kuen is a long-time supporter of our food fair. She used to help us sell food fair tickets. Ever since she learnt that we have this going on, she has been spending a great deal of time in helping us to connect well-wishers and potential sponsors in the last couple of weeks.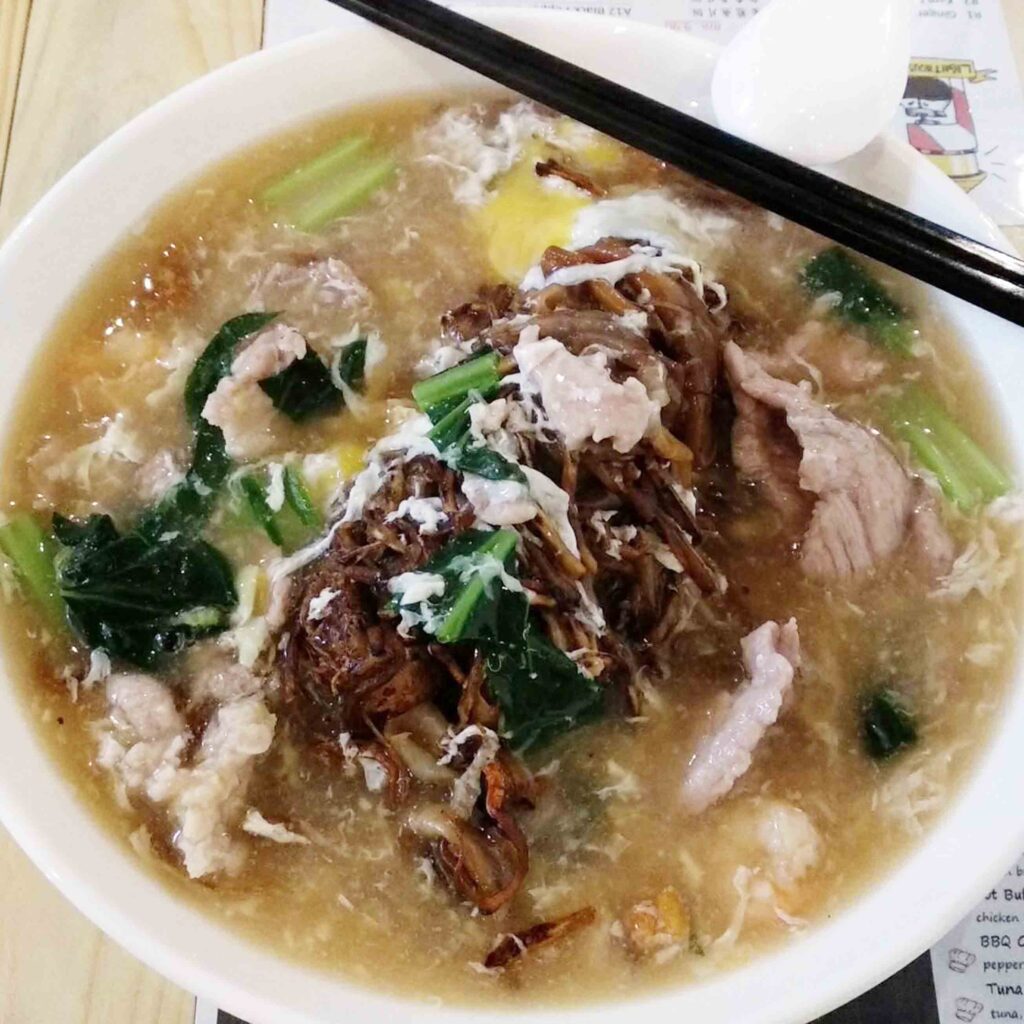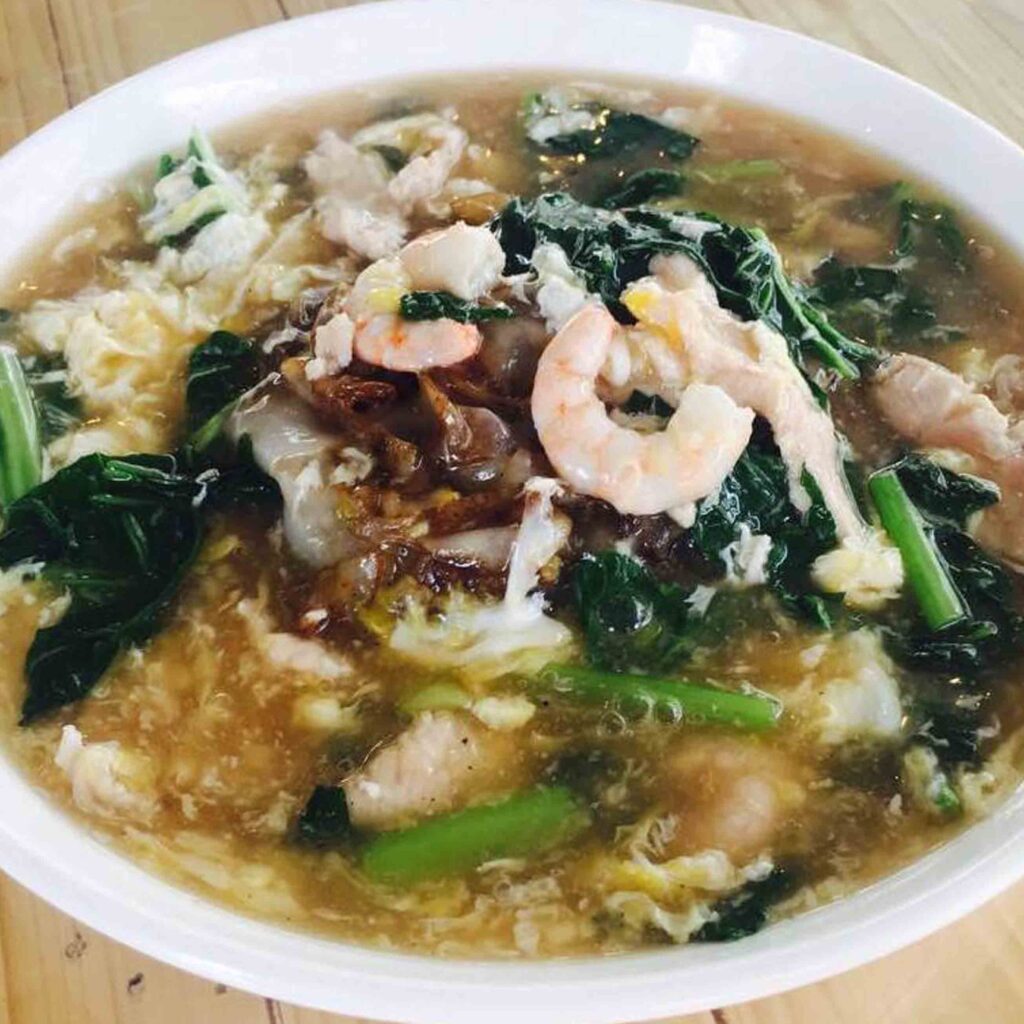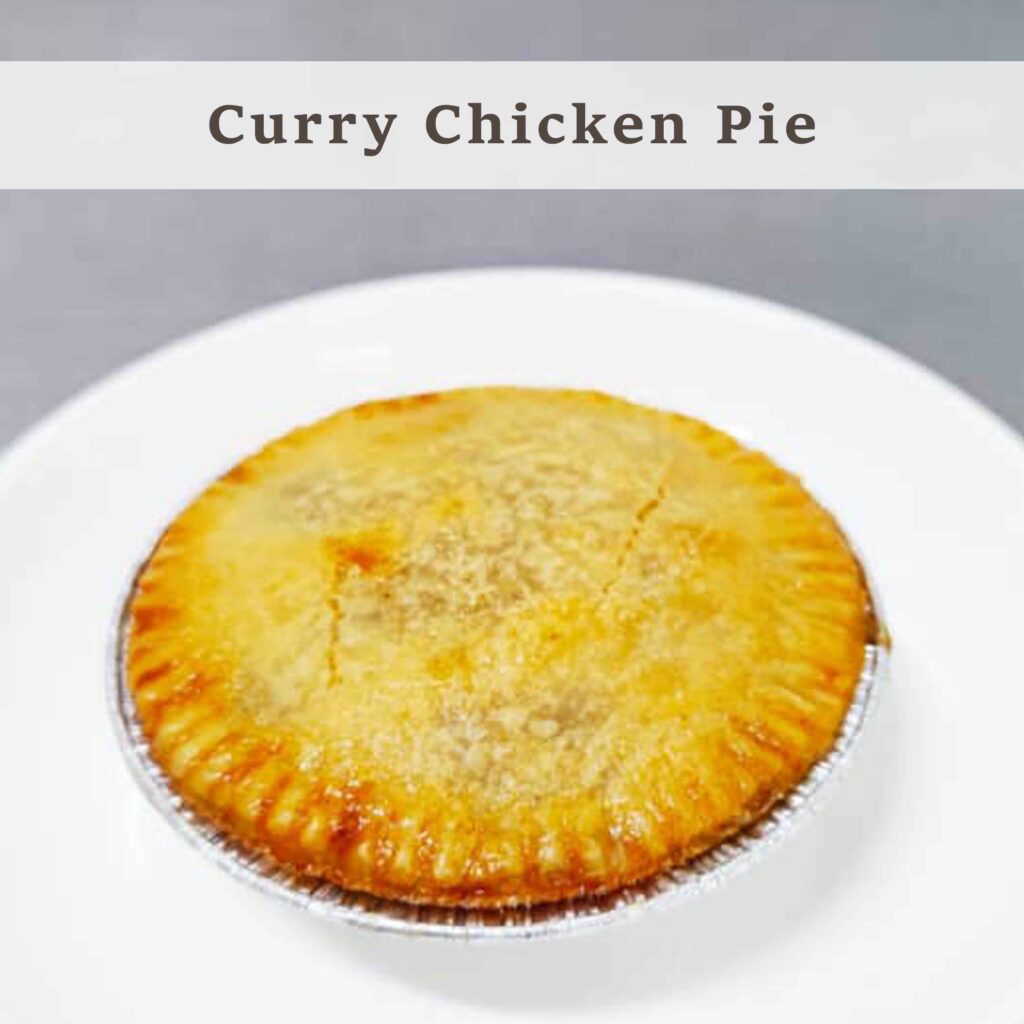 Lighthouse Cafe Char Hor Fun | Yee Fu Mee | Curry Chicken Pie
Sponsored with Love by Choong
Though we have never met, thank you for believing in what we do here. Thank you Joon for helping out with the arrangements.
Vegetarian Quiche with Ham & Corn and Tuna
Made & Sponsored with Love by Eng Kor Cha Bi, Traditional Hokkien Savoury
It all started from last week when Margaret, the owner of Eng Kor Cha Bi delivered the sponsored food to us under the arrangements of another sponsor. We had a small talk and Margaret learnt that there are 2 more rounds of food sales to go and on the spot, she committed to continue with the sponsorship. This time round, it is out of her own pocket.
Margaret's dad is the founder of Eng Kor Cha Bi. Being a Hokkien descendant with kuih background, he started this business with his family about two decades ago, selling a variety of traditional Hokkien savoury fritters. If you are looking for the old taste that we've been reminiscing, check out Eng Kor Cha Bi, you won't be disappointed. Oh, did I mention that they are also specialized in vegetarian treats? Vegetarian quiche is Margaret's own creation.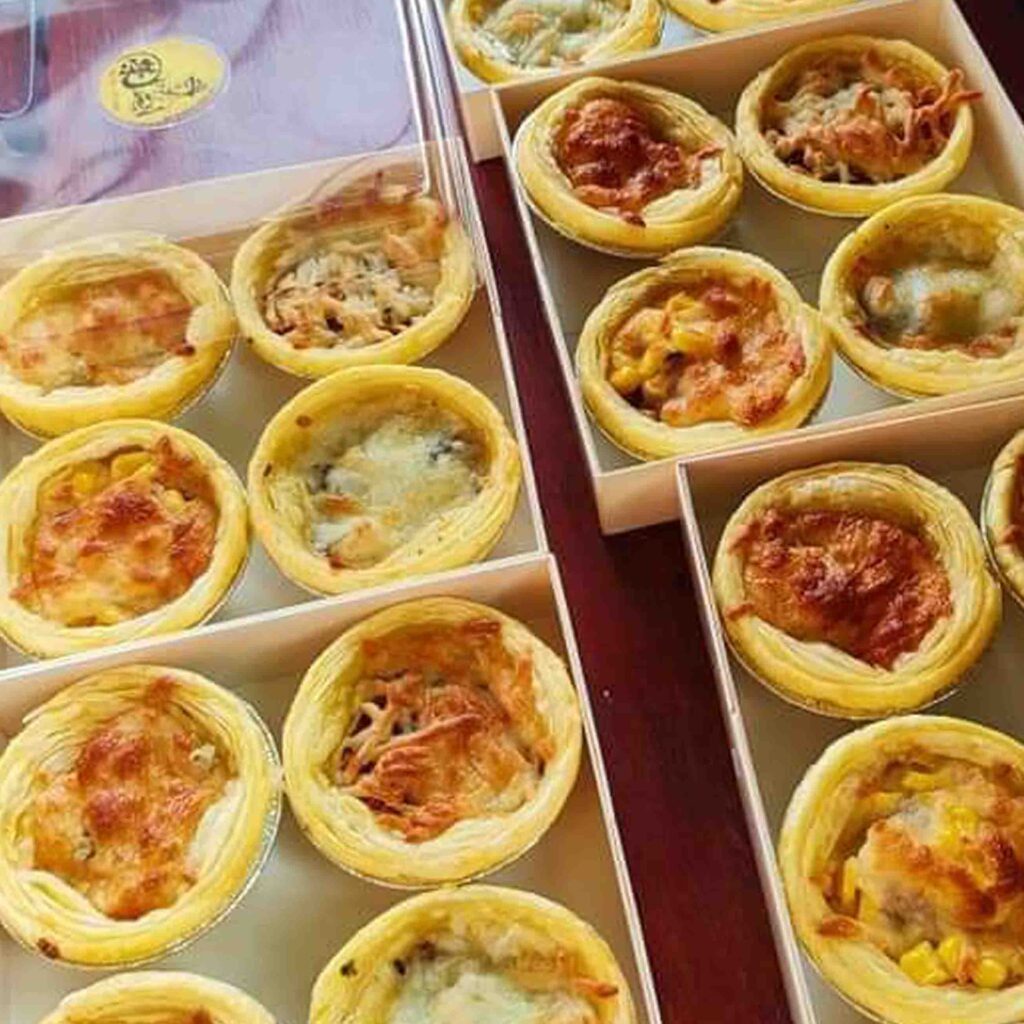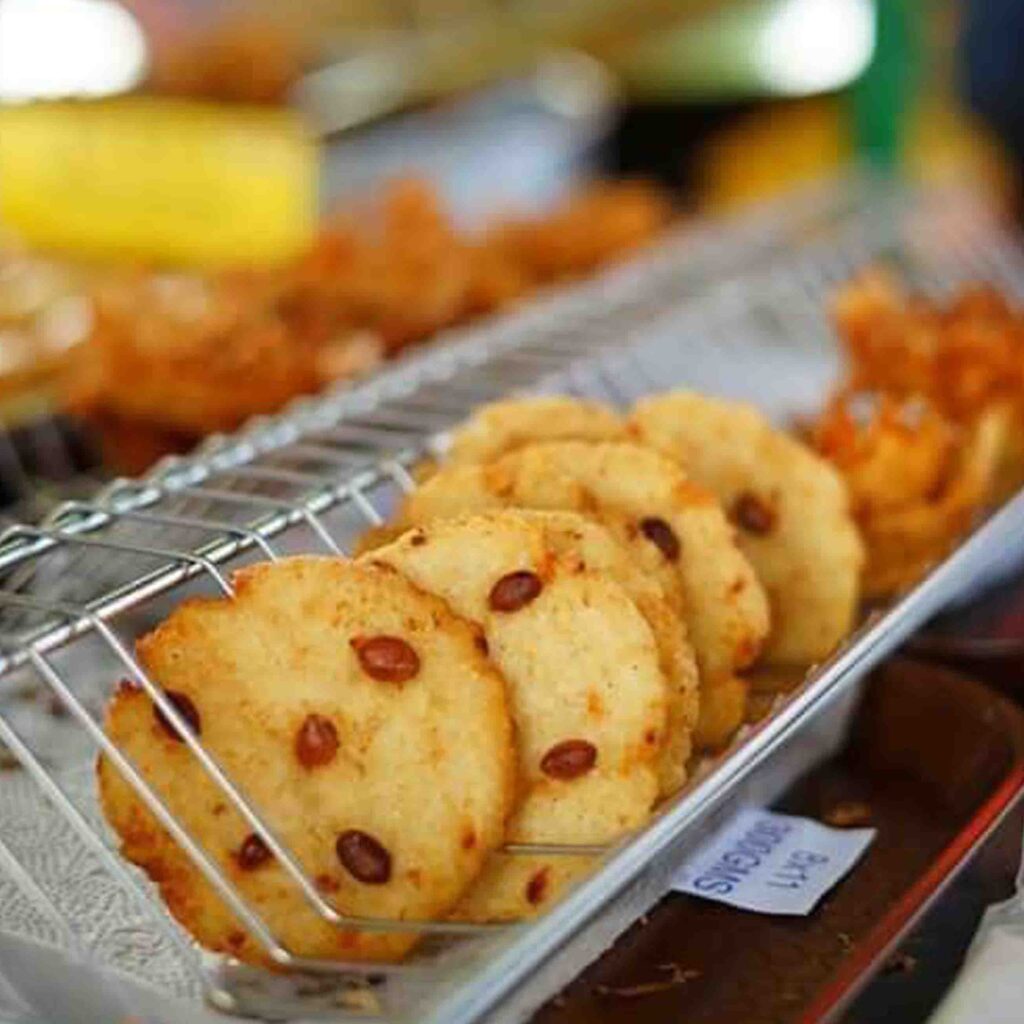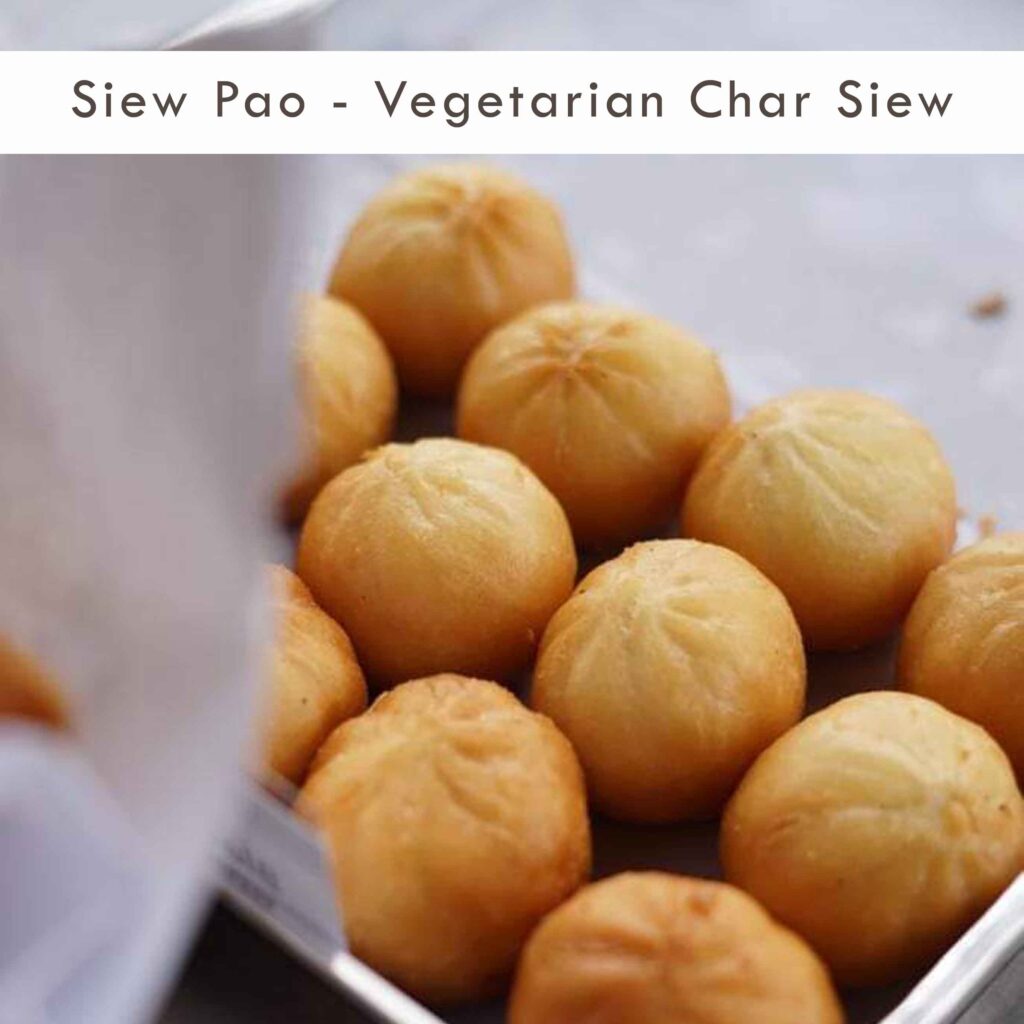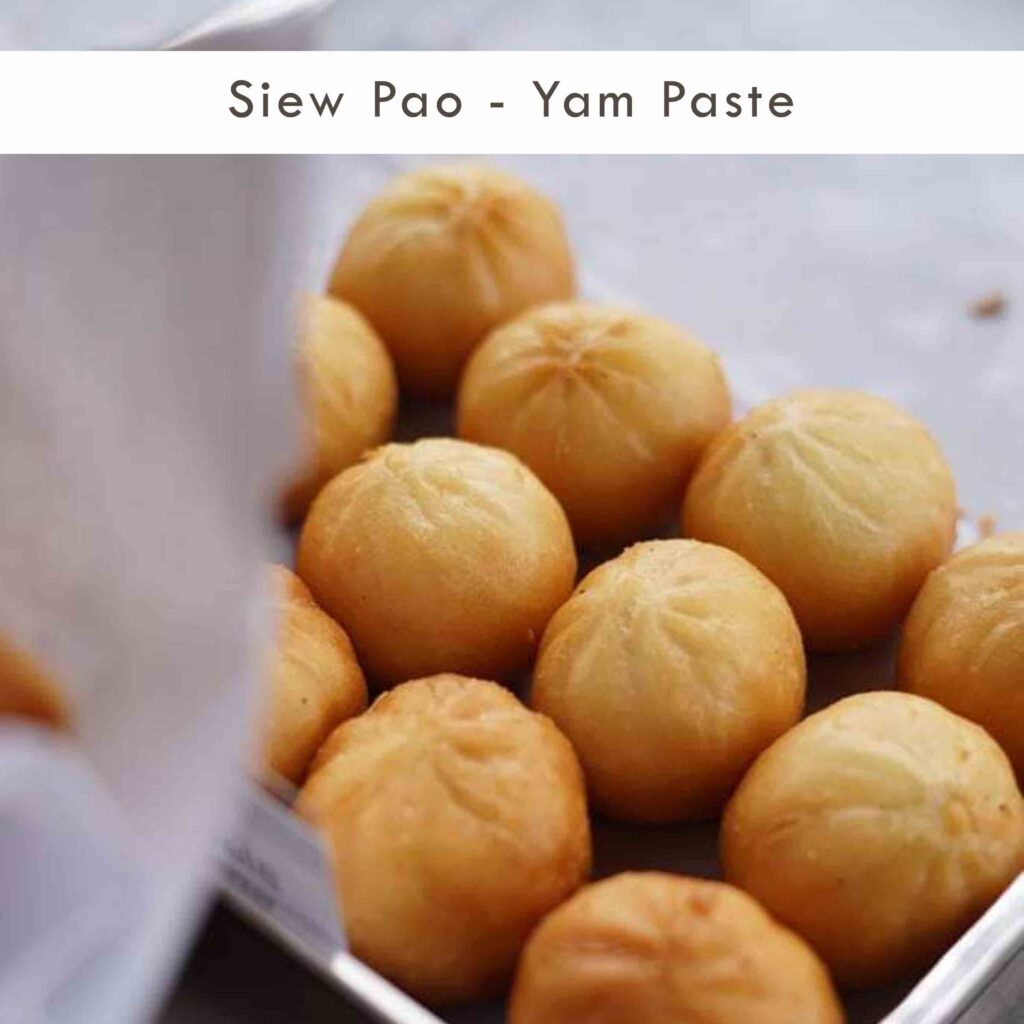 Tuna Pizza | Chicken & Sausage Pizza
Baked with Love by Fatoso Queen & Co-sponsored by PPG Angels
The pizzas are personally hand-made, baked and brought to you with love from Fatoso Queen, a Penang nyonya homechef with a loud mouth and generous heart.  Famous for her fiery antics (think: female and larger version of Gordon Ramsay) and fantastic flair for firing up taste buds, Fatoso Queen is happy to co-sponsor the pizzas with the PPG Angels – her convent classmate childhood buddies who are behind her and beside her all the way in anything to do with charity and her food business venture – 016-4315 311.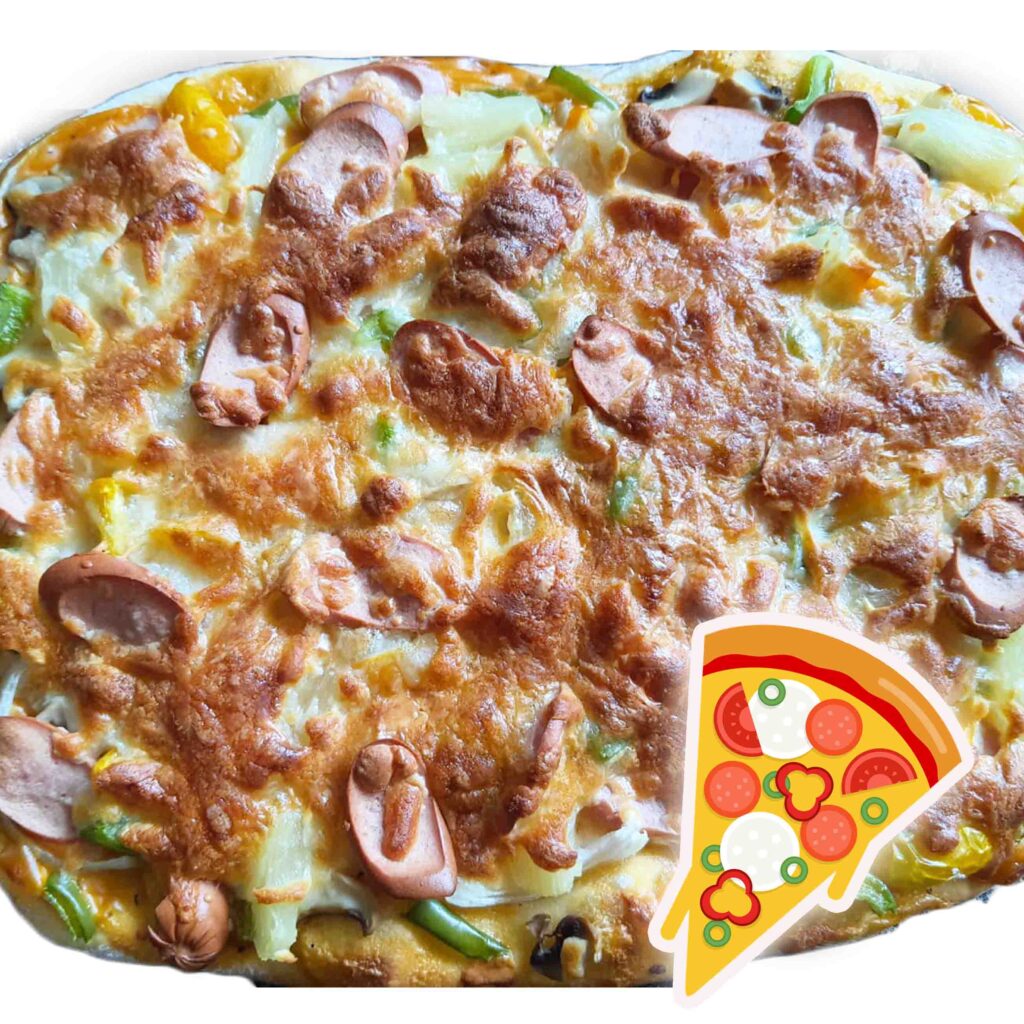 Pork Burger
Sponsored with Love by Lynn
Though we have never met, thank you for believing in what we do here. Thank you Joon for helping out with the arrangements.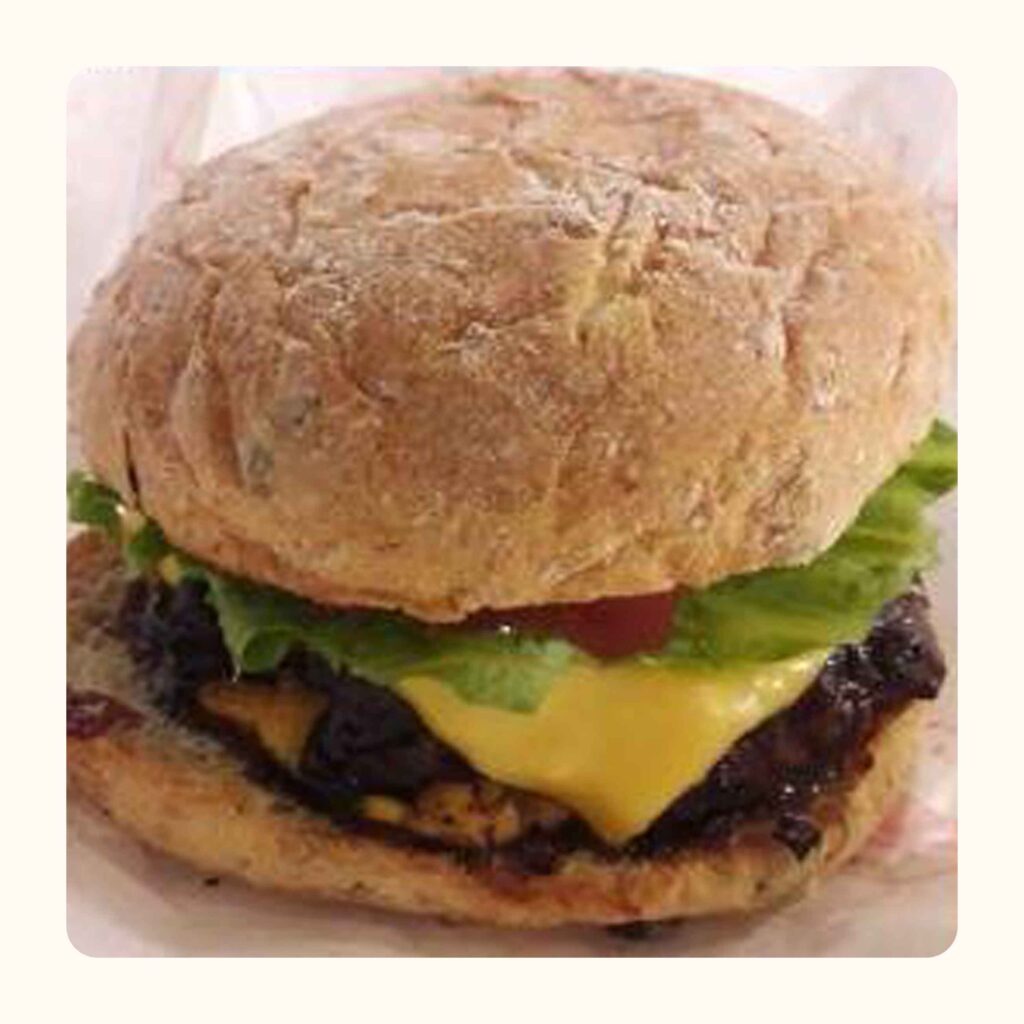 Banana Cake
Sponsored with Love by Mary Looi & Family
Ms Mary got to know us from her friend whose sister is our 'Wheely Good' loyal supporter (her name is also Mary). Charity really has a way to connect people. This is the 2nd sponsorship Ms Mary (our loyal supporter) helped to arrange.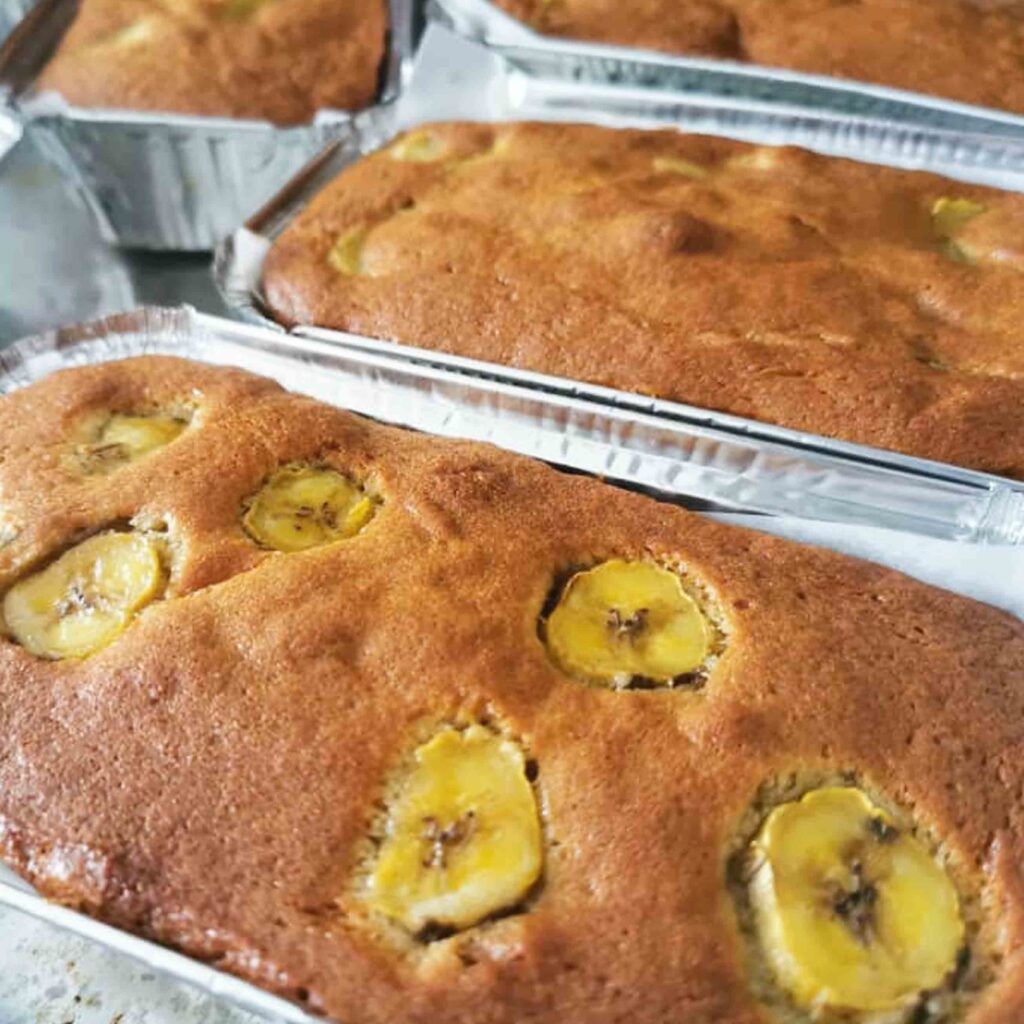 Sponge Mix Cake with Pandan, Chocolate & Butter
Sponsored by Ms Lynna Tan & Family
Ms Lynna's single act of kindness throws out roots in all directions.
She hopes to support this charity and at the same time help out a friend who cooks and bake to earn supplemental income. Last round, she sponsored Hakka "Orh" Lam Mee and this time round she came back with another unusual offering which most of us, if not all, have never come across before.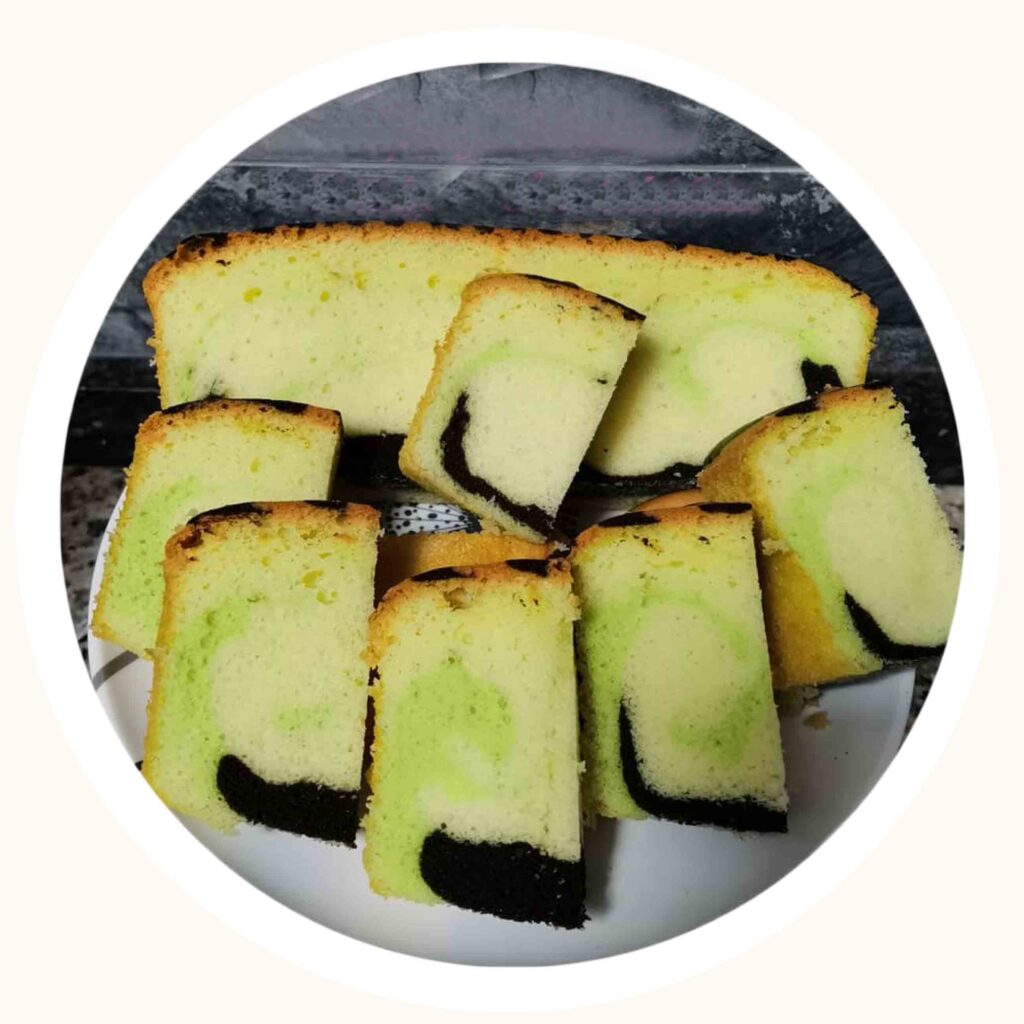 Roasted Chicken Rice
Sponsored with Love by Ms Viv
There's no denying chicken rice is one of our local favourite. However, what surprise us is that this humble food also win the heart of our foreign friend. This is Ms Viv's favourite when she's in Penang. Though now she is back in her home country, she sends her love by getting her best friend Joon to help her with the food sponsorship arrangements.
The super cute part about this arrangements is that Joon did not take this task lightly. She went around her area, trying out chicken rice from different vendors before settling down to this one – the one that she approves.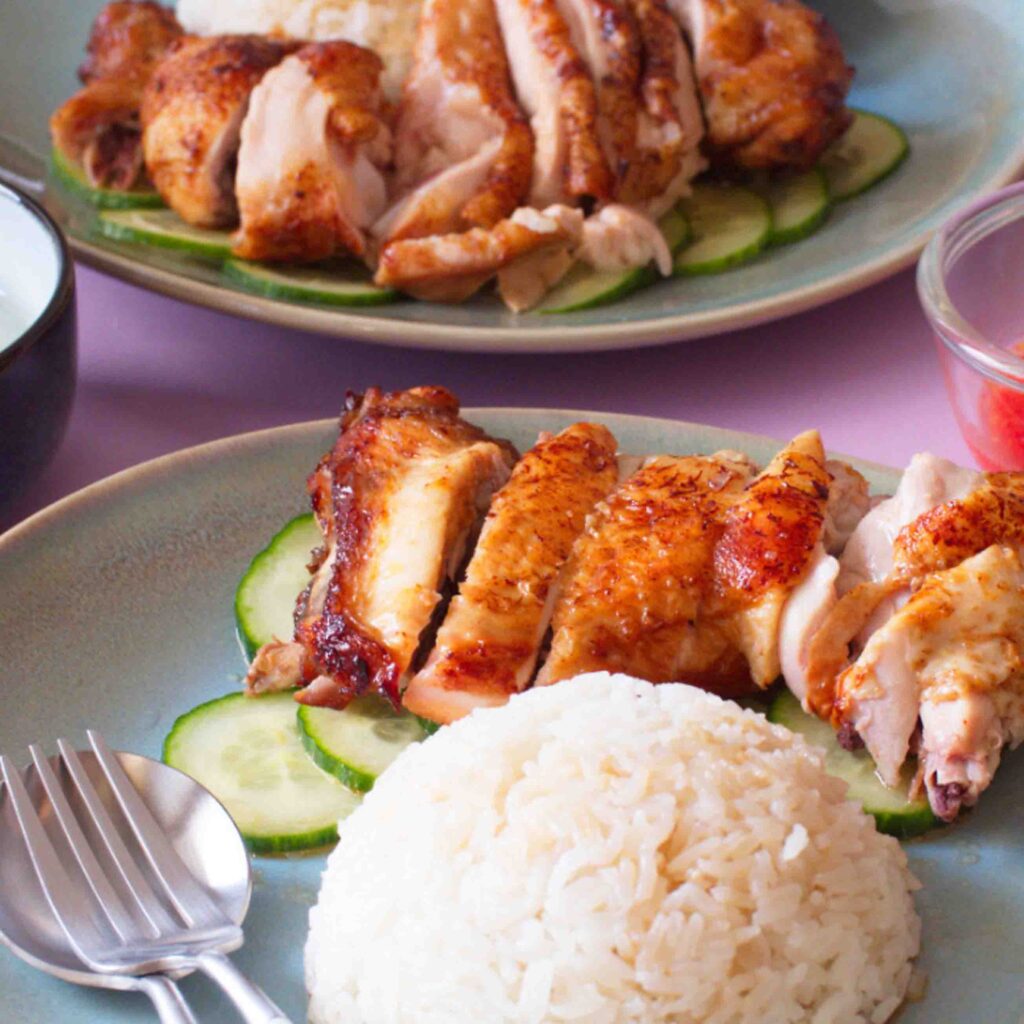 Garginhonlevin (Garlic, Ginger, Honey, Lemon & Apple Cider Tonic Mixture)
Made & Sponsored with Love by Ms Carol Lim
It is a great remedy for those looking to boost their immune system while sick during the cold and flu season or to fight a mild infection fast without antibiotics in a more natural way. All the ingredients have anti-fungal, antiviral and antibacterial properties and work synergistically, meaning they work even better when combined.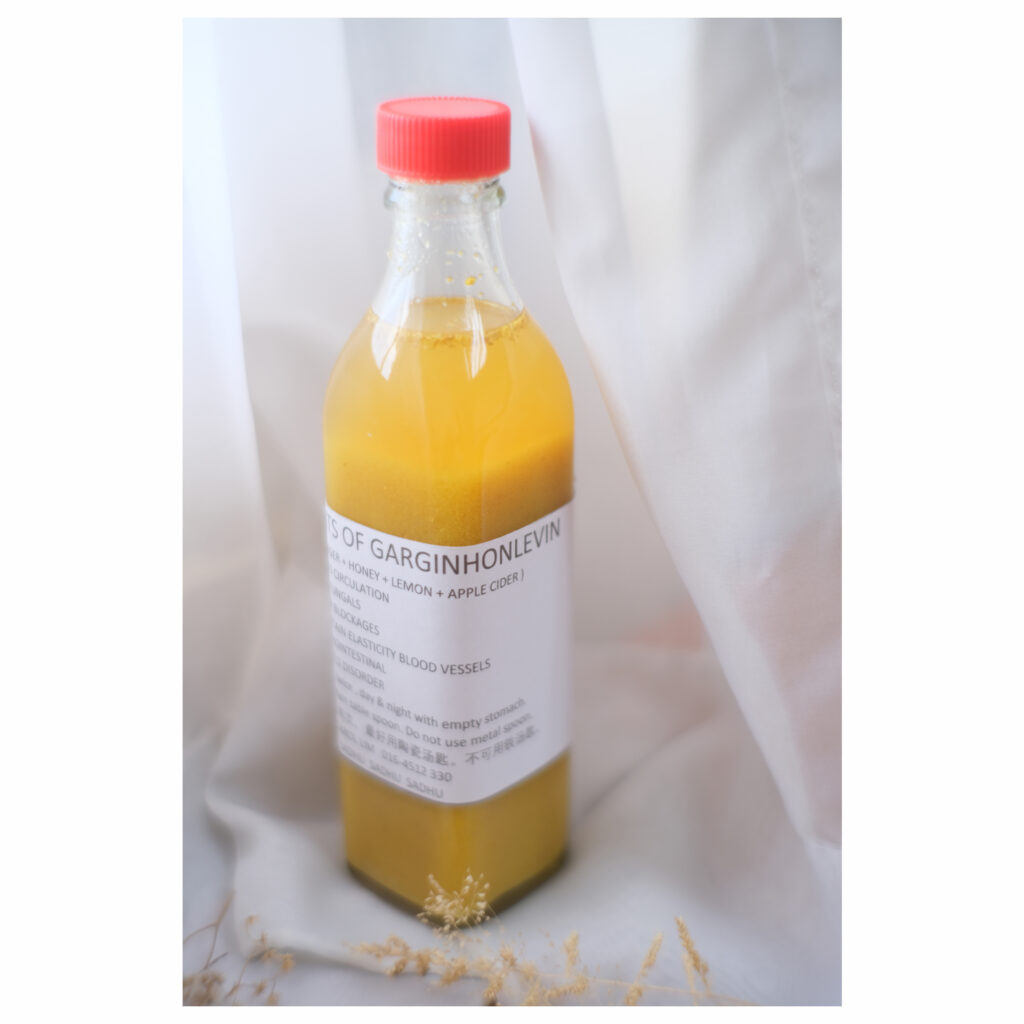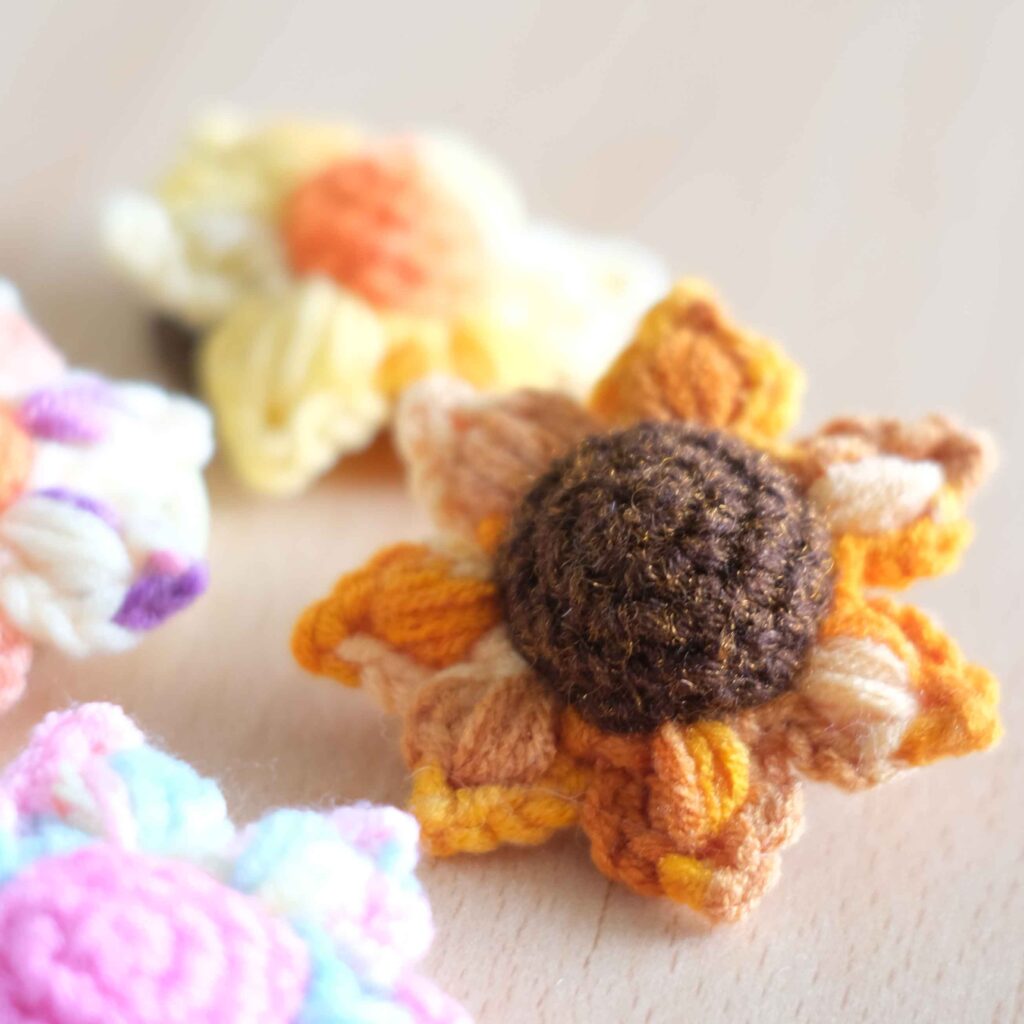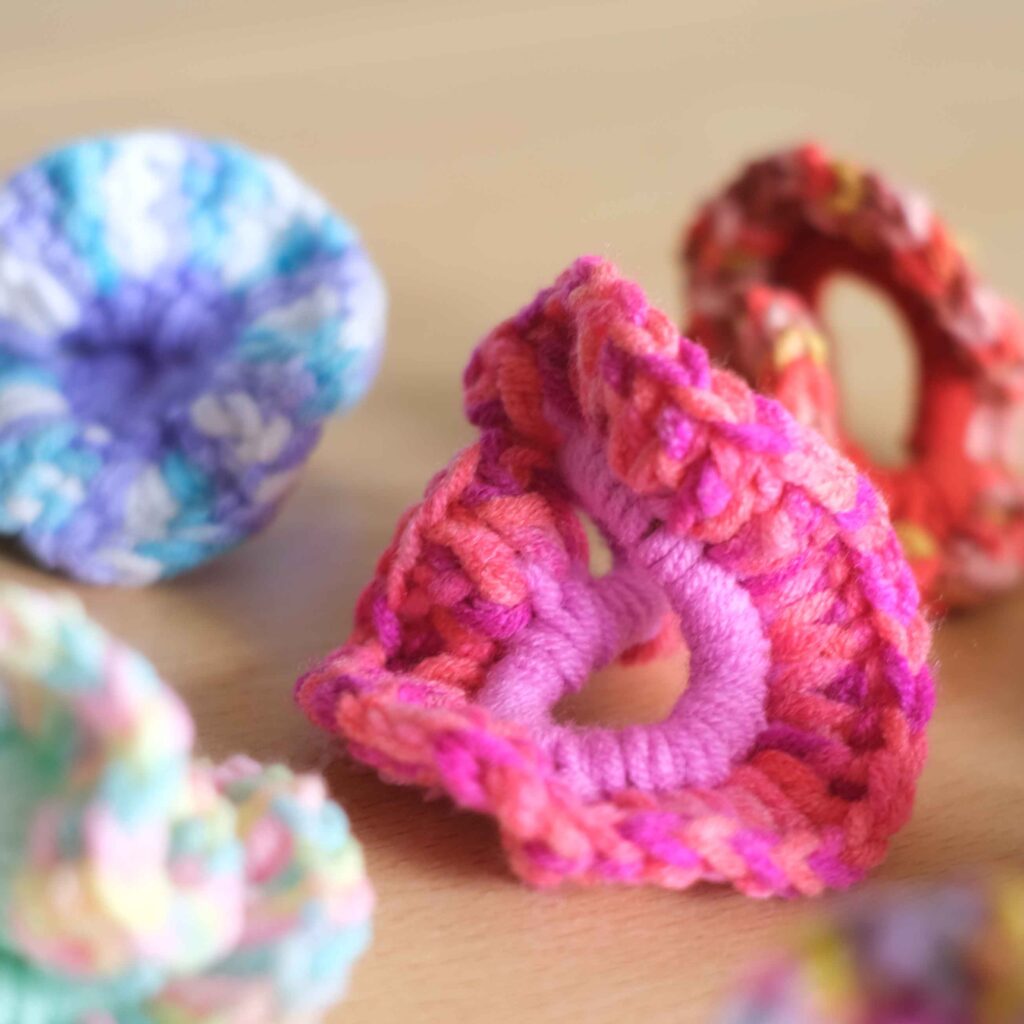 Jellyfish Keychain | Sunflower Hairband | Scrunchies
Hand Knitted with Love by June
These gorgeous scrunchies and sunflower hair ties are all hand-knitted by June. All her items are made one at a time and they are generally one of a kind.
It is fun, practical and the best part – Not only does it support your hair, but it also supports a good cause.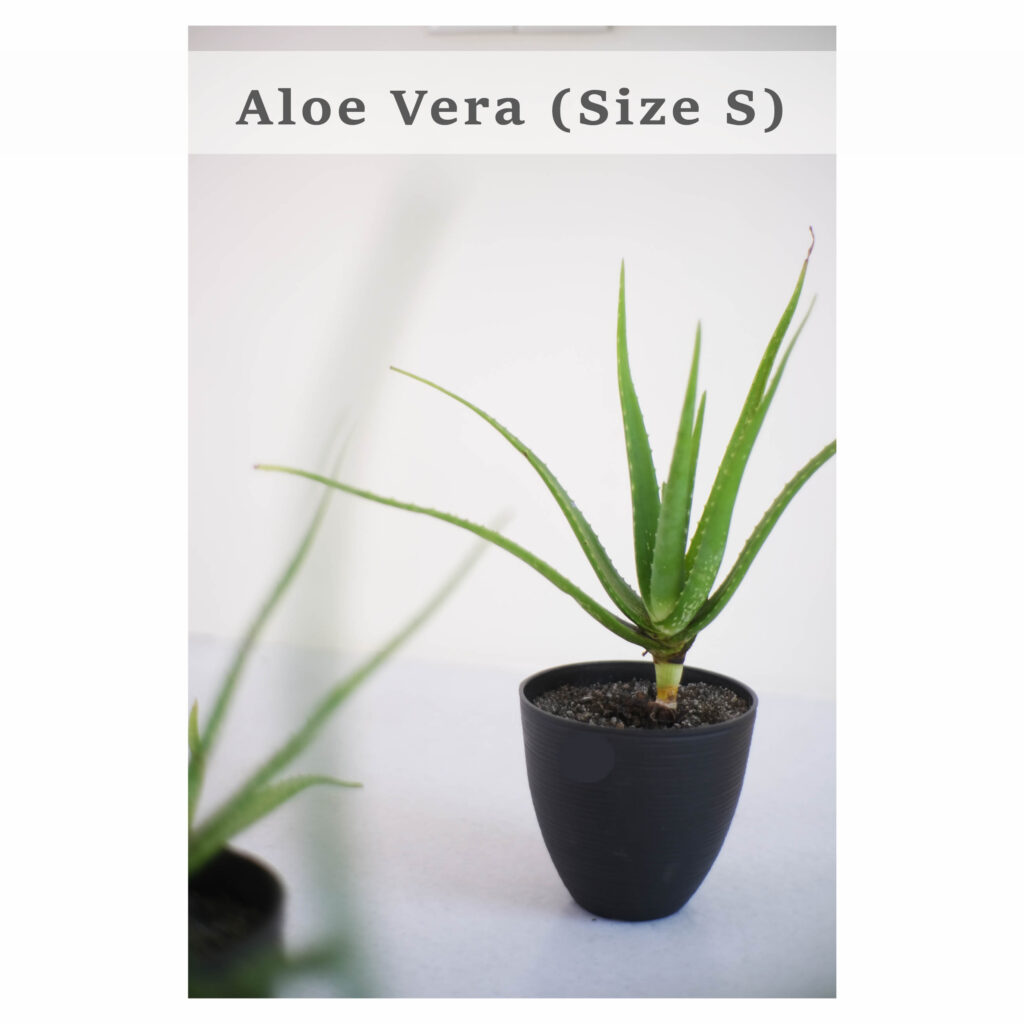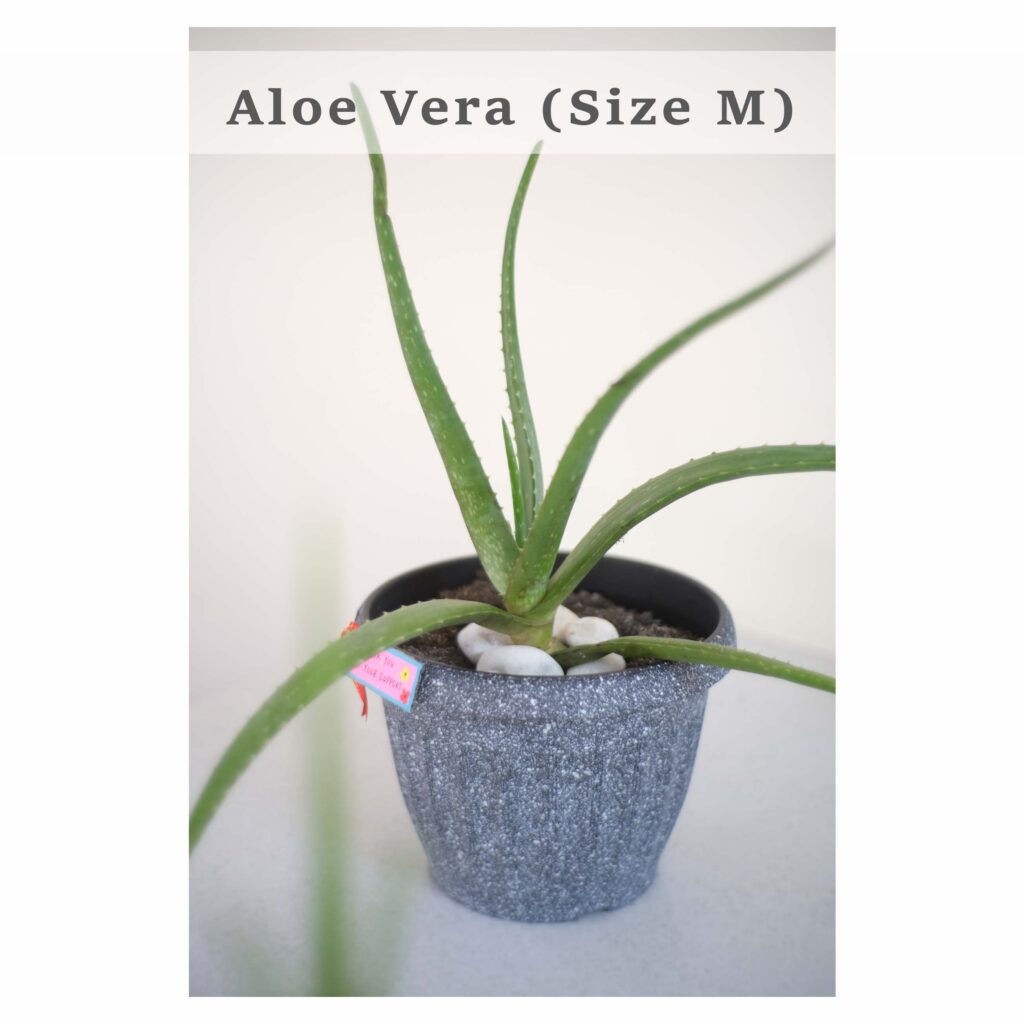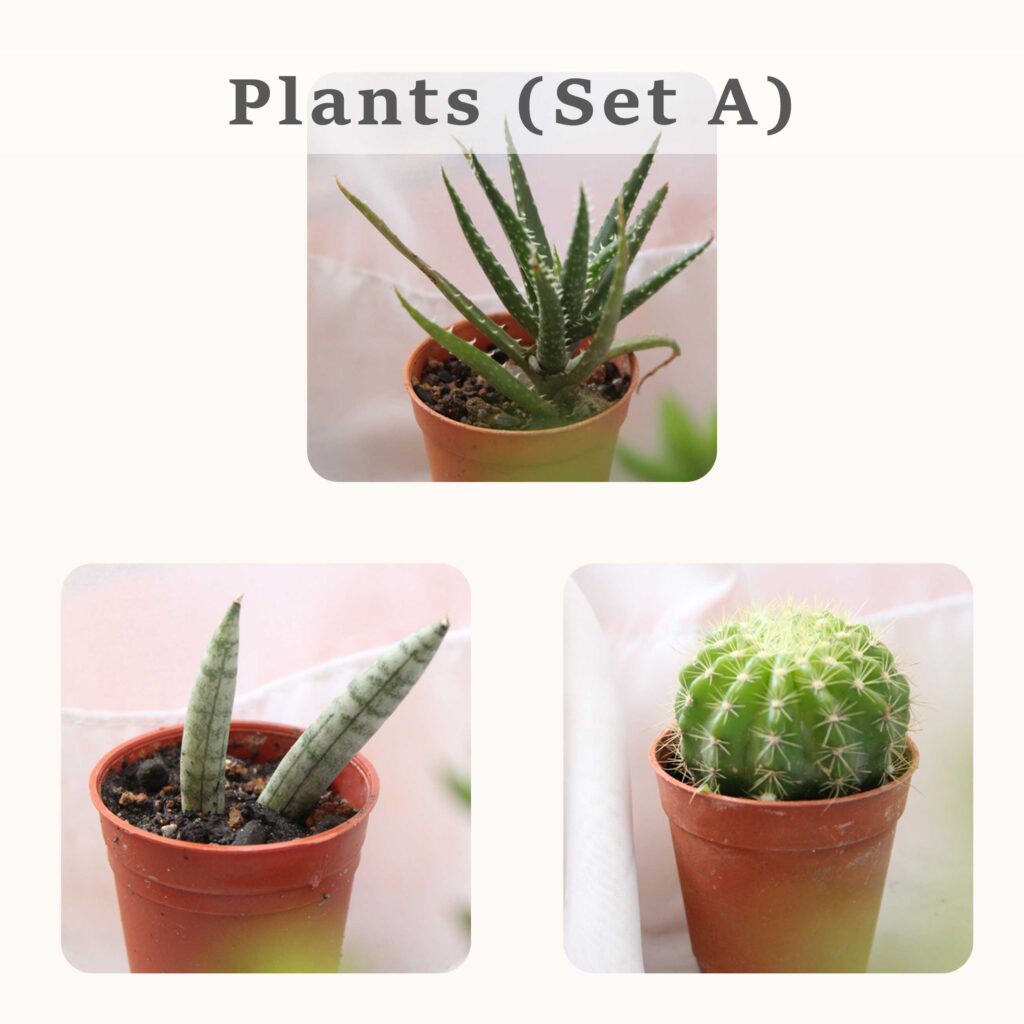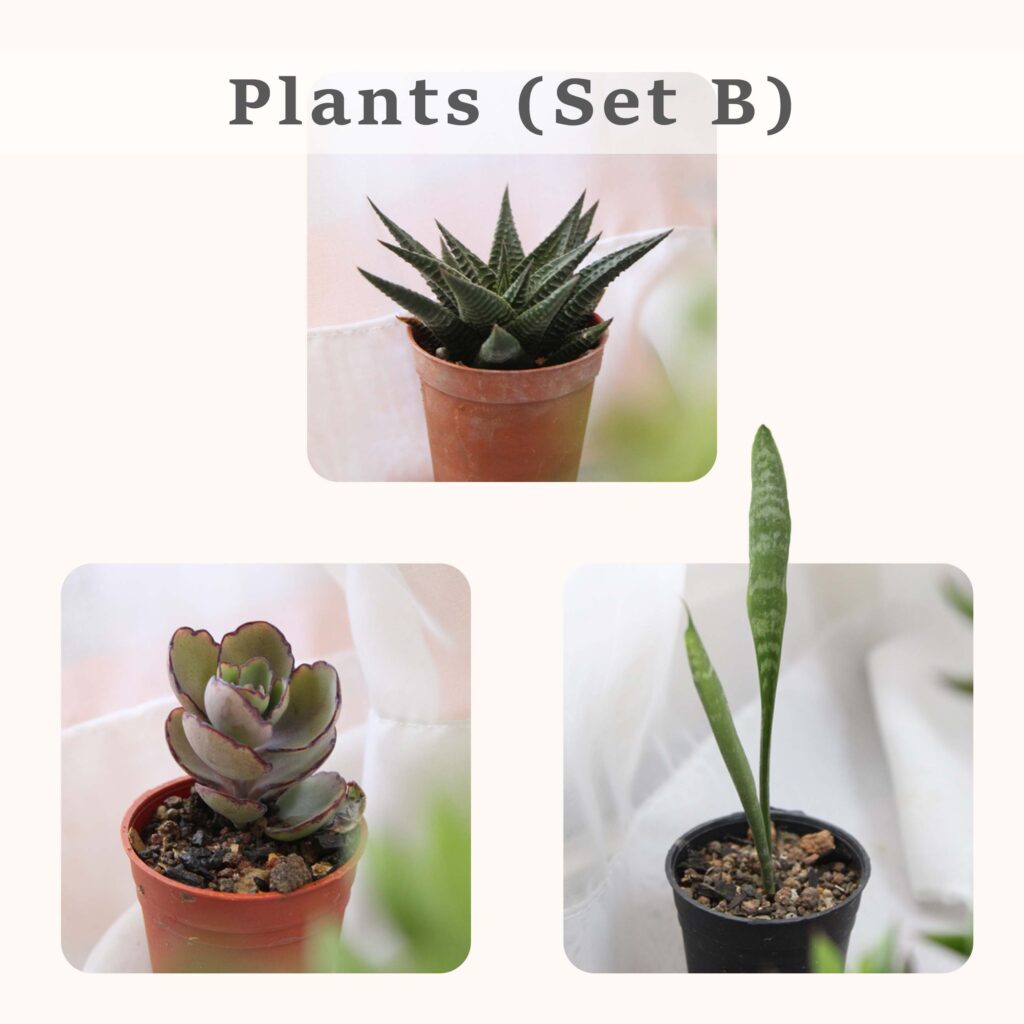 Aloe Vera | Variety of Plants
Planted with Love by JWWM & Theresa
JWWM & Theresa are both our staff. JWWM is from the Admin side while Theresa is from Patient Accounts Department. They initiated the idea of sponsoring plants for us to sell. For it to look more presentable, they make it a point to replant the plants into new pots and all pots were bought by themselves.
This makes our food sale extra meaningful when everyone expressed their wish to get involved in every single way they could think of.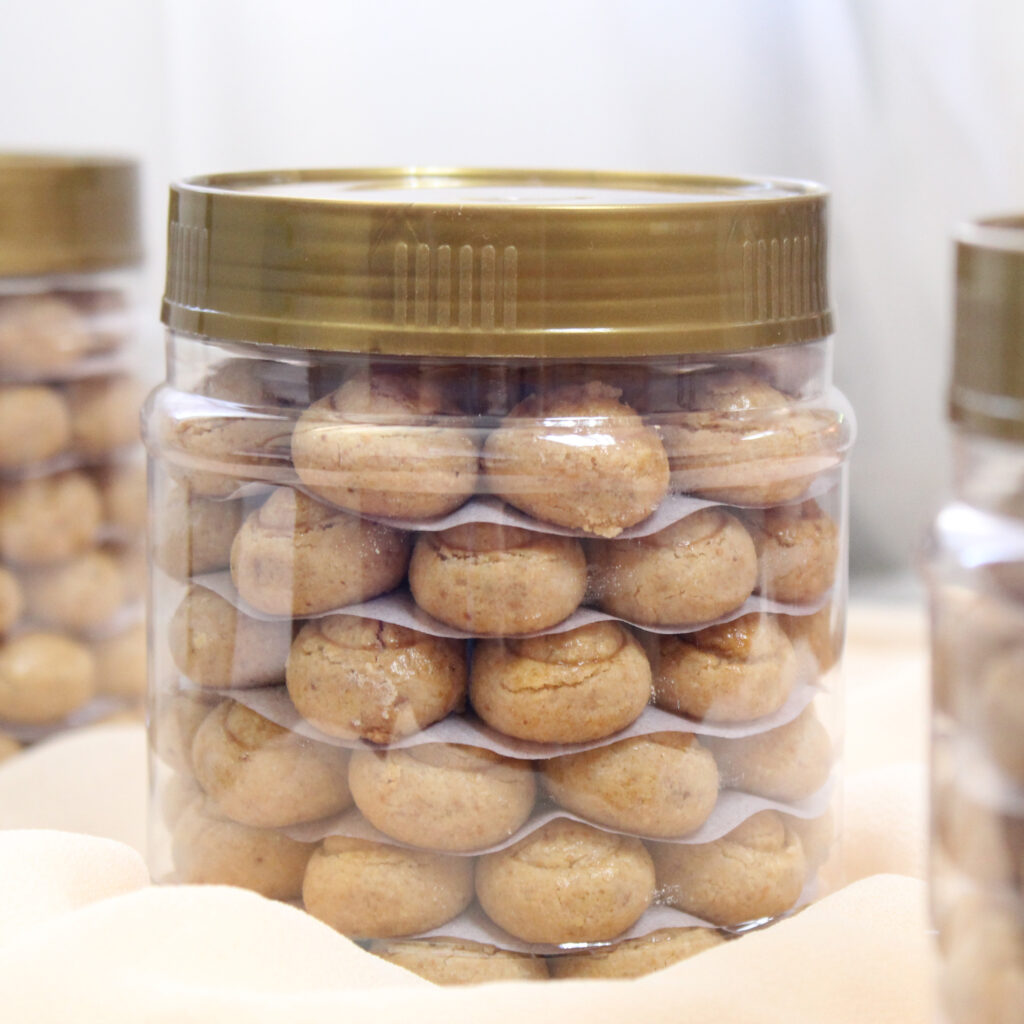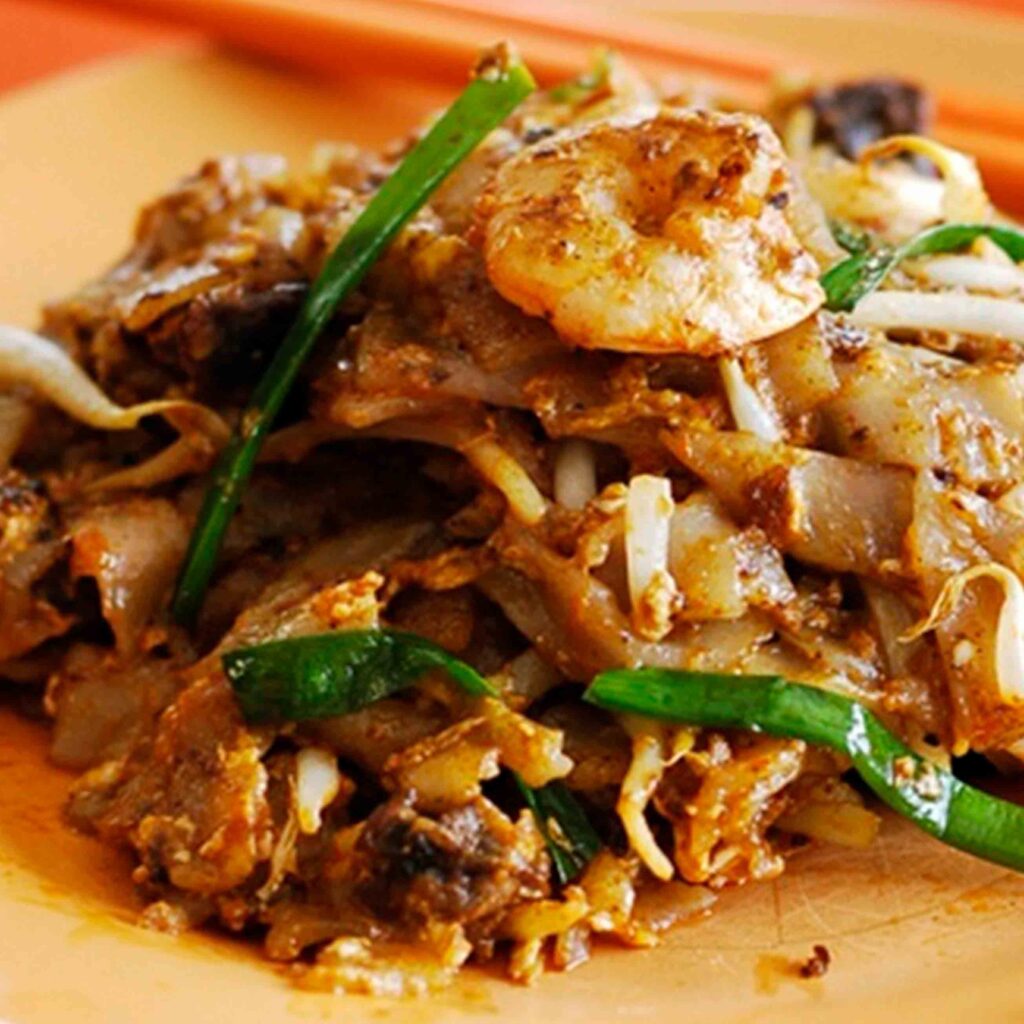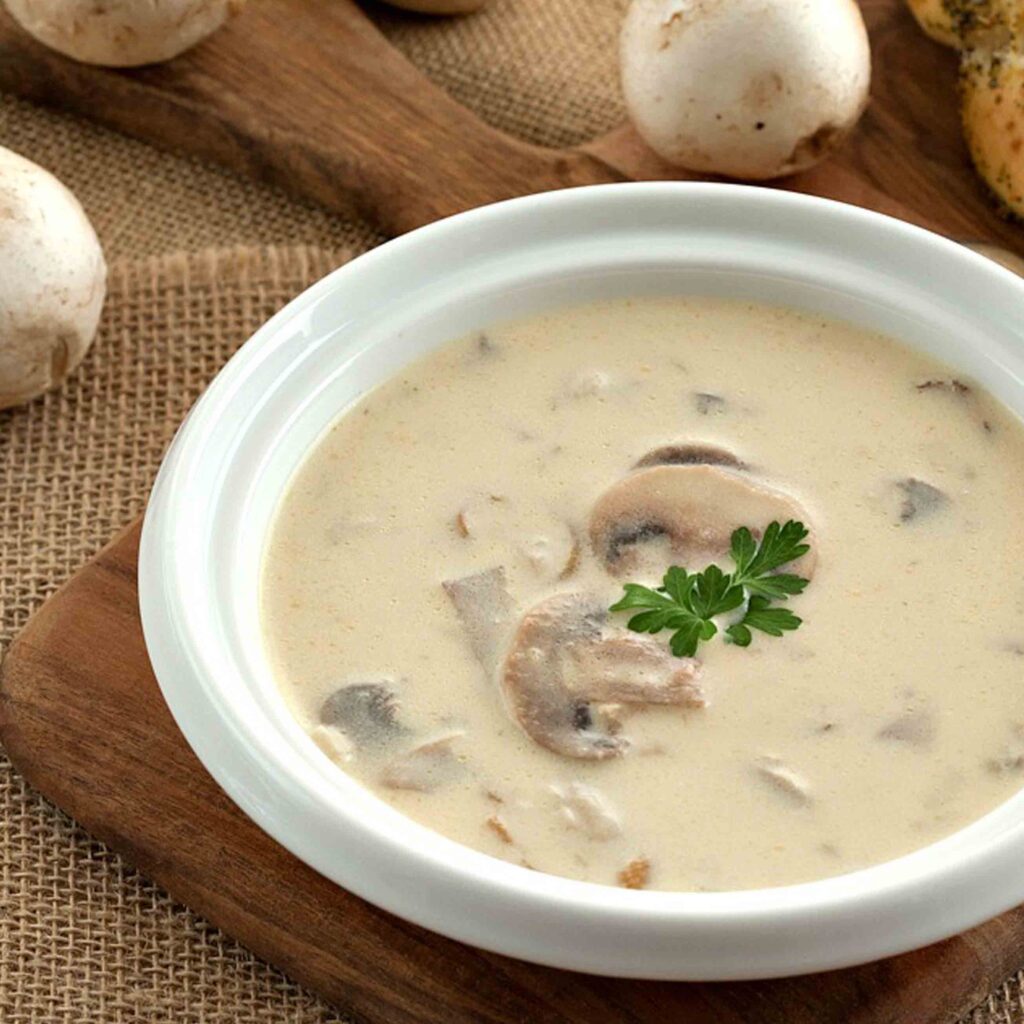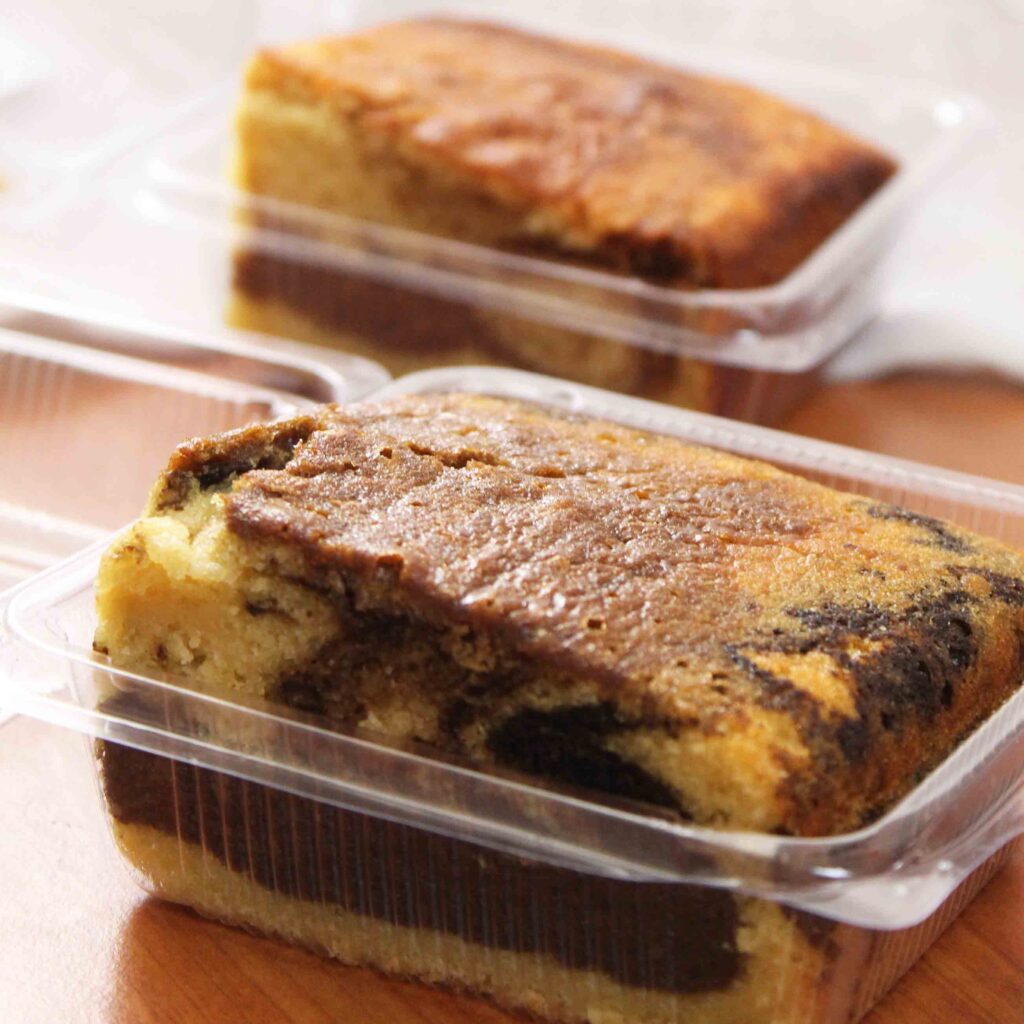 Marble Chocolate Cake | Marble Coffee Cake | Butter Cake | Char Koay Teow | Mushroom Soup
Sponsored with Love by Judy & Friends
'This is the very least I can do when I can't come back to serve now', said Judy, a cancer survivor and also a member of our hospital's cancer support group. Due to our hospital's current infection control effort, we have asked our volunteers not to come in for the time being. Despite that, Judy always look for opportunity to serve whenever she can. So when she learnt about this charity, she grab on this opportunity to contribute.
Judy a giver. She donated, she gathered her friends and family to do more, and she even baked and helped us to raise funds herself. What surprised us is the baking was done a few days after she had her chemo port removal surgery done. To us, what she did for us is far beyond what we could ask for. A big thank you to her supportive family and friends too.
Creme Brulee
Made & Sponsored with Love by Whipped Me Up
'Whipped Me Up' might have limited offerings in their menu but they only offer what they do best! This Creme Brulee is one of their signature which their followers raves about for good reason.
It consists of a velvety smooth and creamy centre with a layer of caramelized sugar. It comes in a box of 6.
It's perfect for sharing or just for your own enjoyment!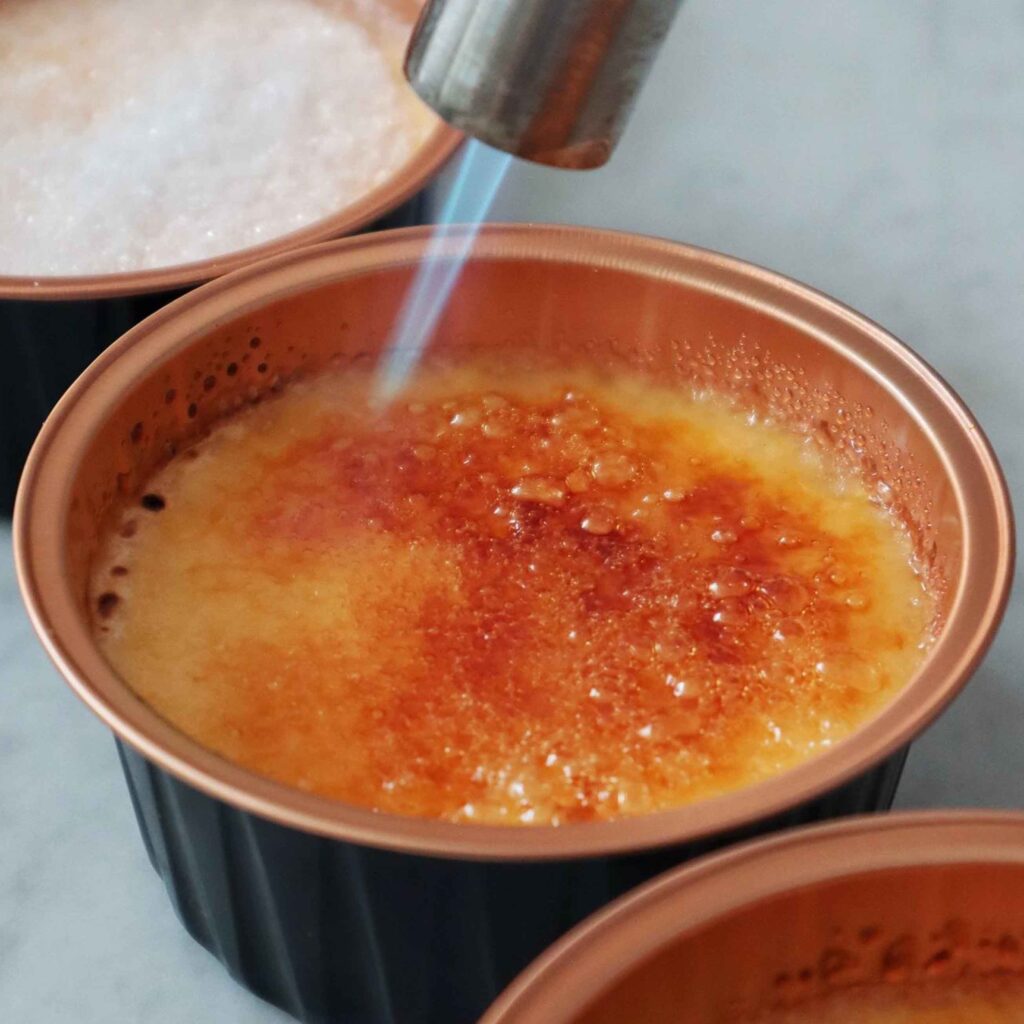 Nasi Kunyit with Vegetarian Rendang (Frozen) | Vegetarian Loh Mai Kai
Prepared with Love & Sponsored by Ms Serine @ Gyoza Popo
Ms Serine is a yoga instructor herself. She runs Yogo Plus in Bayan Lepas area. Due to the pandemic, she has started her little side business – Gyoza Popo. 
Positive vibe – a term that always associated with Yoga. Not only does she radiate positive vibes through her yoga practices, it also radiates through her heart for charity. 
Suitable for vegan and it can be stored up to 2 weeks. Whenever you feel like having it, just heat it up in the microwave.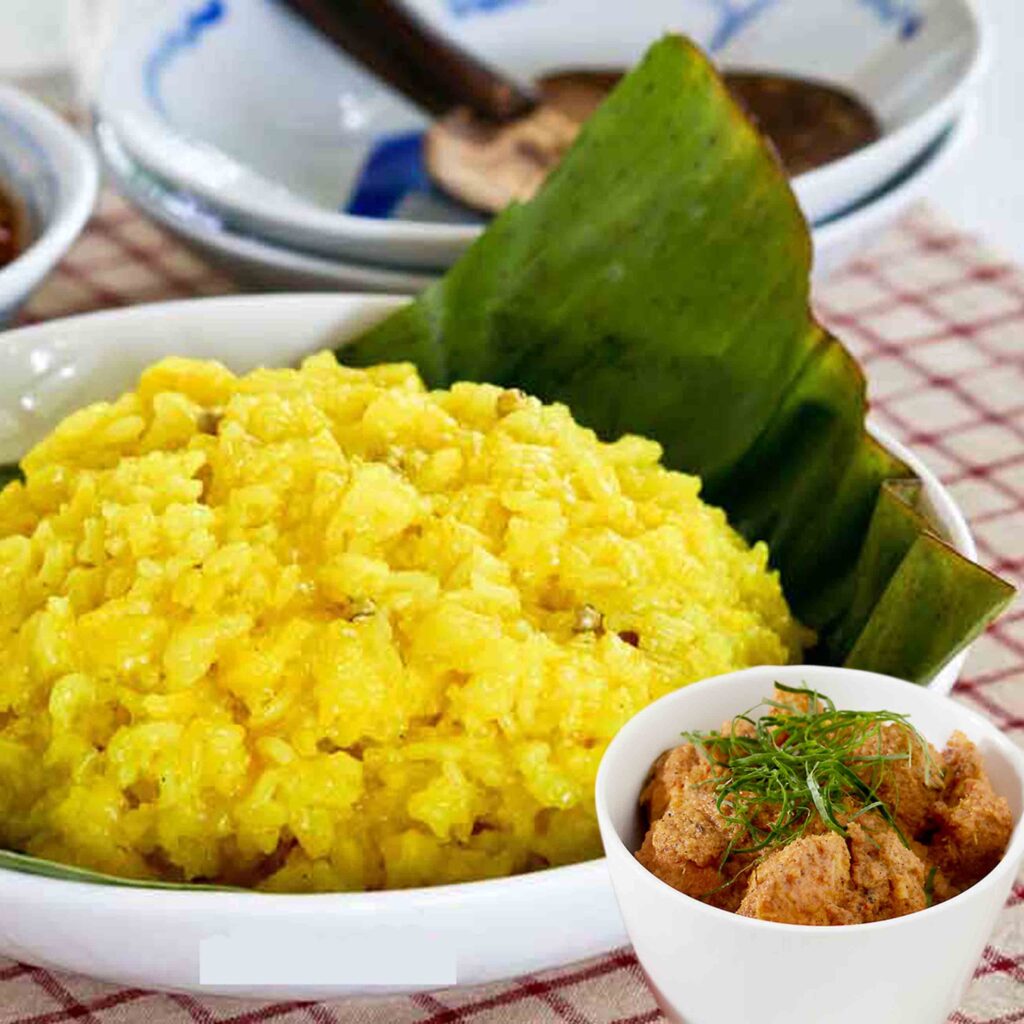 Wholemeal Sandwich Loaf
Made & Sponsored with Love by Ms Toh Wei Cheng
Ms Toh is a homemaker who bakes good sourdough bread. What makes sourdough different from commercial bread is the natural yeast that ferments the flour and what makes Mr Toh's sourdough extra special is the love that has gone into it.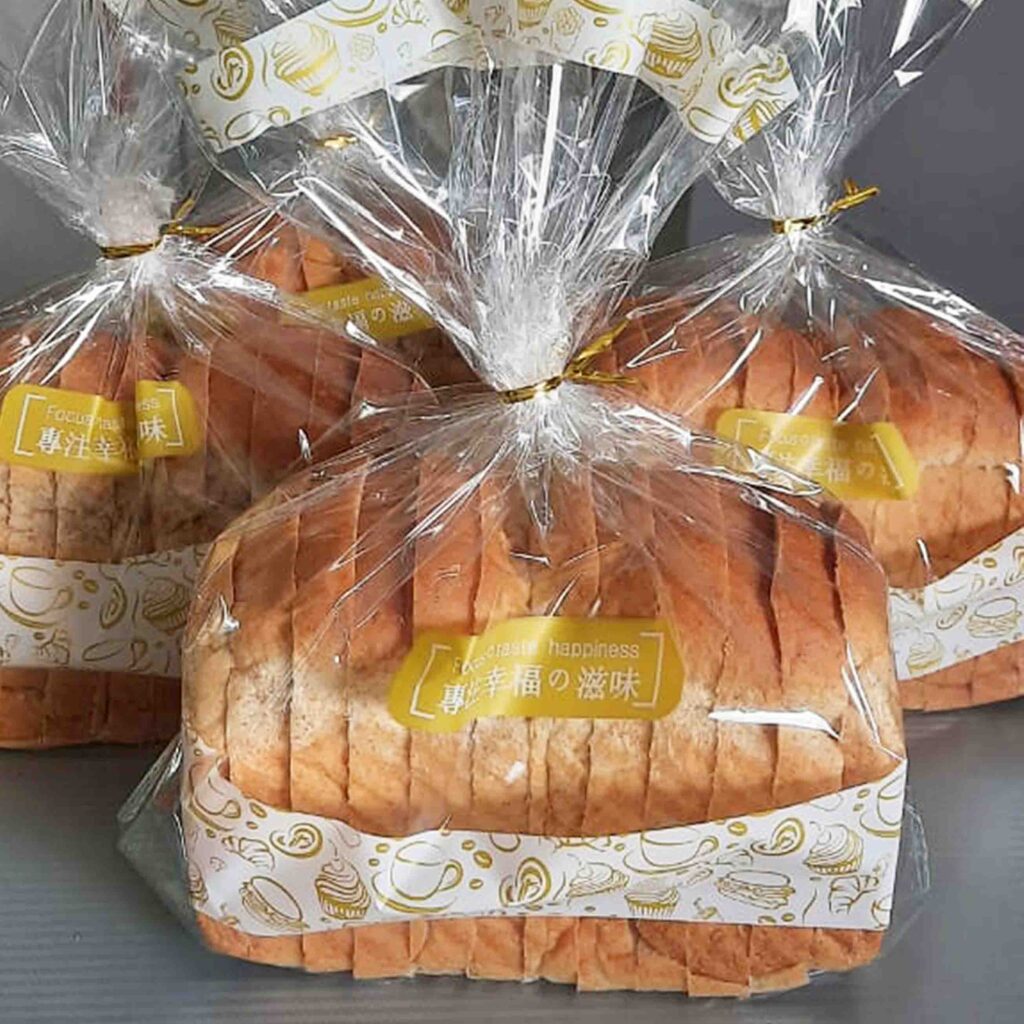 Earth Living Instant Regular Rolled Oat | Baby Oat
Sponsored with Love by JT Organic and Diabetic Food, Ipoh
Giving from a distance:
JT Organic and Diabetic Food is a Health Food Store based in Ipoh, selling organic, natural, diabetic suitable, low GI and gluten free food. The donor (prefer to remain anonymous) is very generous! After checking out with us on the event details over the phone, it just took her less than half an hour to have her sponsorship details – 300 packets of oats, confirmed. 
She ordered all of these from her supplier and arranged to have them sent over to us all the way from Ipoh. All was done in less than a week so we can start the selling as soon as possible. FB:
https://www.facebook.com/JT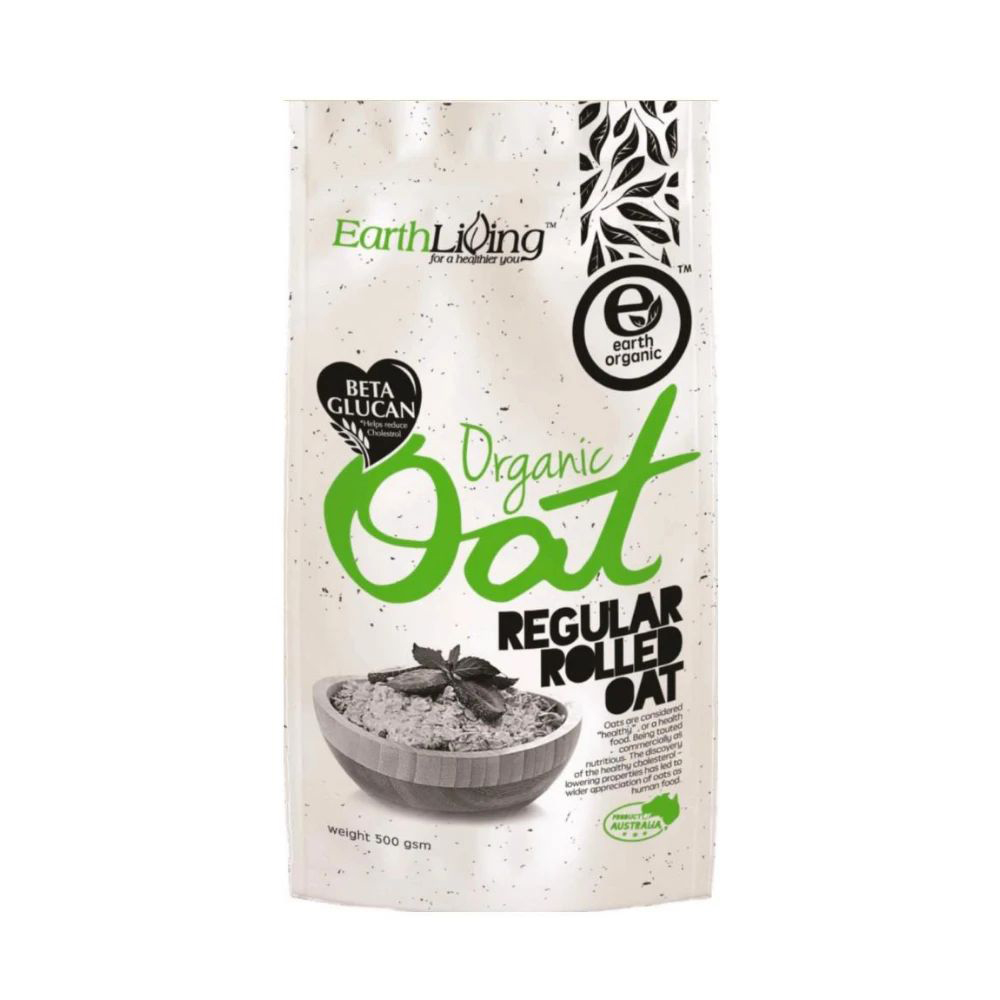 Milky Cranberry Snowflake Crisps
Made with Love & Sponsored by Jagersconfections
A small start-up social media business of two couples with a shared interest in confectioneries and baking.
With high hopes for the business to grow, they aim to start by giving first and hence our participation in this charity programme. Their products comprise of snowflake crisps and scrumptious nougat treats to tingle the taste buds and with a variety of flavours.
Their mission for the product offering is to deliver to the customers a healthy treat without disregarding sweetness so that everyone gets to enjoy the best of both of worlds.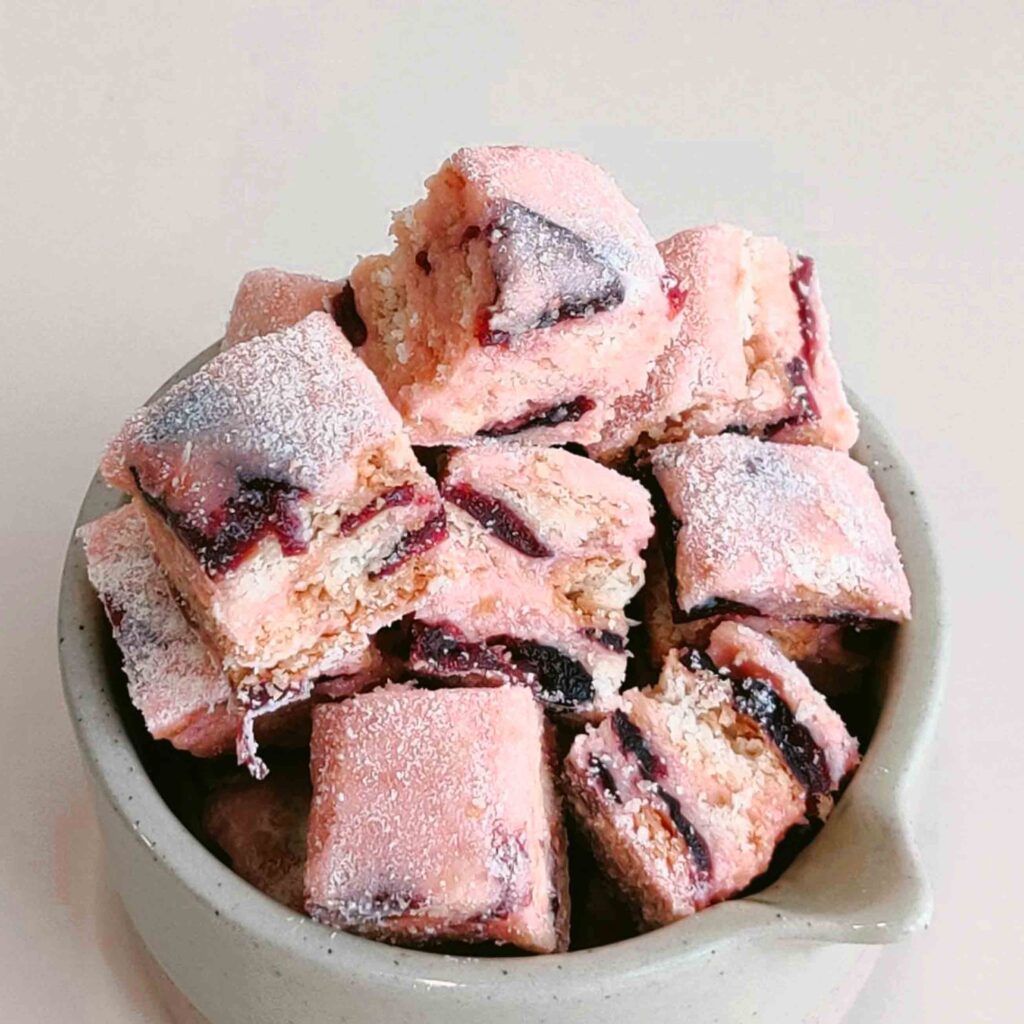 Moei Tay 米揲糕 | Siew Pao Lotus Paste | Siew Pao Barbeque Mushroom
Sponsored with Love by David Wong Family
David Wong Family is bringing us some authentic traditional Hokkien snack – Moei Tay (Savory Golden Rice Patties) & Siew Pao (Lotus Paste & BBQ Mushroom).
Golden Rice Patty, also known as "Moei Tay" in Hokkien, is a traditional snack made of rice formed into small round flat shape and fried to a golden row. They are typically crispy on the outside and soft on the inside.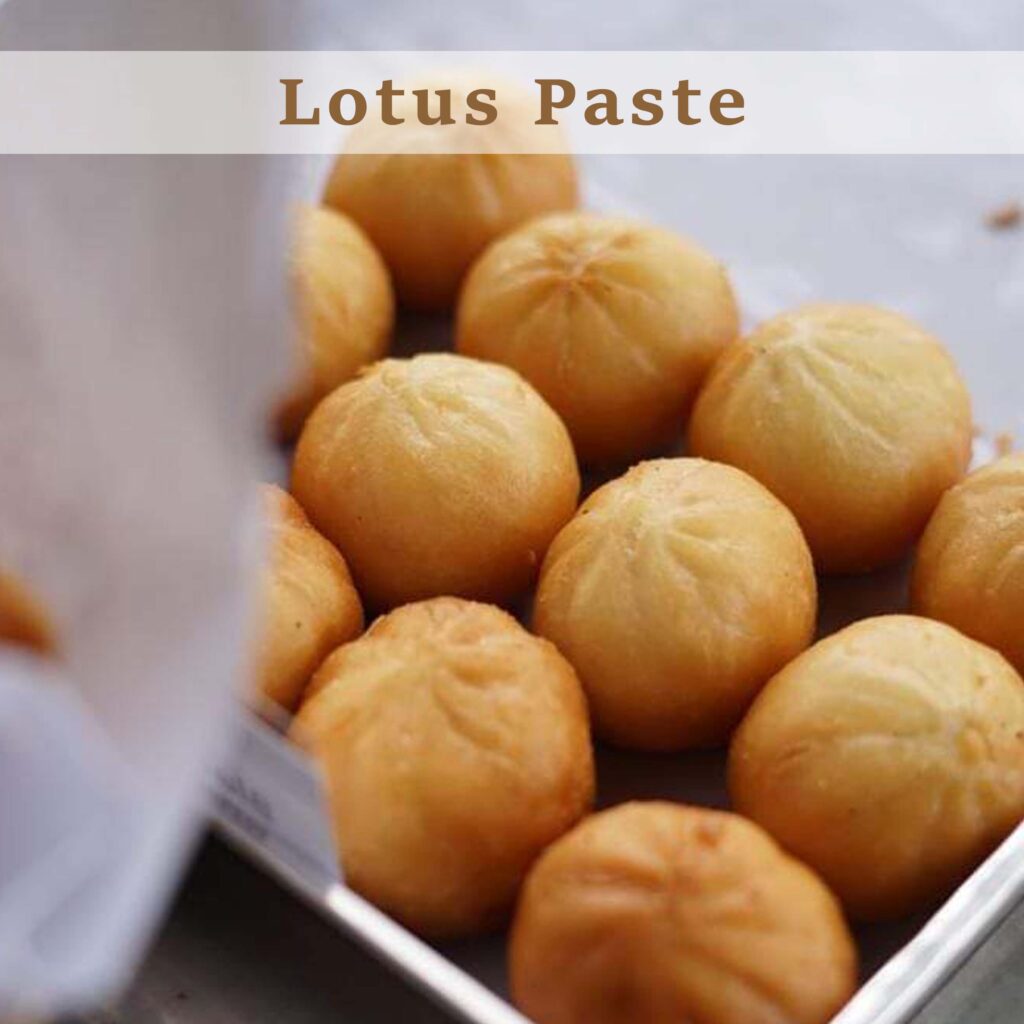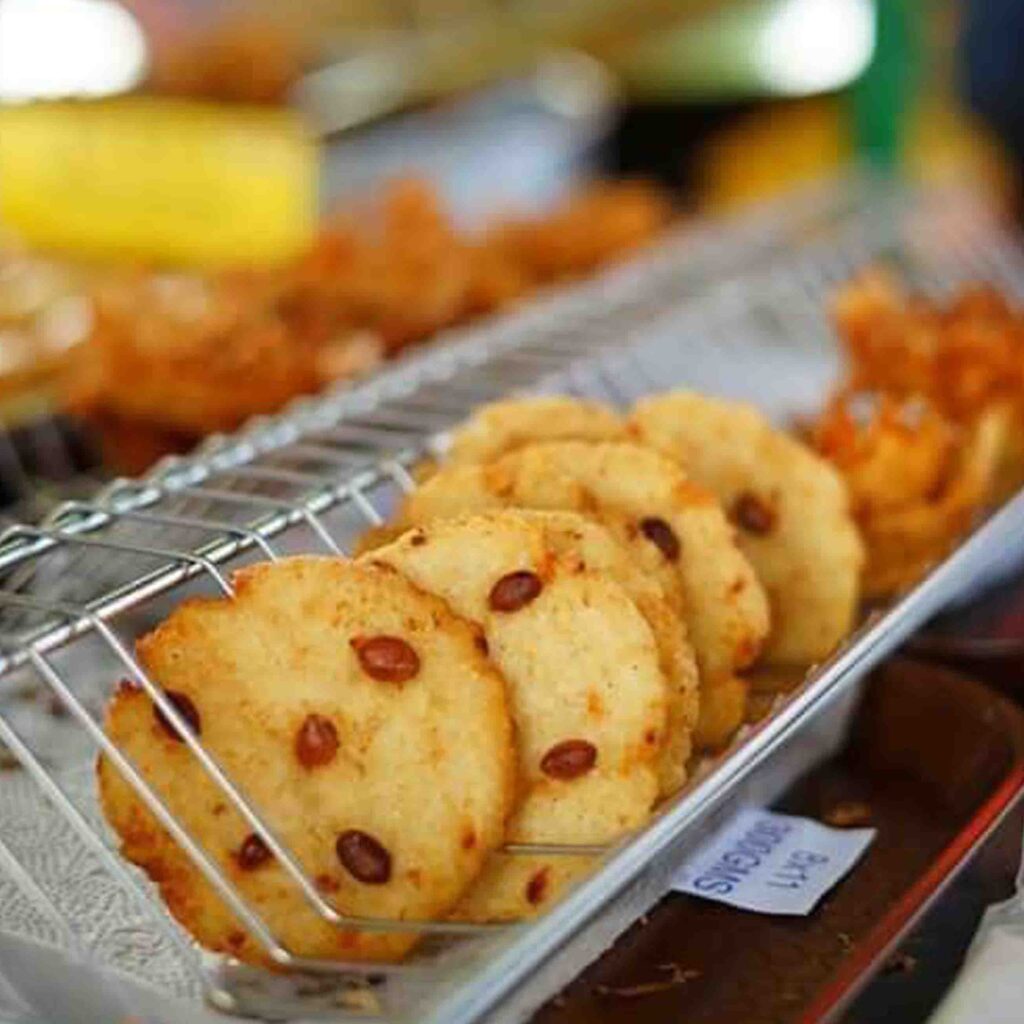 Onsen Egg Spaghetti
Sponsored by Ms Anonymous & Prepared with Love by Little Ms Sunshine
Little Ms Sunshine serves hearty breakfast, rice dishes with Japanese flair and spaghetti for lunch. Catering for small parties is also available which include local & western delights and sushi. Their philosophy is to serve honest food cooked with love and passion.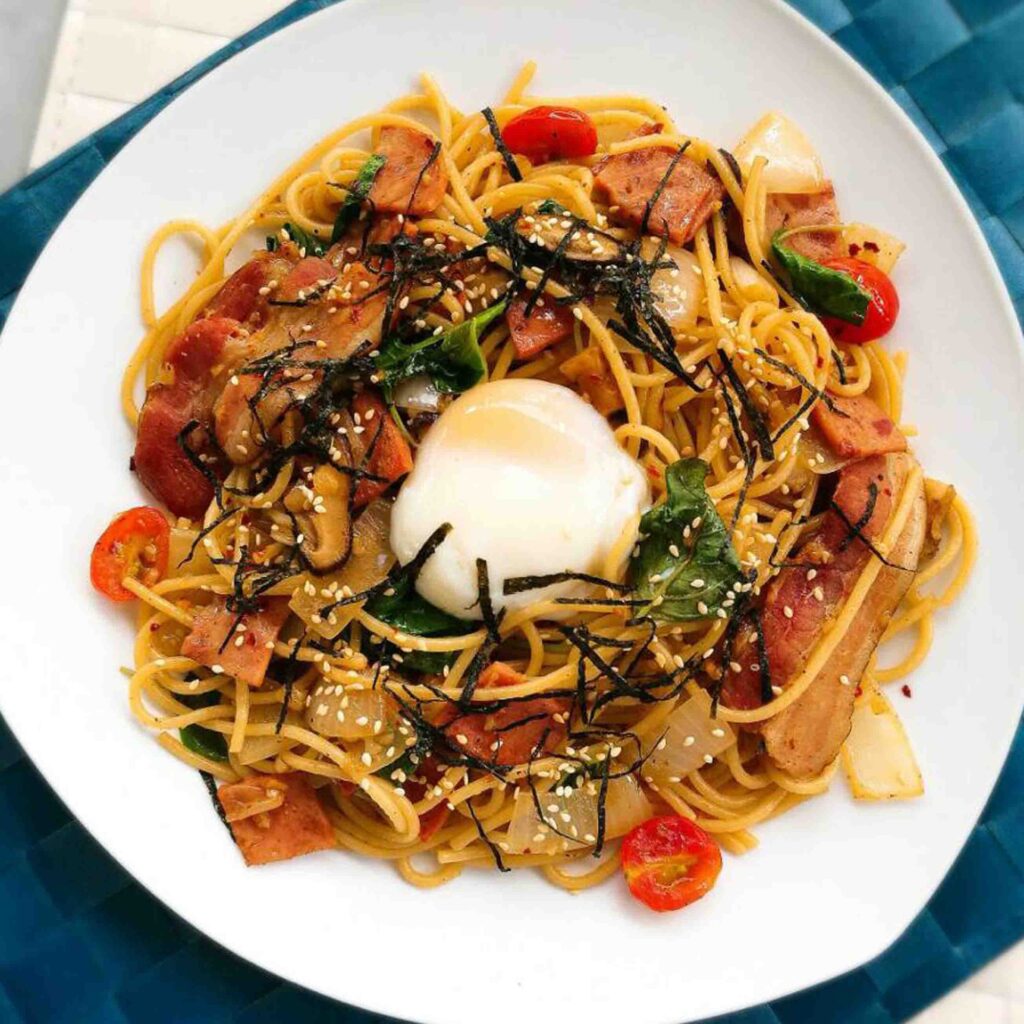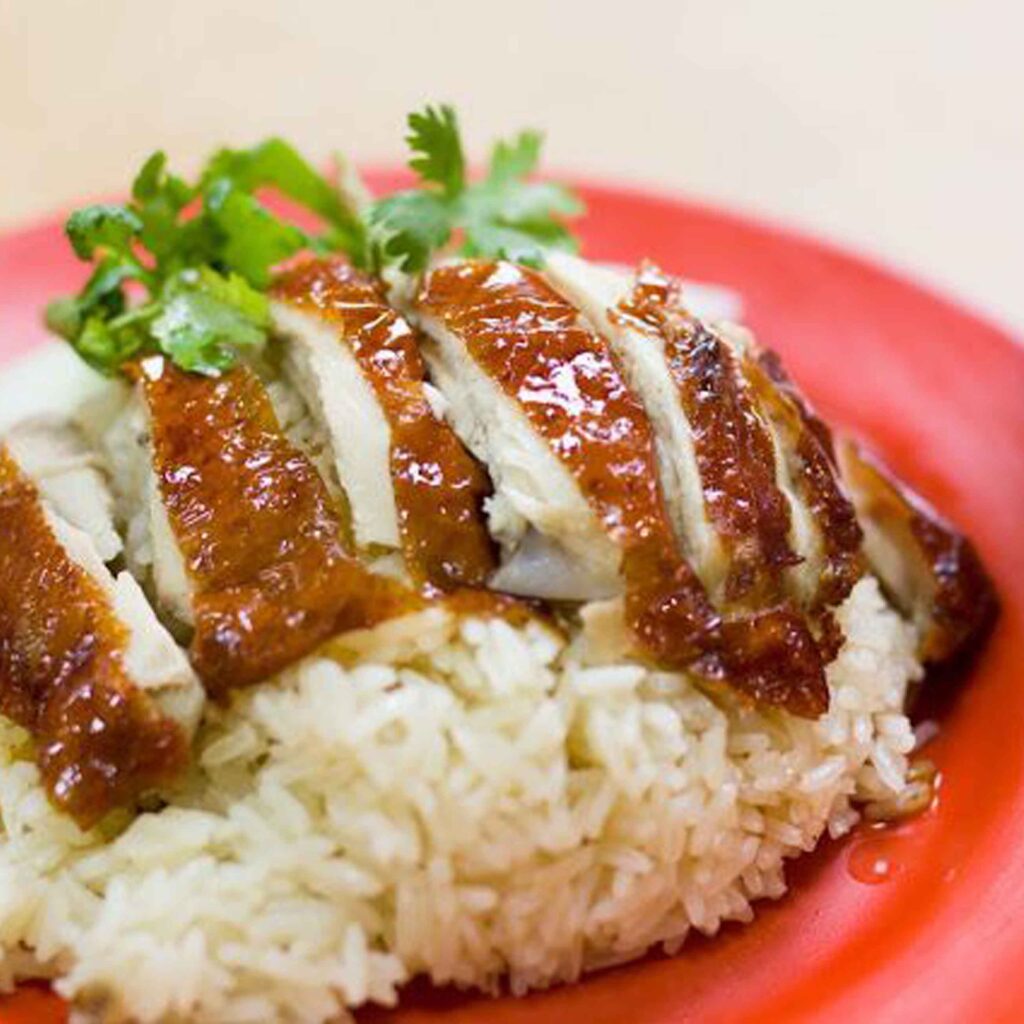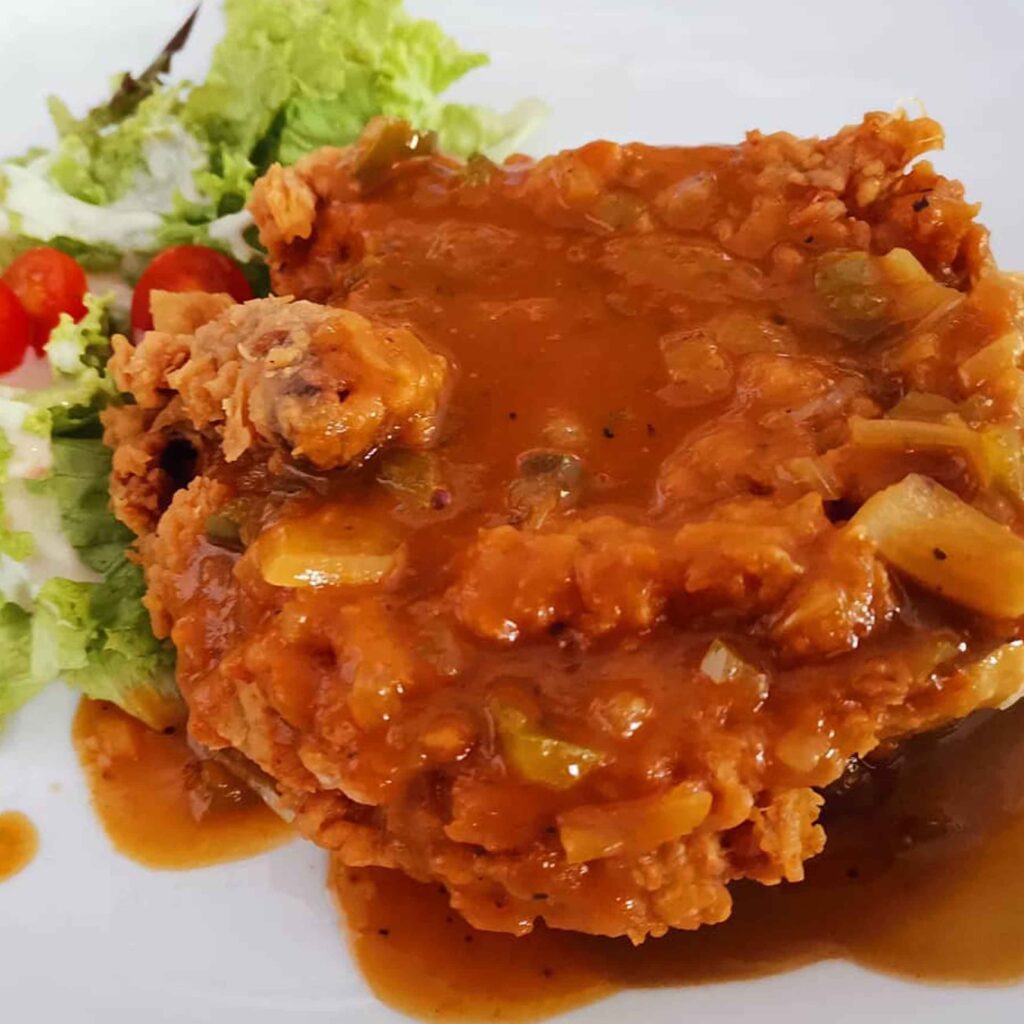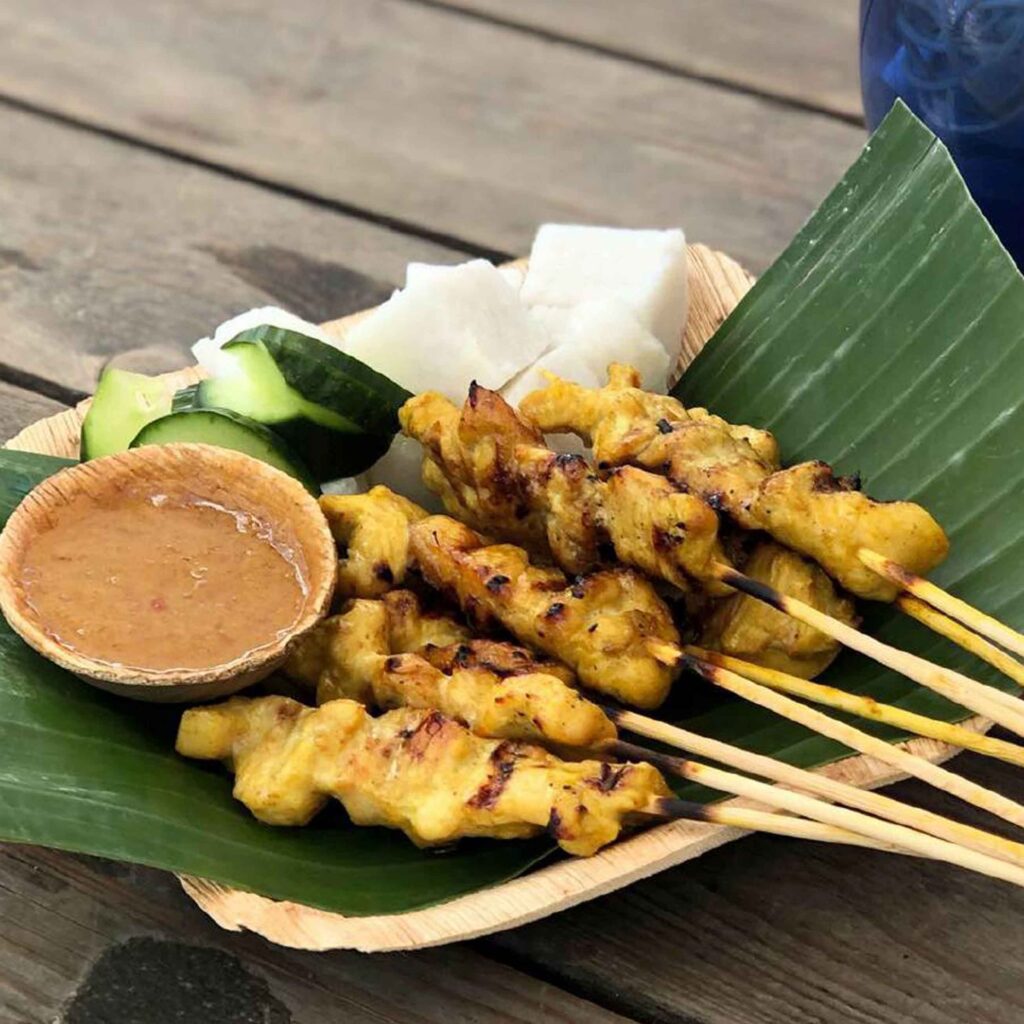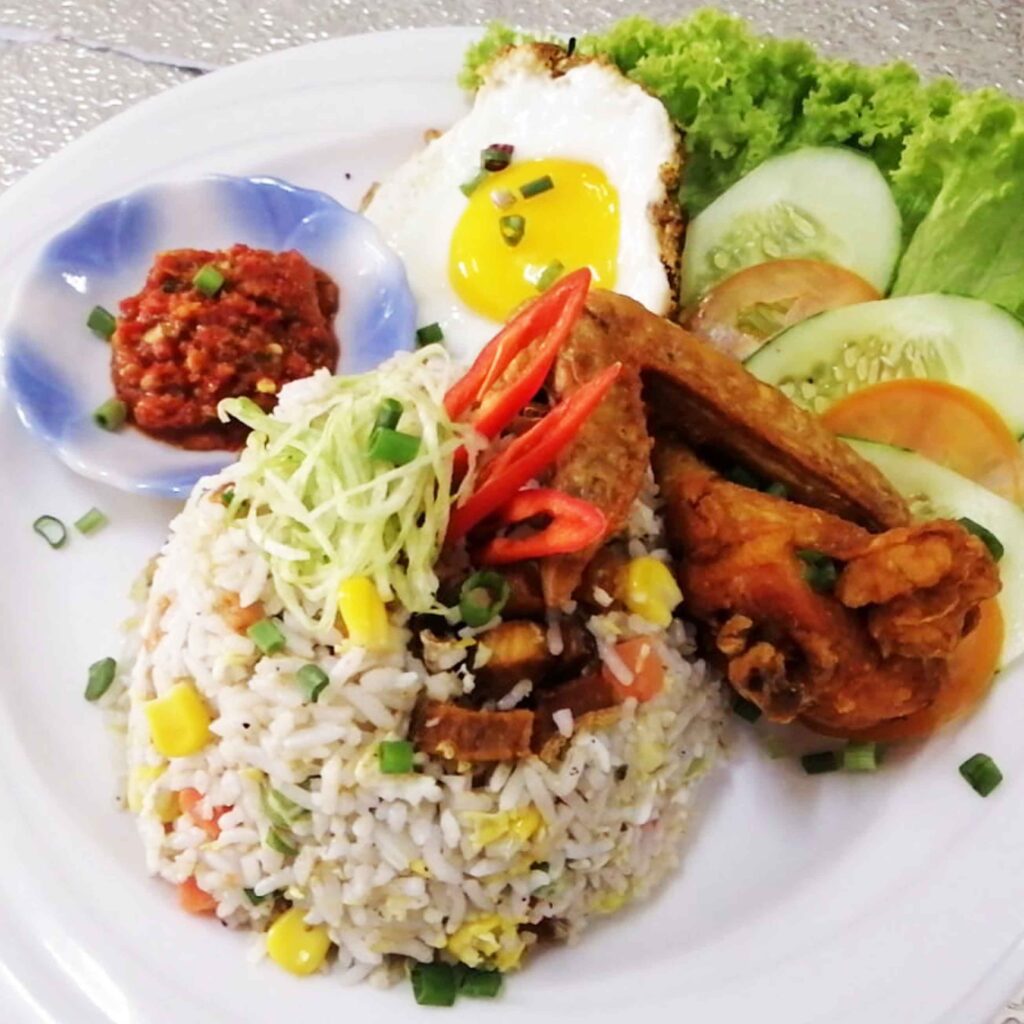 Roasted Chicken Rice | Oriental Chicken Chop | Chicken Satay | Salted Fish Fried Rice
Sponsored with Love by PJ & DEcK
PJ is a long-time supporter of Mount Miriam who finds joy in helping. She heard the call for help and answered it magnificently. Not only did she sponsor food, she also inspire others to do the same. Her children who are far away also showed their support.
We are touched by her readiness to fill the gap where it needs to be filled.
Pork Bacon Pizza | BBQ Chicken Pizza | Classic Beef Pepperoni Pizza
Sponsored with Love by an anonymous donor. 
He/ She is very secretive…
(We don't even know who is he/ she.)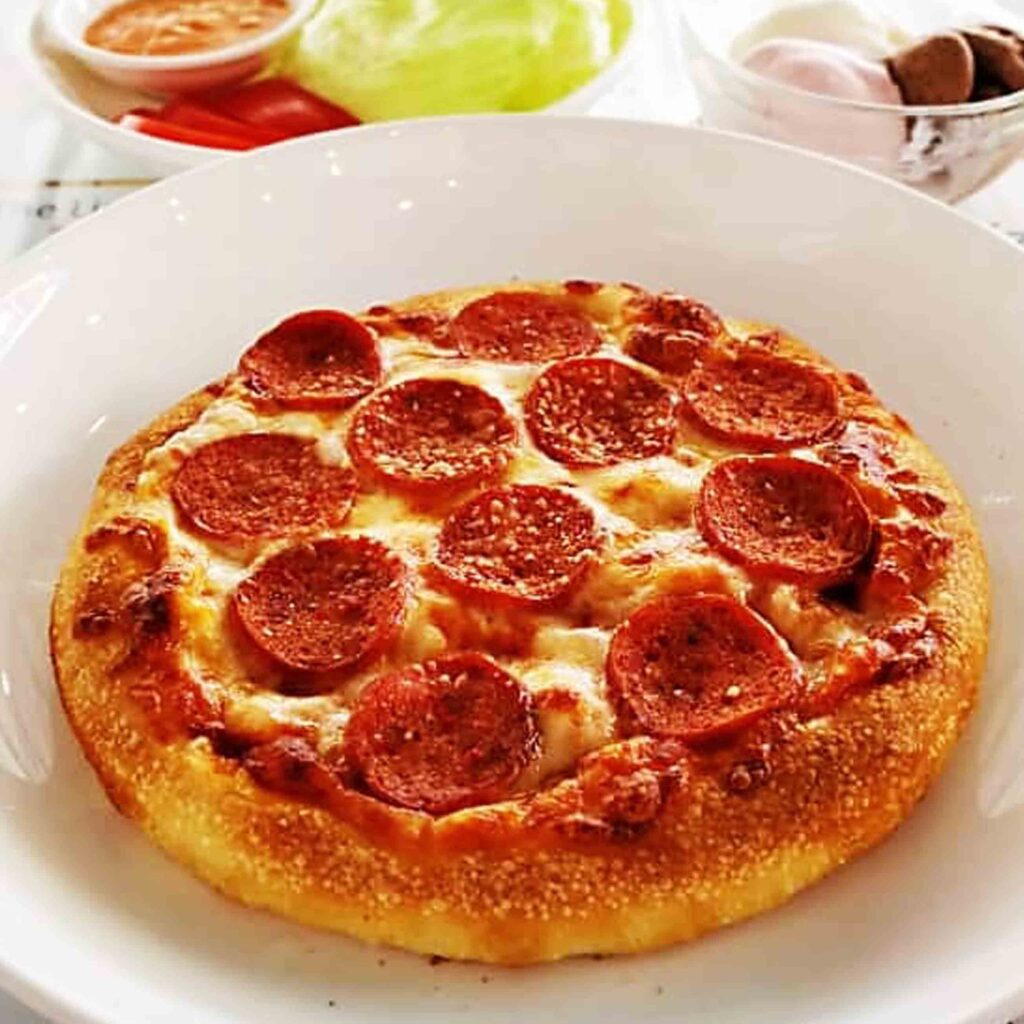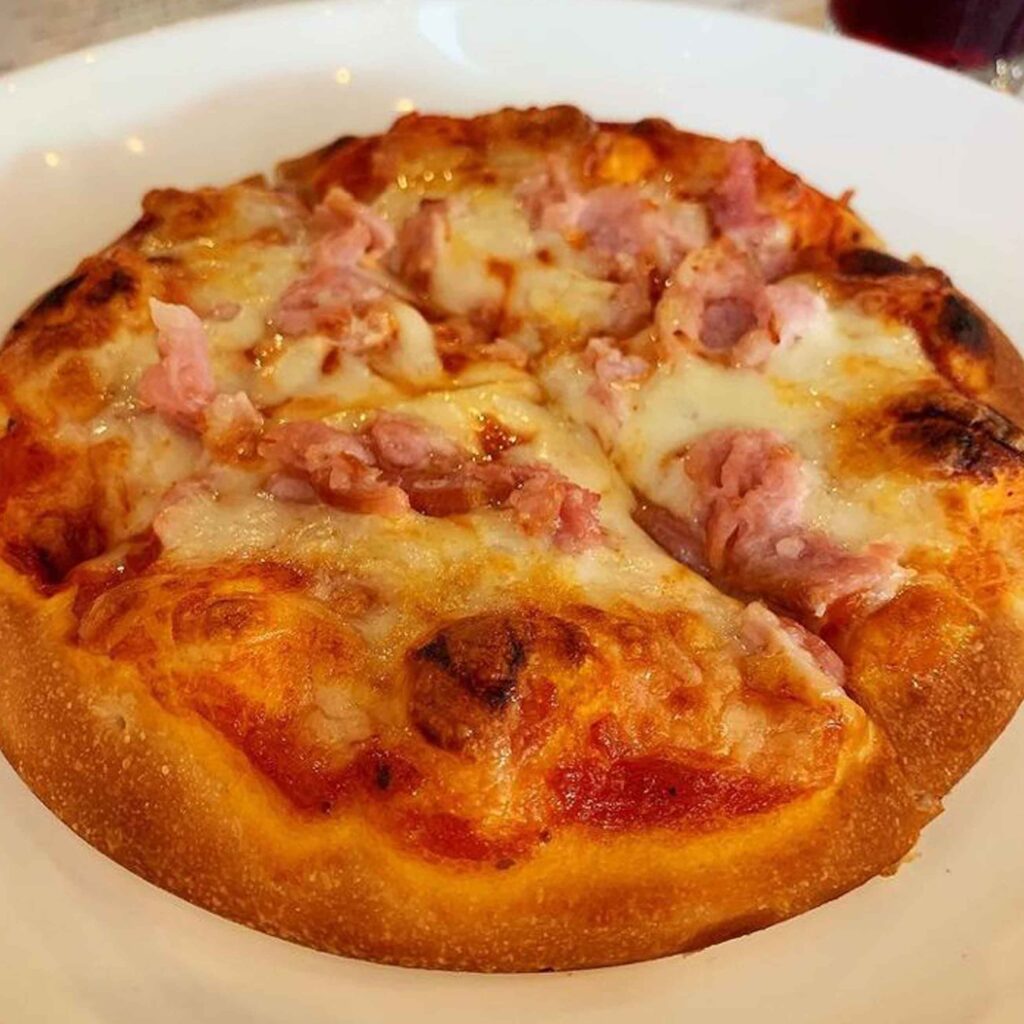 Lotus Leaf Nutritious Organic Rice 五谷养生荷叶饭 | Vegetarian Chee Cheong Fun
Prepared with Love and Sponsored by Madam Choo
She is a regular supporter of our conventional charity food fair. Despite having just recovered from an injury, Madam Choo is still eager to help us to raise funds through what she is good at – cooking!
The lotus leaves give off a subtle scent that adds flavour to the rice. The rice is a healthy combination of black rice, brown rice, a mix of grains and dates which create a rich texture profile.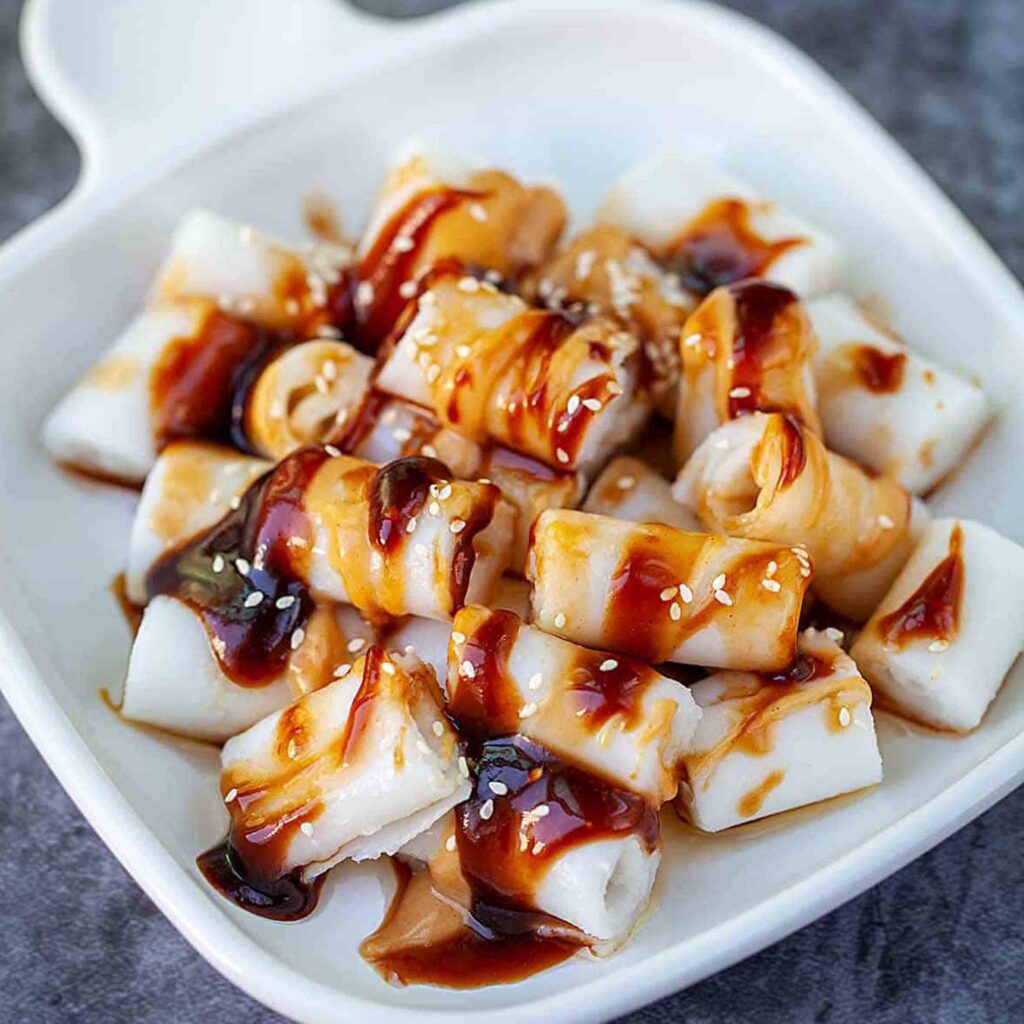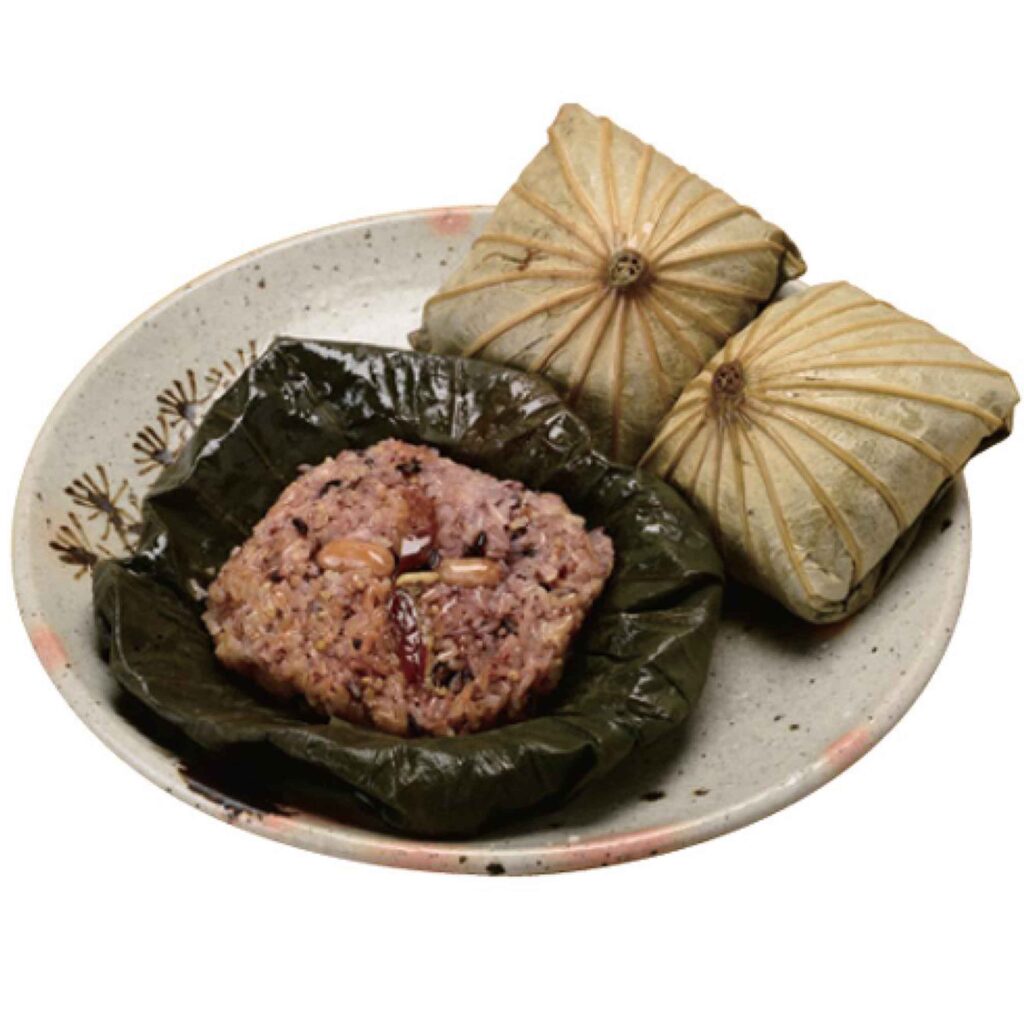 Hakka 'Orh (Black)' Lam Mee
Sponsored by Ms Lynna Tan & Family & Cooked with Love by Ms Angie Lai
Ms Lynna's single act of kindness throws out roots in all directions.
She hopes to support this charity and at the same time help out a friend who cooks and bake to earn supplemental income. The recipe of Angie's signature Hakka "Orh" Lam Mee was handed down from her beloved Mum.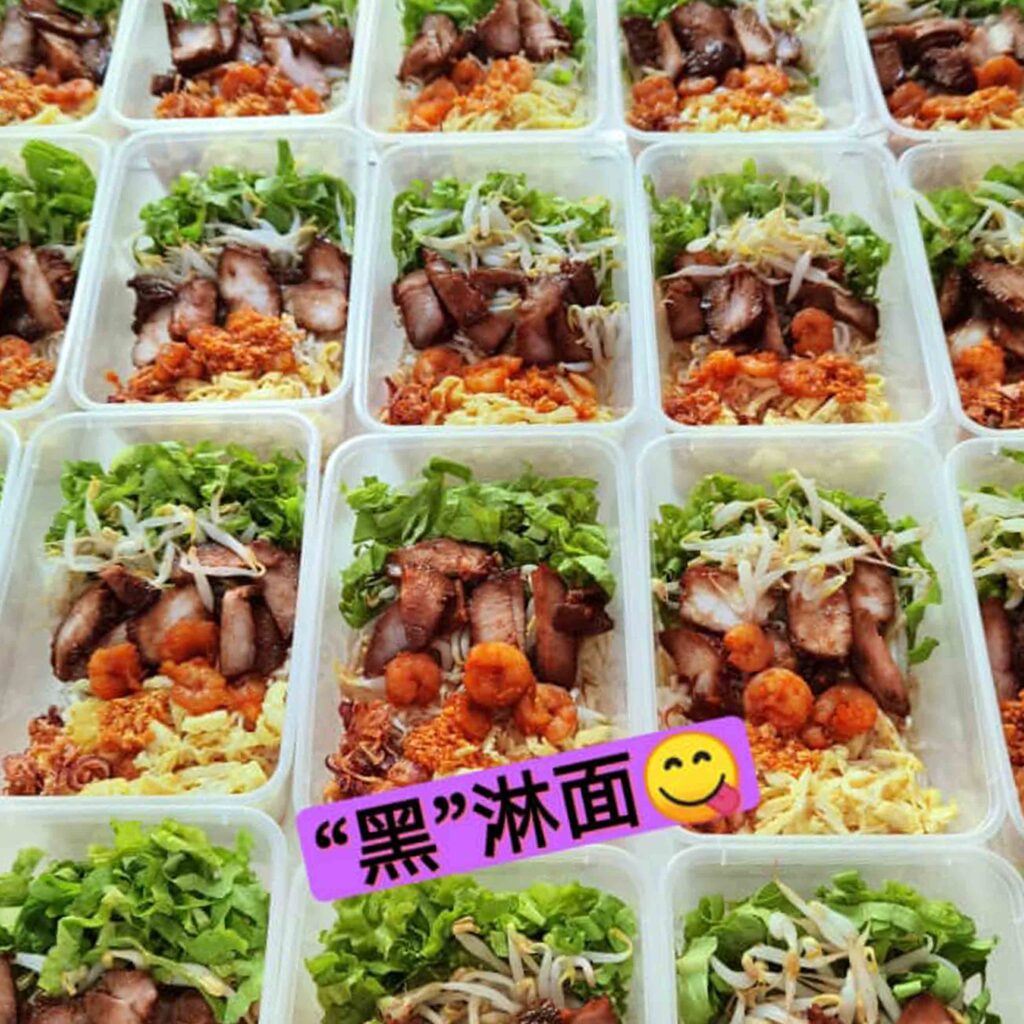 Oatmeal Raisin Cookies
Baked with Love and Sponsored by 'Tedfuse' & Friends
Our Mount Miriam IT colleague does not only offer us IT Support, she also feeds us with good food all the time! However, usually only those whom she is close with are the lucky ones. Not many people get to try out her food.
This time, we managed to convince her to share one of her best creations with everyone. Her oatmeal raisin cookies are loaded with hearty rolled oats and chock full of plump raisins. Oh, did I mention that she will be taking an off day just so that she could deliver the freshest cookies to our supporters?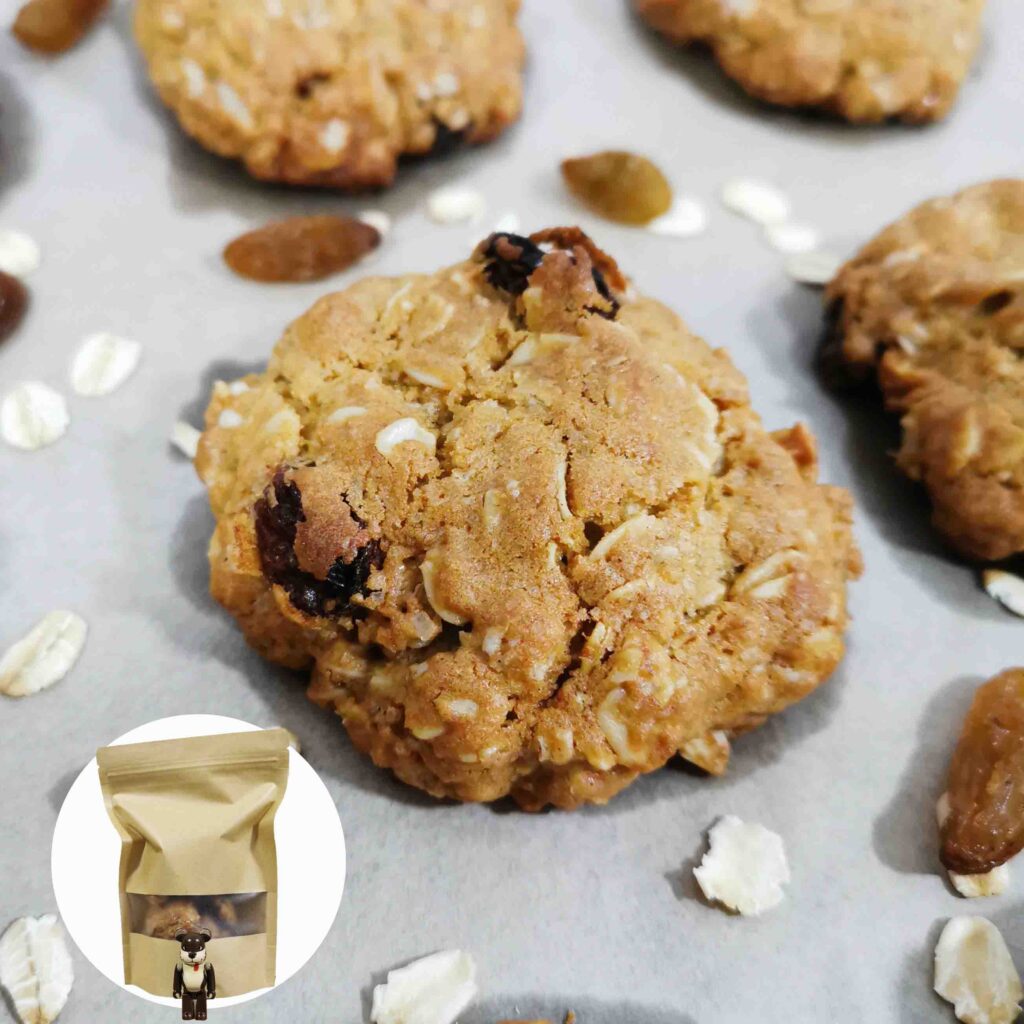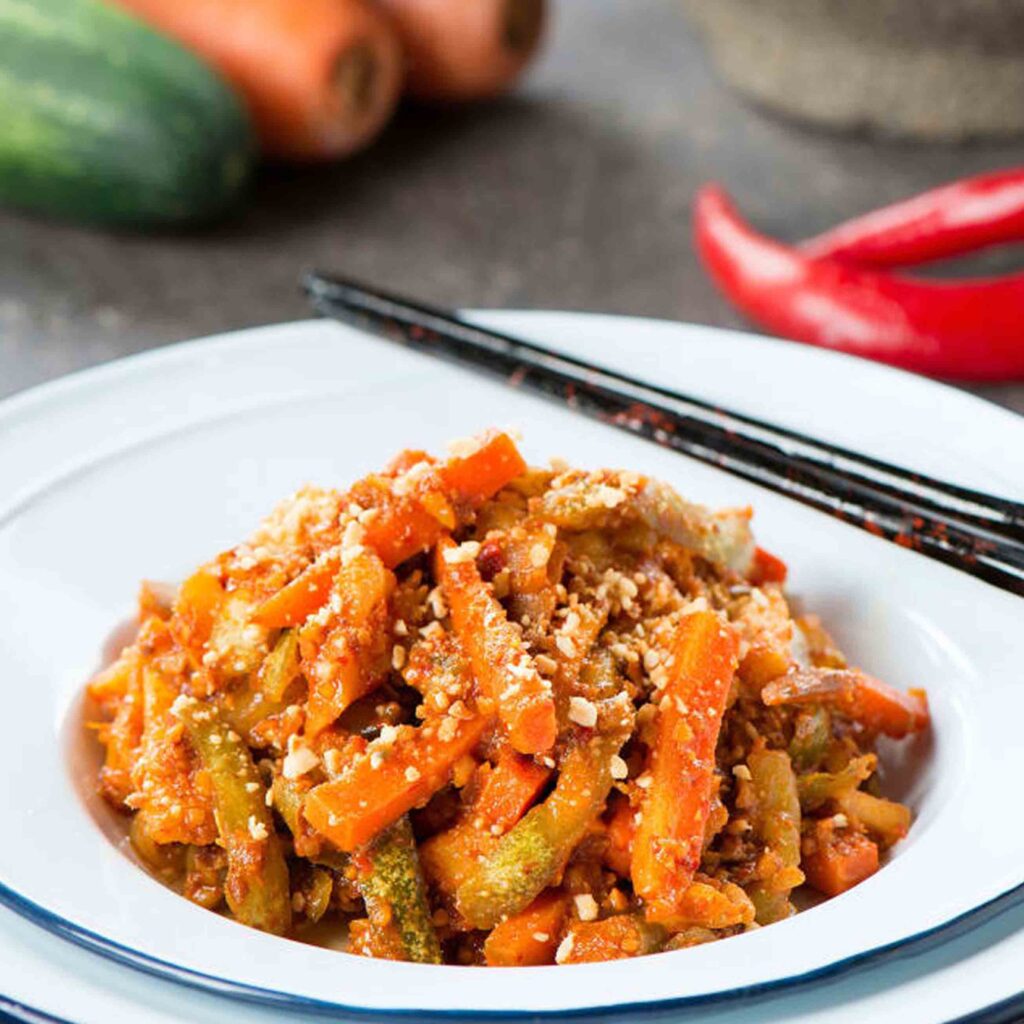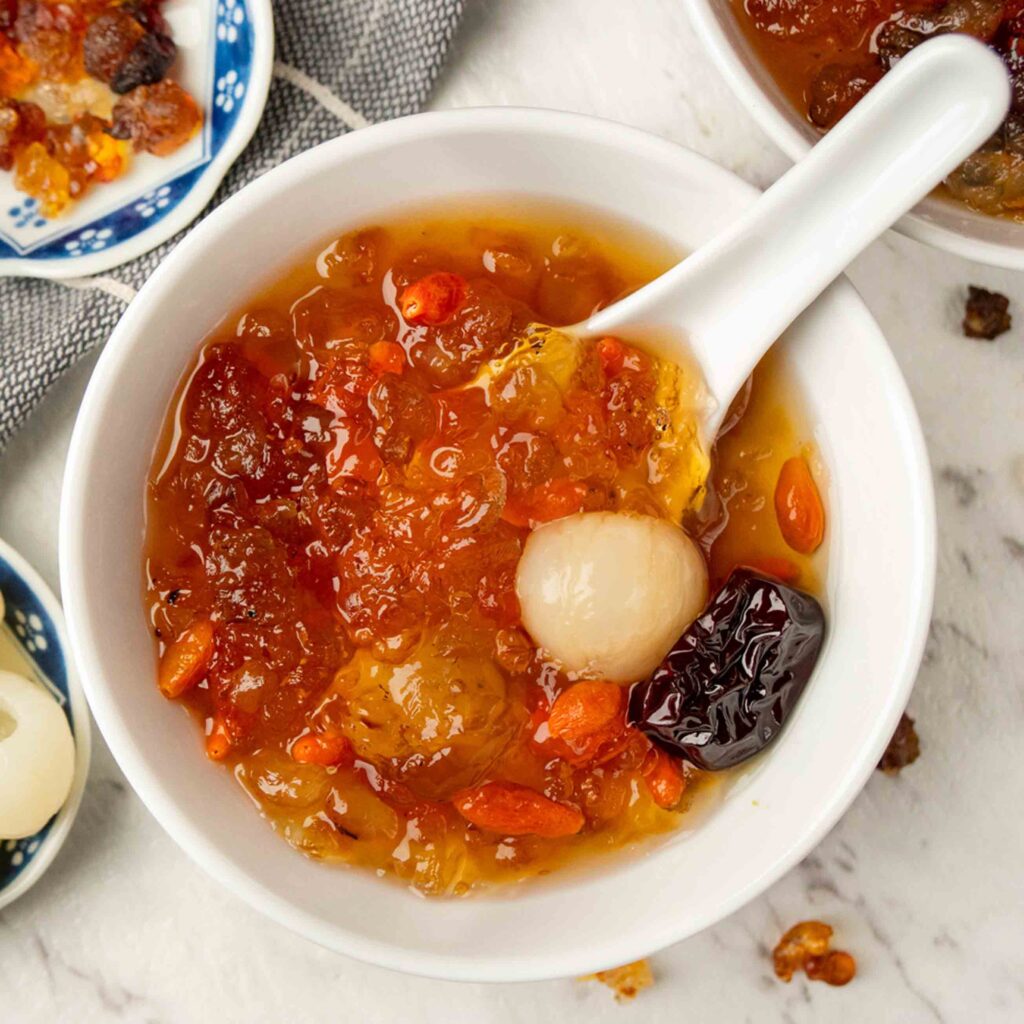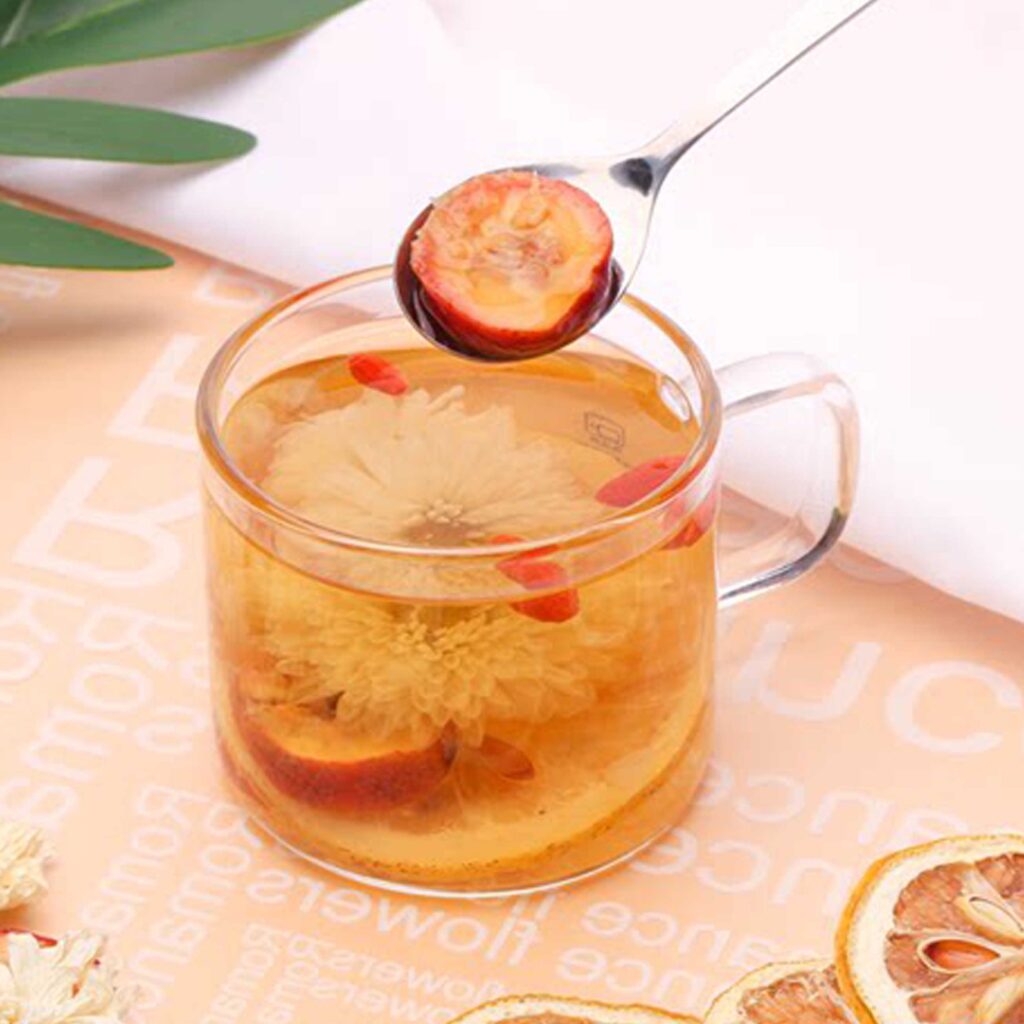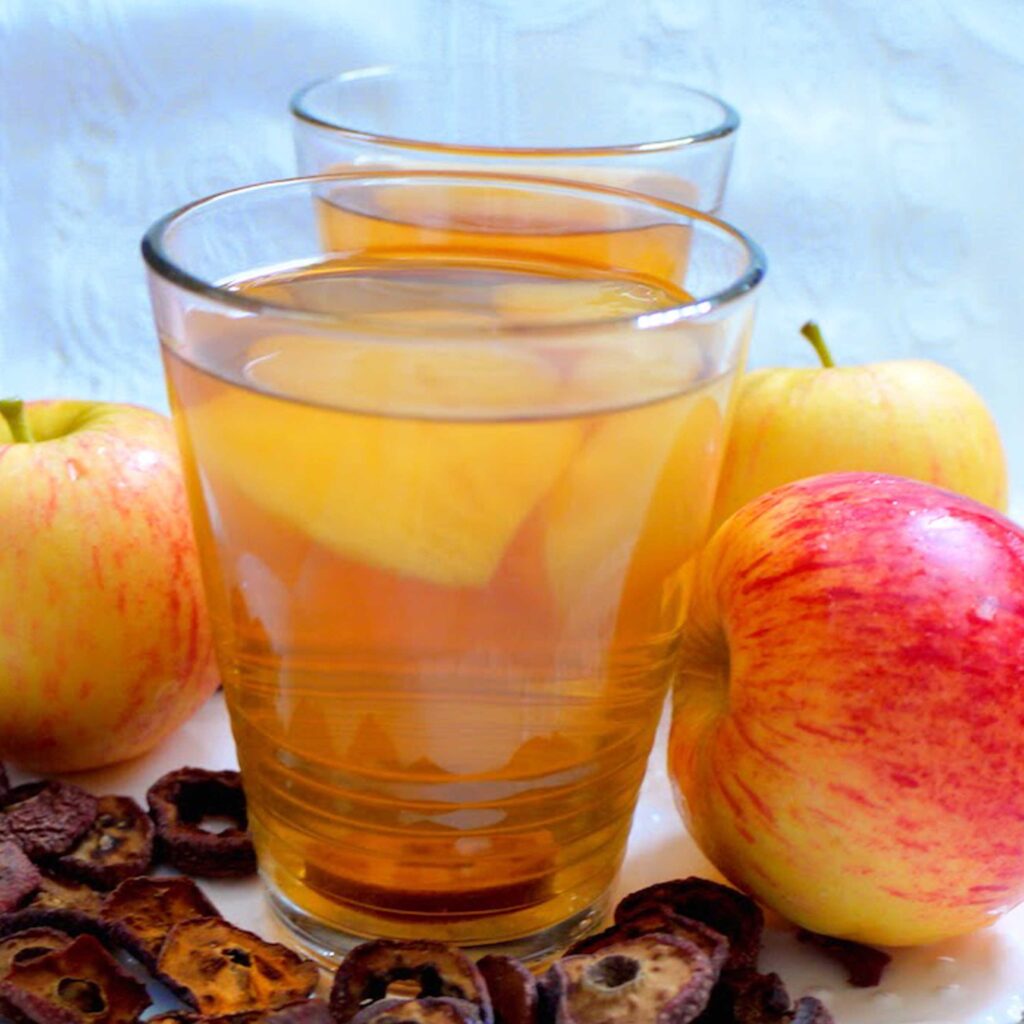 Peach Gum Dessert | Winter Melon Dessert | Sambal Haebee | Acar Awak | Roselle Jam | Lemongrass with Green Apple | Hawthorn with Red Apple | Hawthorn with Chrysanthemum | Soybean Pudding Taufufa Vanilla & Honeydew | Guilin Gao | Fried Banana | Fried Curried Roti
Sponsored with Love by Teacher Christine (Paradise of Poor), Lau Hooi Kheng & Sally
Teacher Christine came to us 2 days before we launched our Round 6 menu, saying that she has gathered a list of food for our food sale with the help of some good Samaritans. Then, she left in a hurry. It's a shame that we don't have time to get to know her more. Even though we don't know much about Teacher Christine, but one thing is for sure – she has a heart of gold. Thank you the donors who made this possible!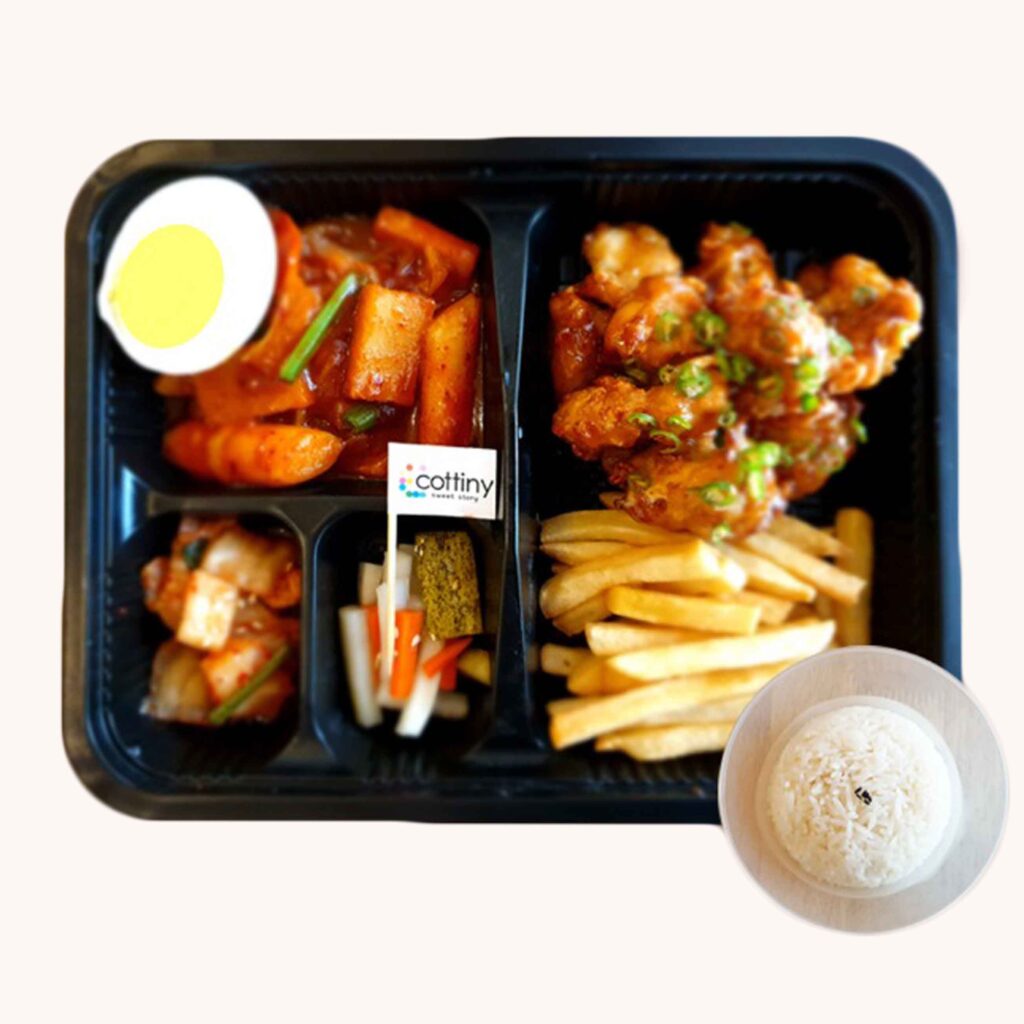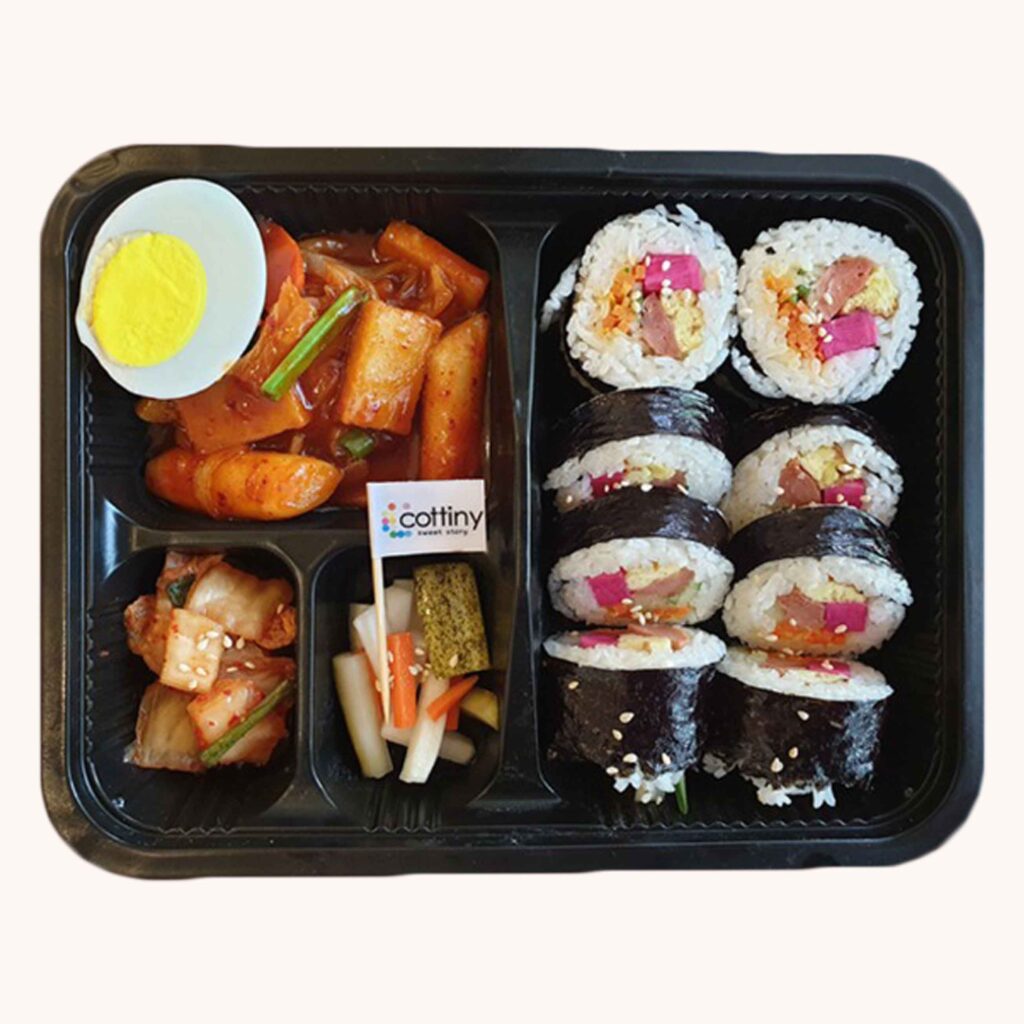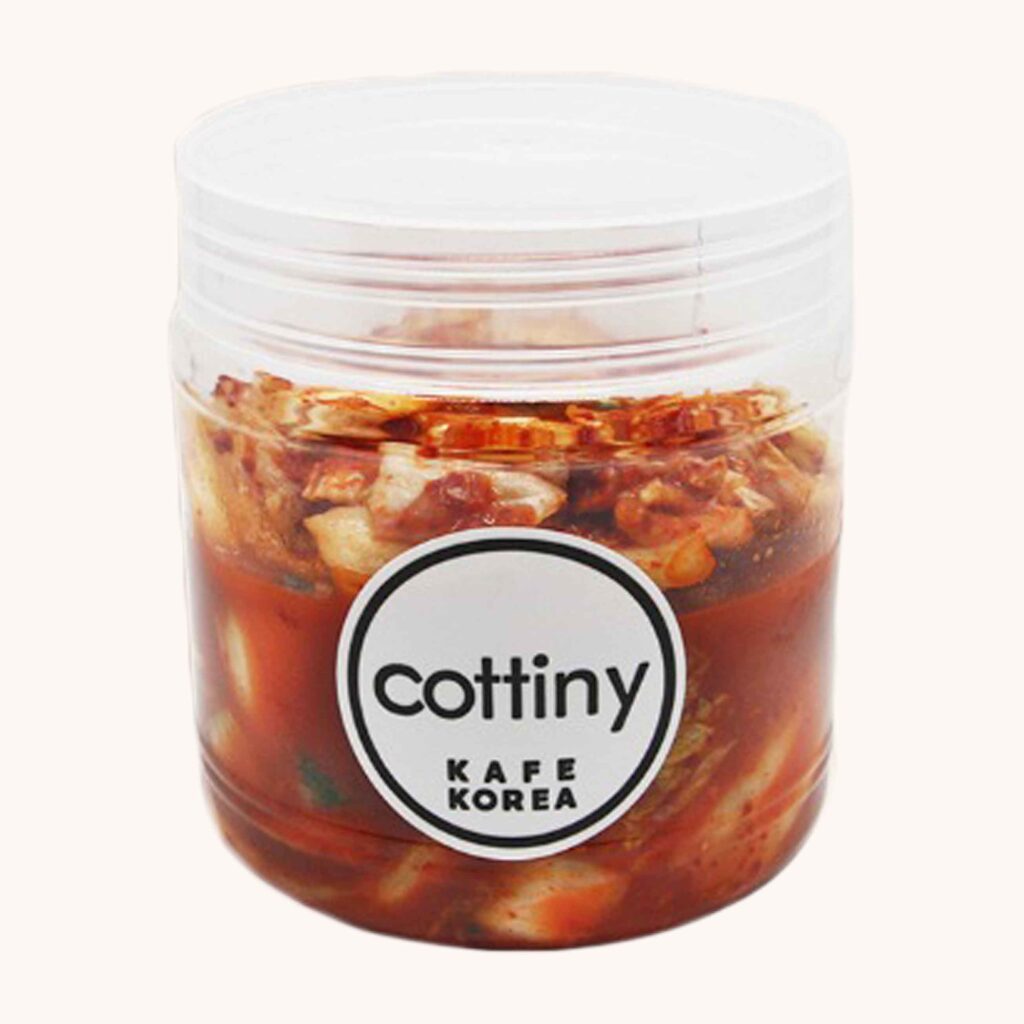 Korean Seaweed Rice Roll Box | Korean Chilli Sauce Chicken Box | Kimchi
Jointly Sponsored with Love by Cottiny Korean Café & Ms J
On behalf of the late Madam Goh, Ms J's family are deeply thankful to Dr Ang and his medical team for their selfless dedication & tireless commitment which had allowed Mdm Goh to be under good care during her journey of treatment in the hospital.
As a gesture of appreciation, Ms J expressed her wish to be one of the food sponsors. On top of that, she has linked us up with a lot of food sponsors too!
This is a jointly sponsorship with Cottiny Korean Café – a cozy café run by Koreans offering authentic Korean delights. If you look it up online, many would describe this place as one with good food, good price and good service.
Organic Millet Bak Chang | Bak Chang
Prepared with Love and Sponsored by Ms Alyna
Ms Alyna found her way to us after her friend Ms J.K. (one of our food sponsors) shared to her about our charity.
Very quickly, she confirmed her sponsorship details, offering to sponsor bak chang for us. We are so lucky that we do not have to be in a long waiting list to try her bak chang as it is one most sought-after items among her family and friends. For a healthier twist, she substituted rice with organic millet. Her version has meat, Chinese sausage, mushrooms, chestnuts, salted egg and dried shrimps.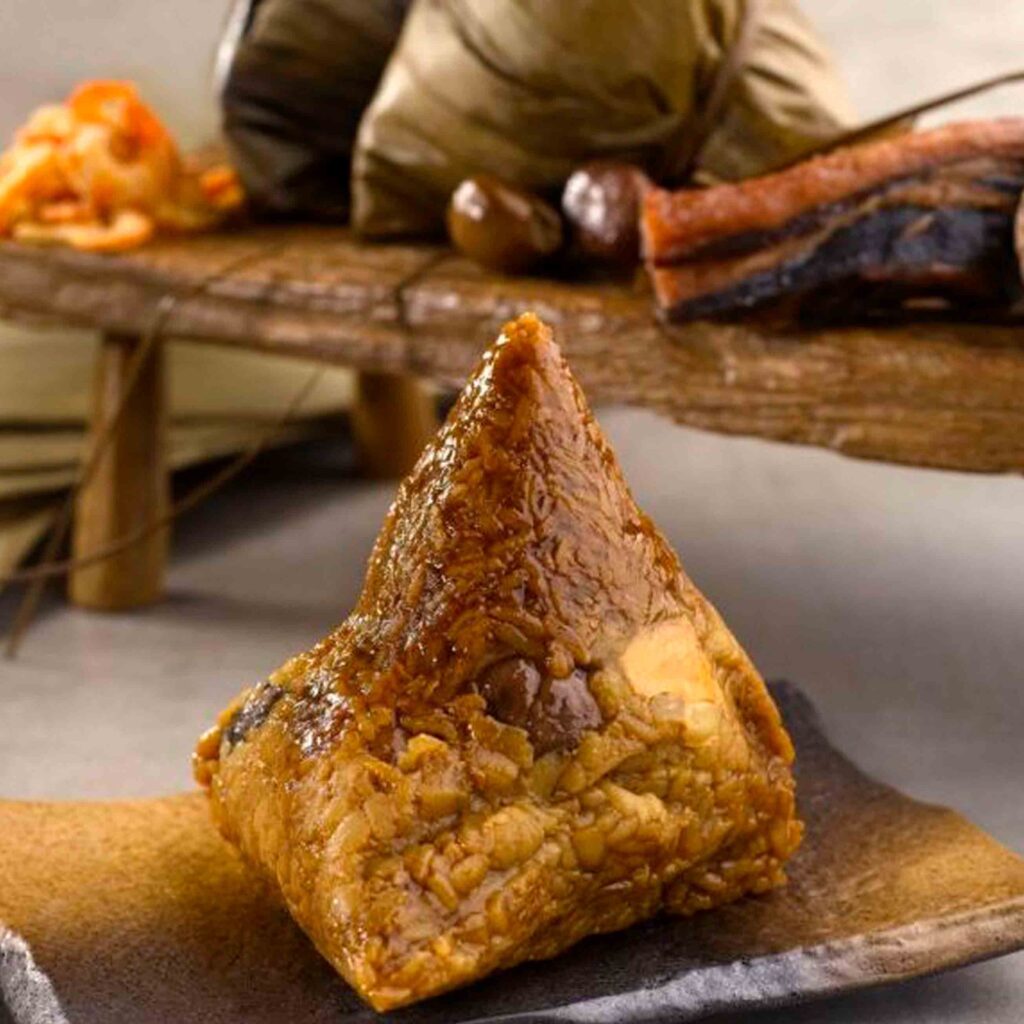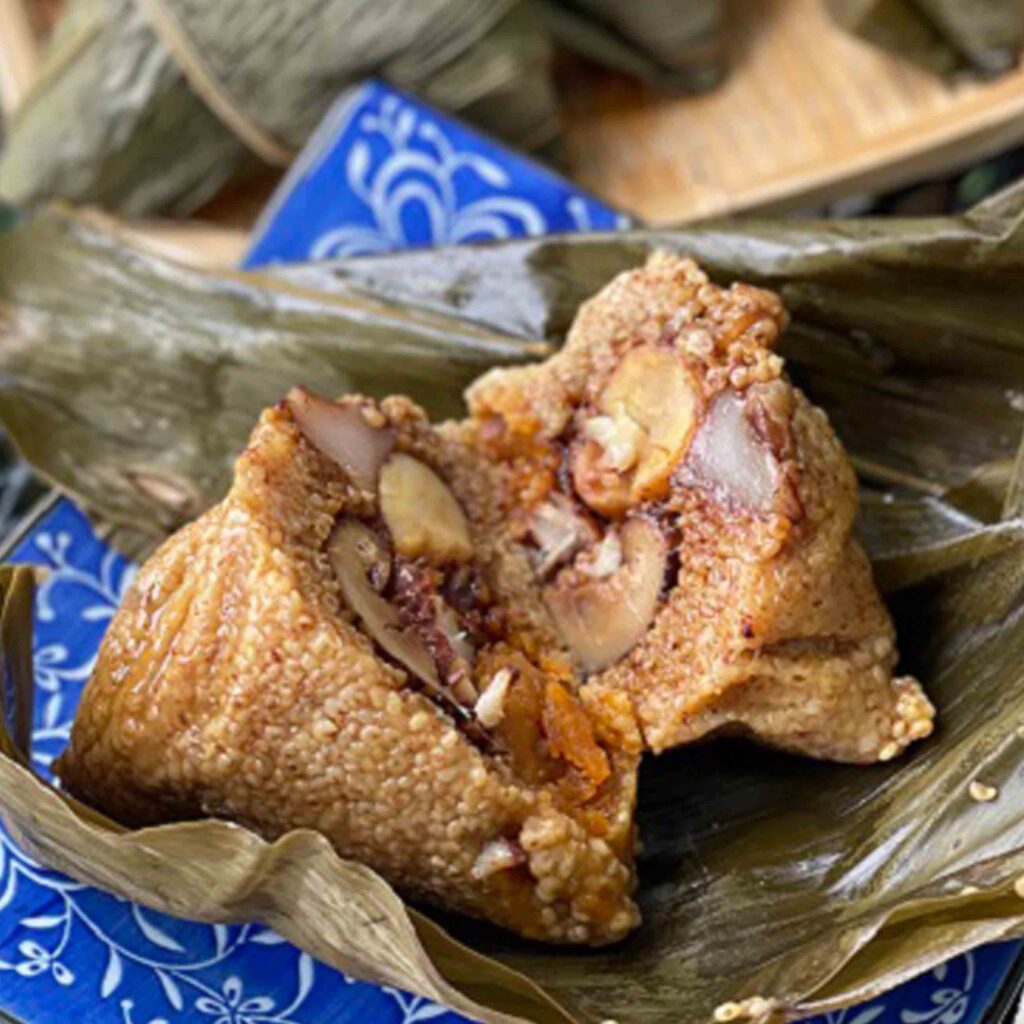 Pandan Jelly Cake
Sponsored with Love by Lee Family
Supporter turned sponsor – For the past 5 weeks, Ms Lee has never missed any of our food sale and every time she came, she would pick up 2 to 3 different orders which she made on behalf of her family and friends, amounting up to a few hundred ringgit each time. Then she would drop the food to her friends on her way home. This round, she will be sponsoring food and at the same time, help a friend (a microenterprise) who is hard working and struggling to make a living.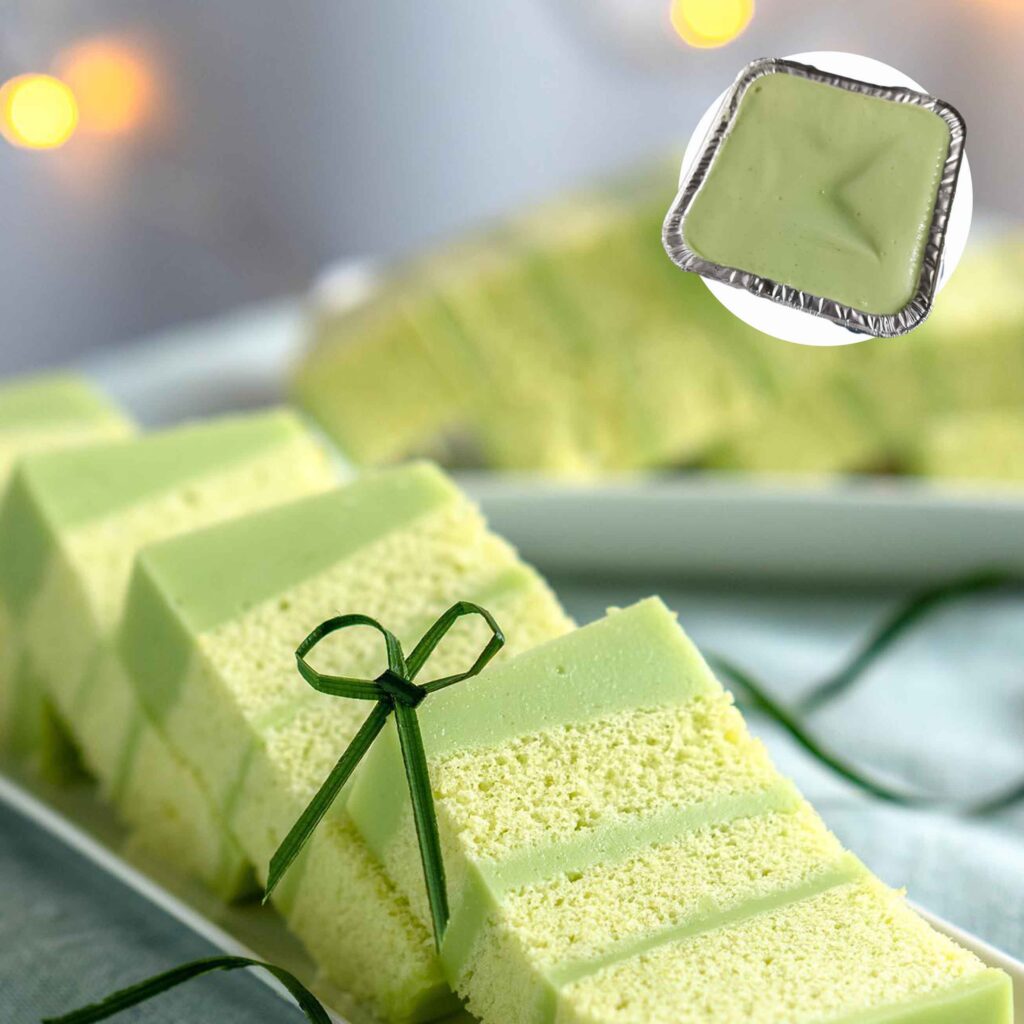 Vegetarian Curry Mee
Sponsored with Love by Uncle Loke Vegetarian Curry Mee
Uncle Loke was first approached by a lady who intended to buy his food for our charity. Upon learning about the lady's intention, he told the lady that he would do it for free.
Uncle Loke's curry mee is not your usual curry mee. Despite it being vegetarian, the soup still is creamy, milky and flavourful. It comes with his special made curry paste to be added into the soup. Instead of the usual cockles, cuttlefish strips, blood cakes, they are replaced with mushrooms, long beans and hardboiled egg.
Shop Address: 22 Komplek Penjaja, Jalan Desiran Tanjung 3, Tanjung Tokong, 11200 George Town, Pulau Pinang.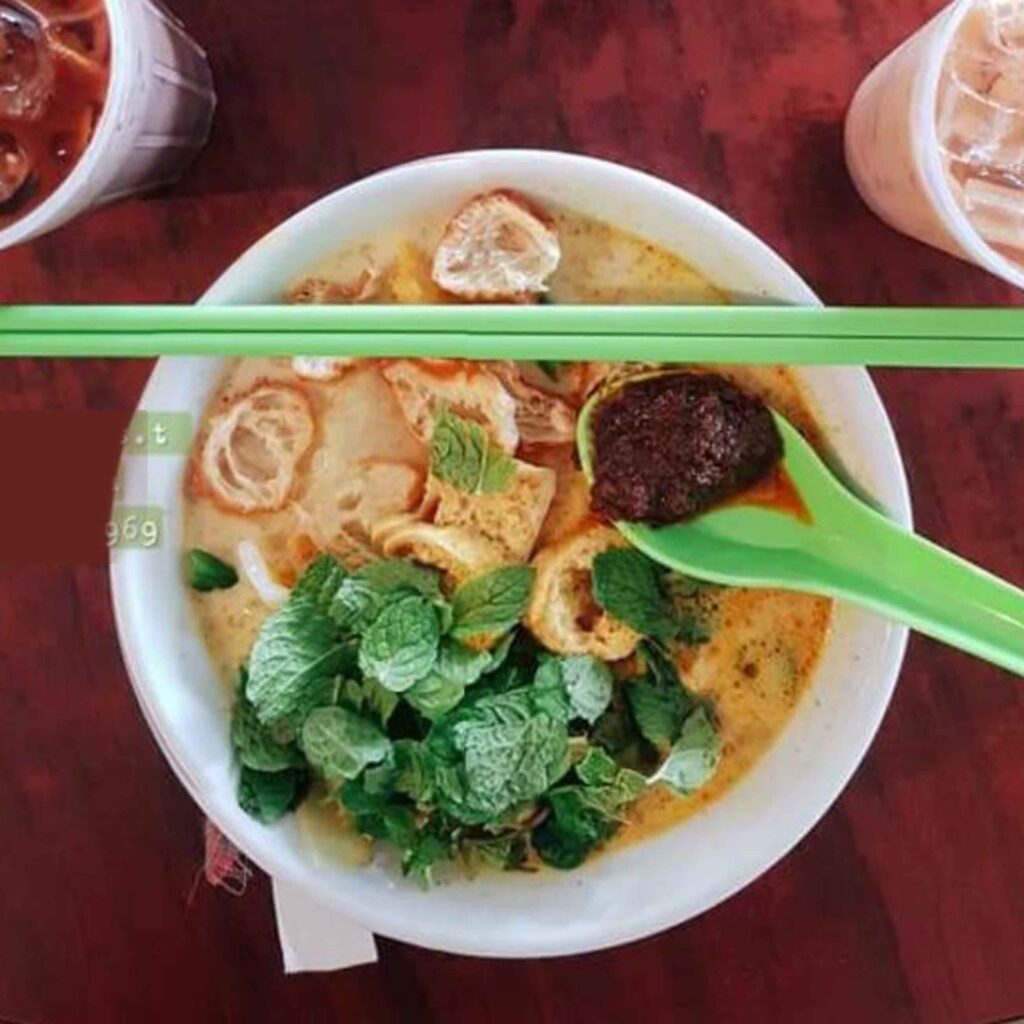 Curried Baked Coconut Chicken with Pineapple Compote, Couscous, Quinoa & more | Tonkatsu Flavoured Tilapia Fish Fillet
Sponsored with Love by Lian and prepared with passion by TEAM ÉNFD
ÉNFD is a bespoke caterer based in Penang. We draw inspiration from family dinners, grandmothers' cookbooks, our collective travel experiences, and Malaysia's diverse food landscape to produce dishes that will delight, impress and satisfy.
We were lucky enough to try their hearty and wholesome meal – curried baked coconut chicken, accompanied with our homemade organic pineapple compote, served with our signature Laksa-inspired couscous, quinoa, daily salads on the side with our handmade from scratch dressing.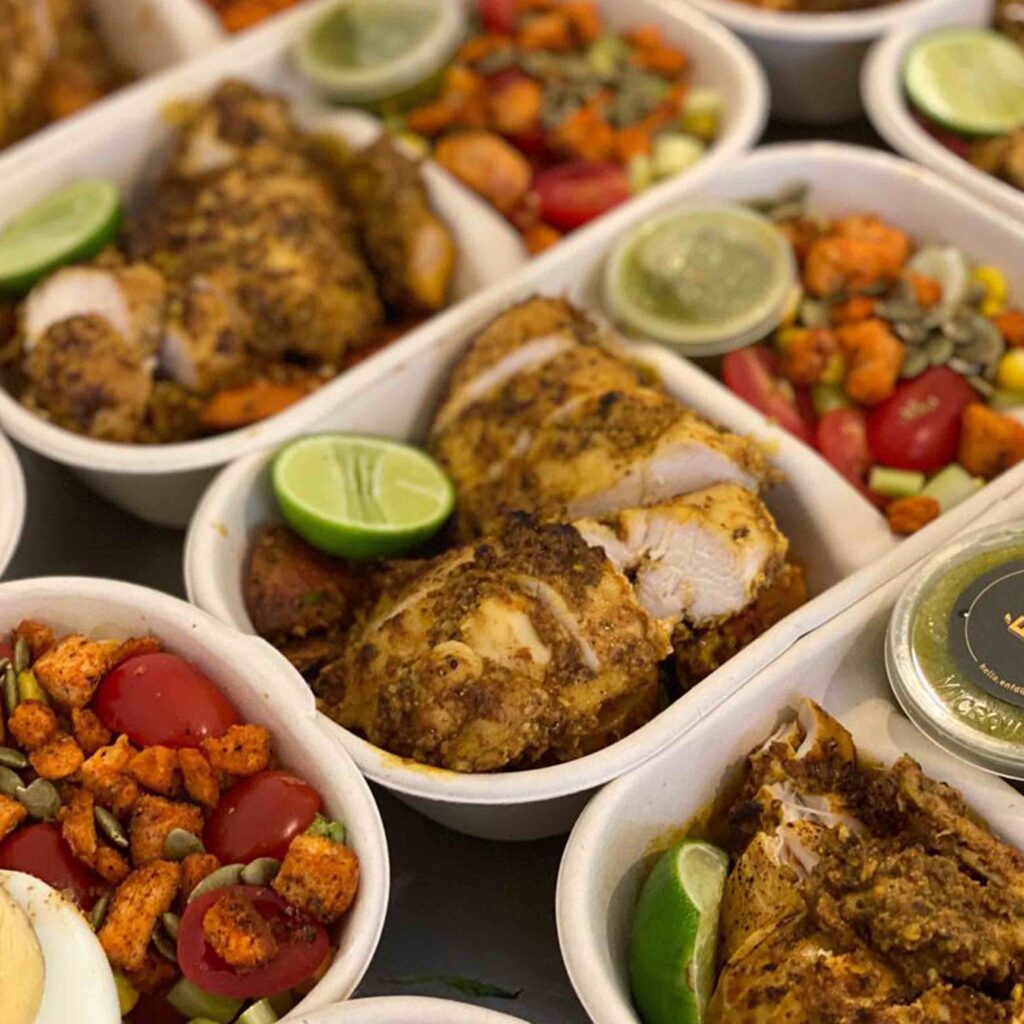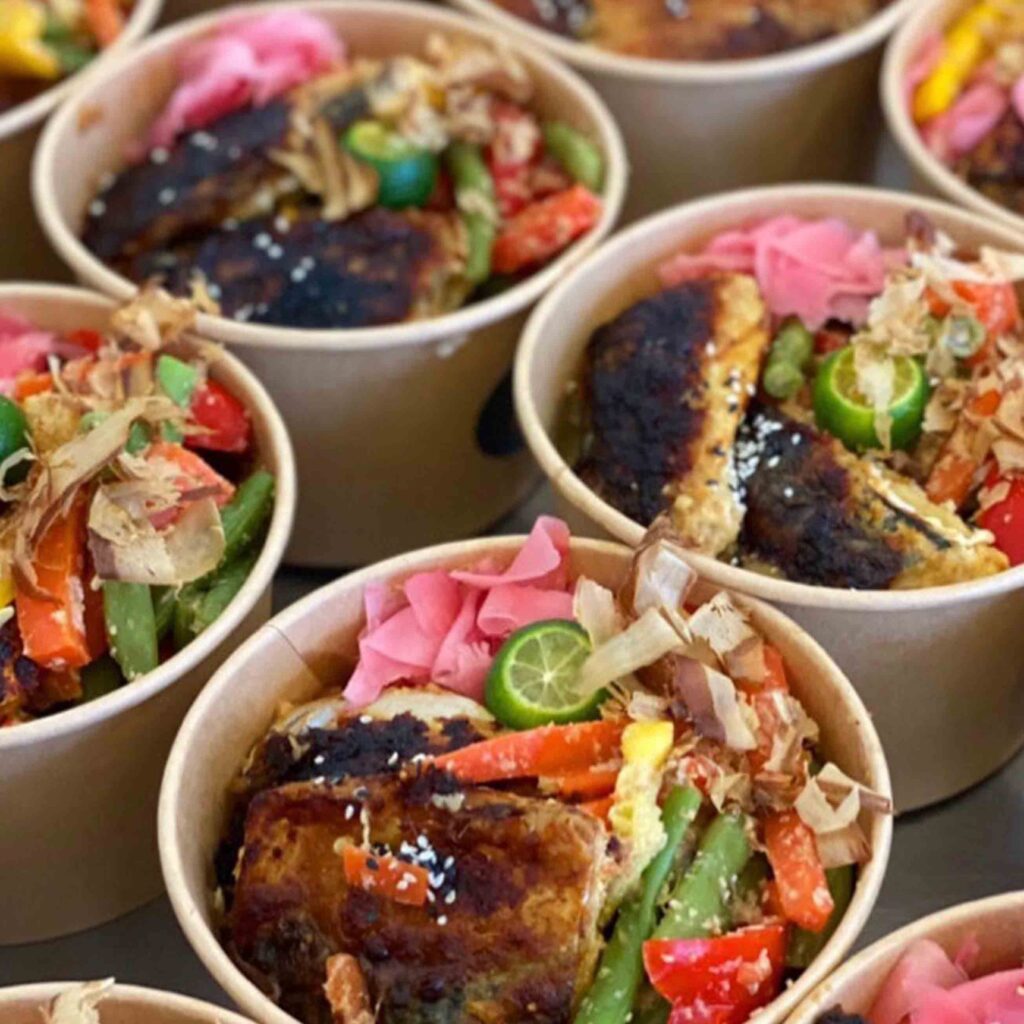 Aroma Cranberry Butter Cookies | Coffee Chocolate Almond Cookies
Home-Baked and Sponsored with Love by Ms Rachael
Bake, spread joy and give back! 
Ms Racheal jumped on the opportunity to support our charity after she got to know about our event from her friend who works in Mount Miriam. She enjoys the simple pleasure of baking and she is running her little part-time venture online – Rachael's Recipe.
The sweetness of her cookies is pure delight. They aren't too sweet and she doesn't use any artificial colouring.
Aroma Butter Cranberry Cookies

– Aroma butter taste base with the sour-sweet flavour of cranberry
Coffee Chocolate Almond Cookies
– Crunchy coffee choco almond cookies that are best for coffee lovers

– Quality almond imported from US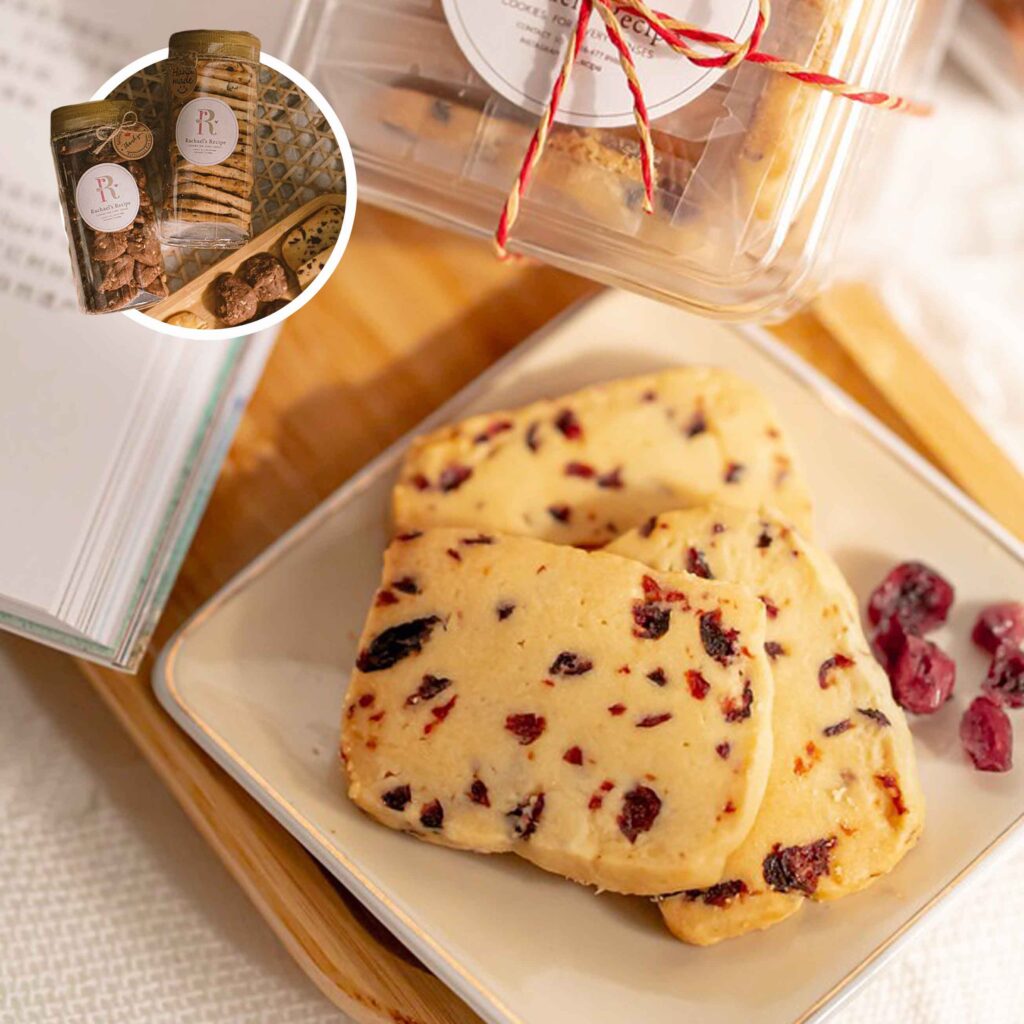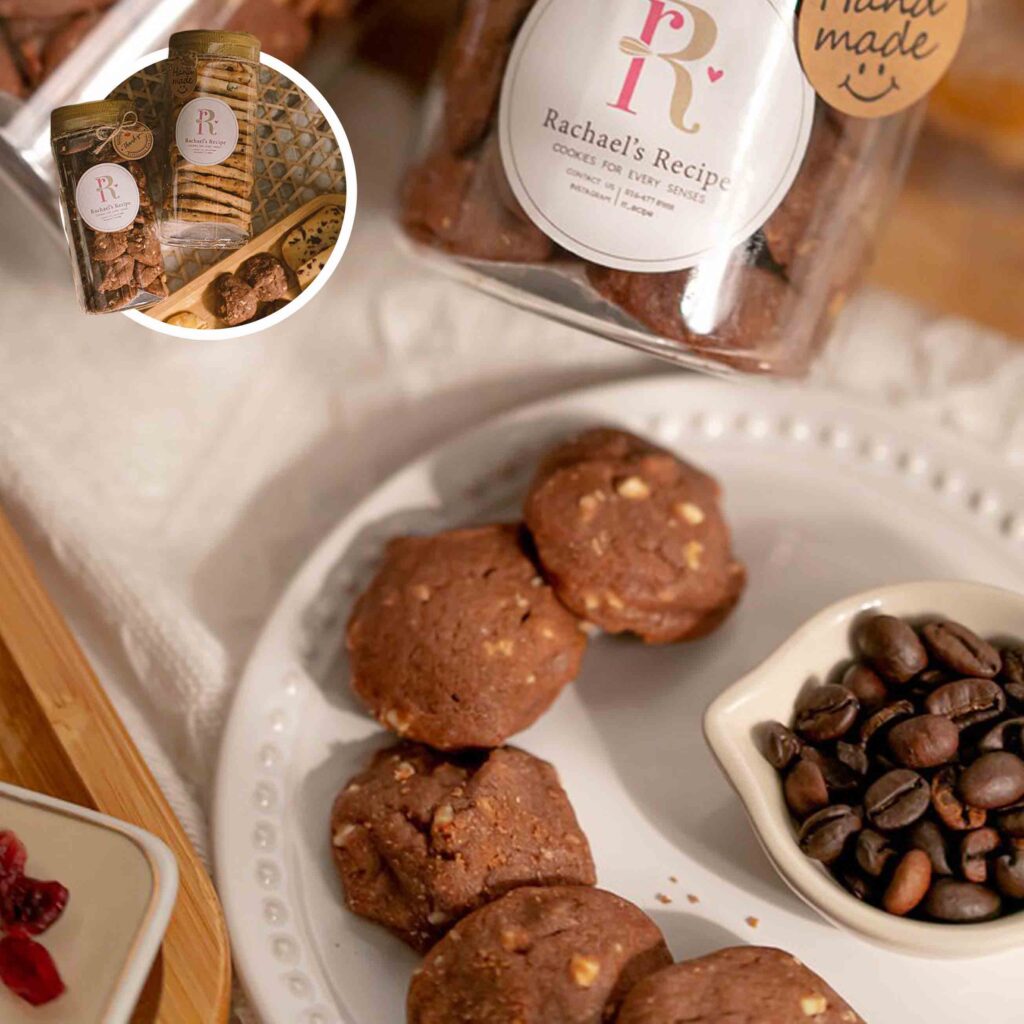 Baked Pork Pastry with Mushrooms | Roti Curried Beef | Luncheon Meat | Tuna Apple Baked Buns
Baked with Love & Sponsored by Ms J. K (Anonymous)
Not your standard stuffed buns and pastries.
Ms J.K. gives the usual stuffed bun and pastries a twist with her own creation, bringing us something that we won't come across that often. This is something that she occasionally bakes for her family and friends.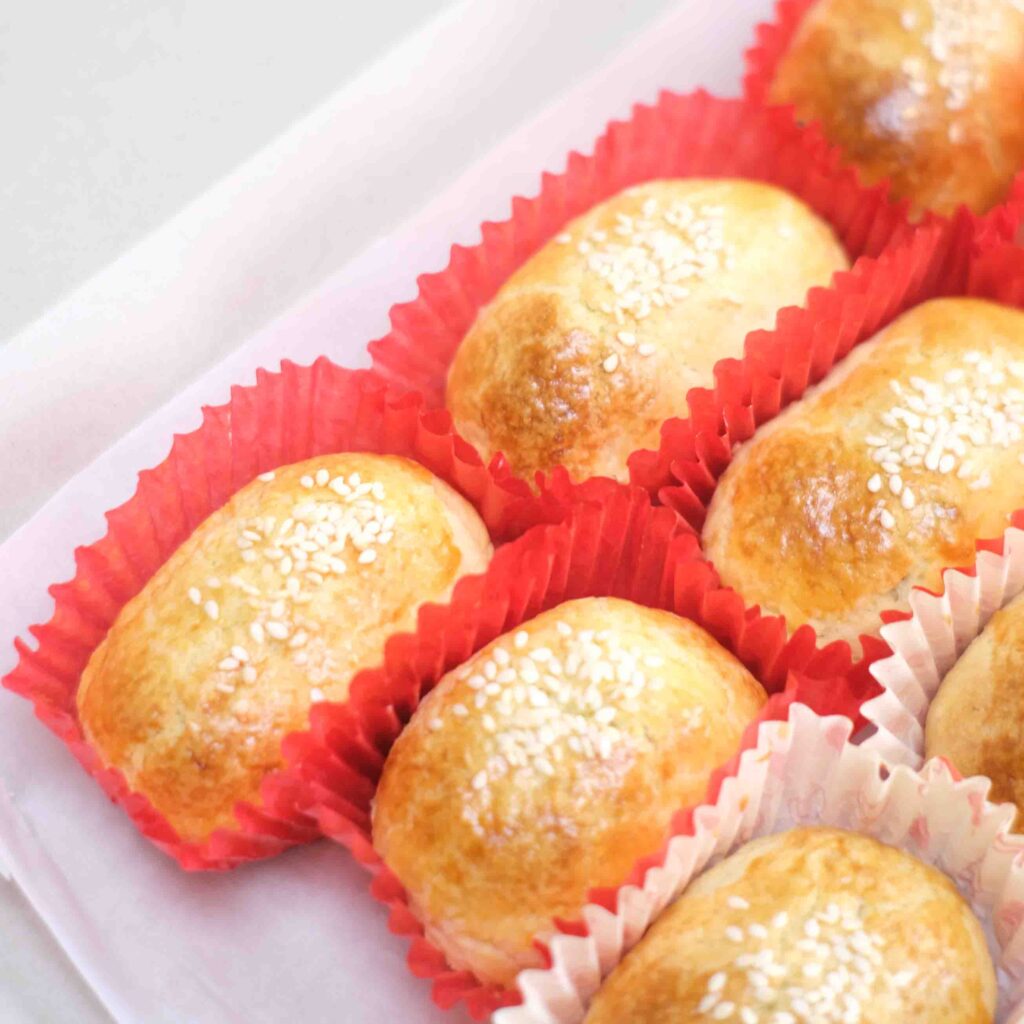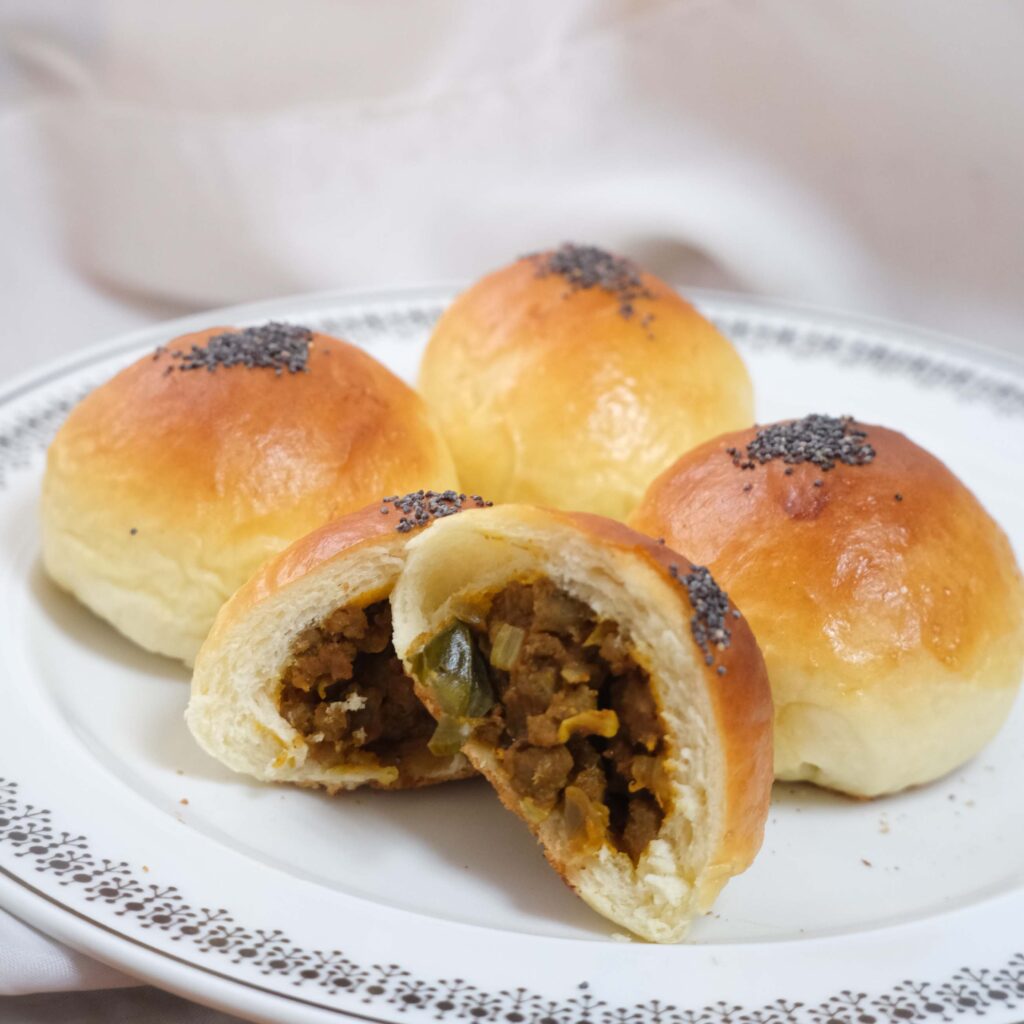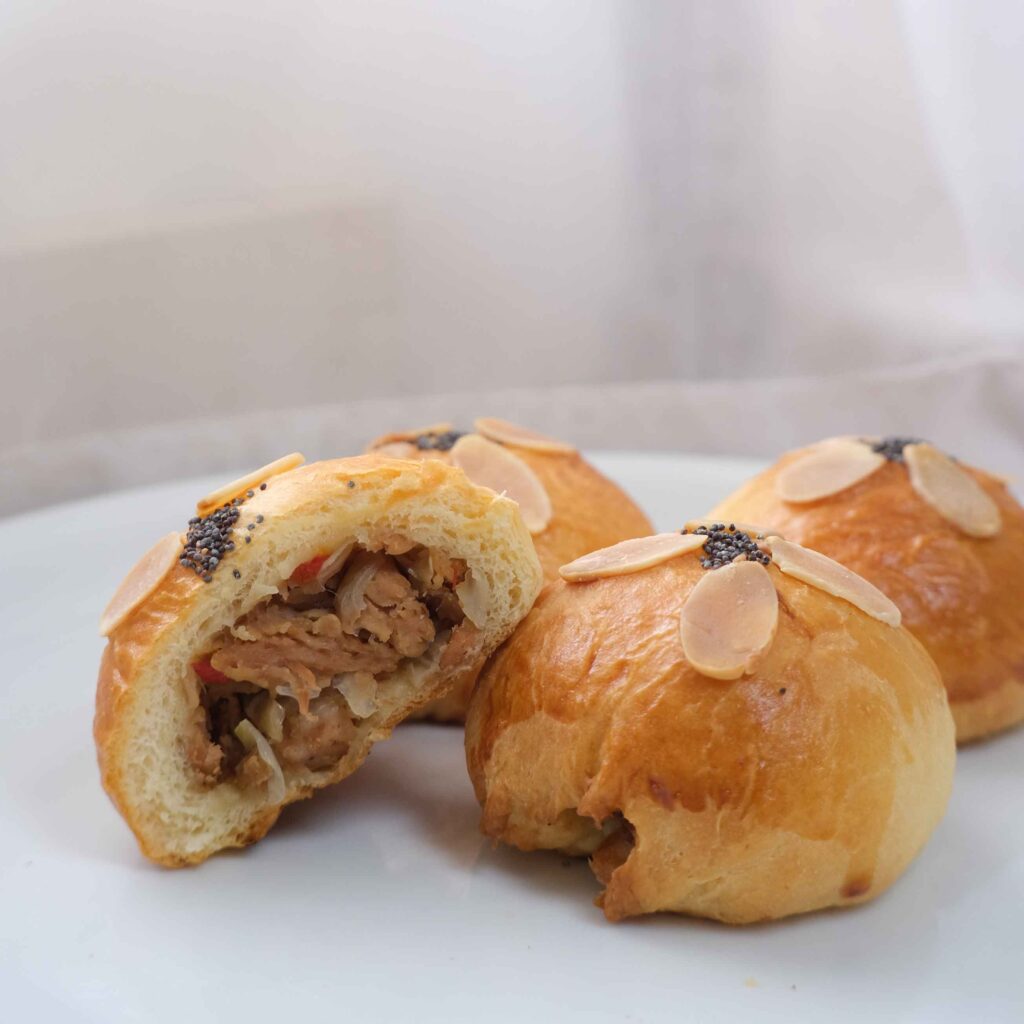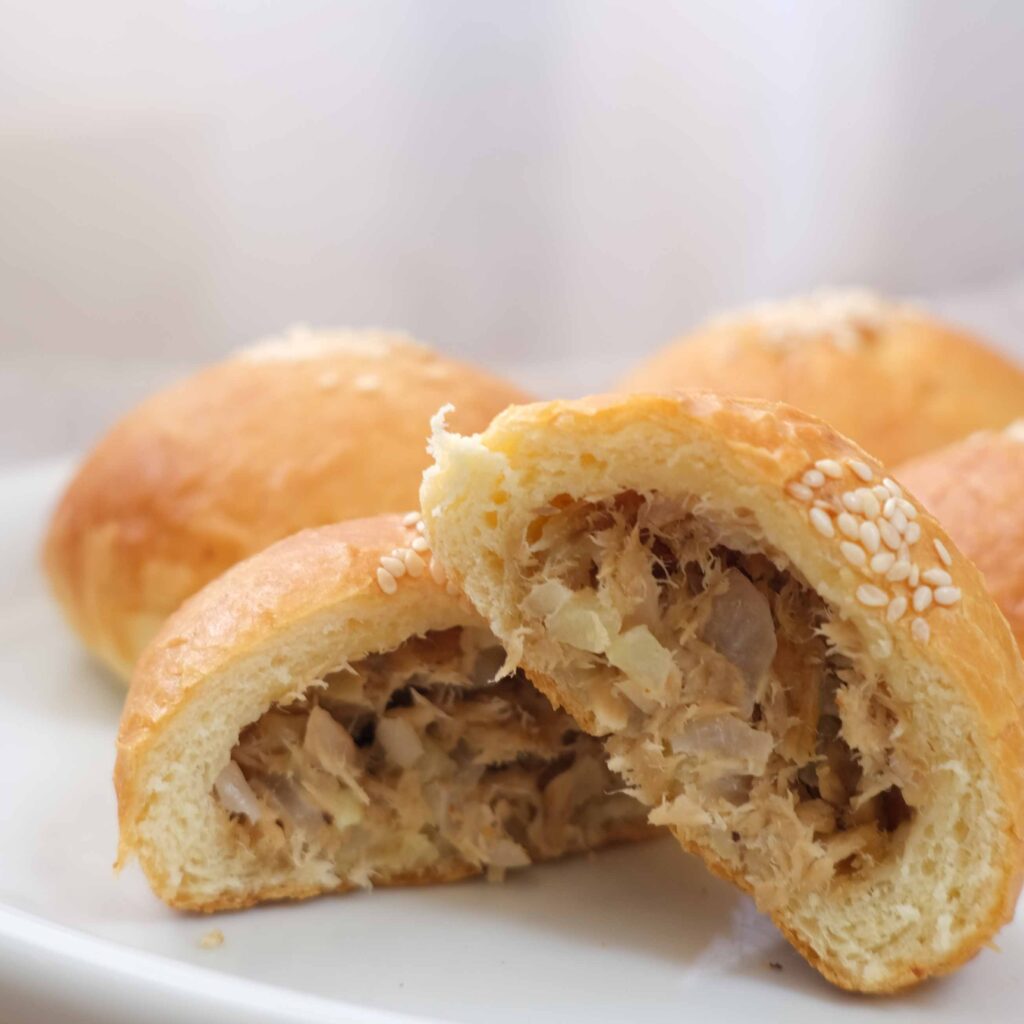 Nasi Tomato with Chicken Curry
Sponsored with Love by Datin Fang and her daughter Ann
Sponsored by Datin Fang and her daughter Ann, who want to share their love of this heart-warming home-style lunch.
Nasi Tomato reminds them of the endearing tradition of "open house", where friends and family of all cultures and creeds would gather to celebrate.
"In the last year and a half, we have missed our family and friends dearly. We hope we can overcome these challenging times together and look forward to better days ahead of us," says Ann.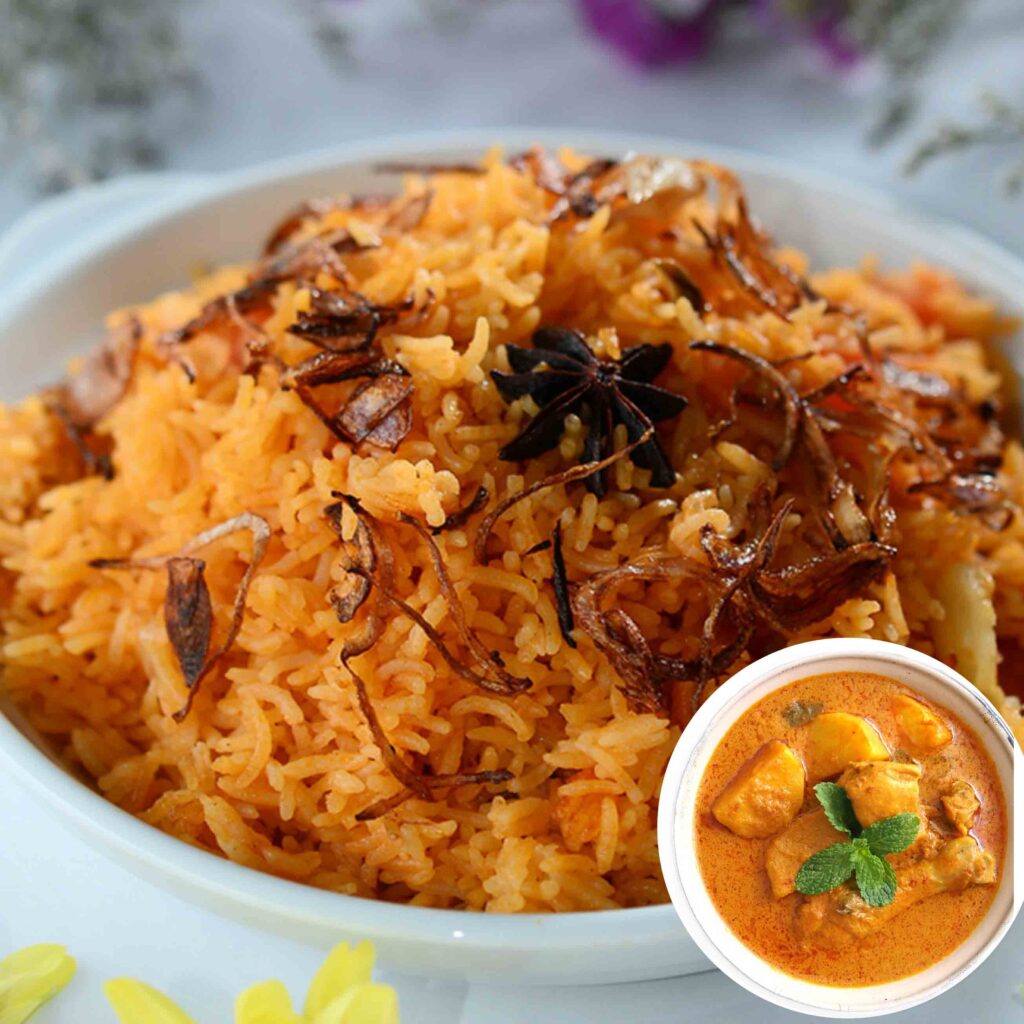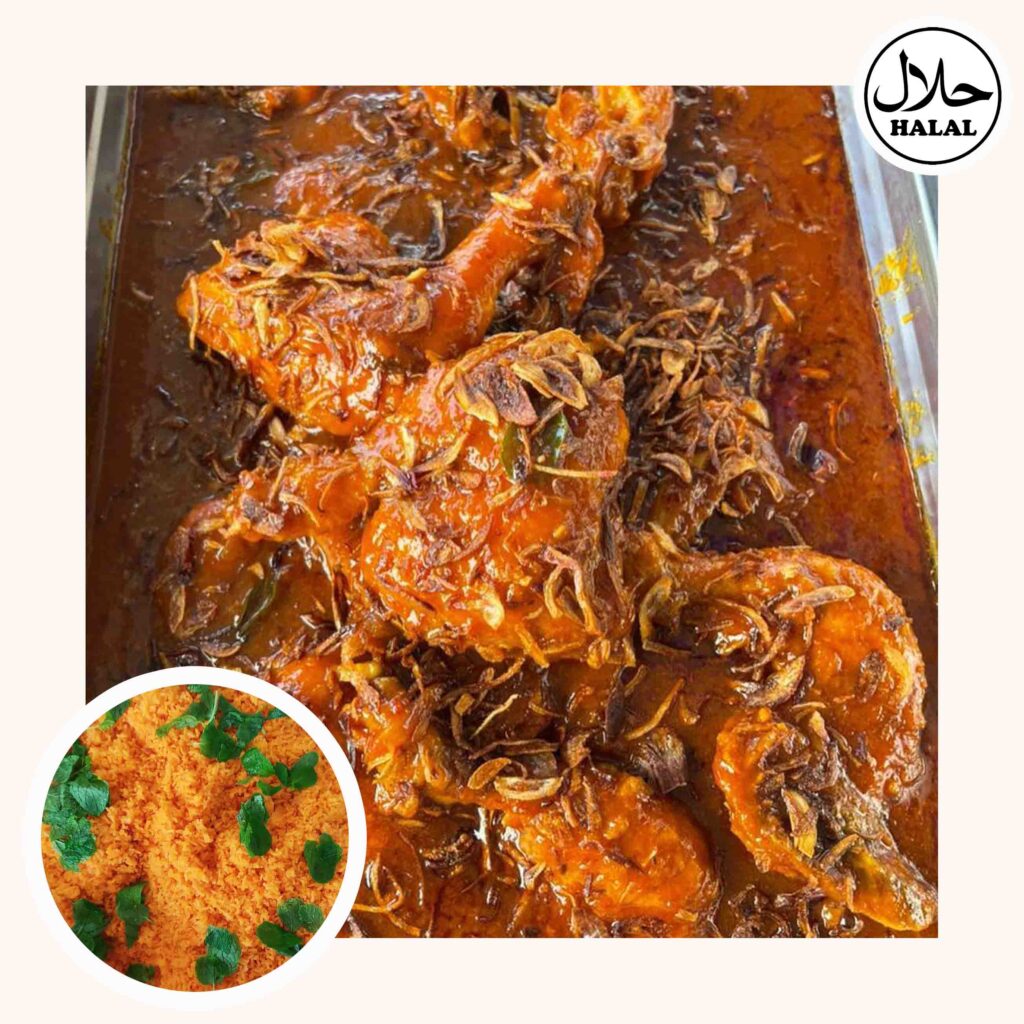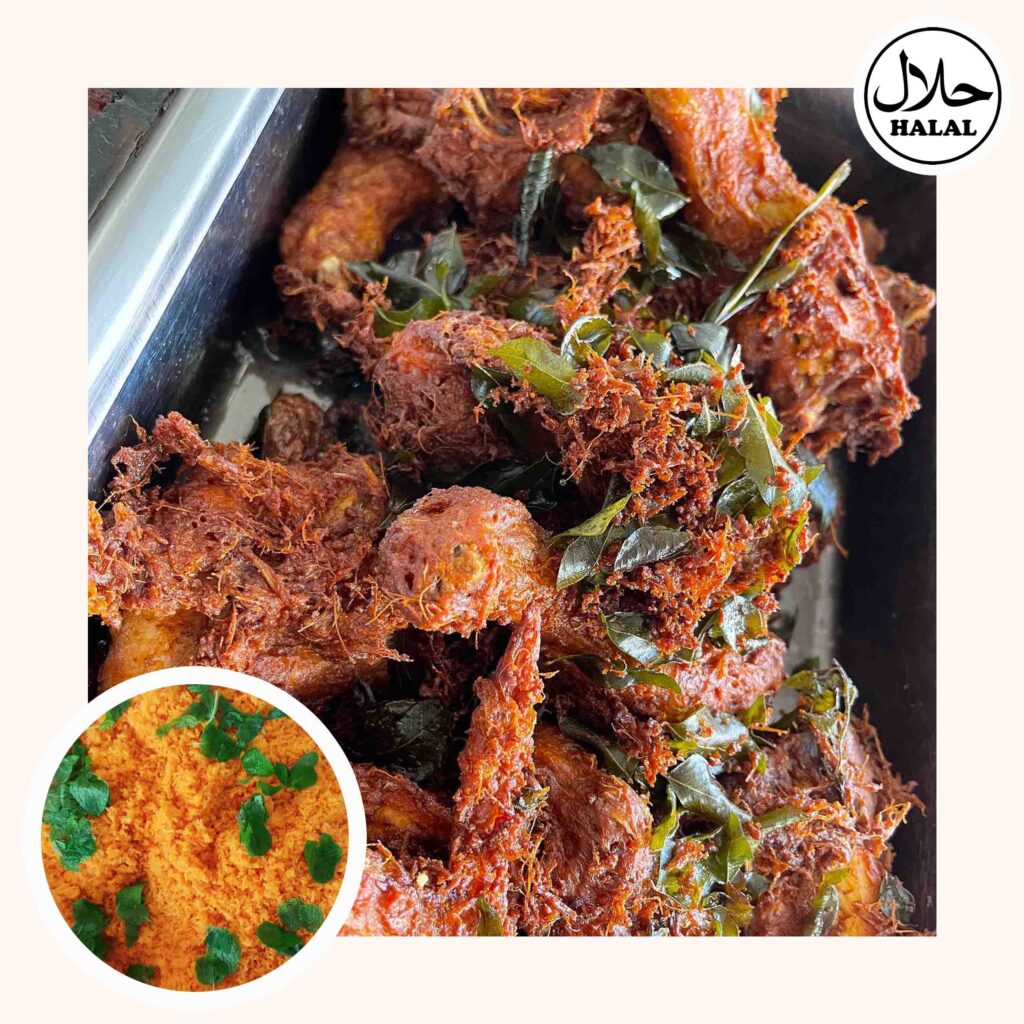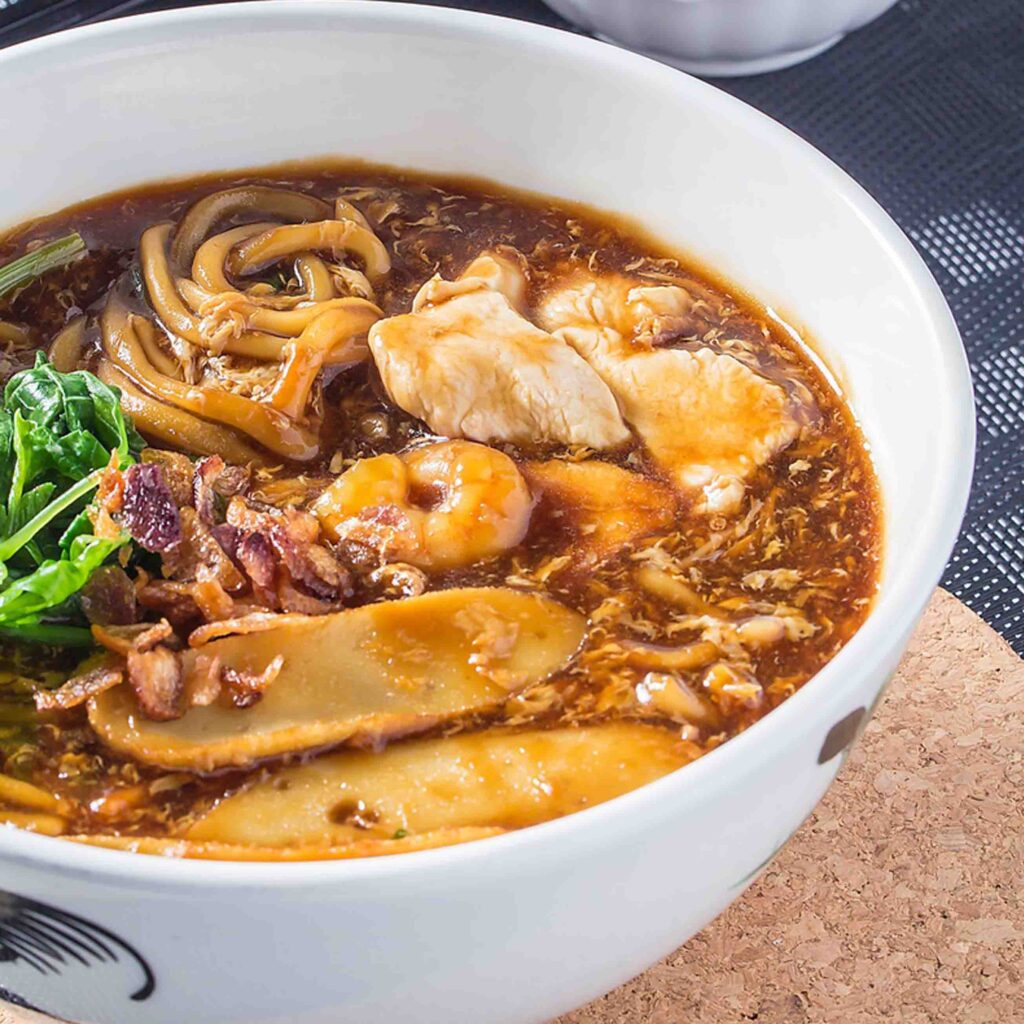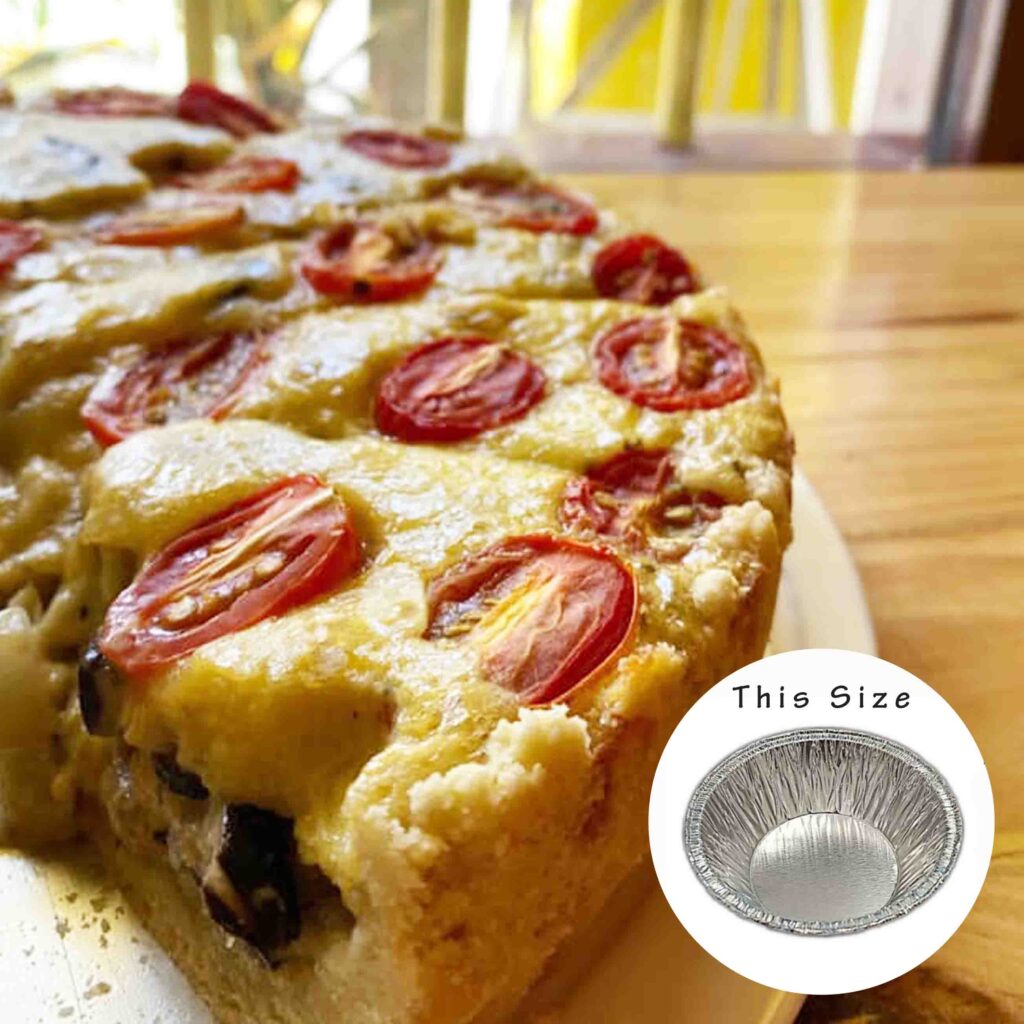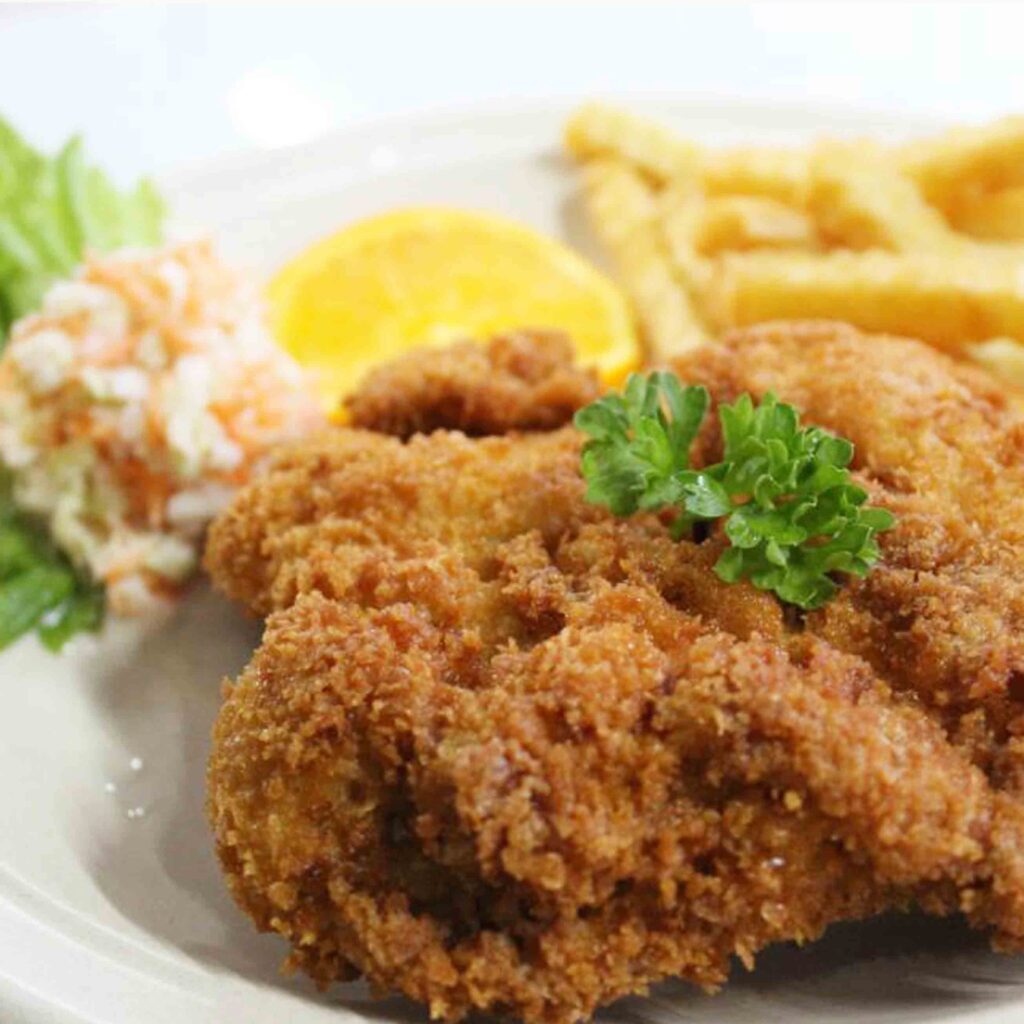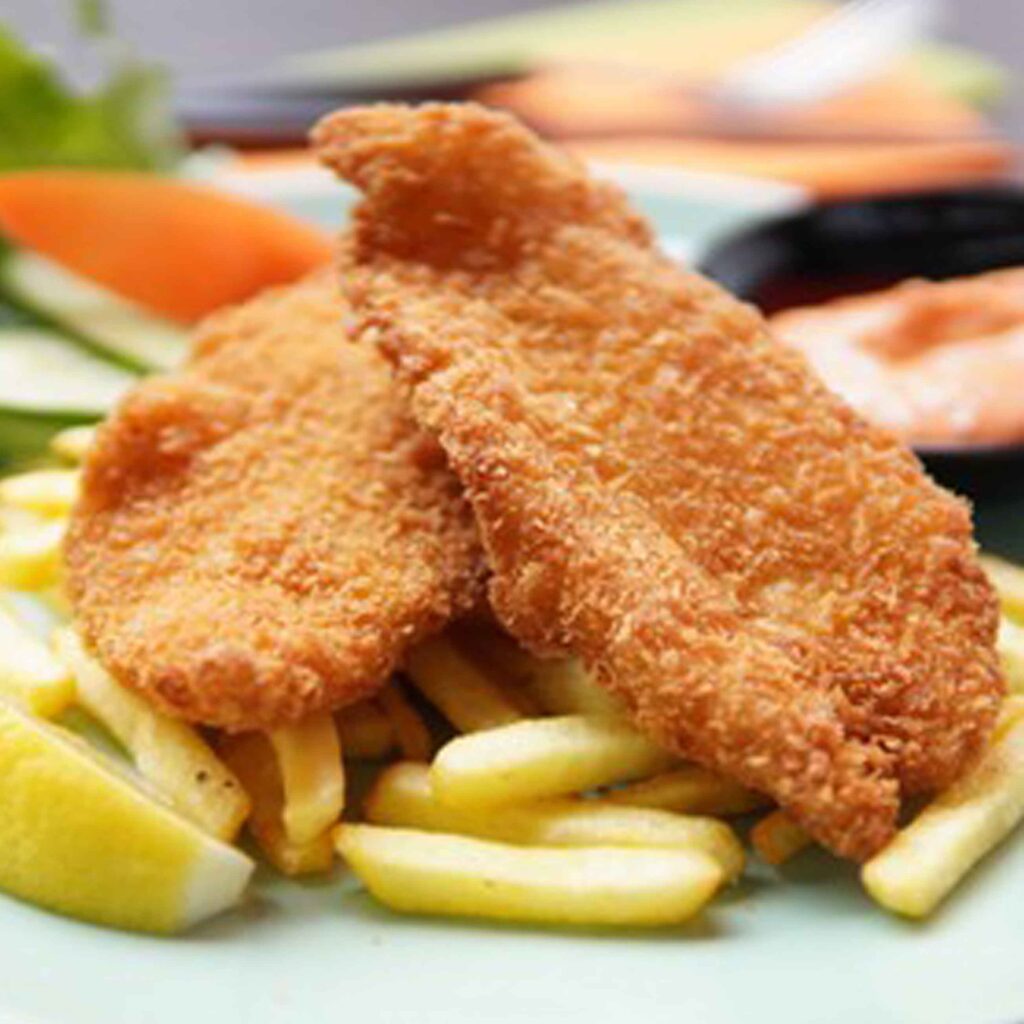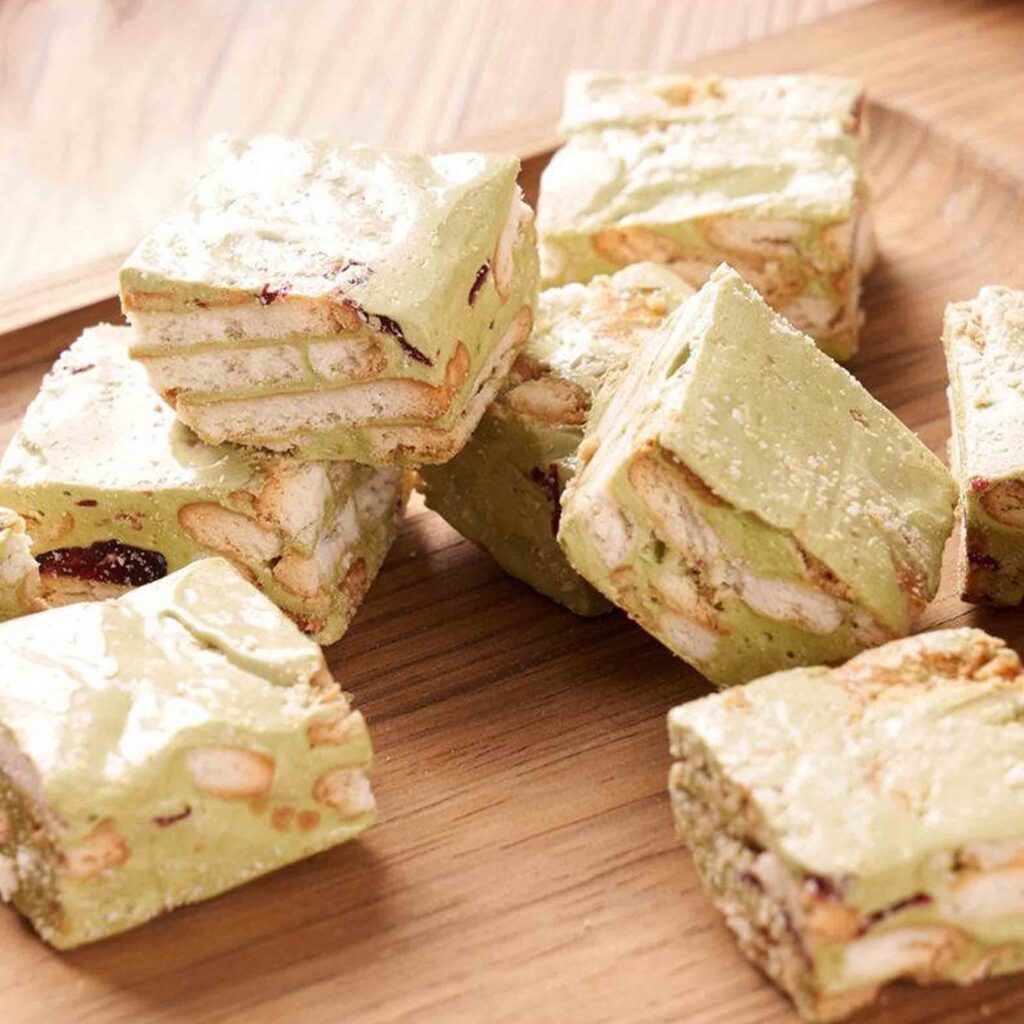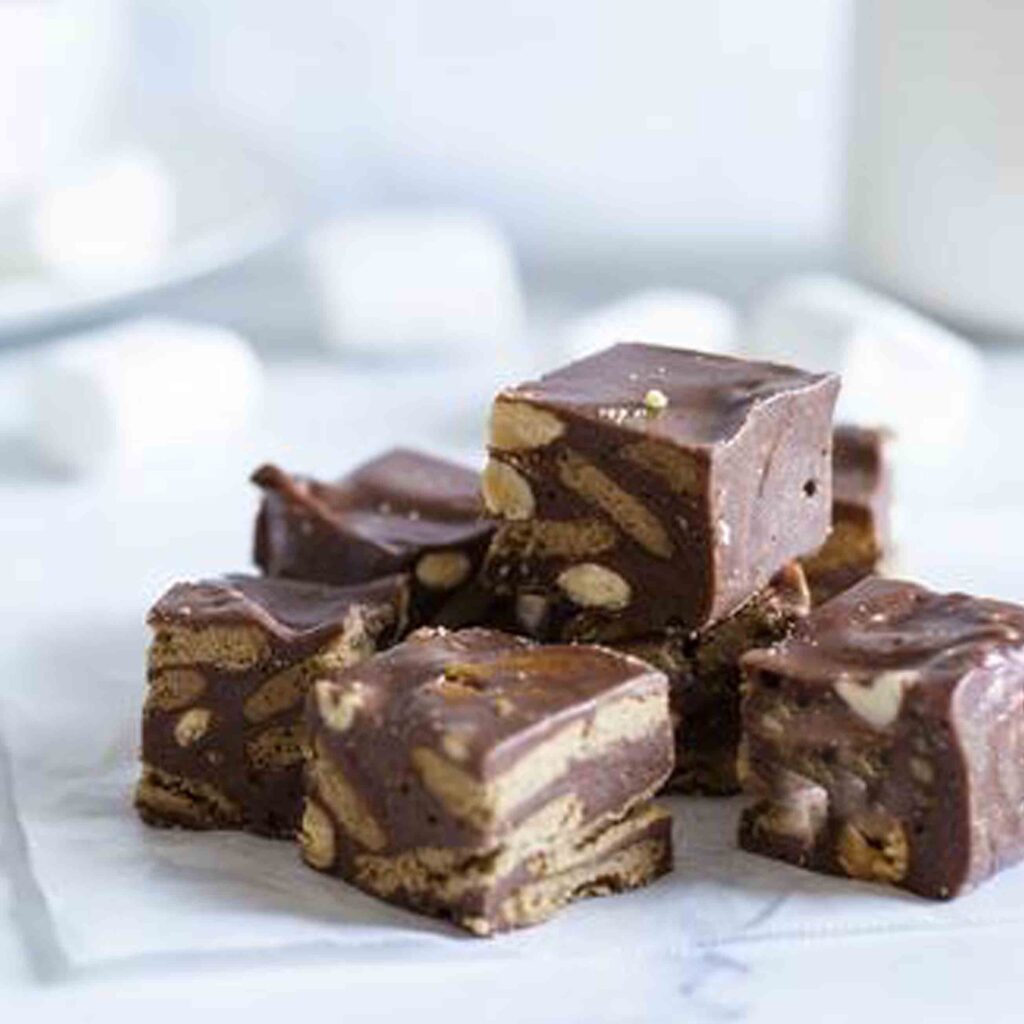 Nasi Tomato with Ayam Berempah | Nasi Tomato with Ayam Ros | Loh Mee | Mushroom Quiche | Crispy Breaded Chicken | Fish & Chips | Milky Cranberry Snowflake Crisps | Dark Chocolate Raisin Snowflake Crips | Matcha Cranberry Snowflake Crisps
Sponsored with Love by Caring Angels – Cancer Support Group
The members of Caring Angels are all cancer survivors serving on a voluntary basis with the aim to create a community of support for patients and their family members who find it hard to cope with what they are going through.
It is with compassion they serve. Always full of life and ever ready to be in service of others.
When we had our conventional food fair, they would usually take up 5 to 8 stalls (food sponsorship) in one go. Even though this year they can't participate the food fair like how they used to, they have all chipped in & collected a substantial pool of money and got people to prepare the food for us on their behalf.
They have sponsored Glutinous Rice Bak Chang, Oats Bak Chang, Nasi Tomato Ayam Berempah, Mushroom Quiche & Loh Mee.
Cempedak Loaf | Banana Walnut Loaf | Carrot Walnut Loaf | Apple Cake with Cinnamon Crumble | Pineapple Cake with Cinnamon Crumble
Baked with Love & Sponsored by Passion Heart Café
"Just let me know how many cakes you need," said Ms Nely when we asked how many cakes she plans to sponsor. Like the name would have suggested, the lady boss Ms Nely Koon does everything with passion – be it her cake business or her charitable work.
Her Cempedak Loaf is one of her signatures. It is packed with fruit flesh, really fragrant and moist! She also sponsored Banana Walnut Cake.
"Good ingredient, good food!" – that's what Nely always stress. If you're looking for good cakes, Passion Heart is the place to go.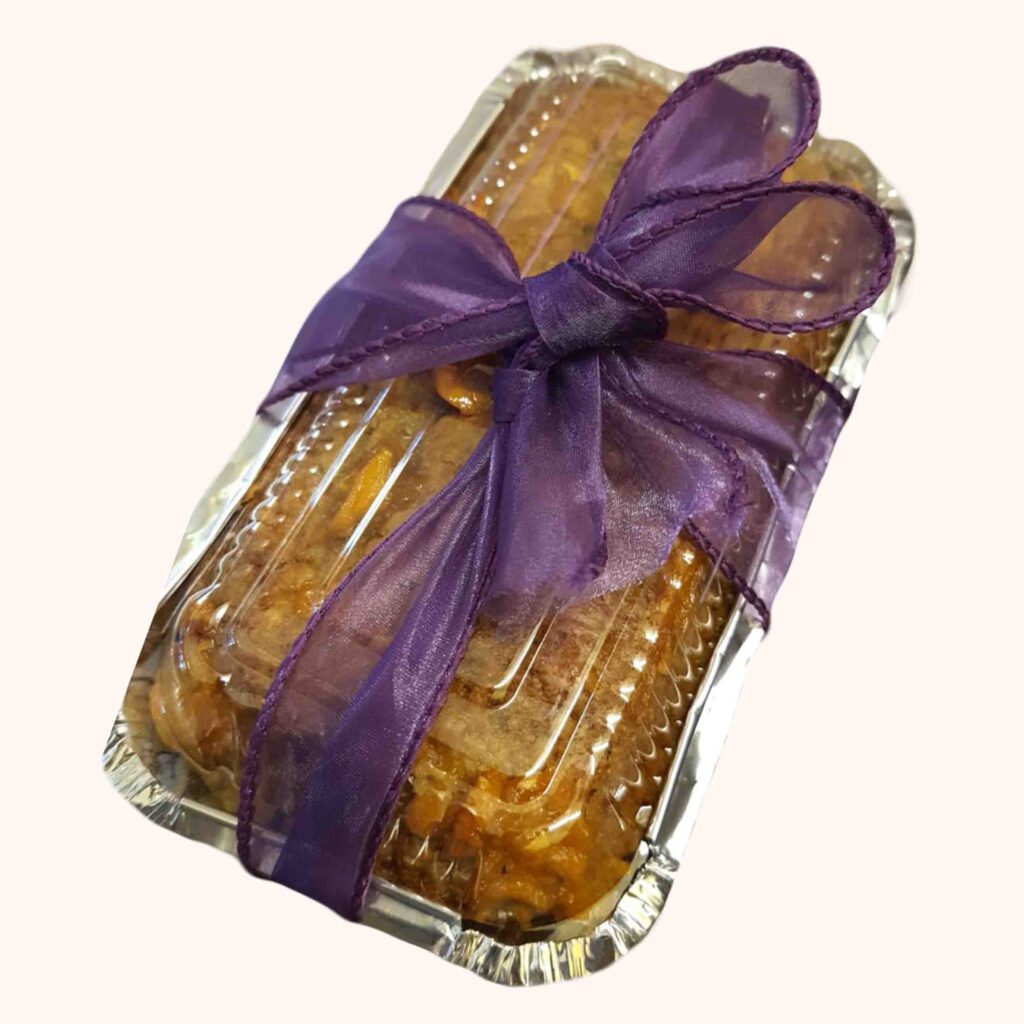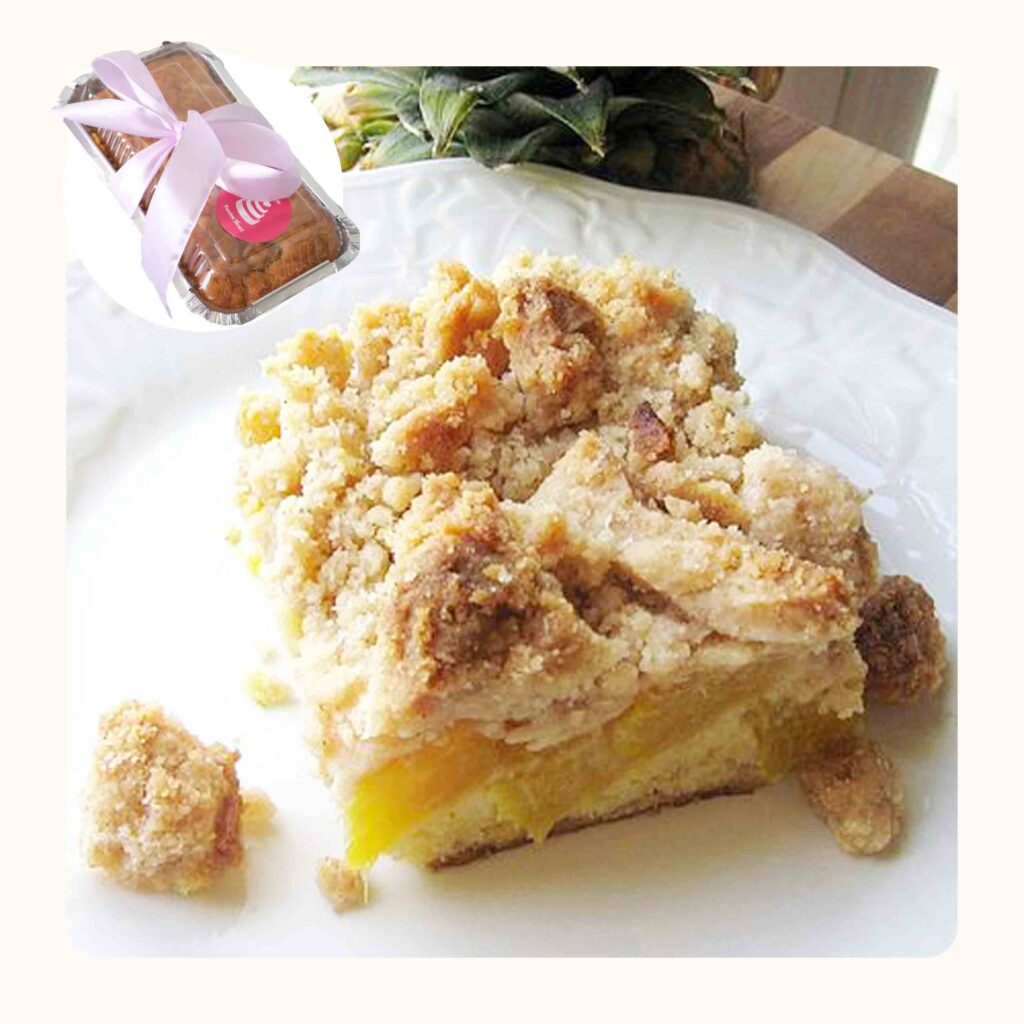 Nasi Ulam with Chicken Satay
Prepared with Love and Sponsored by Mrs Lim
The essence of a good Nasi Ulam is the herbs and fresh ingredients.
You know Mrs Lim takes her Nasi Ulam seriously when she plants all the herbs herself. Daun kaduk, raja ulam, sweet basil, lemongrass & cekur, all are picked from her garden. Herb lover definitely won't be able to resist this! On top of that, there is also sambal to go with it.
If you are someone who can't do without your 'protein', don't worry, she got you covered too. Her version comes with Chicken Satay which has been well-seasoned with her mom's recipe.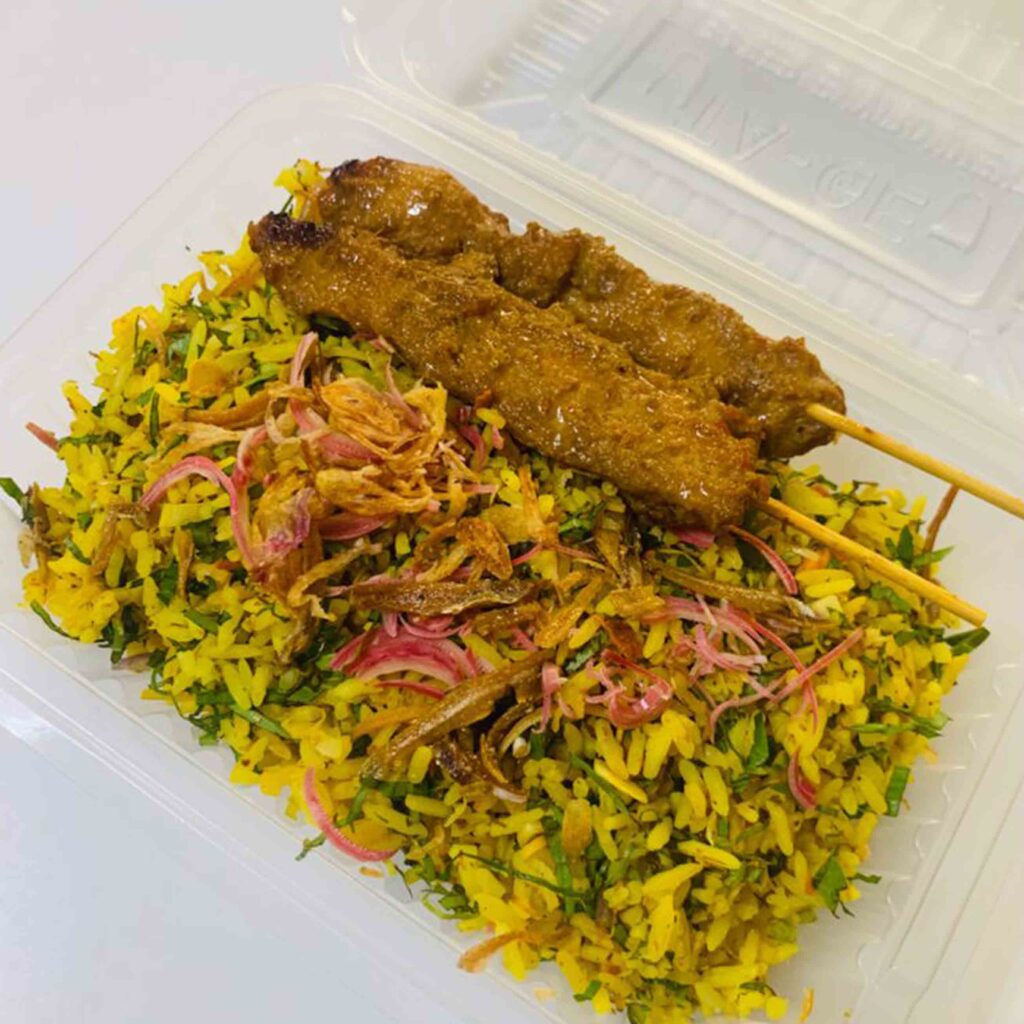 Pesto Linguine
Prepared with Love and Sponsored by Nana's Canteen
Nana's Canteen is run by a mother-&-son duo, with the son helming the kitchen. They offer high-quality gourmet food take-out service at a reasonable price. The exceptional food service experiences have garnered them quite a number of following.
#Homecooked #No MSG #No preservative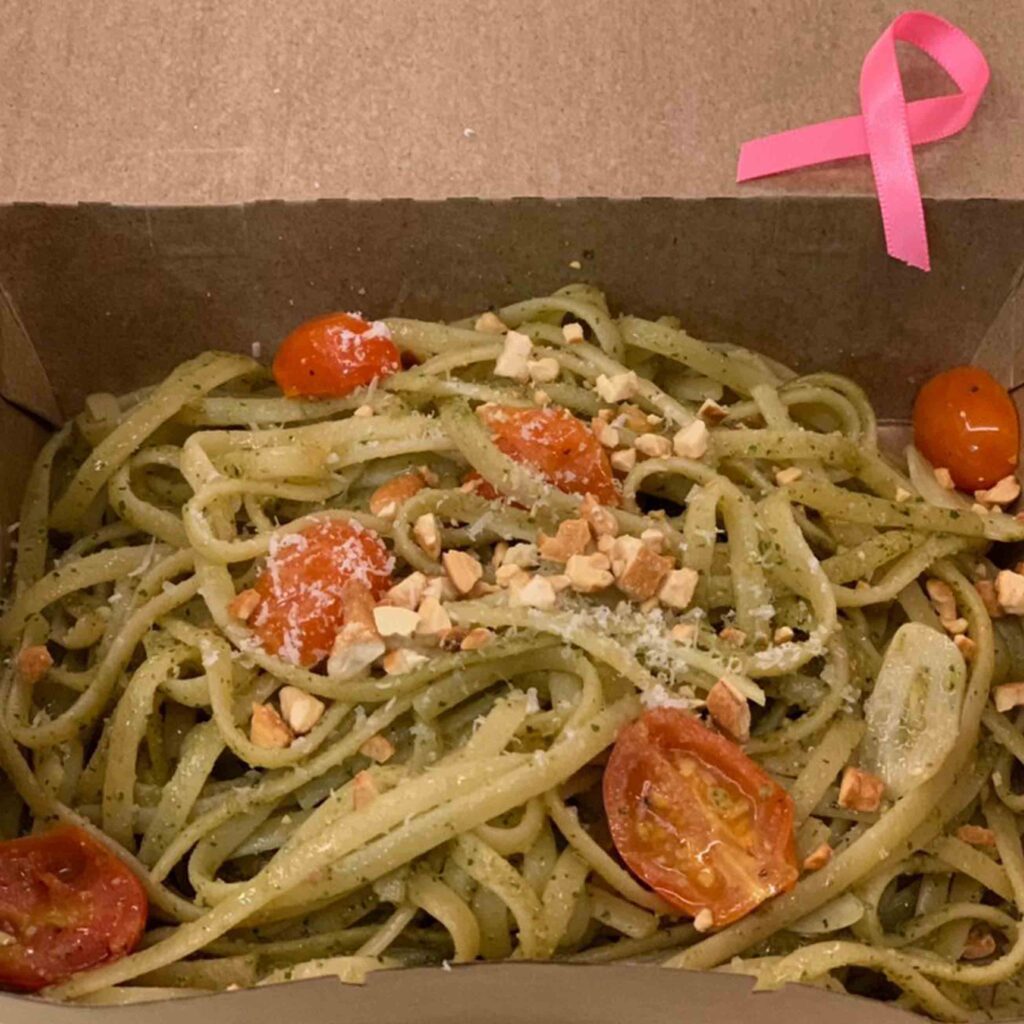 Wholemeal Loaf with Flaxseed
Sponsored with Love by Ms H. L. (Anonymous) & Baked by Flour Shower Bakery
Every Christmas, Ms H. L. would donate and arrange for Ms Wan Yin from Flour Shower Bakery to deliver bread for our cancer patients.
– A healthier choice for bread lovers. Super soft and fluffy even after keeping it in the fridge for weeks. 100% homemade with love and no preservatives.
Flour Shower Bakery
Whatsapp: 016-7235527 | Instagram: flourshower20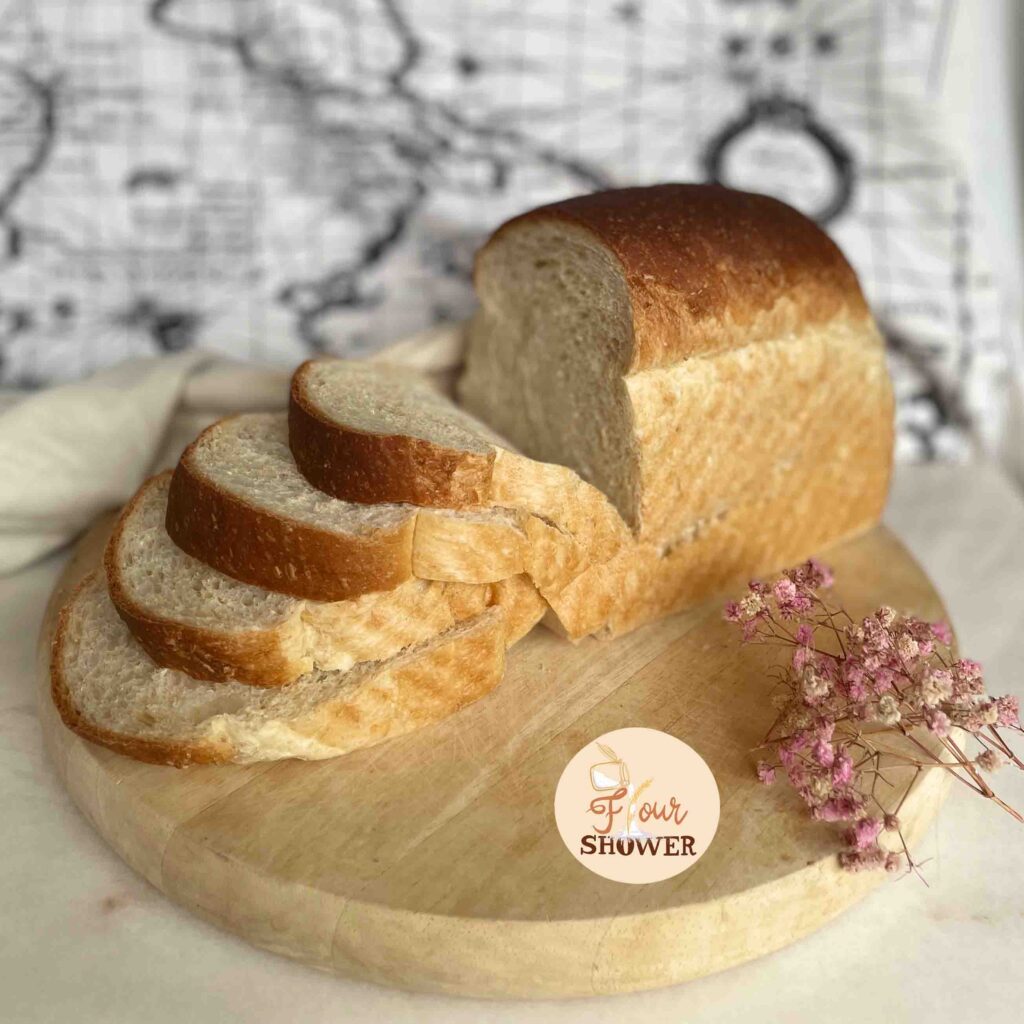 Nasi Ulam with Ikan Goreng
Sponsored with Love by Madam Rose Ang, Family & Friends
The sponsor comprises a group of blessed souls who have decided to focus on raising funds, sponsor & donate to bless others. 
We are counting our blessings each day & realising that irrespective of the life challenges we individually face ie from ill health, loss of loved ones, loss of livelihood etc if we care to count, our blessings do outnumber our problems.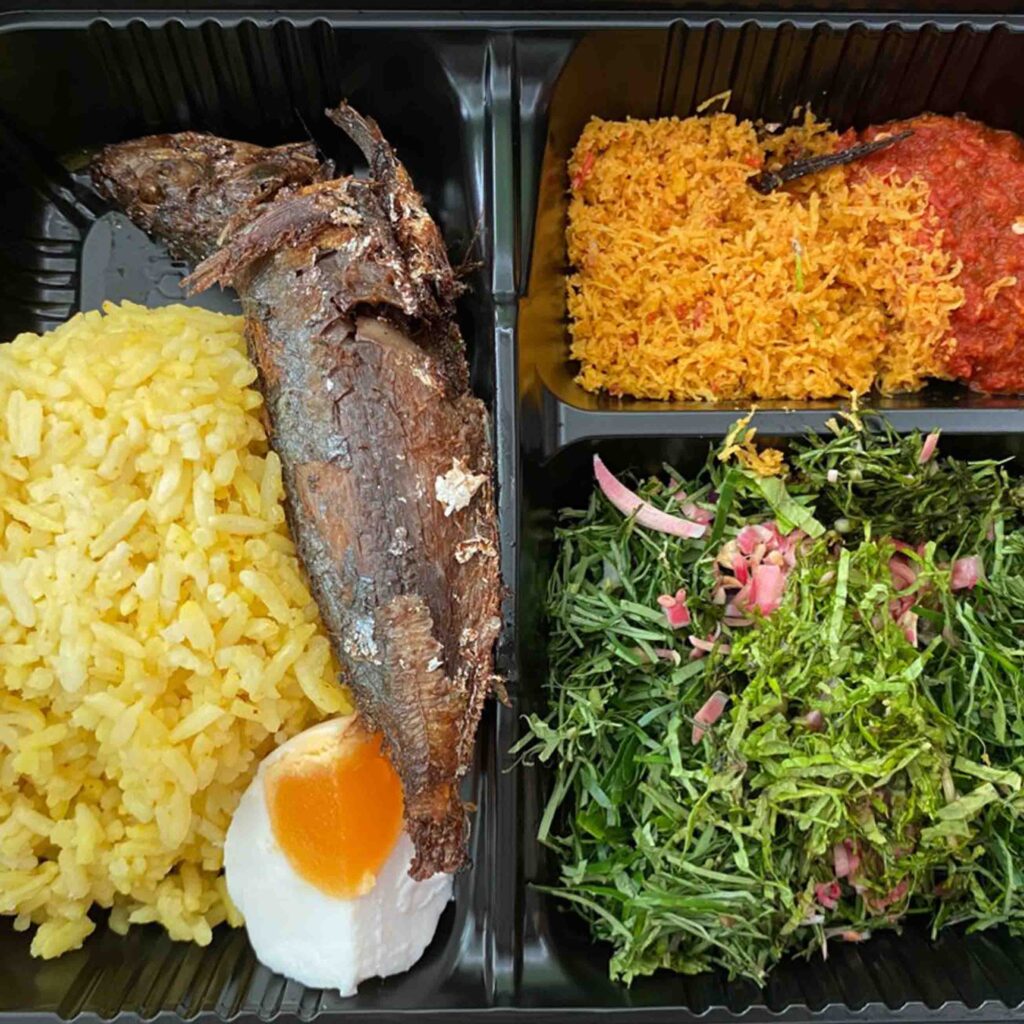 Belacan Fried Rice | Pattaya Fried Rice | Char Koay Teow
Sponsored with Love by Mrs Chong & Family
These classics, comforting Thai delights & Char Koay Teow were sponsored by Mrs Chong, also lovingly known as Papui in the local Thai Community.
Mrs Chong is a Thai lady who has been residing in Penang most of her life. She is already in her 80s but still very active in charity. She can't prepare the food herself so she sponsored her friends to do it on her behalf.  
These fares were all prepared by a Malaysian-Thai couple who have been running a hawker stall in Bayan Lepas for more than 10 years.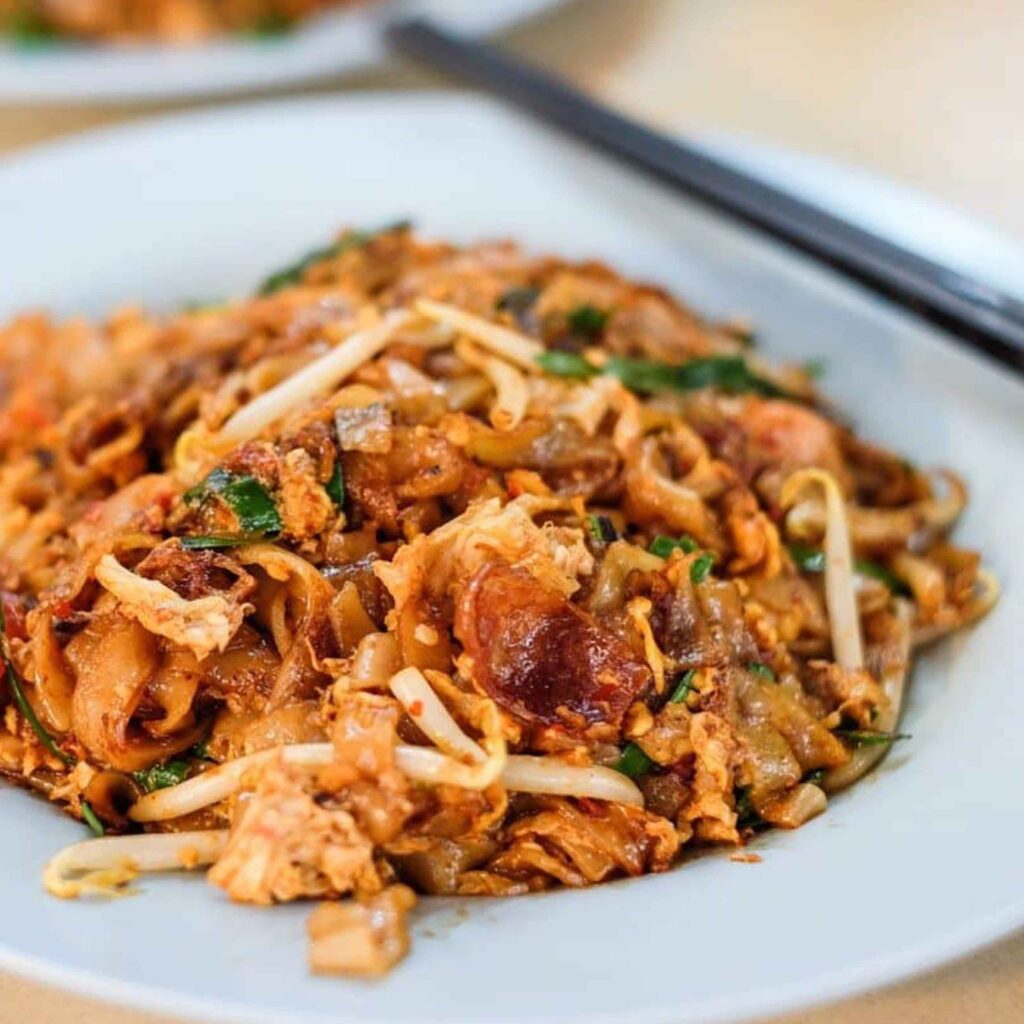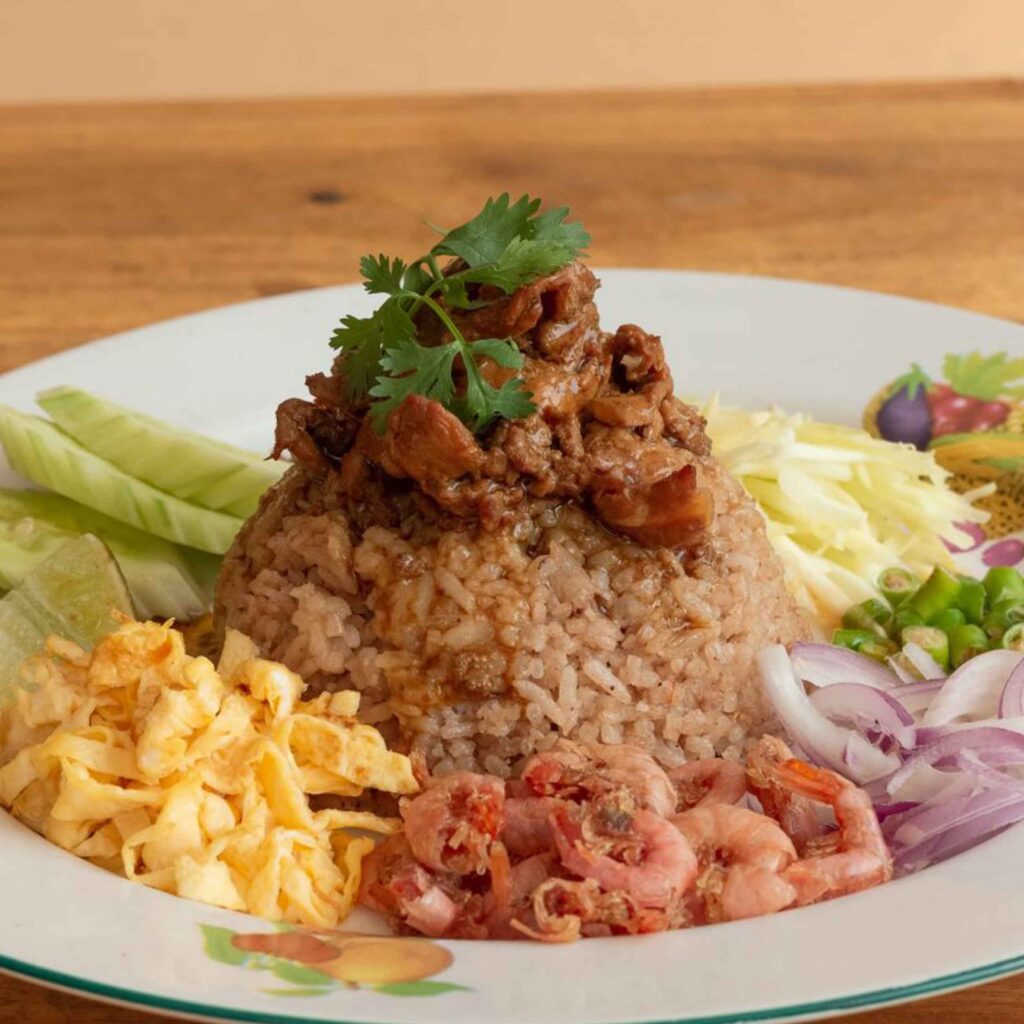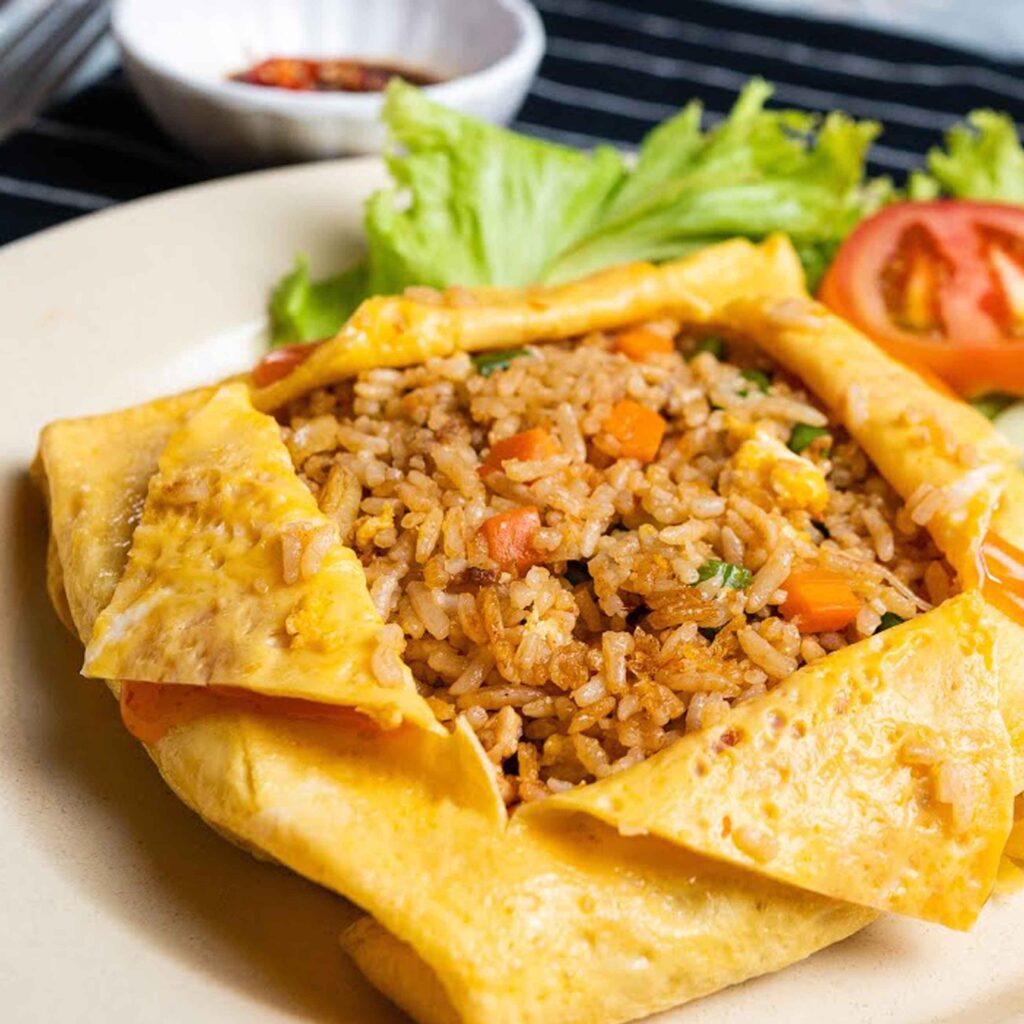 Multiseed Loaf | Mixed Fruit Loaf | Chocolate Swirl Loaf
Baked with Love & Sponsored by Ms Home Baker
Ms Home Baker loves to bake. Upon knowing that our hospital is raising funds for needy cancer patients, she quickly agreed to support for two Fridays, starting from 24th September. As a home baker and juggling with work, she usually only bakes for her family and close friends.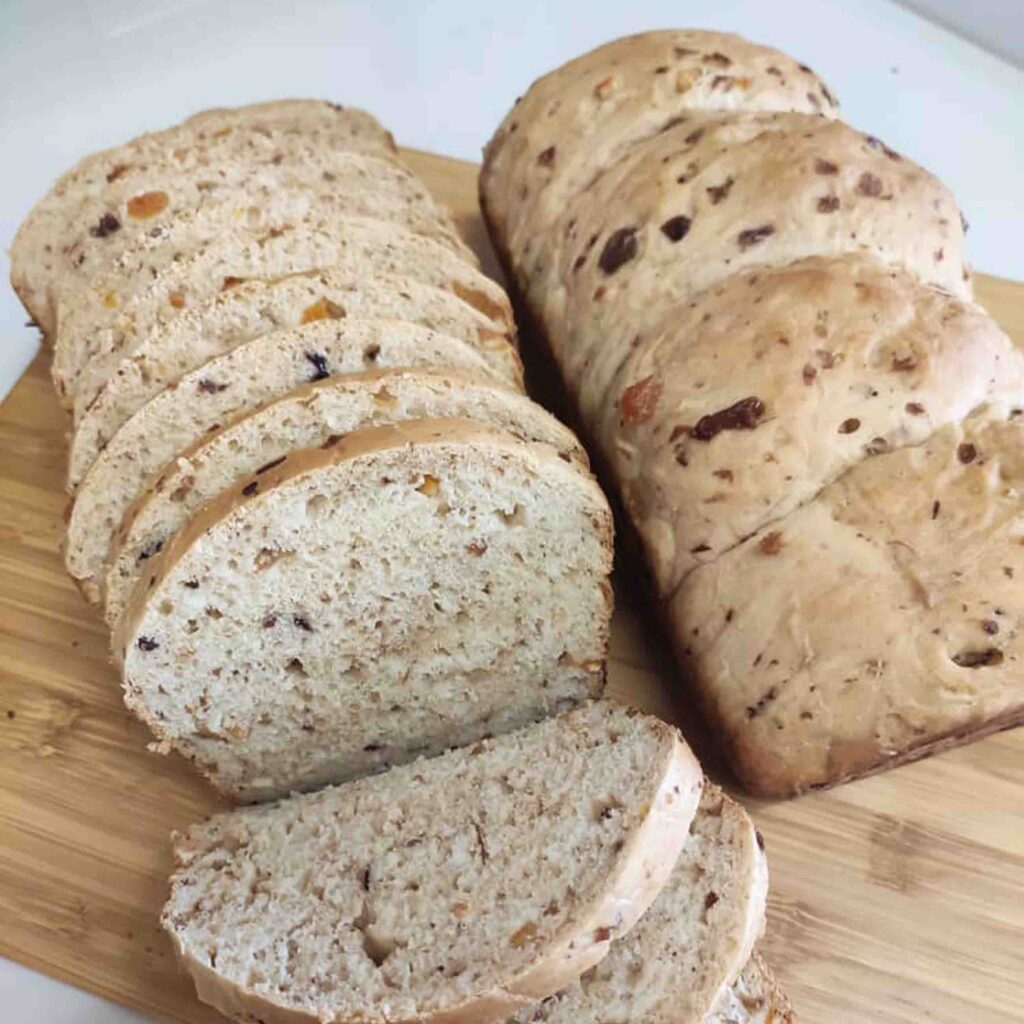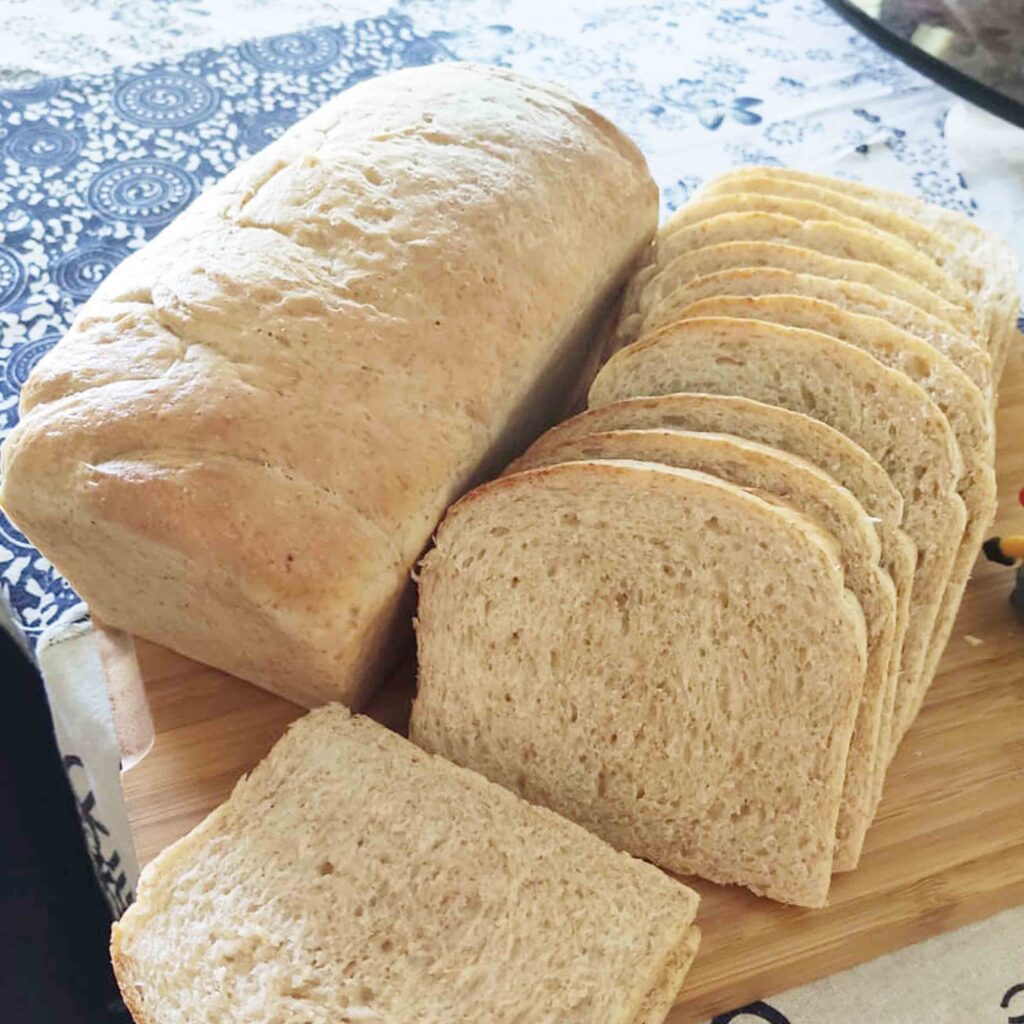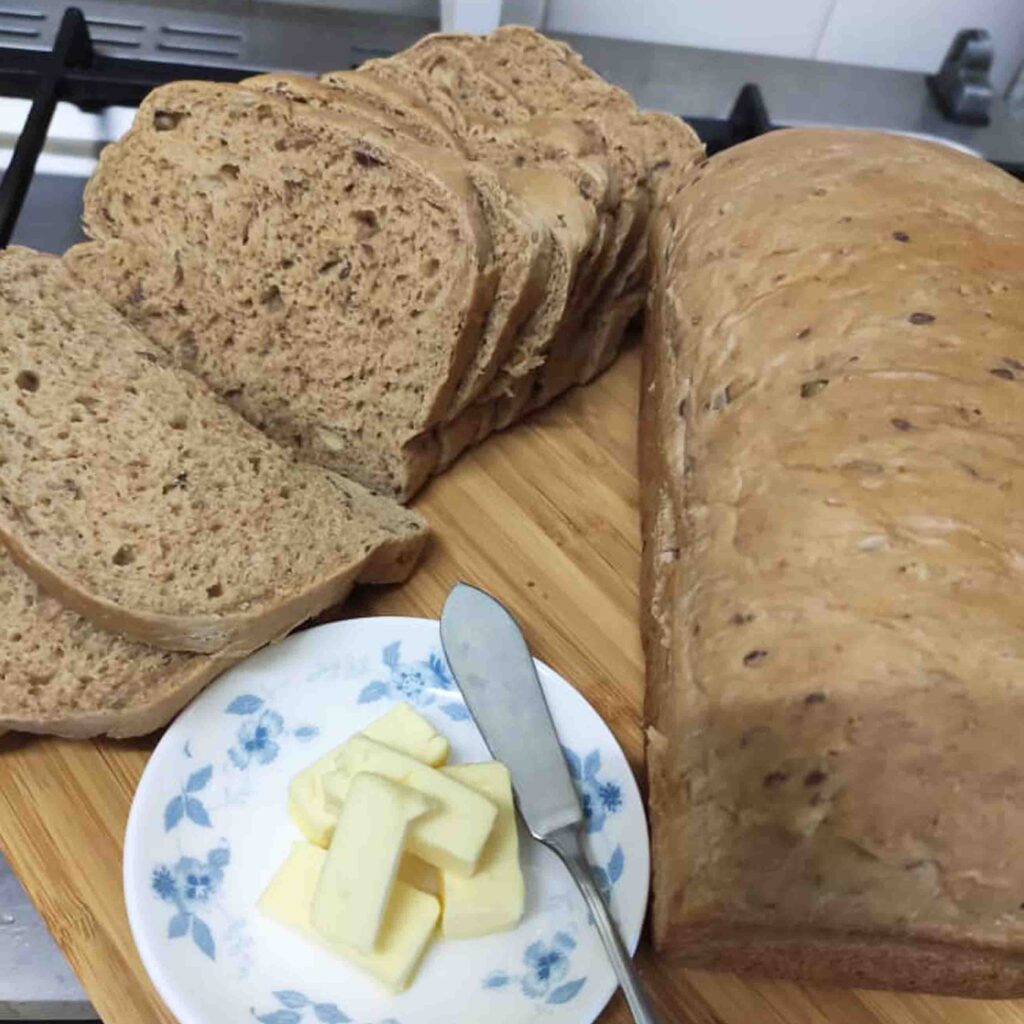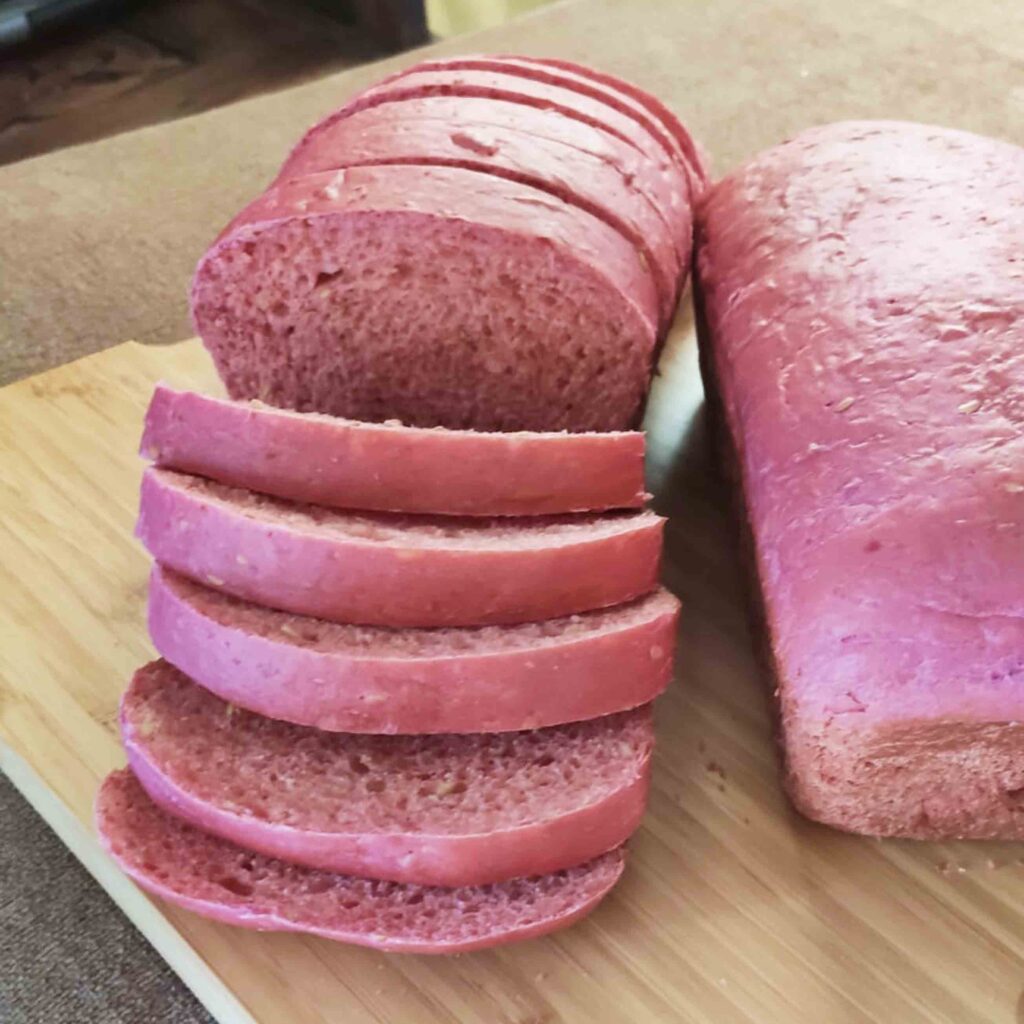 If there is any particular food which you would like to know more, or about our sponsors; feel free to contact us – 048923874